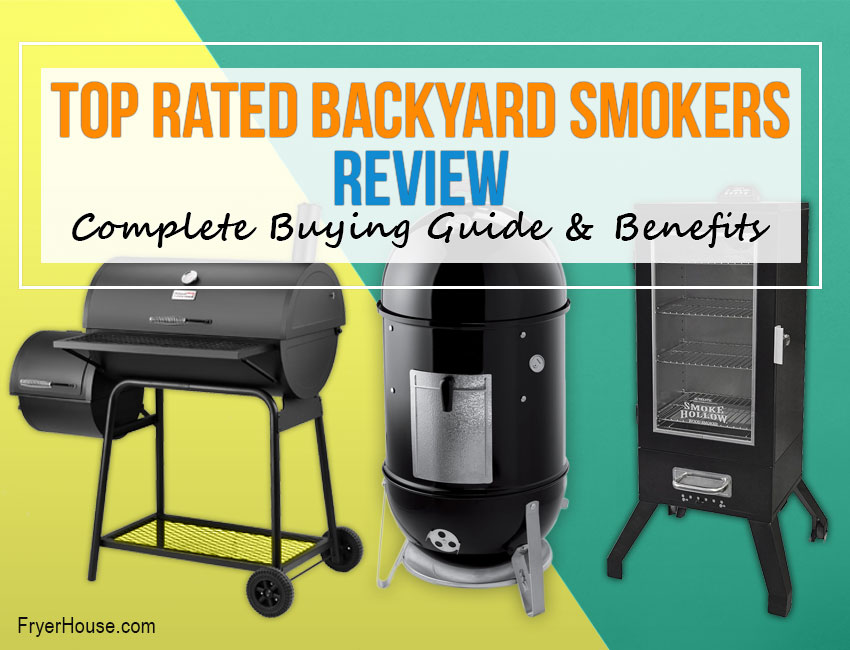 When you often have a cookout or a party in your backyard, it makes sense to have the best backyard smoker standing by to provide you with the delicious taste of smoked meats and veggies.
A smoker should be reliable and easy to use, and it should be durable enough to with stand the elements as you probably will just leave it outside when you're done using it.
Now is the best time to buy a backyard smoker, though it may not be easy to pick one among so many possible choices. But there's a smoker for every kind of budget, and you can always just get the right size for the number of people you usually serve.
In fact, you can even just make your own backyard smoker, though it can take some time and effort.
Top 5 Backyard Smokers 2021 – Reviews and Comparisons:
| Rankings | 1st Choice | 2nd Choice | Best Overall | 4th Choice | 5th Choice |
| --- | --- | --- | --- | --- | --- |
| Top-Rated Backyard Smokers 2019 | | | | | |
| Name | Masterbuilt 20071117 30″ Digital Electric Smoker | Dyna-Glo DGW1904BDP-D 43″ Wide Body LP Gas Smoker | Weber 721001 Smokey Mountain Cooker Smoker | Z Grills Wood Pellet Grill & Smoker | Royal Gourmet Charcoal Grill with Offset Smoker |
| Brand | Masterbuilt | Dyna-Glo | Weber | Z Grills | Royal Gourmet |
| Color | Black | Black | Black | Black and Bronze | Black |
| Rating | Excellent | Excellent | Excellent | Excellent | Excellent |
| Dimensions | 19.9 x 20.5 x 33.3 inches | 20.4 x 31.3 x 56.5 inches | 21 x 19 x 41 inches | 51.2 x 22.5 x 48.4 inches | 45.3 x 26.8 x 48 inches |
| Weight | 39.3 pounds | 90 pounds | 39.1 pounds | 173 pounds | 57 pounds |
| Material Type | — | Steel | Steel | Steel | Steel |
| Get Started | | | | | |
Building Your Own Backyard Smoker:
This can be a rather daunting task, as this DIY project will require a lot of welding. You will also need other simple hand tools along with a 4-inch angle grinder and a plasma cutter.
You can find plenty of detailed plans online, although you may have to customize them to fit your planned size.
Here are some tips for your task:
A 115-volt wire-feed welder is actually quite cheap, and you can use 0.035-in. flux-cored wire.
You should start welding the ends first, and then you can cut the holes for the doors.
You'll get nice rounded corners with a 2-inch holesaw. You can use the unwelded seam for the bottom of the door so you only have to cut about three-quarters of the way around the openings.
A plasma cutter is your best bet for cutting steel. A sabre saw can take a lot of time and you can end up using too many blades. Cutoff wheels on the grinder can make take a shorter amount of time, but there will be a lot more sparks.
For the drum sections, you're better off if you just have a local sheet metal shop cut the pieces to size for you. However, this can cost you a couple of hundred bucks. Try to find a food-grade steel barrel to use.
To trim the smoker, you can use a cheap piano hinge to keep the doors tightly sealed. You can use pop rivets though sheet metal screws are just as good.
You should also put in some wood handles, and beforehand they should be properly sanded and paste-waxed. Wood handles make it easy for you to open the doors as they remain cool. You can hold them in place with 5/16-in. bolts and brass spacers.
For better smoke management, you can put in 3-inch chimney pipe. You can use the end of a soup can for your firebox damper. A 2-inch water pipe connects the firebox and the smoke chamber. For nuts you can use the collars from a pipe union. You can keep everything stable with a bolt and wingnut lower down.
Paint everything, and then get a hot fire going in the firebox to set the paint and to burn off any cutting oil and mill scale still inside the smoker.
Once the fire cools off, wash everything again. Paint the inside of the smoke chamber with vegetable oil to prevent rusting.
Top 10 Benefits of Having a Backyard Smoker:
If you're still looking for reasons to get a backyard smoker, then consider the following:
A smoker can greatly enhance the taste of your meat. This lets you enjoy high quality meals in the comfort of your own home.
It's fun to experiment with the different flavors that you can get from the smoke of different wood chips.
With a smoker in your backyard, parties and other get-togethers can occur more frequently. Even a football game on TV is enough reason for a backyard party.
By having your smoker in your backyard, you free up the space in your kitchen.
You also keep your electricity bills down as your air conditioner won't work extra hard to keep up with the heat of an indoor smoker.
Smokers can be large enough to cook huge amounts of food at one time, so you can feed plenty of people.
Many of the available smokers in the market are very easy to use.
You can find lots of affordable models too, so it doesn't have to bust your budget.
If you pick the right model, it can last for many years. So even if you spend more money it will be worth the expense.
You can clean these smokers easily enough as well.
Our Picks of 10 Best Backyard Smokers You Can Buy:
If you've checked out the DIY plans for building your own smoker, you may have found them to be rather time-consuming and tedious.
But you can always just buy your own, and there are excellent models to choose from. Here are a few of our favorites:
1. Weber 721001 Smokey Mountain Cooker 18-Inch Charcoal Smoker
Weber offers 3 sizes for its Smokey Mountain smoker, from the 14-inch version to the 22-inch. This size is still compact enough to be consider portable, but it can smoke enough meat for a small gathering. It offers 2 cooking grates for a total of 481 square inches of cooking space.
It's not just its portability that makes this unit so special. It's also the fact that it's reliable and durable. It's made of porcelain-enameled steel, while the cooking grates are made from heavy-duty, nickel-plated steel.
The bowl, lid, and water pan are enameled with porcelain too. The 4 vents and the fuel door are made of rust-resistant aluminum.
Even the handle is special, as it's made from glass-reinforced nylon. To really emphasize its durability, it even comes with a 10-year limited warranty.
Features:
Weighs only 39 pounds
Quite compact
Made of high quality materials
Long-lasting
Built-in thermometer
10-year warranty
2. Masterbuilt 20071117 30″ Digital Electric Smoker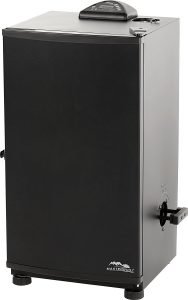 An electric smoker makes a lot of sense when you can power your backyard smoker easily. The electricity also powers its digital panel controls, which lets you turn it on and off and allows you to set the exact temperature and timer settings.
The integrated thermostat temperature control makes sure that the smoking process is also consistent and even.
This comes with 4 chrome-plated smoking racks so there's ample space for your food. It's big enough to fit in 6 whole chickens, or even 2 whole turkeys.
If racks of ribs are your thing, then you can get 8 of them inside. If you're more into sausages, this can smoke up to 64 of them at the same time.
Features:
The smoker body is fully insulated
Lots of space
Digital controls
Internal thermostat
Side loading wood chip box so no need to open the smoker door (and let the smoke out)
Extremely easy to use
3. Masterbuilt 20060416 Charcoal Bullet Smoker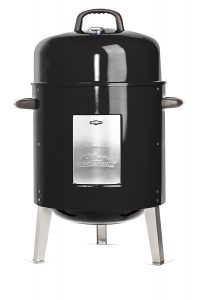 What if you want a smaller backyard smoker that you can take with you while you're camping, or visiting a friend in the neighborhood? If that's the case, then this smaller smoker from Masterbuilt is your friend.
It's so light that it only weighs 15 pounds. It's not all that big either as it's just 31.5 inches high and about 21 inches in diameter.
That's not to say you can't smoke enough meat for a family. This still offers 395 square inches of cooking space with 2 racks coated with porcelain.
The porcelain coating is also present in the water bowl and the charcoal pan.With its front door access, adding charcoal is easy. There's also a lid thermometer built in so you always get an accurate temperature reading.
Features:
Good enough cooking space with 2 racks
Front door access for adding charcoal
Lightweight and portable
Built-in thermometer
Extremely affordable with 2-figure price tag
4. Smoke Hollow 38205GW Gas Smoker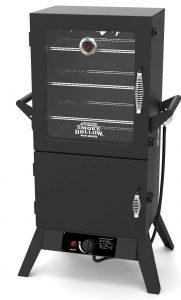 It's great when you have a large smoker that's easy to use. This one looks like a vault with legs, except that there's a viewing window on the front door so you can tell what's going on inside.
This window also features a built in thermometer gauge so you can tell the temperature inside.
As this is a 36-inch model, you can expect a lot of space for your food. In fact, you have 3 cubic feet of cooking space to work with, along with 4 racks with adjustable heights.
The gas burner can be adjusted so you get the temperature you want, and it starts with a push-button igniter.
Features:
Ample space
Transparent door that's easy to clean
External loading wood chip tray so no need to open the front door
Adjustable heat
Built in thermometer
Push button ignition
5. Z GRILLS ZPG-450A Wood Pellet Barbecue Grill and Smoker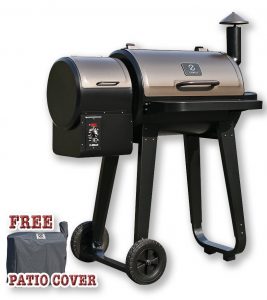 This looks impressive, though it seems a shame to let it withstand the elements on its own. Fortunately it comes with a waterproof cover so you can help maintain it properly. Not that durability is an issue, since it comes with a 3-year warranty.
This comes with digital temperature controls that automatically regulate the temperature by adding the wood pellets as needed. Z Grills use a wide range of wood pellets so you have choices as to the smoky flavor you get.
It's made of corrosion-resistant stainless steel and its temperature can range from 180 to 450 degrees. You can do a lot of things with this, including baking, roasting, searing, or braising.
Features:
Easy set and forget
3-year warranty
Consistent temperature
Waste oil collector for easy cleanup
450 square inches of grilling area
15-pound hopper capacity
All-terrain wheels
Foldable working shelf
6. Dyna-Glo DGW1904BDP-D 43″ Wide Body LP Gas Smoker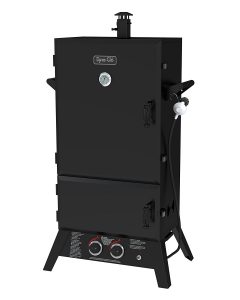 Now this particular model is called the "extra-large" version, and that's a fair way to describe it if it offers 1,235 square inches of cooking space.
That should be enough even if uninvited guests arrive due to the smell of your smoked meats. You also have 6 adjustable cooking grates so you can really put in large amounts of food.
This 20,000-BTU burner is made from cast-iron, and it can maintain the internal temperature regardless of the weather. You also have double doors so you don't let the heat out when you need to access the food or add more wood chips or water.
Features:
Extremely large cooking space
Heavy-duty steel body with high-temperature, powder-coat finish for long life
Unique grease and condensation management system
Consistent temperature
Electro-pulse ignition system
Pre-installed door seals
Sausage hooks and rib rack
Built-in stainless steel thermometer with easy to read gauge
7.  Char-Broil Oklahoma Joe's Bandera Smoker and Grill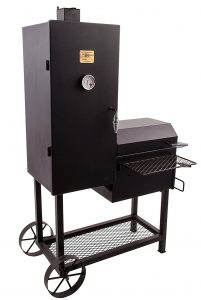 A single look at this is like looking at a party that's about to happen. On one end there's the vertical smoker chamber with 738 square inches of cooking space with 4 racks.
But there's also a grill chamber with another 254 square inches of grilling space. That's enough space for quite a shindig.
It's easy to use, and it has 2 wheels on one end so you can move it like a wheelbarrow.
Features:
992 square inches of total cooking space
It has a rib rack set along with 2 meat-hanging hooks
Made of heavy-gauge steel
Multiple dampers for heat control
No need to modify it, as it works as intended
It can last for many years
8. Z Grills Wood Pellet Grill & Smoker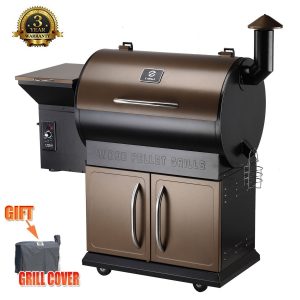 Now backyard parties aren't usually intimate gatherings, since the smell of smoked meat can lure in all your neighbors like the Pied Piper in Hamlin. But this can take care of all your BBQ needs.
It has the space, since it offers 513 square inches in the main rack plus another 187 square inches in the Warm Rack. It also comes with a 20-pound hopper capacity.
This is also not just a smoker. It's an 8-in-1 monstrosity, as this can char-grill, barbecue, braise, sear, roast, bake, grill, and of course smoke.
The taste of the meat is also much more flavorful because it's fueled by hardwood pellets. This can provide 25,000 BTUs per hour, and the cooking temperature can range from 160 to 450 degrees F.
Don't worry about moving this about as well. It has caster wheels. It also won't move when you want it to stay in place, as these caster wheels can be locked. As for durability, it comes with a 3-year warranty. There's also a 30-day return guarantee.
Features:
Huge cooking space
Multiple cooking options
Uses wood pellet with a pellet purge system
Internal temperature sensors
Electronic auto ignition
Shutdown recycle mode
Easy set and forget
9. Royal Gourmet Charcoal Grill with Offset Smoker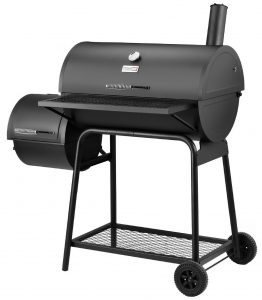 This is a grill for which you don't need to buy an offset smoker. It already has one. As such, it's not really a smoker. It's more for those who like to grill and who likes to smoke their meats every now and then.
The cooking spaces bear this out, as you get 44 square inches for the main grilling chamber plus 180 square inches on the warming rack. Then for the smoker you get an additional 182 square inches.
Side door for adding charcoal easily
Air vents for better air flow
5-pound charcoal capacity
Adjustable damper
Cool-touch spring handle
Steel mesh front able and bottom shelf
10. Smoke Hollow 3616DEW 36-Inch Digital Electric Smoker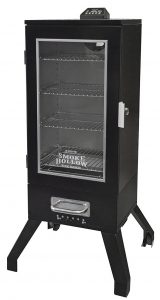 For many people, it's hard to ignore the convenience of just plugging in an appliance. This explains the popularity of this large digital electric smoker.
With its 1,500-watt heat source, you won't have trouble getting the smoking temperature you need.
On top you have the digital LED display with the temperature and timer controls along with the push button on/off.
The front door has a large viewing window so you see inside to the 4 adjustable cooking grates with 3 cubic feet of cooking space. With the external-loading wood chip tray, you can add wood chips without opening the front door.
Features:
Large food capacity
Viewing window
Digital LED display
4 adjustable cooking grids
Easy-loading wood chip tray
1,500 watts
Buying Guide – How to Choose the Best Backyard Smokers:
So what factors are crucial when you're buying your smoker for your backyard? When you're trying to choose among the numerous available models, here are some considerations that should be factored in:
1. Price
For most people, it doesn't really make sense to buy a backyard smoker that costs more than a thousand dollars, though you can find some of them in this price range.
However, this doesn't mean that you need to stick with the cheapest models. With a few exceptions, in general the cheaper smokers are also the least reliable and the soonest to break down.
2. Size
You have to account for the number of people you want to serve with your smoked meats. A small one may suffice if you're just usually cooking for your family, but for backyard parties you may need larger units that can cook up to 50 or even 100 pounds of meat.
So you need to check the number of racks and the total are of the cooking space. In addition, you have to make sure that the size of the model fits your backyard.
3. Efficiency
The smoke should be kept in, so make sure that the design of the smoker doesn't lead to leaks. It also helps if you can add wood or check the meat without opening the door and letting the smoke out.
4. Ease of use
You may have noticed that there are plenty of different designs for backyard smokers, and they can be powered in different ways.
It's up to you to figure out if you can handle the intricacies of a particular model, though you can check up on customer reviews to see if there's any particular difficulty with a certain model.
Your best option comes with easy temperature programming and controls, and adding wood chips shouldn't be a chore. You also have to check if it's easy to clean as well.
5. Durability
This can be hard to check with normal reviews, but many customer reviews are updated when the unit breaks down. So you should read plenty of customer reviews on the smoker you want to buy so you can get a sense that it's fairly reliable and long-lasting.
It will help if you stick with the more well-known brands, as these brands made their names by making high quality products.
You should also check out the length of the warranty. At the very least it should have a 1-year warranty, though some brands may offer a longer warranty period.
Final Word
When you get a backyard smoker, after a while you'll probably wonder how you ever lived without one. That's the effect of regularly enjoying smoked meats.
They're so good that simply grilled foods don't compare. Smoking meats is the essential BBQ experience, and backyard parties aren't complete without a smoker.
So it's a good thing that you have plenty of choices to pick from, so you can pick the right one that matches your needs, preferences, and budget.
Just take care of it and it will take care of you. Having the best backyard smoker in your neighborhood will make you very popular among your friends and family, and your neighbors will like you even more!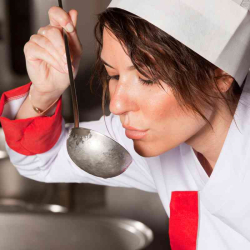 Latest posts by June Brandt
(see all)