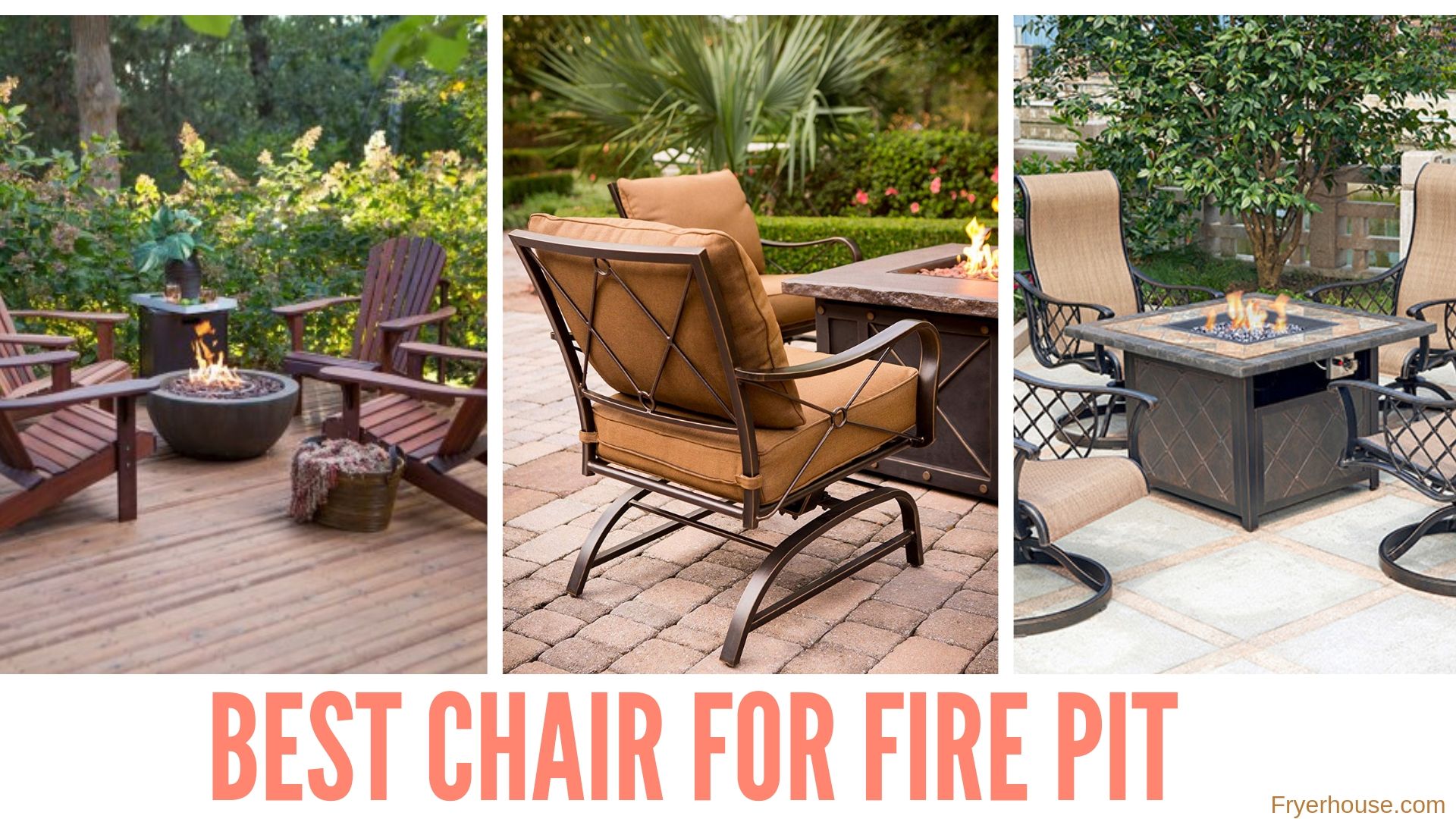 How you get cozy in front of a fire can easily make or break an experience. This is why bonfires aren't very big among the older crowds as it's just hard to sit on a log, the ground, or a low-profile seat.
Fire pits offer better options since you can pick out the finest seating furniture for the job.
If you want to get the best experience from your fire pit, we'll help you choose the top rated chairs for fire pits in this guide.
Check out our recommendations and tips below and you might just find your perfect match in no time.
Top Rated 10 Chairs For Fire Pit in 2021 – Get The Right Model:
Our Picks of 10 Best Chairs for Fire Pit:
Kicking off our list is the Patio Sense Coconino Wicker Adirondack Chair.
As its name suggests, it has the shape, comfort, and functionality as an Adirondack chair but an elevated look because of its wicker detailing.
With an outdoor cushion added, its beauty is boosted with great comfort.
As it's constructed with weather-resistant materials, you can also count on this item to withstand the harsh elements. It can also hold up to 220 lbs, making it a suitable pick for a lot of households.
Features:

Wicker Adirondack style with outdoor cushion
All-weather construction
220-lb load capacity
Reclined backrest
24" x 22" x 4"
1-year warranty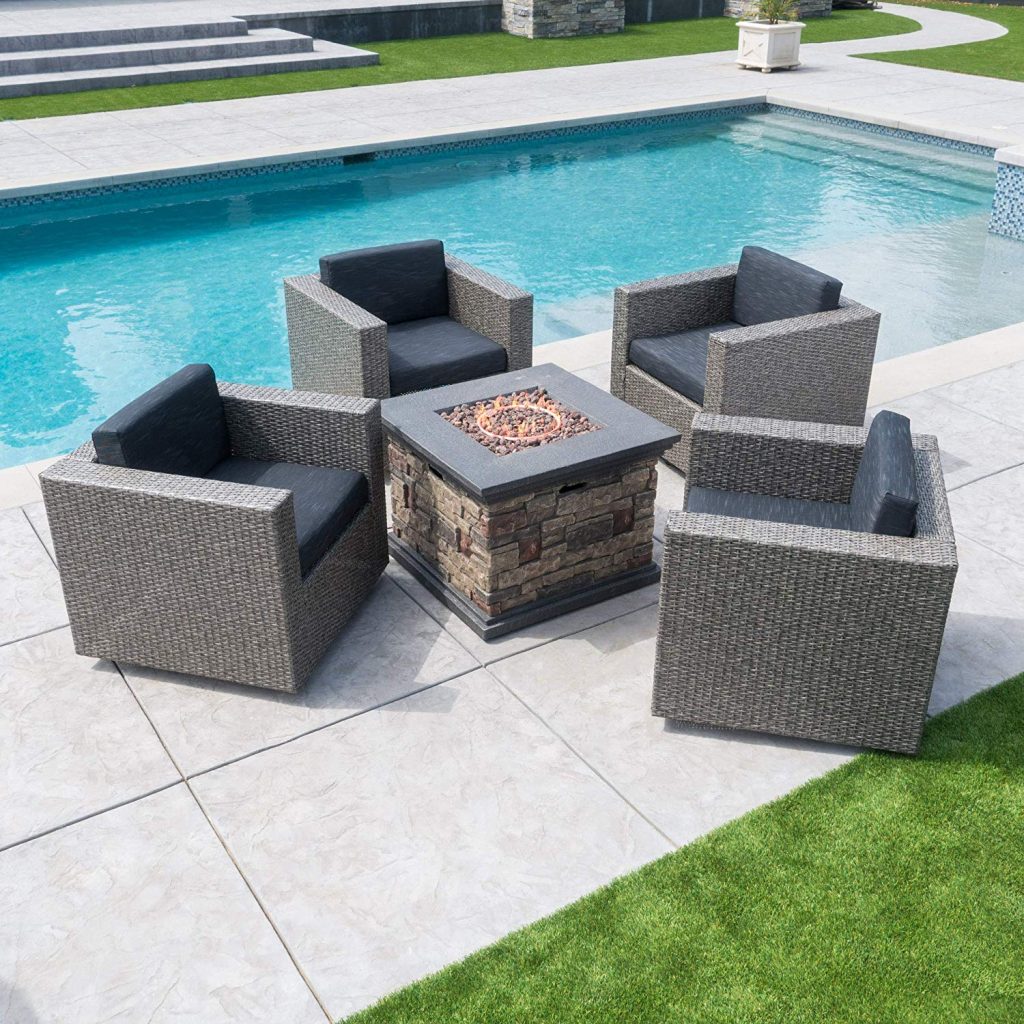 A convenient pick for those who want to buy a complete fire pit set is the Christopher Knight Home Chair Set. This 5-piece set comes with four chairs and a gas fire pit so you don't have to bother looking up fire pits anymore.
Despite the convenience it offers, don't think that you'll be settling with this item.
Its firepit is powerful with its 40,000 BTU rating. Its wicker and natural stone design will also inject more charm into your backyard without a fuss.
Features:

Firepit set comprised of 4 chairs and 1 fire pit
40,000 BTU gas fire pit
Wicker-style square arm seats with waterproof cushioning
Seat dimensions: 21.75" x 19.50" x 15.25
Fire pit dimensions: 32.2" x 32.2" x 23.8"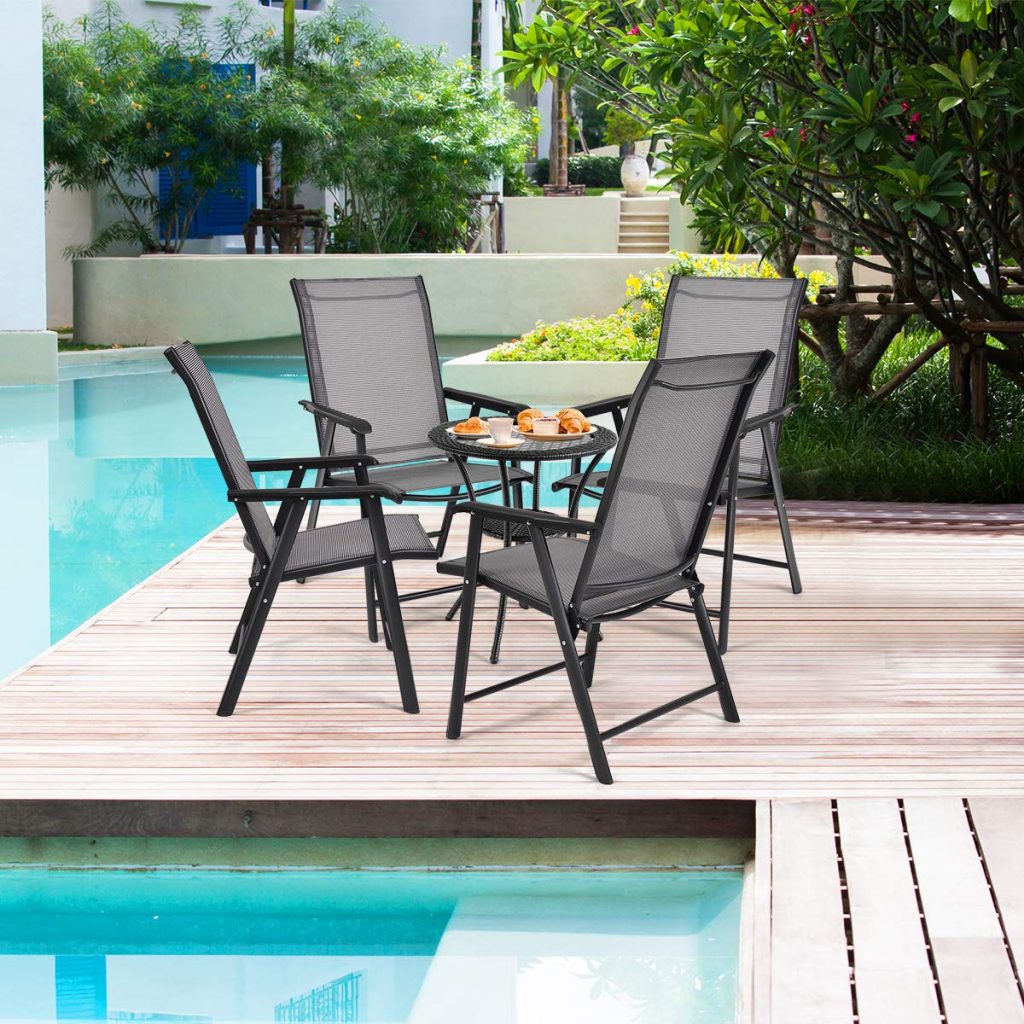 For something more flexible and versatile, you should check out the Giantex 4-Pack Patio Folding Chairs. This item is a 4-piece set of foldable chairs, so it's a practical choice in many counts.
Aside from being one of the more affordable picks on this list, the item's design in itself is practical. Being a set of foldable outdoor chair, you can easily store these items when not in use or during the cold and wet seasons.
You can also opt to take it with you to other places, giving you more uses for your purchase. As they're made to be durable, they can be suitable for various purposes.
Features:

Foldable design
Heavy-duty steel frame
Stretchable and breathable Textilene seating material
Ergonomic backrest design
Neutral gray finish
8" x 23.2" x 37.4"
4-piece set
If you're planning on setting up a fire pit indoors or in a covered area of your home, then the Christopher Knight Home Tufted Club Chair might complete its luxurious look and feel.
Unlike the other items listed here, this armchair is not an outdoor piece so it has a different vibe.
It can, however, be one of the coziest picks here. From its fully padded construction to its lush bonded leather material, it will certainly make you feel cozy.
Features:

Tufted armchair
Bonded leather material
Hand-carved wooden legs
Plush cushioning
28" x 29.5" x 33.5"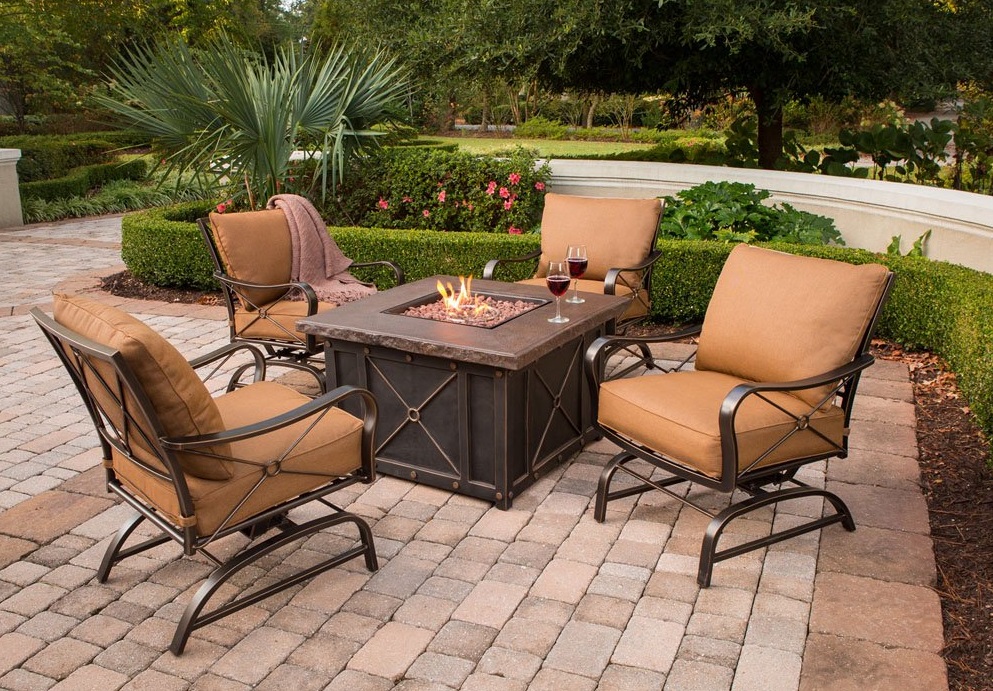 One look at the Hanover Summer Nights 5-Piece Fire Pit Set and you'll be able to tell that it's a very cozy option for your backyard. So if you're after the most relaxing and comfortable furnishings for your home, this set can do the trick.
Aside from its utterly comfortable design, this is also a convenient pick because it already comes with a fire pit table.
No more need to try to mix and match chairs and pit and you're already guaranteed that all of the pieces look great together.
Features:

5-piece fire pit set
4 cushioned rocking metal armchairs
1 gas fire pit table
Heavy steel chair frames with large weather-resistant cushions
Another convenient option for a fire pit and chairs set is the Kinger 5-Piece Propane Gas Fire Pit Chair Set.
It comes with some of the coziest seats and a beautiful fire pit table that will add a lot of charm to your poolside, patio, or other outdoor areas of your home.
This set is definitely in the running for having some of the coziest chairs on this list. Not only are they spacious but they're also well-cushioned.
Despite the bulkiness, you also don't have to worry about moving around as it swivels and rocks. So it can definitely promise the relaxation you've been looking for.
Features:

5-piece fire pit set
4 wicker swivel rocking armchairs with cushions
1 50" gas fire pit table with Signature Porcelain Santa Barbara Pacific Sand Tile top and wicker base
30,000 BTU
All-weather and rust-resistant materials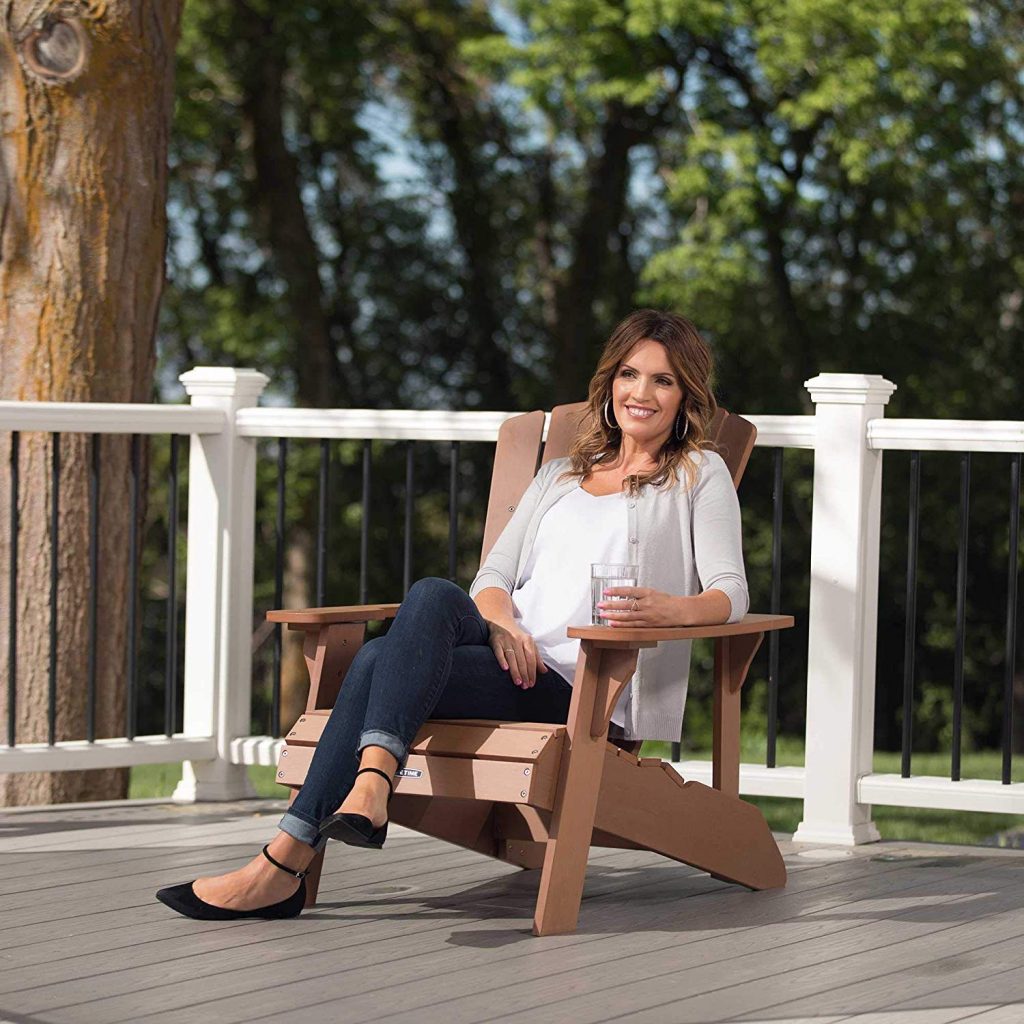 Always wanted those classic outdoor wooden chairs? The Lifetime Faux Wood Adirondack Chair might appeal to you, then.
This seating item is fashioned after the Adirondack chair so you can be guaranteed that it will give your backyard the homey, timeless look you might be going for.
While it may be one of the simpler options on this list, its also a great low-maintenance option. With its all-weather construction and material, you might not have to worry about this chair when exposed to heat, rain, or cold.
Features:

All-weather Adirondack chair
Weather-resistant, UV-protected polystyrene
300-lb load capacity
7" x 31.1" x 37.4"
2-year warranty
The Highwood AD-CHL1-ACE Hamilton Adirondack Chair may look like any other lawn furniture but it's actually one of the more impressive options available.
Unlike the other Adirondack chairs listed here, this one is made from a special synthetic wood material that makes it weather-resistant and durable.
It's also fade-proof and made in the USA so you can count on it to last a long while.
Comfort-wise, you can also get cozy in front of the fire pit in this chair. Its backrest is adjustable, so you can tweak it to help you get in the most comfortable position.
Features:

All-weather Adirondack chair
Synthetic wood material
Adjustable back height
Available in 14 different colors and 2 sizes
29″ x 34″ x 36″
12-year residential / 1-year commercial warranty
For the most versatile and low-maintenance fire pit chair option, check out the Polywood AD5030GY Classic Folding Adirondack. Its unique design and construction helps it stand out and suit the needs of many homeowners.
What makes it versatile? Its folding design. You can easily fold this chair up for easy storage and transport. It will also allow you to use it for other purposes.
What makes it low-maintenance is its choice of material. Made from Polywood or recycled lumber with all-weather treatment, you can count on it to withstand the outdoors without having to worry about fading, stains, chips, cracks, or deformation.
Features:

Folding Adirondack chair
All-weather Polywood material
Marine-grade hardware
20-year residential warranty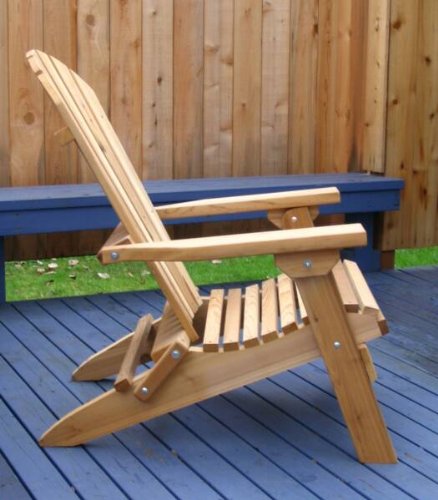 Want something made of natural materials?
The Kilmer Creek Folding Natural Cedar Adirondack Chair would be a good option for you. Made with Western red cedar, this is probably the most natural option in our list.
Amish made, these chairs are sold without any finishing so you can opt to stain it on your own or leave it as is for a more natural look. It also folds up nicely, so you can use it in more ways than one.
Features:

Wooden Adirondack chair
Western Red Cedar material
Folding design
6″ x 26″ x 36″
How to Set Up a Fire Pit?
Even the best chair for fire pit will just become regular outdoor furniture without an actual fire pit.
So if you don't have one yet, here are the steps on how to set them up:
1. Check your local laws and neighborhood regulations if there are any prohibitions or regulations regarding fire pits.
The very first thing that you should do when planning on setting up a fire pit in your property is to check the local laws and regulations regarding the said item.
Not everyone is a fan of having an open fire near their properties, so lots of places have rules in place when building or setting up a fire pit.
While it is legal to have a fire pit in most states, some neighborhoods may prohibit it. Some may limit your options, so you have to make sure to know about the specific regulations that apply in your area.
Do not try to undercut such laws and regulations because they're put in place to ensure everyone's safety.
It's common courtesy as a homeowner to observe such rules because you won't just put yourself in jeopardy but you'll also endanger the lives and properties of your neighbors as well by having a fire pit.
2. Choose a spot on your backyard for your fire pit.
Once you've determined that you're allowed to have a fire pit in your backyard, the next thing to do is to select a spot in your property where to put it. By doing this first, you can already take a few things into consideration.
At the top of this list is the size of the fire pit. If you don't have that much room in your backyard, you might want to find a good location first so you can also decide on the size.
The features your fire pit will have can also depend on the location of the fire pit on your property. For example, you can't find a very flat area for the pit.
You can keep an eye out for the fire pits with special features that can address such issues. By doing this, setting up a fire pit will be faster and easier for you.
3. If you don't want to build your own fire pit, shop for the right product for your space.
As mentioned above, there are certain fire pits that will suit your space best. So by knowing what you need and what you want, you'll have an easier time making a choice.
If you opt to buy instead of building your own fire pit, you have to be more particular about your space and knowing what you want and need. It might be harder and more costly to adjust later on, so it's best to make a good call the first time around.
4. Read the manual and follow the instructions in the assembly and setup of your chosen fire pit product.
Again, for purchased fire pits, the best way to set up your unit is by following the manufacturer's instructions. Most products come with their own manuals so you have something to rely on during the assembly process.
Try to stick with the instructions as they're the best sources of the information you need to put together the item you just bought.
However, in case the manual is poorly written, you can also try to improvise. Do it with care, though, to avoid damaging your unit.
5. Complete your setup with your chosen fire pit chairs and other furnishings.
To ensure that you'll get the most out of your fire pit, don't forget to set up your fire pit chairs and other furnishings properly as well.
Buying Guide – How to Choose the Best Chairs for Fire Pit?
Still can't choose which chair to get for your fire pit? Here are our tips that can help you take a pick:
1. Make sure that the chair you're eyeing is designed for the purpose you have in mind.
To make sure that you'll end up with the best fire pit chairs, the first thing that you should look into is the make of the items you're eyeing.
You have to be certain that the chairs you're interested in are meant to be used outdoors so they can withstand the conditions that they'll be exposed to.
If the chairs you like are weather-resistant, you can also be guaranteed that they'll be able to withstand heat.
It would be great if they can tolerate extreme temperatures so you can be sure that they won't easily melt when it's hot outside or when you sit closer to the fire pit.
2. Consider the look you want to achieve with your setup.
The appearance of the chairs you'll get is also very important to consider. They're not just seating furniture but they can also serve as decorative pieces for your outdoor space.
So if you can get a few nice chairs, they will offer you better value for your money.
As fire pits and outdoor chairs come in different designs, you might want to have a concept or idea of the look you want to go for. This will help you decorate your outdoor space better and achieve a more eye-catching result.
3. Opt for comfort.
Fire pit chairs should also be comfortable. Why? You're supposed to cozy up in front of a fire, so you should have a seat that will let you do just that.
As our list above suggests, there are lots of great options for lounging around by the fire. They can also double as excellent outdoor seating so you can be sure that you'll always find them comfortable even when the fire pit isn't lit.
4. Create and stick to your budget.
Chairs may be one of the most basic furnishings out there but they're not cheap. So if you're thinking that your bank account will not get out of fire pit chair shopping unscathed, there's a chance that you're wrong.
It will be wise to create a budget when shopping for a good fire pit chair that will suit your needs and requirements. Doing so will also allow you to narrow down your options, making the search a bit easier and maybe even faster for you.
5. Prioritize quality.
If there's one thing that you shouldn't compromise when shopping for a set of chairs for your fire pit, it should be quality.
Skimping on quality will not only waste your money but can also jeopardize your safety, so you have to make sure to stick with sturdiest and most durable options.
Final Verdict
You may have tons of options when it comes to the best chairs for your fire pit but don't get overwhelmed with your options.
As long as you have an idea of what you need and want, you can be sure to find your perfect match. Make sure to keep in mind our tips and recommendations, too, as we're sure that they'll be able to help you out.