Lots of homeowners opt to have large kitchens to make sure they have enough room to make, enjoy, and share food. In these households, the bigger the cooking appliance is, the better it will serve their needs.
The best double wall oven works wonders for such setups since they can offer versatility and ample cooking space.
Due to its size and price, it's very common for a lot of people to hesitate when deciding on getting these appliances. Even if they seem to be the best solutions for a lot of kitchens, these two cons can really make some folks reconsider.
In this guide, we'll help you address your hesitations about double wall ovens. If you're torn between getting a 24 inch double wall oven electric or any other type of kitchen ovens, this might just help you give the former a shot.
We'll even throw in a few good picks and some tips in how to choose the best model, so check out what we have to say below.
Top 8 Electric Double Wall Ovens 2021 – Get The Right Model:
Our Picks of 8 Best Electric Double Wall Oven Review:
To help you make up your mind about these cooking appliances, we've rounded up 8 of the latest double wall oven electric below. They should give you a better idea of what these items are really about.
Starting off this list is the impressive GE PT9550SFSS Profile 30 inch. Not only does this model look stately but it's also packed with amazing features.
For starters, it has wireless connectivity that will let you operate the unit remotely.
Its construction is also noteworthy, making it a good item to start exploring these kinds of kitchen appliances.
Features:

5 cu. ft capacity
28-½" x 51-13/16" x 23-½" cut-out dimensions
7 cooking modes (Convection Bake, Convection Bake Multi-Rack, Convection Broil, Convection Roast, Crisp Broil, Thermal Bake, and Thermal Broil)
10-Pass Bake Element
10-Pass Dual Broil Element
Glass Touch controls with notification light
Brillion-Enabled Wireless Control
Self-cleaning with Steam Clean option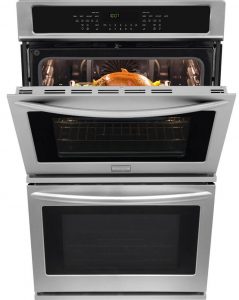 Another popular option for a double wall oven is the Frigidaire FGET3065PF 30″ 9.2 cu. ft.oven.
This item's feature list is as extensive as it is large, promising that you'll get a lot of functionality out of it.
Its most notable offerings?
Its Delay Start and Timed Auto Shut Off features. So if you're after the most convenient cooking equipment out there, this could be what you're looking for.
Features:

6 cu. ft capacity for each oven
29" x 49-5/8″ x 24" cut-out dimensions
Glass Touch Express-Select controls with LED display
Delay Start function
Timed auto shut off
Effortless Temperature Probe
Smudge-proof stainless steel body
Steam Cleaning feature
In need of a lot of cooking space? The GE JK3500SFSS 27 Built-In Double Wall Oven can also be a good option for you.
It might only have two cooking modes but it can still do a lot of cooking for you.
Its solid construction coupled with its straightforward controls makes it a reliable option for many households.
Features:

6 cu. ft total capacity
25-¼" x 50-⅛" x 23-½" cut-out dimensions
2 cooking modes (Thermal Bake and Thermal Broil)
Ten-Pass Bake Element
Eight-Pass Broil Element
Electronic touch controls with LED display
Delay Time function
Stainless steel body
Self-cleaning with Steam Clean option
Made for those who need to whip up meals fast, the DMAFRIGFGET2765PB – Frigidaire Gallery 27 oven is designed with efficiency in mind.
As a part of the Frigidaire Gallery series, the biggest charm of this product is its quick heat up feature.
You don't have to wait for 30 minutes or so to start cooking with this appliance as it heats up within a few minutes.
Features:

6 cu. ft total capacity
25-¼" x 49-⅞" x 24" cut-out dimensions
2 cooking modes (Bake and Broil)
Express-Select controls
Delay Start function
Effortless Temperature Probe
Quick pre-heat
Smudgeproof stainless steel body
Self-cleaning with Steam Clean option
Technically, the GE Profile PT7800SHSS 30″ Built-In Convection isn't a double wall oven.
It's a combination oven but because it comes with a convection microwave oven, it can still perform certain tasks that you'd normally accomplish with a regular oven.
Features:

True European Convection Oven with a Convection Microwave Oven
7 cu. ft Upper / 5.0 cu. ft Lower
28-⅝" x 42-¼" x 23-½" cut-out dimensions
5 cooking modes for Lower Oven (Convection Bake, Convection Bake Multi-Rack, Convection Roast, Thermal Bake, and Thermal Broil)
10-Pass Bake Element
8-Pass Broil Element
Glass Touch with dial controls
Self-cleaning with Delay Clean feature (Lower)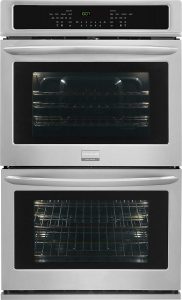 With the help of the Frigidaire FGET2765PF Gallery 27″, even busy households can now whip up fresh meals on a regular basis.
As this item is also from the Frigidaire Gallery series, you can expect it to perform faster than the others listed here.
Coupled with solid construction and effective control design, it might just be the very double wall oven you're looking for.
Features:

6 cu. ft total capacity
25-1/4″ x 49 7/8″ x 24″ cut-out dimensions
2 cooking modes (Bake and Broil)
Quick pre-heat
Effortless Temperature Probe
Express-Select controls
Delay Time function
Self-cleaning with Steam Clean option
Smude-proof stainless steel body
The Bosch HBN8651UC 800 27″ might require some investment but with its exciting features, its price tag can be easily justified.
It offers great functionality that seems to be just a notch above its competition.
So even if they're not technically the most innovative, they can still prove to be more convenient and useful.
Features:

8 cu. ft total capacity
34" x 32" x 55" exterior dimensions
12 cooking modes (Pizza, Pie, Warm, Proof, Convection, Bake, Broil, and Roast, etc.)
Quick pre-heat
Converts temperature for convection cooking
QuietClose® Door Shut
SteelTouch™ control buttons
Delay Start function
Meat Probe
Self-cleaning with EcoClean™ function
For those who prefer manual controls on their kitchen appliances, the Bosch HBN5651UC 500 27″ is a nice option.
With its heavy-duty stainless steel control knobs, you don't have to fiddle with digital controls if you find that too complicated.
With just a turn of the dial, you'll be all set to cook a tasty dish for you and your loved ones with this double wall oven.
Features:

2 cu. ft total capacity
25 1/2″ x 51 1/2″ x 23 1/2″ cut-out dimensions
10 cooking modes (Bake, Broil, Roast, Warm, Pizza, Pie, Proof, Convection, etc)
Mechanical dial controls with LED display
Heavy-duty stainless steel knobs
Converts temperature for convection cooking
8 Pass Broil Element
Self-cleaning with EcoClean™ function
Best Wall Ovens Consumer Reports:
Before we go ahead and discuss the merits of a double wall oven, it might be better to pit it against its alternatives just to clear the air.
You might already be considering other options, so why not address them before we discuss our main choice of appliances in detail? This might help you weigh your options better and allow you to decide faster.
So how does the best double wall oven compare with other kinds of ovens and oven setups? Here's a list of what people are saying:
i. Double Wall Oven vs 2 Single Wall Ovens
The biggest rivals of double wall ovens are the 2 single wall ovens set up. A lot of people recommend the latter over the former because of the versatility they offer. While true in many aspects, the double wall oven also has several advantages over the other.
For starters, the set up would be more straightforward. Maintenance will be easier, too, since you only really have to deal with just one unit.
You'll also don't have to fiddle with two separate control panels while you're busy working on several dishes at the same time.
ii. Double Wall Oven vs Single Wall Oven and Microwave Oven Combo
A microwave and single wall oven combo is another highly suggested alternative to double wall ovens because they're such space savers.
However, they function differently than a double wall oven, so you should really consider their functionalities before making a choice.
With a combination unit, you won't really get more oven space because microwave ovens don't have the same capabilities as a conventional oven. So if you're just really after more cooking space, this might not exactly be the best pick for you.
iii. Double Wall Oven vs Cooking Ranges
While freestanding cooking ranges can go as big as 60 to 66 inches in width, the biggest their ovens can get is at 36".
The larger units are equipped with an oven and a half or two ovens, so if you want more cooking space, they're not that much bigger than double wall ovens.
They also take up more counter and storage space so they might not be the best options for your home.
To be very honest, taking a pick from these options is entirely up to your needs and preferences.
At the end of the day, what worked for other people might not really work the same way for you. You still have to make your own decision based on your conditions.
10 Benefits of Using Double Wall Oven Electric:
As noted above, the electric double wall ovens can definitely hold a candle over its kitchen rivals.
But if you need some more convincing, here are some of its benefits that can persuade you to give these appliances a shot:
1. They'll let you cook up a storm with more efficiency and speed.
With their size and design, you can definitely cook a lot of food with a double wall oven. Size -wise, you can already fit in large portions of food in each oven without a hitch. You can even double up on the servings to cook more.
Aside from the amount of food, you can also cook a few different dishes in one go with these appliances. So all in all, it can be a very reliable piece of equipment to have in a busy kitchen.
2. It can help save more space in the kitchen.
You might be thinking, but double wall ovens are larger in size! While true, it's still space-efficient because they're made to be built into your walls. Some planning ahead may be necessary but at least they won't take up precious floorspace.
3. They have more features than a conventional oven.
If you'll compare the features of double wall ovens to its rivals, you'll learn that the best ones have a whole lot of functionalities that you can't find elsewhere. This makes them a lot more useful and handier to have in a busy kitchen.
4. You can conveniently place a wall oven on a spot that's easy for you to work with.
The biggest advantage of getting an electric wall oven is the fact that you can customize where they're positioned so you don't have to bend, crouch, or sit down just to carefully access its interior. This makes them safer and easier to work with.
This applies to double wall ovens, too, even though there are some limitations to it. You might still need to bend down a little to reach the lower oven in many cases. But since the trade-off is more cooking space, it might just be worth it.
5. Replacing a broken unit is rather straightforward.
If your unit breaks, you can just replace it entirely without any fuss. If you get two single ovens and one of them breaks, it might be hard to find a replacement that will match your old unit.
If the microwave in your combination unit breaks, then you might need to resort to a standalone unit instead because they're more complicated to replace.
If your old double wall oven breaks, you can just simply get a whole new double wall oven.
This might seem like a very small issue to worry about but if you're planning on flipping your home or you just really want a nice and pretty kitchen since it is your home, this is a very valid concern.
Oven models tend to come and go, so unless you chose a very popular single wall oven model, you should expect the manufacturers to discontinue the model a few years down the line.
6. They can seriously elevate the look and value of your kitchen.
Double wall ovens are rather fancy, so there's a very good chance that it can help add value to your home.
7. You can ensure your food's flavors' integrity.
With two separate oven compartments, double wall ovens will let you cook different dishes at the same time without having to worry about the flavors getting mixed up.
Not only does this give you a good dose of efficiency but it can also help you prevent the flavors of your dishes from getting mixed up.
8. It might help you complete your dream home.
A lot of people get a double wall oven because it has always been their dream to have one. If this is your case, then it could also be beneficial for you to get it instead of the other options available.
It will be more fulfilling for you to do so instead of settle with something that you're not exactly too thrilled about.
9. It can transform your cooking experience.
There's no doubt that a double wall oven makes whipping out all sorts of dishes possible for you. So if you love to cook, this cooking equipment might just add more ways for you to enjoy the activity.
10. There are tons of options available.
You can definitely take a pick among the numerous double wall ovens in the market today.
Buying Guide – How to Choose The Best Electric Double Wall Oven?
As the options above can be all the more confusing, we've listed down a few tips on how you can choose the best one for your kitchen.
1. List down your needs.
The right oven for you is the one that will suit your needs so make sure to identify those first. This way you can effectively address what you require an oven to have and be like.
2. Size matters.
If you're eyeing a double wall oven, you're certainly ready to put in a massive appliance in your kitchen.
However, this doesn't mean that you shouldn't pay attention to the differences in measurements of the standard sizes of kitchen equipment.
They may only have about 3-6 inches in between but that can already have a huge impact in your kitchen. Be precise with your measurements before deciding on the size that you'll go for.
3. Pay close attention to the features.
As mentioned above, double wall ovens tend to have more features than other ovens.
Because of this, you might want to be more particular with which ones you'll want in your unit. Some are very useful while others you can live without, so take note of those.
4. Consider the best design for your kitchen.
While double wall ovens pretty much look the same, there are still a few details that can make or break their appearance and performance.
Take for example the ones that come with Frech double door varieties. They can look interesting and can be easier to work with for some folks.
Make sure to take the design elements of the item you're eyeing into close consideration as well. Don't just go for something pretty because they look nice. They should also be functional to make them useful in your kitchen.
5. Read reviews.
Reviews will tell you the things that aren't in the product listings or marketing materials for the oven you're eyeing, so make sure to read them as well.
Final Verdict
The 24 inch double wall oven electric are not just hulking pieces of equipment for your kitchen but it's also a large purchase for your home.
Make sure to take the right measures to choose one so you can be sure to make the most out of your new home investment.