There's no denying that having electricity made everything more convenient for modern man. Most of us today can't even imagine living life without using their electronics and gadgets.
This applies to the kitchen as well as a lot of cooking appliances prove to come in handy for meal preparation.
The best electric pizza oven can become one of these items in your kitchen if you often have pizza nights at home. With their help, you don't need to order in anymore.
You just need to plug them in, preheat, then plop a homemade pizza in, and you're good to go. You can already have an amazing pizza with all of the toppings you love within minutes.
The fact that they'll sit comfortably on your kitchen counters and you don't have to worry about replenishing their fuel source makes them even handier to have around. With one at home, you can easily make the perfect pizza at any time.
However, to make sure that you'll end up with the perfect pizza, you also have to find the right indoor electric pizza oven to help you out.
As these items are not made equally, some are better picks than others. To help you get your hands in one of the finest options, check out our quick guide and recommendations below.
Top 10 Electric Pizza Ovens in 2021 – Find The Right Product:
Our Picks of 10 Best Electric Pizza Oven Reviews:
The Presto 03430 Pizzazz Plus Rotating Oven is one of the kitchen appliances that seem like they're plucked straight out of a science fiction TV show or movie.
It doesn't look like any of the other indoor electric pizza ovens on this list or even any other kind of pizza oven. With its open and rotating plate design, it has easily piqued lots of folks' interest.
But does it make good pizza?
Yes. It might seem a bit odd, but its dual-heating element does a great job in cooking crusts and toppings to a soft inside and crispy outside consistency.
It can also do more than just make pizza, making it a very versatile appliance to have in your kitchen.
Features:
[su_list icon="icon: check" icon_color="#228B22″]
Dual-heating elements
Dial knob timer control
Switch selector for the heating elements
Removable nonstick baking pan
1235 watts
[/su_list]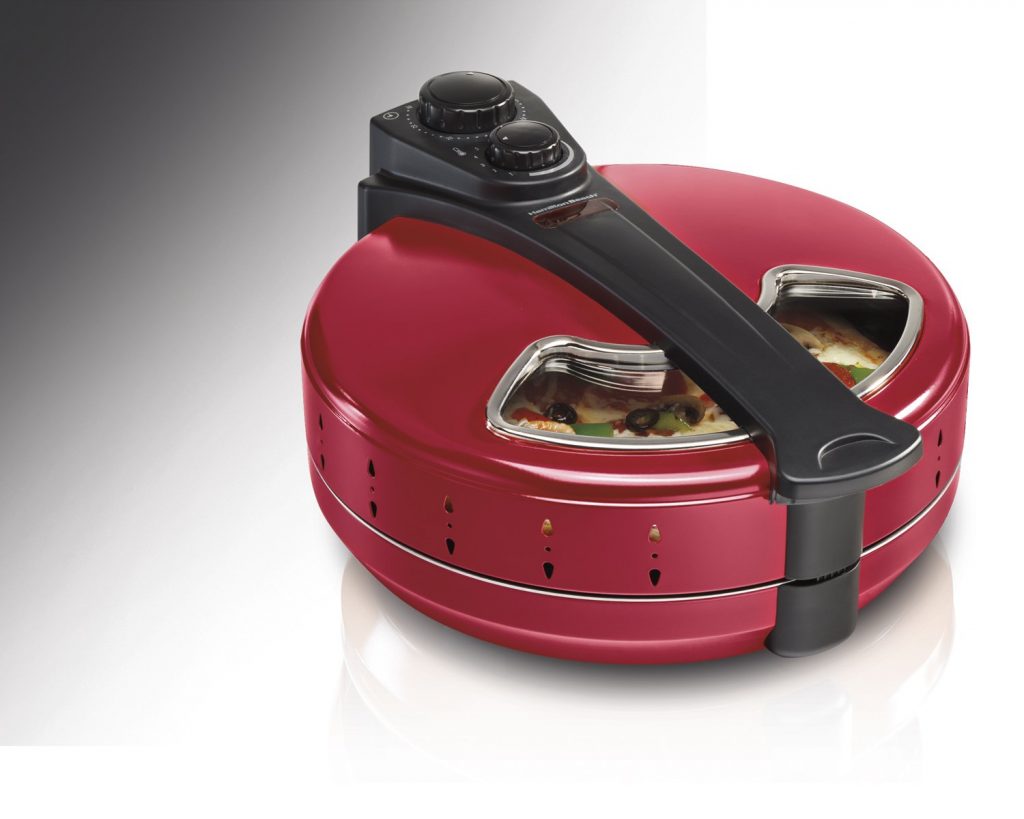 The Hamilton Beach 12 Inch Red Pizza Maker isn't exactly an oven but it can help you whip up great pizzas so it's still worth adding to this list.
Appearance-wise, it resembles a waffle maker more than an oven, so you can expect it to be less bulky than other pizza ovens.
This product works like an oven, however. It has two heating elements that help cook the dough and toppings to a nice crisp. It also has a rotating base plate to help speed up the cooking process and ensure even heat distribution.
Features:
[su_list icon="icon: check" icon_color="#228B22″]
Fits a 12" pizza
Rotating base plate
30-minute cooking timer
Adjustable temperature control
LED light power indicator
Clear viewing window
[/su_list]
The Goplus Stainless Steel Electric Pizza Oven is another interesting option for a pizza maker. It sports a very simple design that features a slide-out cooking tray and a control knob.
It's reminiscent of a boxy DVD player, once you think about it.
Unlike other pizza ovens on this list, its size kind of restricts the variety of items you can make on this product. But if you only really want to make pizzas with it, you don't have to worry about anything.
Features:
[su_list icon="icon: check" icon_color="#228B22″]
Stainless steel body
Fits up to a 12" pizza
Dual heating element
Drawer-type baking tray
30-minute timer
Auto shutoff
Heatproof handle
[/su_list]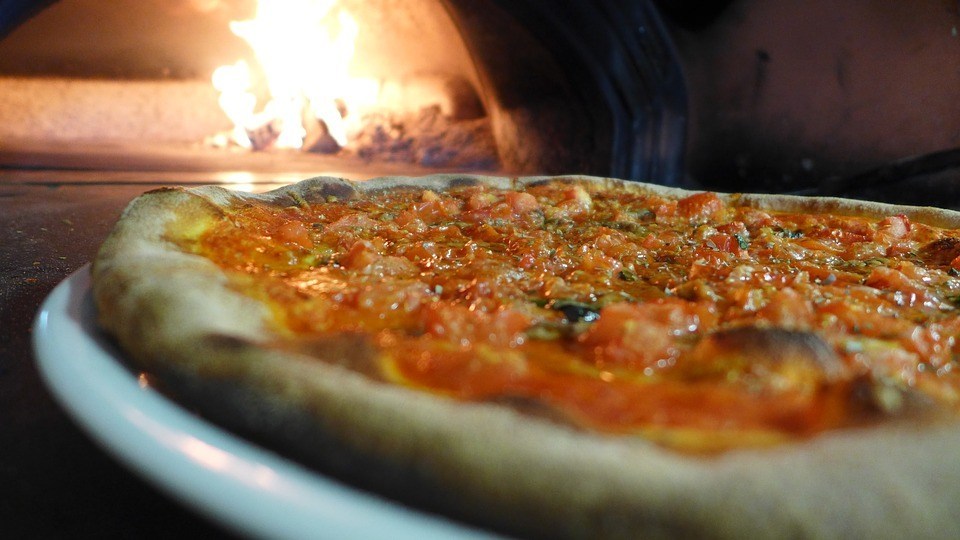 If you liked the look of the item listed above, then the Wisco 425C-001 can also be a nice option for you. While they sport the same look, this item has digital controls, giving you a different option from our previous pick.
What makes this product attractive is its dual thermostat. You can select between Low 350F or High 450F settings, simplifying the cooking process all the more for everyone.
Since pizzas only really need the highest temperatures to turn out great, such features make it a more solid option for pizza-loving households.
Features:
[su_list icon="icon: check" icon_color="#228B22″]
Stainless steel body
Calrod heating elements
Drawer-type baking tray
Dual thermostat
Fits 12" pizza
Digital controls
30-minute timer
Flip-up cool-touch handle
[/su_list]
For a budget-friendly option, you can check out the Continental Electric Professional Series.
Being a box-style pizza maker like the previous two items, it can also offer efficient performance that will let you enjoy a fresh homemade pizza within minutes.
Like the other two items above, this product also barely requires a preheating time. It preheats within 1 minute so you can spend more time cooking your pizza rather than preparing for the cooking process.
Features:
[su_list icon="icon: check" icon_color="#228B22″]
Stainless steel exterior
Fits a 12" pizza
30-minute timer control knob
Drawer-type baking tray
Auto shutoff
Removable crumb tray
Flip-up cool-touch handle
1450 watts
[/su_list]
Also known as Pizzarette, the TableTop Chefs Countertop Electric Pizza Oven is possibly one of the most amusing electric pizza ovens on this list.
It looks like a pizza party themed playset, making it a fun addition to any kitchen.
The most fascinating thing about the Pizzarette is the way it's designed. Not only does it look quirky but it also incorporates both traditional and modern elements in its construction.
Its heating elements may only be located at the bottom of the unit but it still gets to trap and retain heat with the help of its terracotta dome. As a result, it promises results that are comparable with brick-oven pizzas.
Features:
[su_list icon="icon: check" icon_color="#228B22″]
Nonstick cooking surface
Dual heating elements
Terracotta dome with 4 openings and a cool-touch handle
Removable cooking sheet
[/su_list]
Offering a more modern take to the box-style variety is the Presto 03436 Stainless Steel Pizza Oven. It's still made of stainless steel like the ones mentioned above but it has details that make it look more contemporary.
The black-colored detailing on the sides and its black plastic material in the front of its pizza drawer make it look more contemporary as it creates a nice contrast with the sleek stainless steel.
It also has a lot to offer in terms of features. For starters, its two heating elements can be individually controlled.
As a result, you have full control over how you want your pizza to be like. Its baking rack is also completely detachable from the main unit, making it easier to clean.
Features:
[su_list icon="icon: check" icon_color="#228B22″]
Stainless steel and plastic construction
Dual heating elements
Heating element control switch
30-minute cooking timer
Removable pizza drawer
Flip-up cool-touch handle
Indicator light
[/su_list]
Not a big fan of pull-down oven doors? You might want to check out the Hamilton Beach Electric Pizza Oven, then.
Also referred to as the Easy Reach Toaster Oven, this item has a roll-top door which can be a more favorable design for households with growing kids.
Aside from its design, it also offers a number of useful functionalities. It has 3 cooking presets, auto shutoff, and a stay-on setting. It's also equipped with a ready bell, alerting you when the timer runs out.
Features:
[su_list icon="icon: check" icon_color="#228B22″]
Stainless steel body
Fits a 12" pizza
Roll-top door
3 cooking presets: Bake, Broil, and Toast
2 rack positions
3 dial knobs for Temperature, Function, and Timer control
[/su_list]
In case counter real estate is an issue in your kitchen, the Mueller Austria Electric Pizza Oven should be something you look into. Since it can only fit a 9" pizza, it's a smaller option that won't cost you precious counter space.
Despite being smaller, its performance is still comparable with its bigger competitors.
It's equipped with convection technology so it promises to cook your food more evenly. It can also bake, broil, toast, and keep food warm, making it very versatile.
Features:
[su_list icon="icon: check" icon_color="#228B22″]
Stainless steel construction
Fits a 9" pizza
4 cooking presets: Bake, Broil, Toast, and Keep Warm
Convection technology
3 dial knobs for Function, Temperature, and Timer control
30-minute timer
Indicator light
1100 watts
[/su_list]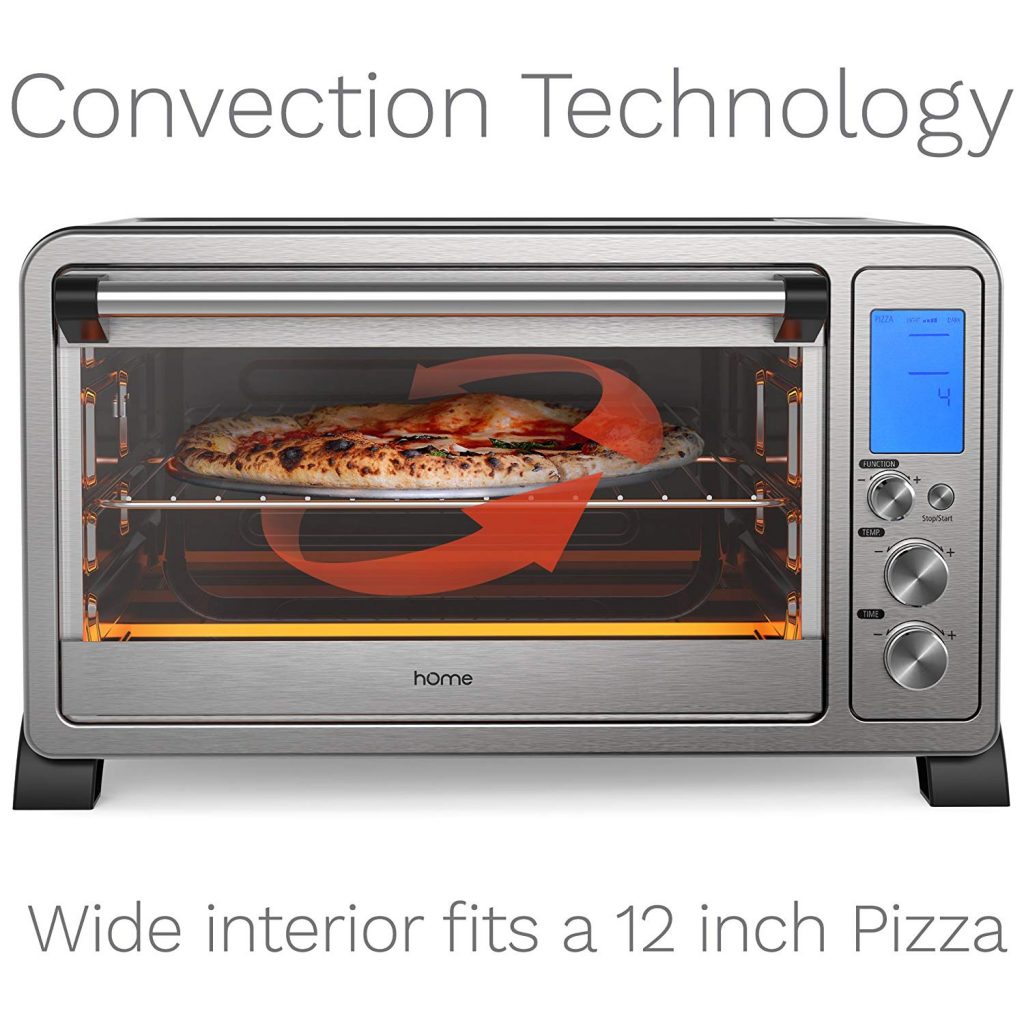 Ending this list with a bang is the hOmeLabs Digital Electric Pizza Oven. It might look expensive at first glance but it's actually an affordable pick.
It's hailed as a nice choice for those who want the best value for their money as it comes with premium features despite its friendly price tag.
With its digital controls, it's easy to see why it looks and feels more expensive than it really is. It also comes with 10 cooking settings which are a lot for its price point.
You can also expect to get a lot of space out of this item, thanks to its 3 rack positions that also allows for the use of a rotisserie rack.
Features:
[su_list icon="icon: check" icon_color="#228B22″]
Stainless steel body
Fits a 12" pizza
Digital controls
Digital display screen
Dedicated Stop/Start button
3 dial knobs for Temperature, Function, and Timer control
3-rack position
Rotisserie rack, broiler rack, and bakeware pan included
1500 watts
[/su_list]
Where Can I Buy an Electric Pizza Oven?
To help you get started on your search for the right electric pizza oven to add to your kitchen, you might first want to know where you can get these items.
The answer here isn't really hard to find. Like other small appliances, they're readily available in many big box stores.
While they don't have the widest selections, they're still a good place to start if you just want to see such cooking equipment in person.
Some specialty homeware and appliance stores also carry various kinds of cooking appliances like electric pizza ovens. So if you have a few of them in your area, make sure to check them out.
If you want the widest range of options, however, log onto the internet. With just a few clicks and taps, you'll already find hundreds of products to choose from.
Amazon.com continues to be one of the best places to check out for such searches. They have a lot of great electric pizza ovens on their database, most of which are highly recommended and well-reviewed by actual buyers.
But then again, when it comes to shopping for a great electric pizza oven, the concern lies in which item you should get more than where to get them.
With the internet at the palm of your hands, it's so easy to find where to get stuff. Choosing which one to get continue to be a challenging task.
To help you choose which product to get, we've rounded up 10 of the most popular ones in the market today. Check them out below as they might just tickle your fancy.
How to Use an Electric Pizza Oven?
Another area that you might want to explore before getting an electric pizza oven is the technicalities of the operation of the said appliance.
It's ideal to learn how to use such items so you can better gauge if it will be a good fit for you.
So to help you do this, here's a step-by-step guide that can teach you the basics pizza making with the said appliances.
1. Read the product manual.
As our list above will tell you, electric pizza ovens come in various formats. While all of them are designed with heating elements, they don't work the exact same way.
So if you want to operate your unit properly, it's an absolute must to read the product manual before anything else.
Product manuals will clue you in on how the product works and the specific features you need to know in order to make the most out of it. Do not skip this step if you want to make the most out of your purchase.
2. Set up your unit accordingly.
Following the product manual, set up your electric pizza oven accordingly. The best thing about this is that you don't need to do much in this area.
Most electric pizza ovens are shipped fully assembled. In most cases, you just need to plug them in to start cooking.
3. Plug the unit in and use accordingly.
Since electric pizza ovens are fueled by electricity, you only really need to plug it in to start cooking. Some of these items don't need preheating, so read your manual to learn whether your item requires preheating or not.
Then follow the operation instructions on your manual in order to start making a pizza with your pizza oven.
If you want to get better results, you might want to use a pizza stone when making your own homemade pizza. These items will help retain heat and cook your crust to a crisp with more ease.
Buying Guide – How to Choose the Right Electric Pizza Oven?
Once you've decided that electric pizza ovens are great options for you, the next thing you should ensure is to make the right pick. There are lots of good electric pizza ovens out there that it can be a challenge to choose just one.
So to help you make the right choice, we've listed down five of the most important things to look into. Here they are:
1. Energy Efficiency
The top rated electric pizza oven is energy efficient. This means that it effectively makes use of the energy it consumes to help you cook your food well.
Ideally, you shouldn't choose a product that's consuming too much electricity but can't provide enough heat to cook your pizza effectively.
So you should make sure to check the wattage to the maximum temperature ratio of each item you'll look into. Such information will let you know whether the item you're eyeing is energy efficient or not.
2. Size
With counter space available at a premium in most homes, you might also want to be very particular about the size of the pizza oven you'll get. These items can get quite big, as our list above will show you.
It's best if you will take measurements of your available counter space before you even start looking for an electric pizza oven. This way, you can be sure that you won't make the mistake of getting something too big or too small.
3. Budget
Pizza ovens also come in a wide price range, so it would be wise to set a budget to help you narrow down your options. Doing so will also help you find a great value pick, promising that you'll find something that will give you great value for your money.
4. Features
To ensure that the appliance you'll get will offer you a good range of functionality, check its list of features. Some offer more capabilities than others, so they can be more attractive picks.
However, in some cases, you may not necessarily need all of them. So make sure to weigh their offers as well as it also wouldn't be wise to spend more on something you won't be able to fully use.
5. Product Feedback
Don't forget to check out what other people are saying about the product you're eyeing. Reviews will tell you a lot of things that the listings will not talk about, so make sure to read up.
However, be very discerning in what you'll believe as there are always 2 sides to a story. Sometimes, some bad reviews involve product misuse and positive reviews can be paid writeups so look out for signs of such.
Final Verdict
Your needs and preferences should be your first priority so you can be sure that you'll end up with the right product. Keep our tips and recommendations in mind, too, as they can certainly come in handy during your search.