There are a few important details to remember if you want the best results when making a roasted dish. Aside from properly preparing the oven and meat as well as following a good recipe, using the right tools is also essential. This is where the best roasting rack enters the picture.
Designed to give your ingredients a lift so it won't sit directly on your cookware, roasting racks prove to be very handy cooking tools. It offers a wide range of benefits that a lot of home cooks will find useful.
Some people, however, might argue that you don't need a roasting rack because there are tons of other items that you can use to get the job done.
However, a dedicated cooking tool is more convenient to have, so why not get one instead? If you like making different kinds of roasts anyway, it's certainly worth the investment.
Want to know if you should get one? Let this guide help you find the answers you need.
Top 5 Roasting Racks 2021 – Reviews and Comparisons:
| Rankings | 1st Choice | 2nd Choice | Best Overall | 4th Choice | 5th Choice |
| --- | --- | --- | --- | --- | --- |
| Top-Rated Roasting Racks in 2019 | | | | | |
| Name | OXO Good Grips Silicone Roasting Racks | KITCHENATICS Roasting Rack | Ultra Cuisine Roasting Rack | All-Clad 3016 Nonstick Roasting Rack | Cuisipro Roasting Rack |
| Brand | OXO | KITCHENATICS | Ultra Cuisine | All-Clad | Cuisipro |
| Color | Red | Stainless Steel | Stainless Steel | Black | Black |
| Rating | Excellent | Excellent | Excellent | Excellent | Excellent |
| Dimensions | 1.5 x 4.9 x 9.3 inches | 12 x 8.5 x 1 inches | 8.5 x 12 x 1 inches | 13.4 x 11.6 x 4.7 inches | 15 x 12 x 5.5 inches |
| Weight | 9.1 ounces | 10.7 ounces | 10.1 ounces | 3 pounds | 1.75 pounds |
| Material Type | Silicone | Stainless Steel | Stainless Steel | Stainless Steel | Stainless Steel |
| Get Started | | | | | |
Our Picks of 10 Best Roasting Racks Review:
1. KITCHENATICS 100% Stainless Steel Wire Cooling and Roasting Rack
Offering excellent versatility is the KITCHENATICS 100% Stainless Steel Wire Cooling and Roasting Rack. This flat, raised rack can be used for cooking, cooling, roasting, drying, grilling, steaming, rinsing, and lots of other tasks where its perforated design can be of great help.
What makes it stand out, however, is its raised bottom. It's designed with 1-inch legs that provide a substantial lift to the rack.
Made with heavy gauge stainless steel, it can also guarantee sturdiness and durability that can further extend its functionality.
Features:

Flat roasting rack
Designed for cooking, roasting, grilling, cooling, and drying among other tasks
Commercial-grade 304 (18/8) stainless steel material
Rust-resistant
Oven-safe to 575˚F
Dishwasher-safe
1" raised height
Measures 12 x 8.5 x 1"
2. Norpro Adjustable Roast Rack
For something more versatile and can handle different types of meat with ease, the Norpro Adjustable Roast Rack can be a fantastic choice.
This roasting rack is designed to have an adjustable V-shape so it can easily accommodate different kinds of ingredients. You can adjust it to seven positions so you can easily secure your main ingredient in place with ease.
The best part? This item flattens out for easy storage. You won't need to struggle in hiding a large rack if you opt for this product.
Features:

Adjusts to seven different positions to fit different sizes of meats
Chrome-plated construction
Collapses flat for easy storage
Large handles
Measures 1 x 7 x 11" when laid flat
3. OXO Good Grips Silicone Roasting Racks
Metal racks tend to scare some people off because they can be hard to clean. With crusted food, small gaps, and a large surface area, they can take a while to clean which can turn some folks away.
The OXO Good Grips Silicone Roasting Racks offer a nice alternative to these, though.
With its large openings and silicone material, it promises to be easier to clean. It's also very versatile as you can use it on roasting pans or baking trays. They can even work as trivets since they're heat-resistant and are quite attractive to look at.
Features:

Flat roasting rack
High-grade silicone material
Large gaps for better air circulation
Can also work as a trivet
2 racks included
Measures 1.5 x 4.9 x 9.3"
4. Ultra Cuisine 100% Stainless Steel Roasting Rack
Another flat roasting rack option is the Ultra Cuisine 100% Stainless Steel Roasting Rack. while this product is primarily marketed as a baking and cooling rack, it can also double duty as a roasting rack.
Thanks to its tight crosswire square screen, you don't have to worry about food slipping through the gaps.
Features:

Flat roasting and cooling rack
Commercial-grade 304 (18/8) stainless steel material
Non-toxic and food safe material
Tight crosswire square screen
Oven safe to 575F
Suitable for cooling, baking, roasting, cooking, grilling, draining, smoking,
Available in different sizes
1" raised height
5. Norpro Rectangle Silicone Roasting Rack
The Norpro Rectangle Silicone Roasting Rack is another popular pick when it comes to a versatile and easy to clean roasting rack. Its silicone material provides a durable, non-stick surface that makes cleanups a breeze.
It won't warp, rust, or retain odors so you can use it to whip up different dishes. You can also use it with different cookware so there's a very good chance that you can make the most out of this product.
Features:

Flat roasting rack
High-grade FDA-approved silicone material
Nonstick surface
Rust-proof
Won't warp or retain odors
Oven safe up to 500F
Measures 9 x 6 x 1″
6. Calphalon Small Nonstick Roasting Rack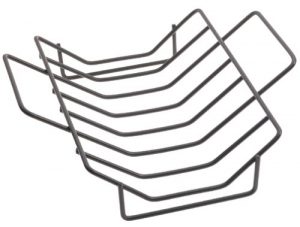 Looking for a rack that will let you roast small birds and slabs of meat a breeze? The Calphalon Small Nonstick Roasting Rack can be a solid option for you.
This U-shaped roasting rack comes with large handles and enough room for fowls up to 10-lbs in weight. As the name suggests, it's a compact cooking tool so it can be a good choice for those with smaller ovens.
Features:

U-shaped roasting rack
Durable metal construction
Nonstick coating
Large handles
Oven safe to 450F
Dishwasher safe
Lifetime warranty
Measures 14 x 12.8 x 7.1"
7. HIC Adjustable Wire Roasting Baking Broiling Rack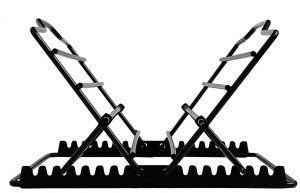 Experienced home cooks who are looking for a versatile cooking tool might find what they're looking for in the HIC Adjustable Wire Roasting Baking Broiling Rack.
With the seven available positions that you can configure the rack in, it can be the perfect cooking tool for the dish you have in mind. It also helps that it has a nonstick coating so you don't have to worry about cleanups.
Features:

Adjustable roasting rack
7 positions available
Heavyweight chrome wire construction
Nonstick coating
Reinforced based
Rust-resistant
Oven safe up to 500F
Suitable for roasting, baking, broiling, and cooking
Measures 10.5 x 10.5 x 0.5"
8. Good Cook Adjustable Roast Rack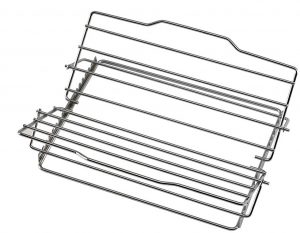 Most roasting racks are very affordable, but there will always be one that will offer great performance at the best price. The Good Cook Adjustable Roast Rack is an excellent example of such as it combines a very friendly price tag and notable performance.
This adjustable roast rack may not seem like much at first glance but with its 7-position settings and sturdy construction, it can actually accommodate a 20-lb turkey without a fuss.
It's also easy to clean and easy to carry so it can definitely get the job done without you having to spend a lot.
Features:

Adjustable roast rack
Chrome-plated wire construction
7 positions available
Good sized handles
Measures 11.5 x 0.75 x 10.8"
9. All-Clad 3016 Nonstick Roasting Rack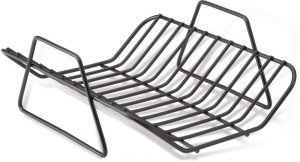 With a safety rating of 800F, the All-Clad 3016 Nonstick Roasting Rack will definitely catch a lot of people's attention.
It's possibly one of the highest ratings for these items so you might also find it useful for more cooking applications like smoking and grill roasting.
It's heavy duty and easy to clean, so even if it is a bit pricier than the other items in the list, it can still be worth the investment.
Features:

U-shaped roasting rack
Heavy-gauge wire construction
Nonstick coating
Large handles
Oven safe for up to 800F
Measures 13.4 x 11.6 x 4.7"
10. Cuisipro Roasting Rack
If the only thing keeping you from owning a U-shaped roasting rack is your limited storage space, you should get to know the Cuisipro Roasting Rack.
This cooking tool is designed with a removable pin so you just need to take that out to dismantle the whole unit and nest the sides into each other for compact storage.
As it's made of heavy-duty steel, you don't have to worry about its sturdiness. It can hold up to a 25-lb turkey so you can be guaranteed that it's durable enough to help you whip up large meals.
Features:

U-shaped roasting rack
Removable pin design allows dismantling for easy storage
Heavy-gauge wire construction
Nonstick coating
Large handles
Can hold up to a 25-lb turkey
Measures 15 x 12 x 5.5"
How to Make a Roasting Rack?
Before we go into which roasting racks are worth your while, you might be interested in learning what else you can use in place of these cooking tools. These are two good options that a lot of experts recommend.
Using an Aluminum Foil Rope:
Grab about ten inches or so of aluminum foil then roll it loosely to create a rope.
Create a coil with the aluminum foil rope and place it on your roasting pan or baking tray. Make sure to leave some gaps and that the coil is big enough to hold up the meat you're about to roast.
You can then place the meat on top of the aluminum foil coil and start roasting.
Using a Vegetable Bed:
Also known as the edible roasting rack, chop up some potatoes, onions, carrots, celery, and other aromatic veggies in large portions.
Place them at the bottom of your roasting pan or baking tray with some gaps in between.
Put the meat on top of the veggie bed and start roasting.
Not only will this technique help cook your roasted meat evenly and thoroughly but it can also give you roasted vegetables that are packed with flavor.
Both methods are very easy to do but they can still offer hit or miss results. If you want consistent results, however, an actual roasting rack can still be the best bet. They will also let you skip the additional steps of creating a DIY rack, so they can be handier to have at home.

How to Use a Roasting Rack?
If you intend to get a roasting rack, however, how do you use it? In all honesty, they're some of the easiest cooking tools to use. But to be on the safe side, here are the steps in using one of these items:
1. Place the roasting rack inside your roasting pan or baking tray.
It's crucial to use roasting racks with a solid cookware so you can collect the drippings, oils, and meat juices that your roast will release while you cook. Doing so will make oven cleanups easier and it can also prevent grease fire.
Remember to place the rack the proper way. If it has lift-out handles, make sure that they're easy to grab onto. This way, you can easily take out the meat from the roasting pan.
2. Put the meat on top of the roasting rack and start cooking.
How you position the meat is up to you. For roasted turkey, however, experts recommend placing them breast side down to achieve juicier and tastier results.
Again, using a roasting rack is very simple. It's a straightforward process which is why it's much better to own one of these things instead of making your own.
10 Benefits of Using a Good Roasting Rack: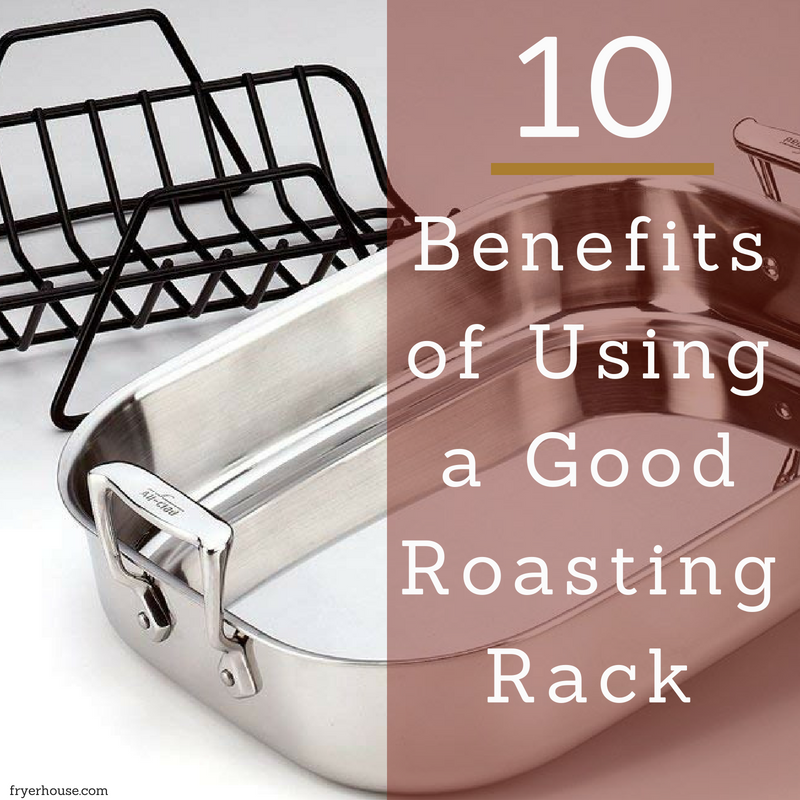 Need more convincing that roasting racks are great additions to your kitchen? Here are ten great benefits that you can enjoy with these items that might help you make up your mind:
1. It can help ensure that the meat you're roasting will have a crispy outer layer all over.
Without a roasting rack, your ingredients will sit directly on the roasting pan or baking tray. This might not sound like a serious issue but the fact that it will let your meat sit on the pool of meat juices and oils can prevent it from having a crispy outer layer in every part. The area that sits on the pool of juices will stay wet and soft.
With a roasting rack, not only will you be able to keep the meat from touching the drippings but it can also help the hot air to thoroughly cook your ingredients. This can result in a crispier outer layer which makes roasted dishes more enjoyable.
2. It can keep your meat from soaking in all the fat that it has already secreted.
Meat drippings from roasts often include fats that are deemed unhealthy by experts. Most meats contain a good amount of saturated fat which are not the healthiest kinds.
By letting your meat sit in the drippings, it will allow your dish to absorb them again. A roasting rack can prevent this from happening.
3. It will help you cook your dish more evenly.
Because the hot air inside the oven will be able to circulate around every part of your ingredients, you can expect more evenly and thoroughly cooked results.
4. It can double duty as a cooling rack.
Those who love baking cookies and other pastries can also find flat roasting racks helpful in cooling their goodies. The lift these items provide makes it even more efficient in the task. Just make sure to clean the rack thoroughly, though, so the grease from the savory dishes you make won't affect the taste of your pastries.
5. They're quite inexpensive.
Roasting racks are sold at very friendly prices so you can easily afford one even if you're on a budget.
6. They can help you cut down the kitchen waste you make.
If you regularly whip up roasted dishes and use DIY aluminum foil racks instead of buying the actual cooking tool, it's very likely that you're creating quite a lot of waste.
Reusing aluminum foil isn't exactly a common practice as these things are quite easy to rip apart. So if you make roasted dishes frequently, expect to throw out quite a good amount of aluminum foil every time.
As roasting racks are designed to be reusable, you don't really have to throw out stuff every after use. If you even managed to get one of the best pieces available, you can expect to use it for a long time.
7. It will save you from having to move the meat around.
Roasting meat without a rack might require you to move the meat around for more even cooking. This is a tricky thing to do and can injure you or waste the food you worked so hard on.
With a rack, however, the oven will already do most of the work for you. You won't need to turn or reposition the meat inside your roasting pan as the heat will easily reach all of the ingredients with ease.
8. It won't overly complicate your basting techniques.
Some people might think that roasting pans make basting more complicated since it will keep you from accessing the drippings right away. While that can add a challenge, racks can still make things easier for you because it can help you coat the meat more evenly.
9. It can prevent overcooking in some areas.
Since the rack will keep your meat from touching the cookware, there won't be any areas that will get direct heat. This can prevent you from overcooking some areas.
10. Roasting racks can make your cooking tasks simpler.
All in all, roasting racks can help you make the most out of your oven since it will help improve the circulation of the hot air around the food you're cooking. This offers better results and can make cooking easier for you.
Recipe – How to Roast a Rack of Pork?
With so many different turkey recipes out there, you might be wondering how you can use a roasting rack for other types of meats.
To give you a good idea how versatile this cooking tool can be, here's a quick roasted rack of pork recipe that you can try at home:

Ingredients
1 rack of pork
1 tsp salt
1 tsp olive oil
1 large brown onion, thinly sliced
½ teaspoon dried thyme
½ teaspoon ground black pepper
Cooking steps
Thaw, wash, and pat dry the meat. Let it sit at room temperature for 30 minutes.
Preheat the oven at 425F.
Grab a roasting pan and the roasting rack.
Place the onions inside the roasting pan then put the rack in place.
Rub the olive oil and salt into the rack of meat.
Sprinkle the meat with the black pepper and thyme.
Place the rack of meat on top of the roasting rack and then put the roasting pan inside the oven.
Cook for 20 minutes then reduce the heat to 350F. Cook until the internal temperature reaches 160F.
Remove from the oven and let it sit for 10 minutes.
Remove the fat from the drippings. Deglaze the pan and strain the juice.
Make your gravy and sauce according to your own recipe.
Serve.
Buying Guide – How to Choose The Best Roasting Rack?

Ready to narrow down your options and find the latest roasting rack for you? Here are a few tricks that will help you ensure that you'll find the product that will meet your needs:
1. The top roasting rack for you will fit inside your roasting pans and oven.
Size always matters when it comes to cookware, especially if it will go inside the oven. Make sure to take measurements before looking at the different available racks in the market. Measure the interiors of your oven and your roasting pans so you can be sure that the rack you'll get will fit inside them.
2. A roasting rack has to be very durable.
Every piece of cookware has to be very durable as it will be subjected to high heat and hold a lot of weight. These prove true for roasting racks as well, especially if you intend to cook large chunks of meat in them.
Pay close attention to the materials used as well as the construction. This can help you determine the durability of the item. Look for the ones made with heavy-gauge steel so you can be sure that it will be able to handle the weight and high heat it will be exposed to.
3. Look for something with a substantial weight but is still easy to maneuver.
One of the biggest challenges in roasting large portions of food is the fact that you have to carry them from one point to another. They can also weigh a lot so you have to make sure that the cookware you get is sturdy enough for the task.
But aside from being able to carry a lot of weight, it will also be nice if your cookware won't add more weight into the mix. A heavy cookware combined with the food's weight can make it difficult for you to move the food around.
It can also threaten your safety so you have to make sure to choose a rack that's sturdy enough but not too heavy for you to handle with ease.
4. It's up to you whether you want handles on your rack or not.
Some racks have handles while others don't. It's entirely up to you which one to go for as you might have your own preferences when it comes to handling the food you cooked.
However, if you're using roasting pans, lift-out racks with handles will prove to be very useful to you. They can help you take out the meat without a struggle.
5. Look for something that's easy to clean.
A lot of home cooks think twice about using roasting racks because they're quite hard to clean. The design of these items tends to make cleanups challenging so some people choose to opt-out of it entirely.
The results, however, can be worth the minor inconvenience. Besides, you can look for nonstick racks to make cleanups quicker and easier.
You can go for products with nonstick coating or silicone racks that can guarantee fuss-free cleanups. Also, the fact that it's highly likely that you won't make a roasted dish every day should also assure you that you don't have to worry too much about washing a roasting rack.
Final Verdict
Skills and high-quality ingredients may be the essentials when it comes to making good food but the right tools can also be of great help. They can help simplify the steps you need to take which can let you accomplish the task better.
The best roasting rack tends to prove itself to be a good example of a handy kitchen tool. With all of the benefits it can offer and its friendly price, maybe you can give it a chance and see for yourself how it can improve the way you make magic in the kitchen.