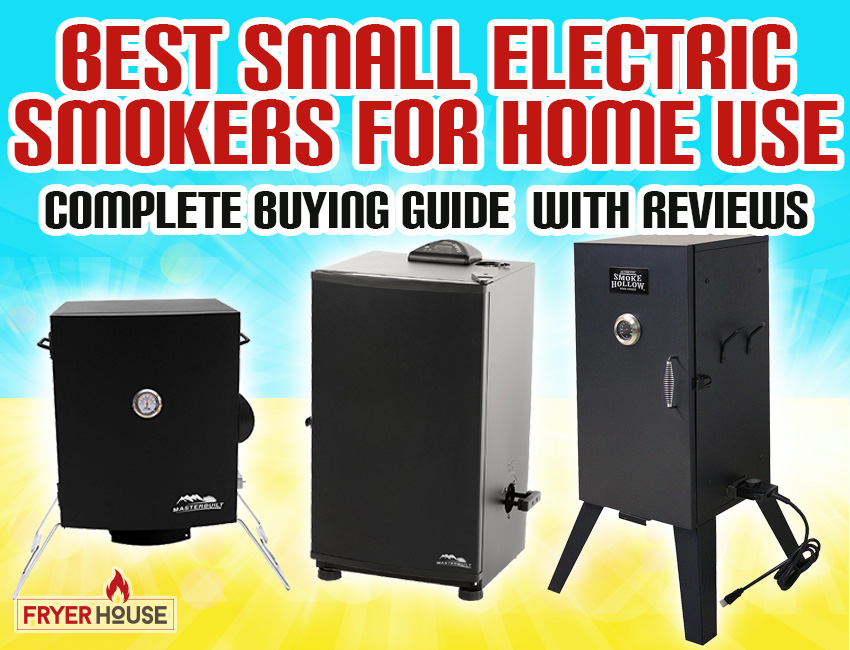 For some people, it just makes sense to find the top small electric smoker so they can savor the delicious treat of smoked meat.
You don't really need a large smoker when you just want to smoke enough meal for yourself or for a small family. Having it powered by electricity also makes it a lot more convenient to use.
Some people may seem to think that the special taste of smoked meat can only be enjoyed on special occasions, but why should that be the case?
If it's possible for you to include smoked meat (or even veggies) for your meals on a daily basis, then nothing's really stopping you. What's more, a small electric smoker doesn't have to cost too much. You don't need a huge backyard either.
Finding the best one among so many possible choices can be a rather overwhelming task, but it's made easier with our guide. Now you can find one that suits your budget, needs, and living conditions.
Top 10 Small Electric Smokers 2021 – Get The Right Model:
Top Trending Small Electric Smoker Products:
Our Picks of the 10 Best Small Electric Smokers: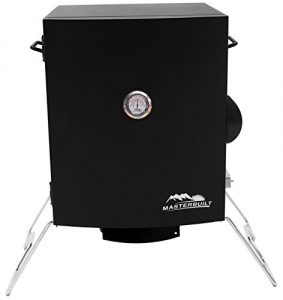 Do you like bringing your smoker on camping grounds with electrical sockets? Do you have friends who really love it when you bring along your smoker?
If so, then this is a great smoker to have. It's extremely portable as it is compact and even its legs fold up. It also weighs less than 22 pounds.
This actually looks like a vault with foldable legs. It comes with a 1,400-watt heating element so you don't have to worry about inadequate heat. You also have 2 racks coated with chrome, and there's enough room here to smoke an entire turkey.
Features:
[su_list icon="icon: check" icon_color="#228B22″]
Easy controls with settings for low, medium, and high
Temperature gauge at the front of the door
Removable water pan and chip tray for easy cleaning
9 x 23.6 x 23.4 inches
Quite affordable (less than a hundred bucks)
[/su_list]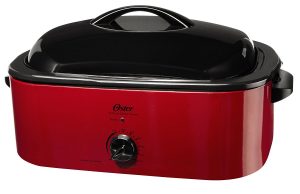 Yes, it's a roaster oven. But you can take this outside and then use it as a smoker. It actually has the pockets to hold your wood chips. That's the versatility of this Oster appliance, so that you can enjoy various ways of preparing your meat.
In fact, you can use this for baking, steaming, and for slow cooking too. With its adjustable temperature control, you can go from 150 degrees to 450 degrees F.
This looks like a large pan, but its 16-quart capacity is enough to cook an entire 20-pound turkey. This comes with an enameled-steel roasting pan and a steal roasting rack.
Features:
[su_list icon="icon: check" icon_color="#228B22″]
Can be used for many types of cooking
Has pockets for wood chips
Can fit in a 20-pound turkey
Removable cooking pan for easy cleanup
Food warming setting available
Handles remain cool to the touch
[/su_list]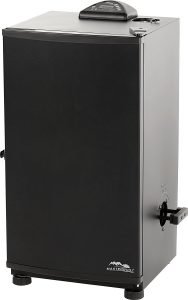 Now this is more substantial, both in terms of space and features. It has enough room to smoke 2 whole turkeys, or 6 whole chickens, or 8 racks of ribs. Here you have 4 chrome-coated racks to work with, and they're inside a fully-insulated smoker body.
It also comes with a digital panel control at the top of the unit, where you can turn it on and off and set the temperature and the timer.
The integrated thermostat temperature control keeps the temperature even and consistent. You can also control the smoke with the adjustable air dampers. The wood chips can be added through a side panel so there's no need to open the door to add more wood chips.
Features:
[su_list icon="icon: check" icon_color="#228B22″]
Large space with 4 racks
Digital control settings—set and forget
Internal thermostat
Wood chip loading on the side
Fully insulated
[/su_list]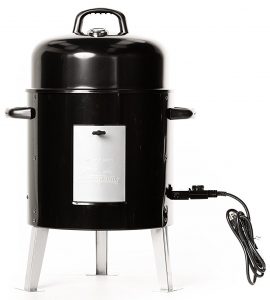 It can be hard to heat up your smoker and emit smoke if your heating source isn't up to scratch. That's the problem with some smokers, but not with this smoker from Masterbuilt.
It has a 1,650-watt heating element, and that's more than enough to produce smoke for its 2 racks and 395 square inches of cooking space. It can get hot enough to reach up to 400 degrees F.
A newbie at using smokers will like this, as it's easy to use. All you need to do is to plug it in and set the analog controls, and you're good to go.
There's a temperature gauge in the lid to tell you when it has reached the proper temperature. The water bowl, drip pan, sand wood chip tray are all removable as well, so they're easy to clean.
Features:
[su_list icon="icon: check" icon_color="#228B22″]
Powerful heating element
Ample space
Easy use
Easy to clean
Very affordable
[/su_list]
Here's another vault-like smoker with sturdy angled legs to raise it up so it's more convenient to use. This offers 1.3 cubic feet of cooking space, and with 2 adjustable racks this means you can smoke 2 whole turkeys at once.
Its heating element wattage is 1,500 watts, and that's enough to reach temperatures from 175 to 325 degrees F.
Features:
[su_list icon="icon: check" icon_color="#228B22″]
Chip tray and water pan are porcelain-coated
Side handles and door handle covered in "cool touch" spring wire
5 inches high
Adjustable draft controls
Internal temperature control
[/su_list]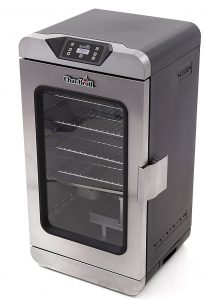 The nice thing about electric smokers in general is that they're easy to use. This particular model emphasizes that particular trait, as its many features just makes things much easier for you.
With this there's really no more guess work needed to know that you're done. There's plenty of space inside for your meat, and the digital controls are easy to use. It's easy to move around as well.
Features:
[su_list icon="icon: check" icon_color="#228B22″]
Transparent front door
725 square inches of cooking space with 4 adjustable racks
Double walls for full insulation
Digital controls with LED display
Meat probe to check the meat's temperature
Large capacity wood chip box for many hours before reloading
Integrated handle with wheels
[/su_list]
Ok, so we cheated a bit with this one, since it's a propane gas smoker and not electric. But it's small, and its size really makes it a great addition to tailgate parties and camping trips. This is an ideal portable smoker as it's very compact and lightweight as 22 pounds.
It's not too small so that you can just put in small slabs of meat either. It's still big enough to fit in a whole turkey, and for a small group or family that's surely enough meat for everyone.
Features:
[su_list icon="icon: check" icon_color="#228B22″]
Compact at 15.9 x 23.6 x 23.1 inches
For use with 1-pound propane cylinder, though you can sue an adapter to get it working with a 20-pound tank
The legs of the unit are foldable
Temperature gauge on door
Removable wood chip tray and water pan
5,000 BTU burner
[/su_list]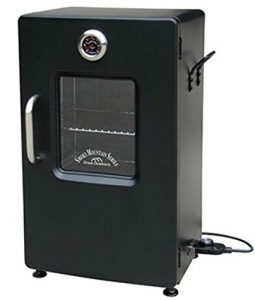 Now we're back to the electrical models, and this one is a beauty. Its features are designed to give you an easy time when you're smoking the meat.
That's already evident at first glance, as this has a transparent window through the front door so you can check that there's ample smoke inside the chamber.
On the inside you have 3 cooking grids to work with while the independent plug-in temperature controller lets you set and maintain your preferred temperature. It's very compact, and it helps that a single tray holds the wood chips, water, and the grease.
Features:
[su_list icon="icon: check" icon_color="#228B22″]
Easy to transport with compact size and wrought iron handles
Weighs just 33 pounds
Plug-in temperature controller
Viewing window
Adjustable feet for uneven surfaces
443 square inches of cooking space.
[/su_list]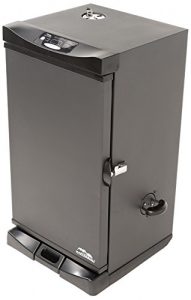 When you're determined to cook and smoke your meat slowly, you don't really need to use really high temperature. You may end up cooking the meat before it has absorbed enough of the smoke.
What this means if that's the case with you is that you don't really need a powerful heating element. So the 800-watt heating element should be more than enough, as it can go from 100 to 275 degrees F.
Features:
[su_list icon="icon: check" icon_color="#228B22″]
4 racks
721 square inches of cooking space
Thermostat temperature control for even cooking
Front access drip pan
LED display readable in direct sunlight
[/su_list]
It's still a good idea to have a powerful heating element just in case you want to cook your food more quickly, so the 1,500 watt variable temperature heating element is a welcome feature. It can deal nicely with the large smoking chamber, along with the 3 adjustable racks.
Features:
[su_list icon="icon: check" icon_color="#228B22″]
Side handles for easier carrying
Chrome plated handle
505 square inches of cooking space
Lid-mounted temperature gauge
Insulated double-wall construction
[/su_list]
How to Use a Small Electric Smoker?
https://youtu.be/0dmzj8uMBxY
It's not all that difficult to learn how to use an electric smoker. After all, one of its distinct advantages is that it's easy to use.
However, given the many number of different models and styles, the best way to learn how to use a particular model of smoker is to read the owner's manual. It also helps if you can find YouTube videos demonstrating the use of that model.
However, here are the general steps:
[su_list icon="icon: check" icon_color="#0f4880″]
Read the manual.
Follow the instructions on how to cure or season your new smoker. This step prepares your smoker to cook food while it eliminates dust, solvents, and odors. In general, you will need to coat the racks and interior surfaces with cooking oil, and then you can turn on the smoker for 2 hours before you open the hood to let it cool.
Of course, you also have to prepare your meat properly. You need to season the meat with dry rub or you can soak it in an acidic marinade. You probably have to let it soak overnight, which means you have to prepare your meat on the day before you wish to smoke it.
During the day of the actual smoking, you can then start using your electric smoker. You should check that it has enough water if it has a water container.
You should also buy wood chips, and each wood chip has its own special flavor to impart to the meat. In general, you will need about 4 cups of wood chips for smoke that lasts 3 to 5 hours.
Most electric smokers come with a built-in temperature gauge. Adjust the temperature settings to the level you want (usually 225 degrees F), and then wait for the temperature to reach that desired level. Only then should you put in the meat.
Smoke the meat until it's tender. Depending on the meat and the temperature you're using, this can last for 3 to 8 hours.
You should check to make sure that your smoker is actually producing smoke. You may have to add more chips when it's not producing enough.
Once you're done, enjoy your meal! Just don't forget to clean your smoker afterwards.
[/su_list]
How Long to Smoke Ribs on a Small Electric Smoker?
At some point, you've probably wondered just how long it will take for you to enjoy that scrumptious taste of smoked ribs. It may take a while, since smoking is one of the more famous forms of slow cooking after all.
If you do it right, then you need to prepare the meat the night before. After that, it will take about 7½ hours to finish smoking the ribs. Before cooking the meat, you'll need to soak the wood chips in water for an hour.
During that time, you can remove the meat from your fridge and leave it for half an hour so the ribs are set to room temperature.
The actual cook time is 6 hours. Then you need another half hour to let the ribs rest in aluminum after cooking the meat.
10 Benefits of Using a Small Electric Smoker:
So why use a small electric smoker? There are several good reasons for that"
[su_list icon="icon: check" icon_color="#0f4880″]
There's no denying the heady taste of smoked meat. Now with this you can enjoy it anytime.
Since we're talking about small smokers, you don't need a large backyard to hold your smoker. In fact, you don't really need a backyard at all, so even apartment dwellers can enjoy this.
Small means it's portable too, so you can bring it to a friend's house.
In fact, you may become quite popular among your network of friends if you can bring this to their place so they can enjoy smoked meat too.
You can bring it inside your home as well, so you don't have to subject it to the elements.
Its size also means that it's generally more affordable than bigger smokers of the same type. After all, it doesn't use as much material as its bigger counterparts.
These smokers are often easy to use. They tend to have digital controls and advanced features.
You don't have to work too hard to maintain the temperature. It will do so automatically.
The electricity provides a convenient source of heating power. There's no fuss.
The cleanup is easy as well.
[/su_list]
Buying Guide – How to Choose the Best Small Electric Smoker?
So how exactly should you narrow down your choices so you can pick one for your electric smoker? Here are the factors you should consider:
Exactly how small do you want it to be? You still need it to be spacious enough to have enough room to fit the meat for the people you're serving. If you're just smoking the meat for yourself, then a really small smoker will do. But if you're smoking the meat for your family or group of friends, you may need a somewhat larger one. So you need to check the total cooking space as well as the number of racks.
This is measured in watts and BTUs. The more power you have for your smoker, the higher the temperature levels you can reach.
These smokers tend to have built-in thermometers and digital controls. Others have more advanced features. You should check these features and see that they only include the features you actually want. That's because you'll have to pay for all these features, and you shouldn't pay for something you don't actually want.
You can check for this by reading plenty of customer reviews for a particular model, as many customers may mention how long their smokers lasted. You should also check the length of the warranty, as longer warranties imply a manufacturer's confidence in the durability of their smoker. Even the brand name can be factored in, as better-known brands with a bit of history would have only lasted in the industry if they've made a reputation for making durable smokers.
In general, smaller smokers are cheaper than bigger ones. But the price may increase as you get more advanced features. So it doesn't mean that the cheapest is always best, as a cheap smoker may not have the features you need and it may not be as durable as you would want. But if you have 2 smokers with similar features, it makes sense if you go with the one with the lower price.
Final Word
A large smoker in your backyard can be nice, but it can also be a real eye-sore. Not to mention the fact that those huge monstrosities are hardly portable.
Yet with a small smoker, you have a way to smoke meat that you can take with you on tailgating parties and camping trips. You can also bring them inside when you're done with them, and that can increase their lifespan than if you leave your smoker exposed to the elements.
What's more, these are also often very affordable. Yet they can have advanced features that make them so easy to use. With the best performing small electric smoker in your home, you get an easy way to enjoy smoked meat without any sort of hassle whatsoever.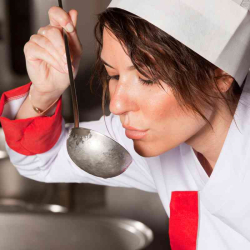 Latest posts by June Brandt
(see all)