It's understandable if you want to buy a smoker for your BBQ party meats so you can enjoy these tasty treats anytime. But it can be somewhat overwhelming when you go online and you're faced with all these possible choices.
What kind of smoker should you get? Should it be gas powered or electric? How big should it be? Which model should you get?
You can make it easier on yourself by starting your search with the best performing smoker brands.
The top smoker brands have already carved a sterling reputation for themselves in the BBQ community. They've had years earning rave reviews for their products, and they've demonstrated a commitment to high quality manufacturing and helpful customer support.
They're often averse to producing cheap low quality smokers that can mar the reputation of their brands. They're not in this for the short term profit, but for the long haul.
So to make it easy for you to get a smoker that's actually good, start with the top smoker brands. They're the brands that will most likely suit your needs and preferences.
Top 10 Smoker Brands in 2021 – Get The Right Model:
Top Trending Smoker Products:
Our Picks of 10 Best Smoker Brands Review: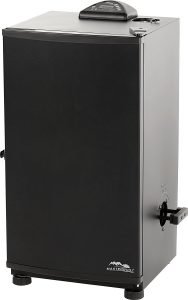 This electric smoker exemplifies how Masterbuilt has made quite a name for itself through the decades. It's so easy to use that newbies will have no problems with it, and it offers results that pros will be proud of.
Basically, all you need to do is to plug it in and set the digital timer, and you're all set. The timer is even at the tip of the unit, so you don't need to bend down to see it.
This offers ample space with its 4 chrome-plated racks. You don't even have to let out smoke to add more woodchips, as it has a chip, loading system on the side. The integrated thermostat temperature control makes sure that the smoking is even and consistent.
Features:

Electrical, so no charcoal or propane to deal with
Digital controls and temperature readings
Wood chip loading system on the side
Fully insulated smoker body
Big enough to fit in 6 whole chickens, 2 whole turkeys, 8 racks of ribs, or 64 sausages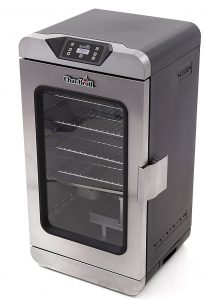 This is another nice one, and that's obvious when you see the transparent door of this smoker. You can see the inside without opening the door and letting the heat and smoke out. But that's not its only attribute.
It's an electric smoker, for one, so there's no propane or charcoal to deal with. It's quite spacious inside with 4 racks offering a total of 725 square inches of cooking space.
The double wall construction insures that the smoke stays in. It also comes with a removable meat probe so you can take the temperature of the meat. The smoker is also so efficient that filling the wood chip tray once gives you 7 hours of continuous smoking before you need to refill the tray.
Features:

Digital programmable controls
5-cup grease tray for easy grease removal
Food can be kept warm inside
It's very portable due to the wheels and integrated handle
1 W x 16.5 D x 32.5 H-inches
It looks great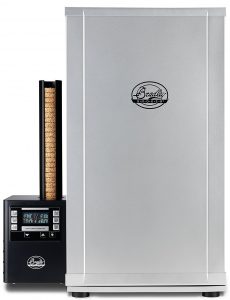 The Bradley Smoker Brand is ably exemplified by this excellent electric model, which can be powered by a generator. They basically took their advanced electric smoker model and then added digital features so the smoker is more consistent and easier to control.
The digital smoke generator allows you to just set the oven temperature along with the oven timer and smoke timer, and you're done.
The machine then sets a bisquette every 20 minutes so it smokes at an optimal amount of time. You can load this for up to 8 hours of smoke, so you don't need to stand by it.
Features:

A fully insulated interior so you can smoke meat even on cold days
The interior is also made of stainless steel so heat is retained and the cleanup is easy
Separate burners for smoke and for oven heat so you can have heat without smoke, smoke without heat, or both smoke and heat
4 removable racks with 520 square inches
1-year warranty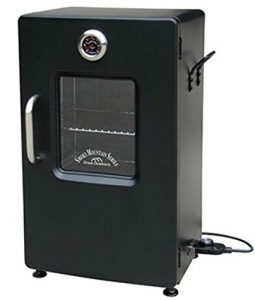 This is another fairly well-known brand, and this tidy showcases the brand's focus on making things easy for you. The price is affordable, yet it's not because it's so tiny.
You still get 3 chrome-plated cooking grids for 443 square inches of smoking area.
This comes with a 3-in-1 tray that has one compartment for the water pan, the wood chip box, and the grease tray, which explains its 28.7 x 18.9 x 15.3 inches dimensions and 33-pound weight.
Features:

Small size and light weight makes it transportable
It also has side handles made from wrought iron
The 3-in-1 tray makes it easy to add wood and water
Cleanup is also easy
It has an independent plug-in temperature
The temperature ranges from 100 to 260 degrees
If you're looking for a long-lasting smoker for many years of service, then Dyna-Glo may just be the brand for you. It has built a great reputation for durability, and this model also comes with a 1-year warranty.
Its body is made with heavy-duty steel with a High Temp powder coat finish. The wood chip box is also made from heavy-gauge steel enameled with porcelain.
This can offer up to 15,000 BTU, while the ignition is quick with the electronic pulse ignition system. This can smoke up to 150 pounds of food at one time, as the standard version offers up to 1176 square inches of smoking space. You get 6 height-adjustable cooking grates so that's 25 pounds of food per grate.
Features:

The heat loss that normally occurs when you add wood doesn't happen here due to the dual door design
The offset design also keeps the heat away from the food so you can cook the food more slowly
The charcoal chamber keeps the briquettes tightly packed for better burn efficiency
It can handle large amounts of ash for many hours
The adjustable flue offers better temperature control
Built in stainless steel thermometer with easy-to-read gauge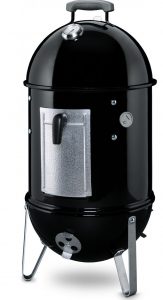 If you want a small portable smoker or just a smoker for the family, then this 14-inch model from Weber will do just fine. It only weighs 23 pounds. It's very affordable, and it's also great for beginners.
But small doesn't mean terrible, as this smoker shows. It comes with sturdy components so the smoker should last for a long while.
Features:

Charcoal grate made from heavy-gauge steel
Cooking grates made with plated steel
The water pan, center section, lid, and bowl are porcelain-enameled
Fuel door and heat shield made from rust-resistant aluminum
Built-in lid thermometer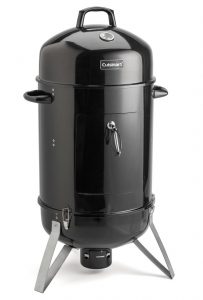 The Cuisinart is a famous kitchen appliance brand, so it's not much of a stretch to encounter a smoker from this brand. This one is easy to control as you have 2 air vents to work with to manage the heat and the smoke.
You have 3.45 square feet (512 square inches) of cooking space to work with, along with 2 steel wire racks for your food.
Features:

It's extremely easy to set up
It's compact and portable
The vertical side door offers easy access to water and fuel
It's easy to clean up and maintain
You have great control over the heat and smoke
It even comes with a 3-year warranty
Here's another reliable smoker that's made in the US. It's an electric smoker, and with tis 450-watt power it can smoke up to 50 pounds of food.
You have plenty of space to work with and you have 5 grilling racks to work with.
This is made of stainless steel, but it's quite lightweight at just 20 pounds. it also measures only 18.25 x 27.06 x 12.5 inches.
Features:

Compact
Lightweight
Electric model
5 racks
Easy to use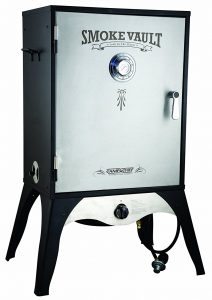 The Cam Chef brand has been around for the last 25 years, so they know what they're doing. This is a solidly built model that you can rely on to work for you for a very long while.
The box measures 24 inches wide, 16 inches deep, and 30 inches high, but with the legs it's 44 inches high.
Features:

2 adjustable smoking racks with a jerky smoking rack
Fully adjustable heat control dials
3 damper valves
Door thermometer
Output is 18,000 BTU per hour
Now this one you don't have to bend or kneel to use, as it has 4 long angled legs that raise it to a more convenient height. Actually, the features on this smoker really emphasize ease of use. The door comes with a large viewing window, and it's also easy to clean.
Inside, you have 4 chrome-plated cooking grids to work with, and their cooking heights are adjustable. It comes with a large wood chip tray, and you can load it externally so there's no need to open the door and let the smoke out.
Starting this is easy, as it has a push-button igniter. The LP gas heat source can also be adjusted so you can find and maintain your ideal cooking temperature.
What is the Top Latest Smoker Brand?
This question is of course a rather contentious subject in the BBQ community. After all, there are plenty of good brands that have made their mark in the industry, and each brand has its own set of fervent followers. But they do have many things in common.
Masterbuilt is a good example of a highly respected smoker brand. It been operating since 1973, and the fact that they've managed to last for so long attests to their commitment to producing BBQ smokers that people actually want to buy.
Their history includes various innovations such as the world's first indoor electric turkey fryer to the Hitch-Haul cargo carrier.
They sure have made their mark in the outdoor cooking appliances sector, and their products are consistently popular and highly rated. They also have extensive and stable relationships with a diverse set of online and national retailers to help distribute their world-class goods.
Their customer service and support is world class, and their website offers many helpful tidbits that you'll certainly appreciate.
They provide recipes and tips on how to best use their products, and they also offer great videos that demonstrate how you can also prepare the best smoked meats ever.
There are other brands such as Masterbuilt that have developed their own lines of excellent smokers and outdoor kitchen appliances. We've pinpointed some of them, and offer reviews on the smokers that best exemplify the excellence of their brands.
Buying Guide – How to Choose the Best Smoker Brands?
Choosing the latest smoker brand is pretty much like choosing a brand for any other type of consumer product. Here are some of the factors you have to consider:
1. Brand Identity
A brand usually has an identity that the experts and consumers in the industry have come to set. Sometimes it can be a propensity for quality and durability, or perhaps its identity is tied to its affordability.
So as a consumer, you will probably be drawn to the brand that shares your values. If you prioritize quality or low prices, then you will probably be drawn to the brands that have that image.
2. Online Reviews
You should read plenty of reviews made my industry experts and consumers, and these reviews will help give you a clearer idea of how good the products are of a particular brand.
3. History
It stands to reason that older brands that have stood the test of time are more trustworthy than newer brands that have just come out in the industry. Older brands are more protective of their reputation, and so they're more likely to produce better smokers.
4. Customer Support and Warranty
Some brands offer longer warranties for their products because they're very confident of their reliability and durability. The best brands also tend to have the most helpful customer support.
5. Website Quality
Most famous brands have professional websites with plenty of useful content such as downloadable manuals and demonstration videos.
You can infer that the brands who have better sites are probably the ones who bother to manufacture better products.
Newer brands may have rather basic websites—if they even have one. If they're not as concerned about offering a helpful website, then their smokers may not be as helpful either.
Final Verdict
All of the smoker brands we mentioned are excellent in their own way, so choose one that matches your values and preferences.
But if you want a definitive and specific recommendation, you should start with the Masterbuilt. This is the gold standard in meat smoker industry, and they're more likely to have the best smokers for your needs.