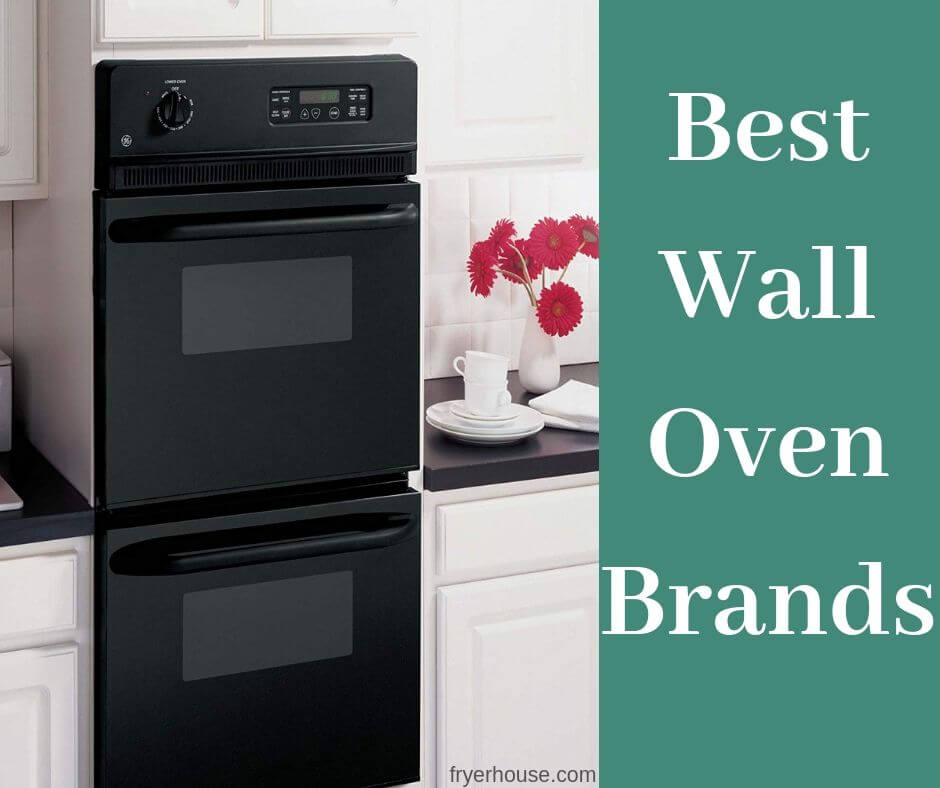 A lot of people say that the manufacturer's name shouldn't affect your opinion when shopping for things. But with a big ticket purchase like a wall oven, it really doesn't apply.
You'll want to go with the top wall oven brands if you want to get great value for your money. If you settled for anything less, you better prepare another fund for a new unit.
The brand of the oven you'll get is not a trivial matter that you can just brush off. It will play a huge role in how you will use and maintain your unit.
If you opted for a brand that doesn't care for its customers, you should get ready for some frustrating transactions. You might even need to start looking for a replacement unit after a year or two.
The brand name is also an easier measure of quality. While it's not a foolproof method, it's highly likely to find a good oven from a manufacturer who is known to make reliable cooking appliances.
And if one of their oven models really performed well, there's a good chance to find other trustworthy products in their range.
So if you'd prefer to simplify your search by learning about the top rated wall oven brands, check out this guide on how you can find them.
Top 10 Wall Oven Brands in 2021 – Get The Right Model:
Our Picks of 10 Best Wall Oven Brand Reviews:
To cut to the chase, here are 10 of our picks from our highly recommended brands: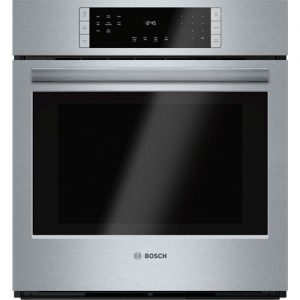 A top brand of choice in the UK and Europe, the Bosch HBN8451UC 800 27″ might not exactly be the first choice of many American homes but it should be.
Lots of homeowners and experts can attest to its solid performance, so they're certainly worth a shot. This product, in particular, is packed with great features and is positively received by many.
So if you're after a reliable option from a solid brand, this oven might do the trick for you.
Features:
[su_list icon="icon: check" icon_color="#228B22″]
Electric single wall oven
27" size with 3.9 cu. ft capacity
12 cooking modes
Touch control with SteelTouch buttons
Delay Cook function
Temperature conversion
Meat probe
QuietClose Door
Self-cleaning with EcoClean feature
[/su_list]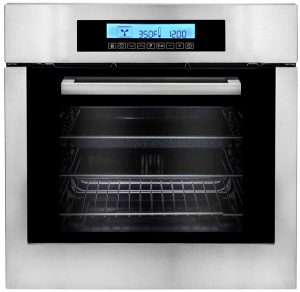 Not all trusted brands come with expensive price tags and the Cosmo C106SIX-PT 24 in. oven attests to this fact.
With its friendly price and its long list of great features, this small oven promises to add functionality to compact kitchens. The brand is also starting to become a household name, thanks to its growing popularity online.
Features:
[su_list icon="icon: check" icon_color="#228B22″]
Electric single wall oven
24" size with 2 cu. ft capacity
10 cooking modes
Speed cook mode
Touch controls with LED display
Auto safety switch off
Easy to clean stainless steel body
2-year parts and labor warranty
[/su_list]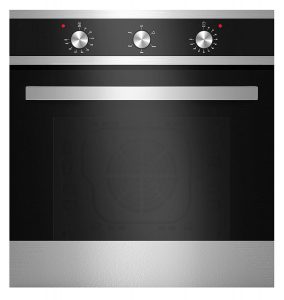 The Empava 24″ Tempered Glass oven is a product from another brand that can prove that not all reliable brands are expensive.
In fact, this one is a highly notable example. It combines form and function flawlessly with its sleek design and great features, making it a solid choice for those who want an affordable appliance.
Features:
[su_list icon="icon: check" icon_color="#228B22″]
Electric single wall oven
24" size with 2.3 cu. ft capacity
Push button controls
Forced cooling and exhaust system
Stainless steel and tempered glass body
Easy clean inner enamel tank
5 rack positions
1-year warranty
[/su_list]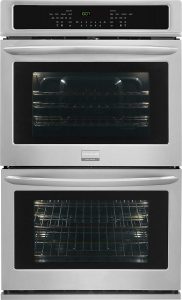 From one of the US' best-known kitchen appliance manufacturer, the Frigidaire FGMC2765PF is another highly recommended wall oven that you should check out.
This model is a microwave and convection oven combo so it's deemed more space-efficient and flexible by lots of households.
With the brand being around for more than 100 years already, many consider it as one of the most reliable consumer appliances brands there is.
Features:
[su_list icon="icon: check" icon_color="#228B22″]
Electric combination wall oven
27" size with 5.8 cu. ft total capacity
Several different cooking modes
One-Touch options
Auto oven shut off
Self-cleaning lower oven
Quick pre-heat
Fits-More microwave oven
Sensor cooking feature
[/su_list]
Those who are going for a sleek look for their kitchen should take a peek at the GE Profile PT7800SHSS 30″.
As a part of this popular brand's modern minimalist range, it could be one of the most attractive options for a state-of-the-art kitchen.
It also doesn't hurt that the brand itself is a renowned consumer appliance manufacturer, making this product a very dependable choice.
Features:
[su_list icon="icon: check" icon_color="#228B22″]
Electric combination wall oven
30" size with 6.7 cu. ft total capacity
5 cooking modes
Glass touch and dial controls
Self-cleaning with Steam Clean option
Stainless steel body
10-pass bake element
8-pass broil element
[/su_list]
Another solid option from another classic American brand is the Electrolux EI27EW45PS 27″.
Its manufacturer has been around for a century already so it's rather safe to say that they're already considered as institutions in the kitchen appliance industry.
This product proves that they're worth the high regards as it's packed with innovative features and outstanding functionalities.
Features:
[su_list icon="icon: check" icon_color="#228B22″]
Electric double wall oven
27" size with 7.8 cu. ft total capacity
Glass IQ-Touch controls with LED display
"My Favorite" setting
Fast pre-heat
Hidden Bake Element
Perfect Taste Temp Probe
Convection Conversion
Self-cleaning with Fresh Clean feature
3-year warranty
[/su_list]
The brand that offers the Samsung Appliance NV51K7770SS 30″ oven may be best known for its gadgets internationally but its home appliance offerings are also gaining a lot of attention lately.
In fact, the brand now has a large market share in the US, so why not give this item a shot? It's a highly innovative choice that might just make you reconsider getting a small double wall oven.
Features:
[su_list icon="icon: check" icon_color="#228B22″]
Electric single wall oven
30" size with 5.1 cu. ft capacity
Different cooking modes with steam cooking function
FlexDuo technology
Dual Convection system
Illuminated knob controls with colored display
Gourmet cook
Wifi connectivity
[/su_list]
Looking into equipping your kitchen with a luxury brand oven? Then the Thermador MED302JS 30 in. might just tickle your fancy.
This brand has always been known as a fine choice that is well worth the investment while the model itself is brimming with attractive features.
Features:
[su_list icon="icon: check" icon_color="#228B22″]
Electric double wall oven
30" size with 4.7 cu. ft capacity at its largest
14 cooking modes
Easy Cook® pre-programmed recipes
Touch controls with LED display
Delay start function
Fast pre-heat
CookControl™ temperature probe
Hidden bake element
Self-cleaning
6 rack positions
[/su_list]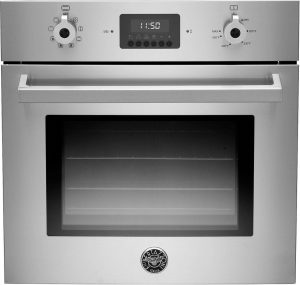 The Bertazzoni F24PROXV 24 Electric Wall Oven is another high-end option that you might want to check out if you're after an Italian luxury appliance.
The brand is best known for its beautiful and functional ranges but this oven is also worth checking out.
Its sleek appearance will definitely make it a nice addition to your home while its features will make it a reliable piece of reliable equipment in the kitchen.
Features:
[su_list icon="icon: check" icon_color="#228B22″]
24" size with 2.1 cu. ft capacity
7 cooking functions
LED touch and metal knobs controls
5 rack positions
2-year warranty
[/su_list]
While the makers of the KitchenAid KODE500EWH 30 in. is better known for its small kitchen appliances globally, their large equipment range is also worth looking into.
This particular product offers a lot of cooking space and a bunch of useful features, so it can also be a good pick for a lot of households.
Features:
[su_list icon="icon: check" icon_color="#228B22″]
30" size with 10 cu. ft total capacity
Glass lock display
Control lock function
Temperature probe
Even-Heat preheating feature
EasyConvect Conversion System
Self-cleaning
[/su_list]
Gas vs Electric Wall Oven:
Another major decision that you'll need to make when choosing wall ovens is whether to go for a gas or electric unit. Both have excellent advantages so it can be quite confusing to make a choice.
Your decision might also have an impact on the brand you'll go for as not all brands make gas wall ovens.
So if you want to decide on this area right away, here are a few points that you should consider:
1. Electric varieties are more prominent and in abundance.
When you look up the term 'wall oven' online, the first items that you'll get are electric ones. Sure, you'll find a lot of gas wall ovens from great brands but most of them are really high-end and expensive.
So if you're not ready to shell out thousands of dollars on an oven, an electric model might just be a better fit for you right now.
2. Electric varieties are easier to set up and clean.
If you hate fussing over your appliances, electric wall ovens might be a better choice for you. Why? For starters, they're easier to install.
You only need to hardwire the unit into your electrical system and that's pretty much it. Most gas ovens also need to be connected to the electrical system aside from needing to be hooked up into your gas line so they're way fussier to set up.
Another advantage electric varieties have over their gas counterparts is the cleanup. The former is easier to clean because they don't have heavy cast iron grates.
The surfaces in many electric wall ovens are flatter and smoother than the gas ones so you don't have to take forever cleaning between nooks and crannies.
3. Electric wall ovens have more additional features.
Electric units also tend to have more optional elements in their construction that help boost their performance. You'll find that these types of wall ovens can have more fans and grillers than the gas varieties. This can make their performance more effective.
4. Electric varieties offer better heat distribution.
No one can dispute the fact that electric ovens have better heat distribution, thanks to their general design. Their air is drier, too, which makes them better for roasting and baking different types of dishes.
5. Gas wall ovens have more reliable and affordable fuel sources.
The only real advantage of gas wall ovens over electric ones is the reliability of its fuel source. If you own an electric oven and the power goes out, you won't be able to cook with it for the time being.
With a gas-powered oven, you can cook as long as you have some supply. You can even convert it to propane so you have more ways to power your wall oven.
Gas is also generally cheaper so your unit will pretty much pay for itself in the long run with the savings that you'll make.
Buying Guide – How to Choose the Best Wall Oven Brand?
1. Reviews
User feedback would be some of the most reliable sources of information if you want to learn anything about a certain brand.
Sure, it can be quite a complicated resource since most reviews are about specific products but if you've gathered a lot of them, you'll be able to get a pretty good idea of what the brand is like.
The bigger challenge, really, is in finding organic reviews. Lots of brands now sponsor and out-rightly pay for feedbacks so you also have to be very discerning of the reviews that you'll believe.
It's not impossible to find genuine and credible reviews, though, you might just have to dig further for them.
2. Product Quality and Reliability
This one's a no-brainer: a good wall oven brand is someone who provides high-quality and reliable products. These are the very things that people are willing to pay for so if a brand provides them, they instantly meet the needs of the consumers.
When an appliance brand offers these two things, they also inspire loyalty among their clients. A homeowner who's had a great experience with a product made by a certain brand will most likely buy more items from them.
And if they continue to satisfy the demands of their buyers, they'll be able to build a good name and ample credibility for themselves. This, in turn, can help them become considered by many as one of the best in the industry.
3. Feature Range
The latest wall oven brands should also have a good range of features in their products. It doesn't matter if you're not a big fan of products with tons of bells and whistles.
If a brand you're eyeing has innovative features, it's a good sign that you'll get an exciting product from them. The fact that they're trying out new features to improve their offerings means that they're at the top of their game.
Of course, this also means that you'll get a lot of options from brands with wide ranges of features. Having lots of choices is certainly a good thing as it can let you choose the exact functionalities you need from a wall oven.
4. Audience Knowledge
A lot of brands try to appeal to a wider audience to attract more buyers. While this seems like a good idea, it usually backfires for a lot of reasons.
Brands who stick to their guns and provide what their audience requires, however, are better options because they produce better products.
If a product tries to appeal to everyone, they'll seem like a hodge-podge of various things all at ones. This can make them less useful and functional, so they're hardly good choices.
A good brand also knows its target market well. This means that they are able to innovate their products according to the needs of their clientele. As a result, their products are more functional and useful.
5. After Sales Service
The top rated wall oven brands are also the very ones with great customer service. This is true for just about any kind of brand, however.
Even the best products can have some issues later on, may it be due to the product's construction or materials or some user error. This is why good after-sales support is necessary, especially for a big-ticket purchase like a wall oven.
As these appliances come with a premium price tag, it's just fair to expect that the after-sales service is included in what customers paid for.
So even if a product is good but the customer support is non-existent, an appliance manufacturer will still not get a decent reputation.
Final Verdict
As there are lots of great wall oven brands in the market right now, the decision is really all up to you when choosing which one to trust.
Some might be more preferable than others, however, depending on your own inclinations and values, so you can also use those to make a decision.
Just make sure to stick to the best ones, though, as purchasing cooking equipment should turn out as an investment and not a gamble.