Want to add more ways to prepare food for your barbeque parties? This King Kooker 1618 review might just give you an easy way to do just that. This deep fryer is designed to handle large batches of snacks, so it can be the perfect addition to your collection of backyard party equipment.
Like other popular King Kooker products, the 1618 Deep Fryer offers everything you need in an outdoor cooking equipment. It's designed to help you get to cooking right away as you won't need to buy parts and accessories separately.
But is it the right pick for you? Find out below.
King Kooker 1618 Deep Fryer Review: 8 Major Features
What can the King Kooker 1618 offer to home cooks? Let its features tell you what you can enjoy and expect from this product.
1. 54,000-BTU Burner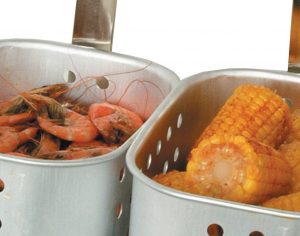 Starting off the list is the very heat source for this cooking equipment. According to some experts, the 30,000 BTU will already provide enough juice to deep fry nicely.
However, with the amount of food that this unit can whip up, it requires more power to get the job done. Its 54,000 BTU is already generous enough to let you cook up the crunchiest and crispiest snacks and dishes.
To ensure your safety, this component is also CSA Design Certified. It passed rigorous testings so you can be guaranteed that it meets industry and quality standards in Canada and the US.
2. Rectangular Aluminum Pan
Next to the burner, the pan also plays a huge role in this product's performance as it's where the magic happens. This product comes with a rectangular aluminum cooking pan so it's very efficient and will let you cook more in one go.
3. 10-lb Capacity
How much food can you cook in this deep fryer? While there's no specified amount on its listings, lots of users note that it can accommodate up to 10 lbs of food.
4. 2 Frying Baskets with Heat Resistant Handles
Equipped with two frying baskets, this deep fryer will let you cook two different dishes in one go. You can cook 5 lbs of food in each basket, letting you whip up large servings in a single cooking session. This makes it even more efficient and suitable for large gatherings and parties.
5. 16" Welded Frame
This product comes with its own welded steel frame to properly hold the burner in place. It's just 16" tall, though. You will need to place it on top of a table if you don't want to crouch or sit down while cooking. Make sure that it's very stable, however, so the hot food and oil won't spill in case someone or something bumps into the base.
6. Deep-fry Thermometer
To help you monitor the cooking condition inside the pan, this product also comes with a special thermometer that's specifically designed for deep frying. You don't have to guess when to put the food in which guarantees the perfect golden brown finish.
7. LP Hose and Regulator with Type 1 Connection
This component makes it an even more convenient pick as you don't have to look for your own gas cable to start cooking. All you'll need is a propane tank to start enjoying deep-fried goodies.
8. Instruction/Recipe Booklet
Rounding out this features list is the included instruction manual that also doubles as a recipe booklet. This may not seem like much, but it can serve as a handy guide that should help you use this cooking equipment properly, safely, and more efficiently.
King Kooker Recipes:
Did you just purchase a deep fryer or you're about to buy one but you're wondering where to get a lot of deep fryer recipes? King Kooker has you covered. The brand does not only sell great deep fryers, but it also offers numerous delicious and yummy deep fryer recipes.
The recipes are easy to follow. Anyone who hasn't used a deep fryer before or someone who's a culinary neophyte can follow the recipes to produce sumptuous meals. Over the years, we have come across great recipes with scarce or hard-to-get ingredients. That's why we'll assure you that King Kooker recipes are not like that. Their ingredients are usually very easily to get.
We tried a few of the recipes and they were awesome. You'll love all of them. You can access King Kooker recipes here.
King Kooker Fish Fryer:
King Kooker fish fryer comes in different models at different prices. This means that whatever your budget is, you'll get something that fits your budget. The few models of King Kooker fryer that we tested put up a fantastic performance.
Here are some basic features of several King Kooker fryers. We can safely call them the hallmarks of the brand. At this juncture, we'll like to remind you that we always test a product ourselves before writing a review on it.
The fryer we tested has a 54,000 BTU cast burner. The cooking device is made of aluminum, so it is resistant to rust and corrosion. The product comes with a deep aluminum basket. The fish fryer has a heat-resistant handle. That means no matter how hot the fryer is, the handle will remain cold.
There's a deep fryer thermometer attached to it. We were able to confirm its durability from some of its users. We can assure you that it is easy to use and the product has been certified by CSA Design for safety. Based on our experience, we will recommend the fish fryer to anyone. It is a good buy. You'll love it.
King Kooker 1618 16-Inch Propane Outdoor Cooker with Aluminum Pan And 2 Frying Baskets:
This model of King Kooker is one of its best products. Here are some of its features. The cooker has a dimension of 17.75 by 14.5 by 16.5 inches, and it weighs 16.01 pounds. The product is made in China. From the ground, it is 16 inches tall and it comes with four legs for stability and to be able to bear more weight.
The fact that it currently has an Amazon rating of 4.5 stars confirms it to be a great product. Based on some of its reviews, the fryer is durable and easy to use. The package comes with a cooking pan and two frying baskets. This means that you can fry two types of food at the same time with this cooking appliance. Although many of them are called either a turkey fryer or a fish fryer, they can be used to fry all kinds of food.
The cooker has a 54,000 BTU cast burner and a heat-resistant handle. Although we didn't use it for long, some of its users confirmed that it is resistant to rust and corrosion. It might also interest you that the product has an in-built thermometer for checking the temperature.
Based on all its attractive features, the cooker is highly recommended. You can check it out and order it by clicking this link.
5 Reasons – Why Should You Use King Kooker 1618 Deep Fryer?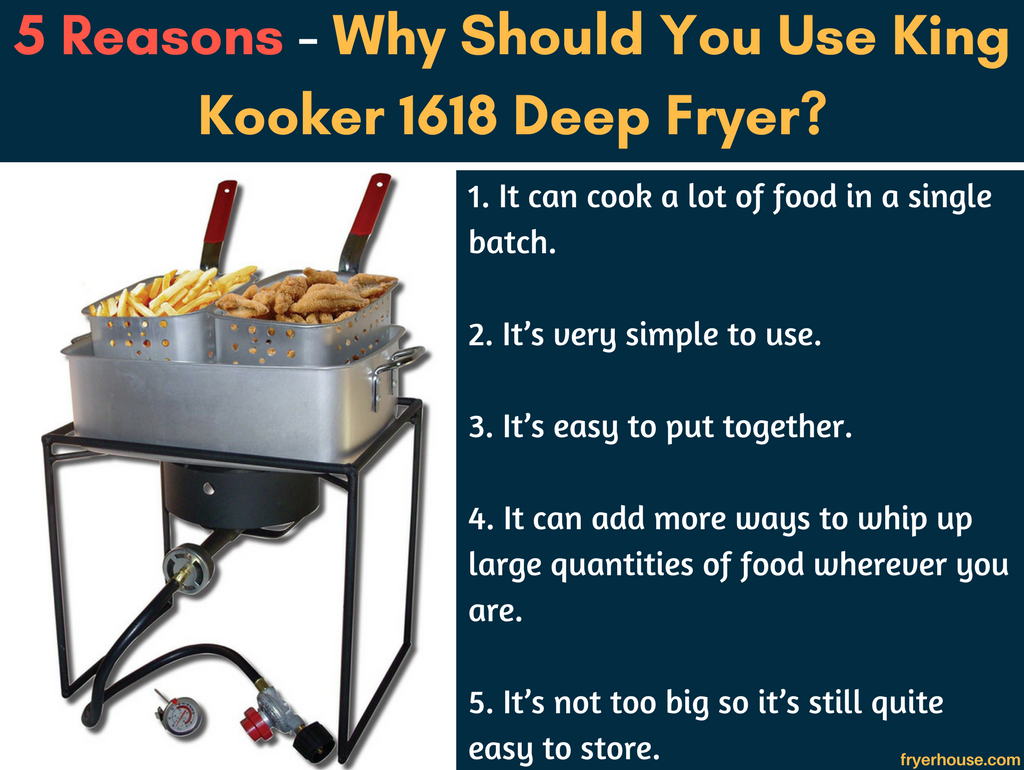 When choosing the best deep fryer, you might want to know more than just the features of the product you are considering. User feedback is also very useful.
So, to help you get to know more reasons why you should give this product a shot, here are a few great points from various King Kooker 1618 outdoor cooker reviews:
1. It can cook a lot of food in a single batch.
Being able to cook up to 1o lbs of food in one go can definitely make things easier for you if you always have some friends and family over. This is why this product's cooking capacity is definitely its strong point.
2. It's very simple to use.
There are no knobs, switches, or buttons to work with when using this product so there's nothing to overwhelm you when deep frying with the King Kooker 1618.
3. It's easy to put together.
While this product will need you to put it together to start cooking, doing so isn't a challenge. You just need to set the components in place, attach the gas tank, and that's pretty much it.
4. It can add more ways to whip up large quantities of food wherever you are.
Because it's not very bulky, you might even be able to take it anywhere with you. Load it at the back of your truck and you'll already be able to take it when camping or tailgating.
5. It's not too big so it's still quite easy to store.
Again, this product isn't exactly very large in size so you don't have to worry about its storage.
[su_row][su_column size="1/2″][su_list icon="icon: check" icon_color="#228B22″ class="posbox"]
Product Benefits
Very easy to work with
Will let you easily deep fry large amounts of food
Perfect for outdoor parties and gatherings
Easy to store
Easy to clean
Uses two baskets so you can cook two different things in one go
Designed to let you cook comfortably while sitting down
Gets really hot
Reasonable price
Cooks fast and efficient
Comes with an instruction manual/recipe booklet
[/su_list][/su_column]
[su_column size="1/2″][su_list icon="icon: warning" icon_color="#ff0000″ class="negbox"]
The Negative Things
Not tall enough if you want to cook while standing
Steel gauge is not as thick as many would like
Pan and baskets can get dented
[/su_list][/su_column][/su_row]
FAQ – Frequently Asked Questions
Q: Does this product come with a timer?
A: No, it doesn't come with a timer.
Q: How do you remove the used oil from the pan?
A: There's no drain spigot in the pan so there's really no special way to do this. You just need to pour the grease out by lifting the pan.
Q: Does this product come with a lid or cover?
A: No, it doesn't come with a cover.
Q: Is the burner stand sturdy?
A: Yes, the frame is made of sturdy steel so it can easily hold up a good amount of weight.
Q: Is it safe to use?
A: According to experts, using a dedicated deep fryer is much safer than deep frying in a pot. This and the fact that this product is CSA Design certified can assure you that this unit is safe to use.
Final Verdict
If you're in the market for a good outdoor deep fryer that can liven up your barbecue parties or just want somewhere to cook fish so you won't have to stink up the whole house, this King Kooker 1618 Deep Fryer reviews is for you. This product might just be the perfect pick for so many applications, so make sure to take a close look at what it has to offer.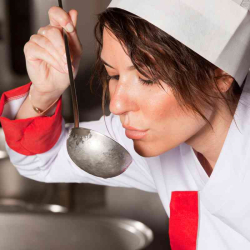 Latest posts by June Brandt
(see all)