The hype for kale may have waned off over the past few months but it doesn't mean that it's not as enjoyable as it has been at its trendiest.
A lot of people truly fell in love with this green because of its fresh taste and numerous health benefits. The fact that it's also very easy to prepare makes it all the more enticing.
If you haven't given kale a try before, here's one of the easiest ways to nosh on this amazing veggie.
Ingredients:
1 large bunch kale
3 tbsp nutritional yeast
¼ tsp salt
¼ tsp pepper
2 tbsp avocado or olive oil
Instructions:
Prepare the kale. Wash thoroughly and pat dry. Cut off the stem and ribs as they don't get as crispy as one would like.
Chop or tear the kale leaves into strips of about 2-3 inches. As these greens shrink when exposed to high temperatures, you should start with a good size. You might also want to consider the amount of chips you'll make because the kale will seem like a lot before cooking but will surely become smaller once you cook them.
Once dry, place your greens in a bowl. Add in the yeast, salt, pepper, and oil. Mix them well so every piece of kale will be covered with the other ingredients. Be careful not to put a lot of salt. It might cause the chips to get soft but crusty. You can add more later if you want them to be saltier.
Place some of the greens into the fry basket. You will most likely need to work in batches even if the leaves will shrink in size later on. This way, you can be sure to get crispy results.
Air fry the chips at 375F for 5 minutes or until you achieve your desired level of crispiness. Do not forget to give the fry basket a shake every now and then to make sure that every piece of kale gets enough hot air for thorough cooking.
Remove the batch from the fry basket and repeat until all of your greens are cooked. You can then adjust the seasoning at this point.
Serve warm or at room temperature.
Health Benefits of Kale Chips:
Most folks who know and eat kale are well aware of its health benefits. But just in case you need some reminding, here are the very reasons why you should snack on this top-notch green, leafy veggie:
[su_list icon="icon: check" icon_color="#228B22″]
It's a low-calorie snack. One cup of this veggie only has 33 calories.
It's protein-rich. Again, a single cup serving of kale has about 3 grams of protein. That's already a lot more than other sources of protein out there.

It's one of the most nutrient-dense vegetables there is. What's even better is that a single cup meets a good chunk of your RDA. It contains vitamins A, C, K, B1, B2, and B6 as well as calcium, copper, manganese, potassium, and magnesium. All of these have various effects on the body, helping you get in better shape with regular consumption.

It's packed with potent antioxidants like kaempferol and quercetin. These help guard your body against the oxidative damage that free radicals can cause.
It contains sulforaphane and indole-3-carbinol which are both believed to be cancer-fighting substances.
It can help improve and protect your eye health. It has a lot of beta-carotene, lutein, and zeaxanthin which all work to help protect your eyes.
[/su_list]
Kale is definitely a powerhouse of a vegetable. With this air fryer Kale Chips recipe, you don't even have to feel like you're eating a fresh ingredient, so why not add it to your diet?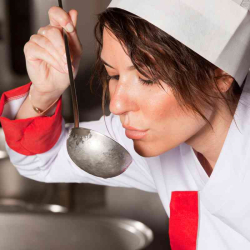 Latest posts by June Brandt
(see all)