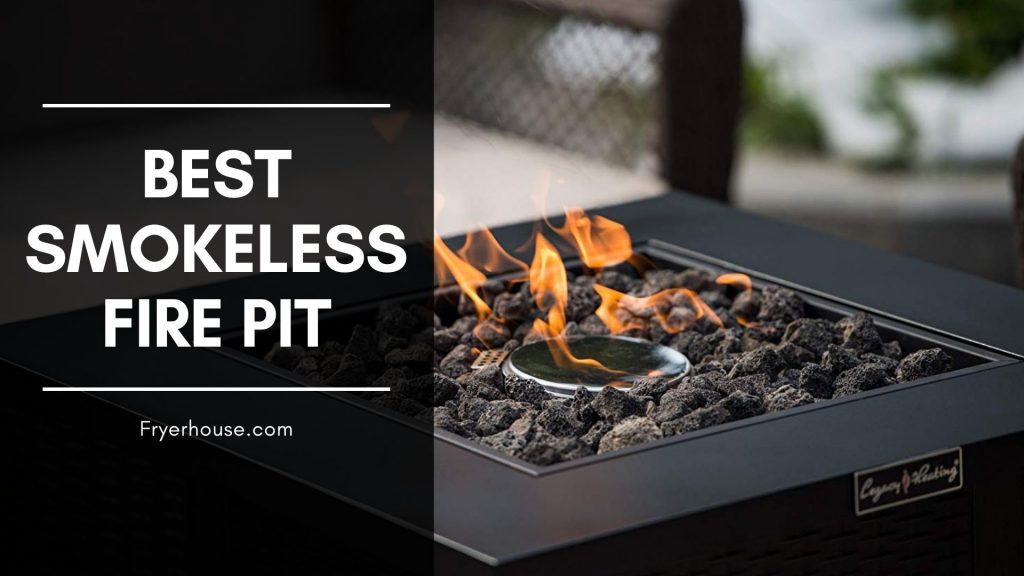 Gathering around a fire at night is certainly fun, when you're out camping or just having a relaxing time with friends in your backyard.
But then you always have smoke when you have a fire, and the smoke can be an irritant in an otherwise perfect evening. Still, you can solve the problem simply by using the top rated smokeless fire pit you can get.
Without all that smoke, gathering around the fire certainly becomes a lot more enjoyable. It smells better too, and you don't end up with clothes reeking of smoke.
These smokeless fire pits also tend to burn much more efficiently, as they give off more heat with the fuel they use. You can then use less fuel and your fire can last much longer.
Of course, it all depends on the quality of the smokeless fire pit you get. Some are better than others, and here we have some of the best in the industry.
Top Rated 10 Smokeless Fire Pits in 2021 – Get The Right Model:
Our Picks of 10 Best Smokeless Fire Pit Reviews:
This looks deceptively simple, but then you can arrange a few chairs around it and before you know it you're having a great time.
This is so versatile that you don't just enjoy the heat and the fire. Breeo also offers a grill that works with this fire so you're able to grill burgers and steaks while you hang out with your friends.
Features:
[su_list icon="icon: check" icon_color="#228B22″]
Weighs 42 pounds
Measures 16 inches high and 22 inches in diameter
Uses stainless steel that won't rust even when you leave it outside
Has holes in the bottom to drain rainwater
Made in the US
[/su_list]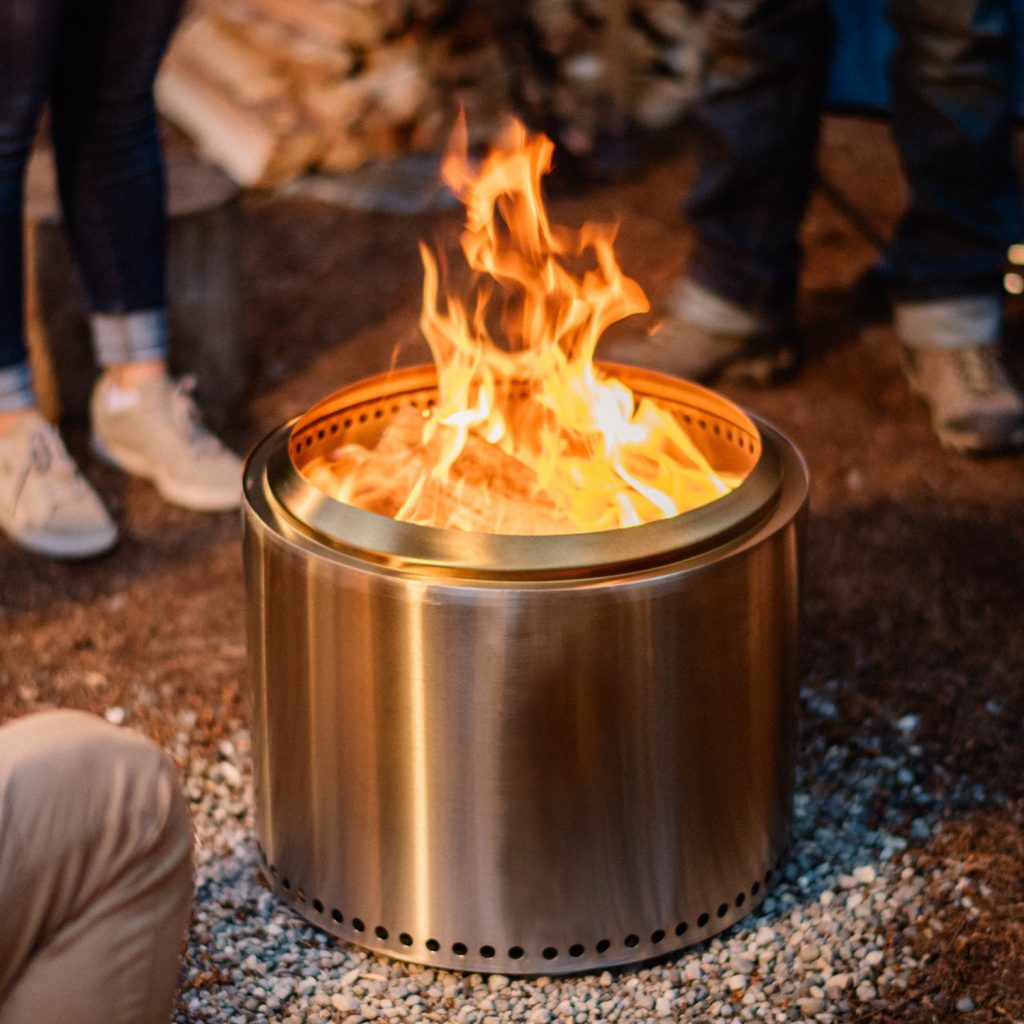 Solo Stove calls this model the most unique fire pit in the world. This may seem like an exaggeration, but then again on Kickstarter it received more than a million bucks in investment money.
This burns wood, and doesn't need gas or propane. It is 14 inches high and 19.5 inches in diameter, and it's virtually ready as is.
There's no need to assemble it at all. This is a portable unit at just 20 pounds, and it comes with a carry case as well.
Features:
[su_list icon="icon: check" icon_color="#228B22″]
Easy to burn fire wood with this
No need to flip logs to keep the fire going
Bottom doesn't get very hot
Very portable
Produces beautiful flames
[/su_list]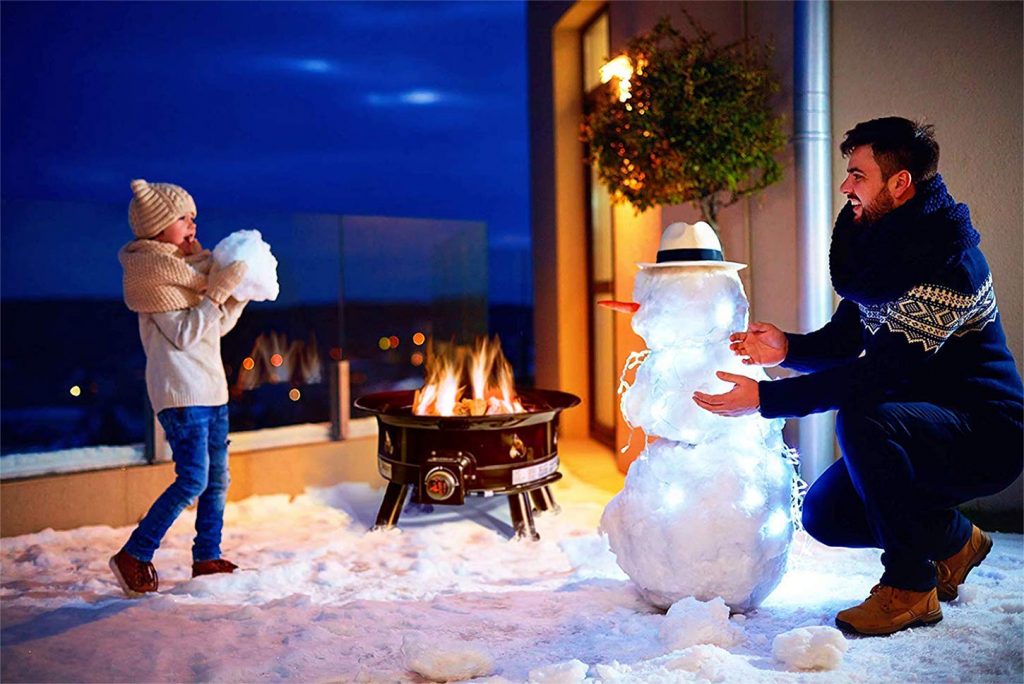 Now this just looks nice, with a low and wide profile to let everyone around the fire enjoy the heat. This gives you 58,000 BTUs from a fire pit that measures 13 inches high and 24 inches in diameter.
It's a camping fire pit that weighs only 34 pounds, with manual ignition.
It uses high quality steel with a coat of protective powder and enamel finish. Setting this up is very easy, as it'll take you just 5 minutes and you won't need tools.
Your purchase comes with a 6.6-pound set of lava rock, and a 10-foot hose with a regulator to keep your propane tank far away.
Features:
[su_list icon="icon: check" icon_color="#228B22″]
Knob lets you adjust the flame height
Stainless steel burner
Safe to use for most campfire bans
Also comes with weather and UV-resistant cover
Available kit for natural gas conversion
[/su_list]
If the 24-inch fire pit seems too big and heavy for you, you may want to go with this more compact version. This time the diameter is 19 inches and it only weighs 25 pounds.
It also comes with many of the same terrific features as the 883 with one bonus feature—this has automatic ignition.
Outland offers a 1-year warranty for its fire pits, and they're all CSA-approved. This makes it usable for most campfire bans.
Features:
[su_list icon="icon: check" icon_color="#228B22″]
You also get the 10-foot hose along with a 4.4-pound set of lava rock
Simple startup
58,000 BTUs
All-weather fire bowl
Flame height can be controlled by a knob
[/su_list]
Again you enjoy 58,000 BTU, while the unit measures 19 inches in diameter and 12 inches high. That makes it a portable unit, especially with the 15-pound weight.
It's no lightweight when it comes to features, starting with how it has CSA-certification to make it useful for campfire bans.
Your purchase also gives you a tank stabilizer ring, a 10-ft hose and regulator, and a belt cover to make it easier to carry around. You also get lava rock with this fire pit.
Features:
[su_list icon="icon: check" icon_color="#228B22″]
Steel construction with enamel finish
Adjustable fire
Uses propane
Hard handle makes it easy to carry
No heat transfer underneath
[/su_list]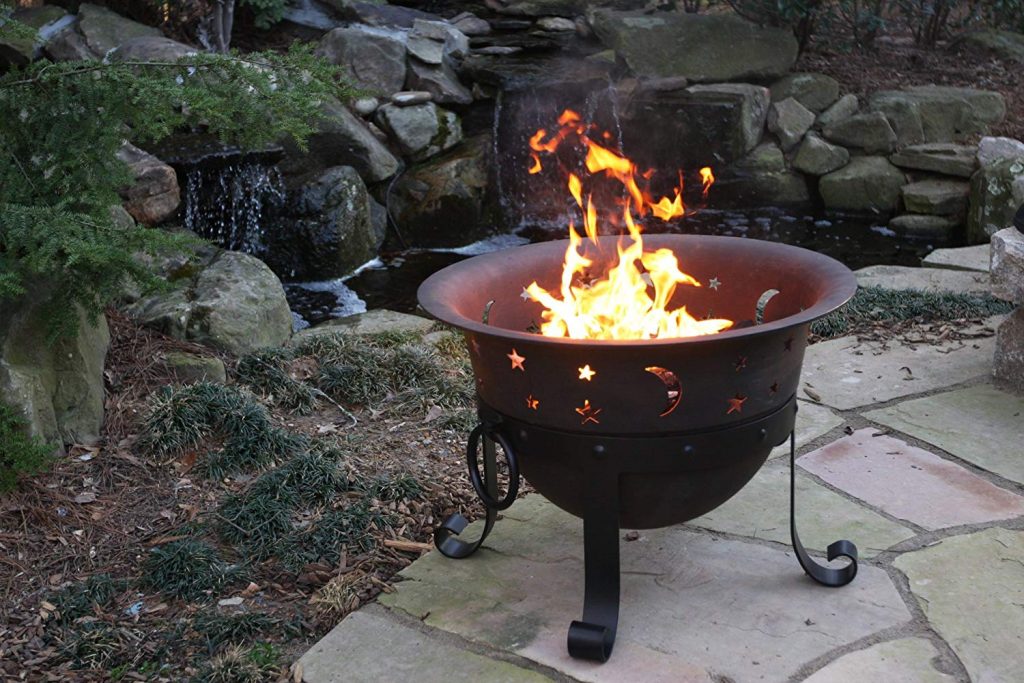 Now this looks interesting. It seems like some sort of medieval fire pit or a cauldron in which to put in potions ingredients in Hogwarts.
The heavy duty cast iron makes an interesting change from the usual steel construction, while it's also decorated with cutouts of stars and crescent moons. The bronze finish is heat-resistant, so it should keep looking great after many uses.
This is 19.7 inches tall, while the diameter is 29.5 inches. It's supported by 4 curling legs. It may seem solid and heavy, but 2 people can carry the 65-pound fire pit wherever you want.
This also comes with a mesh spark screen so that you're protected from any flying embers. This comes with a 1-year warranty
Features:
[su_list icon="icon: check" icon_color="#228B22″]
Interesting look
Larger fire
Uses high grade steel as base coated with high-temperature paint
Also comes with screen lifting tool, weather-resistant storage cover, and a log crate
No assembly required
[/su_list]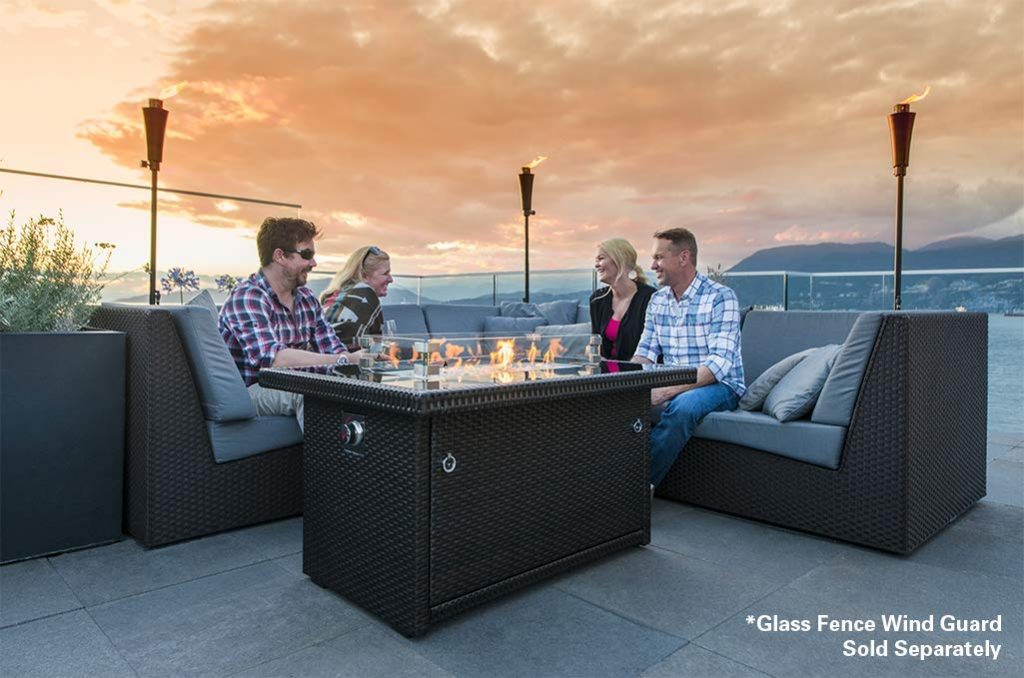 If you're looking for an elegant fire pit table that combines style with function, then you need to take a look at this.
This offers either a rectangular or a square design, and you can go with either the espresso brown color or the slate grey. That's 4 design options to choose from.
This has an aluminum frame with powder coating and uses Ultraviolet Light High Density Polyethylene for the wicker for weather resistance.
The rectangular version is 23 inches high, with a length of 44 inches and a width of 32 inches.
Features:
[su_list icon="icon: check" icon_color="#228B22″]
Comes with 15.5-pound arctic ice glass rock set, glass tabletop, and 3-ft hose with regulator
35,000 BTU
Push button spark ignition
Manual control valve for flame height
Fire table base holds the tank
[/su_list]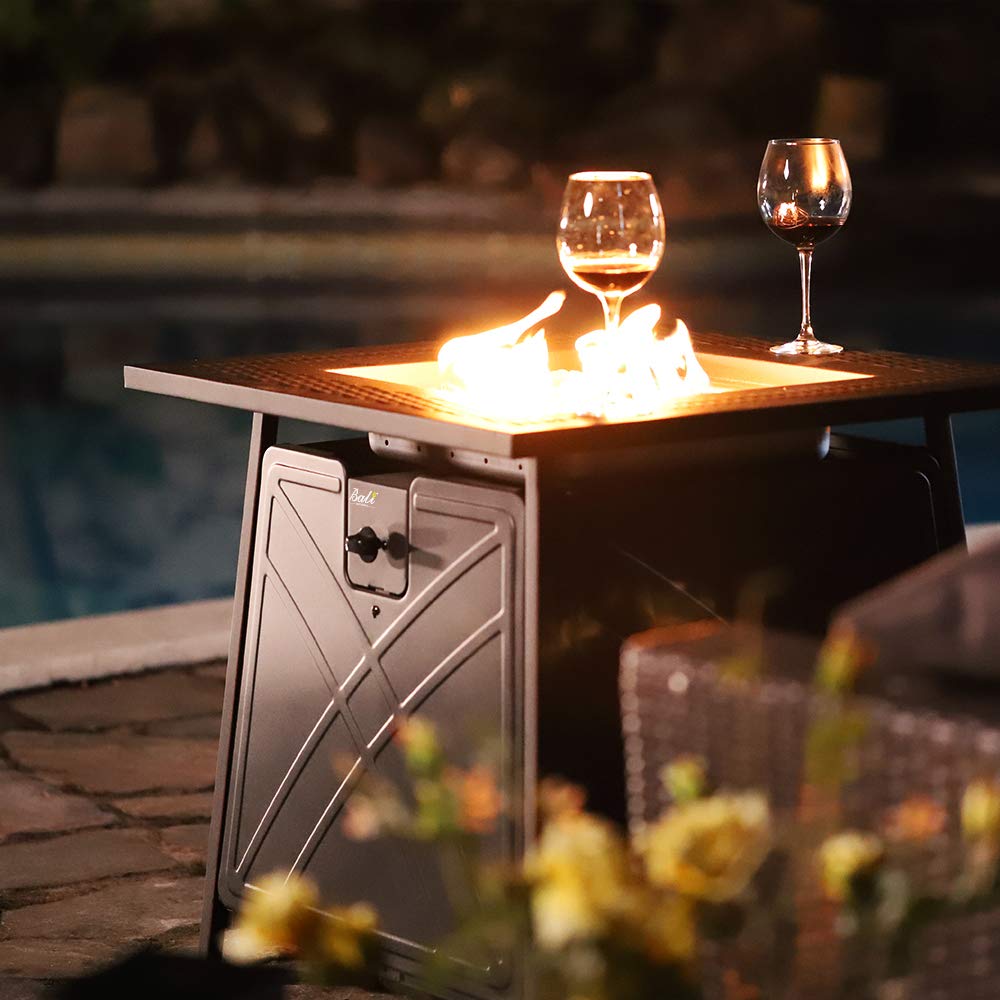 This is another impressive-looking fire pit, with its 25-inch height and 28-inch sides. It looks very solid, and it sure weighs a bit more than usual at 70 pounds.
But then again you do get 50,000 BTU so you can get warm even on chilly evenings.
It really does look great, and it helps that the control panel is hidden. You can start this with just a push of a button, so it's completely hassle-free. Your purchase also comes with the lava rock, so you can use this right away when it's delivered.
Features:
[su_list icon="icon: check" icon_color="#228B22″]
Elegant design
Very warm
Easy to start
Assembly instructions are easy to understand
Excellent customer support
[/su_list]
With its 50,000 BTU heat output, your party can remain cozy and warm even when the air becomes a bit nippy in the evening.
Hang out with friends and a few drinks huddled around this great-looking fire pit, and life seems perfect for the evening.
This fire pit looks nice enough that it works as a coffee table even when you're not using it as a fire pit. You can just cover the lid.
It features a wicker look with antique copper art finishes, along with rust-proof black paint. This is 25 inches high, and weighs 55 pounds.
Features:
[su_list icon="icon: check" icon_color="#228B22″]
Looks like expensive furniture
Flame control
Comes with 7.7-pound lava rock
Fire pit and coffee table
[/su_list]
This is another stylish fire pit with the wicker design at the base, along with a rectangular tabletop measuring 28 inches on each side. It is 24 inches high, and it weighs 58 pounds.
This gives you ample heat at 48,000 BTUs, while the base holds the propane tank.
Cover the fire bowl with the lid and you have a nice patio table for liquor bottles and wine glasses.
Features:
[su_list icon="icon: check" icon_color="#228B22″]
ETL listed
Color matches black and brown furniture
Easy to assemble
No trouble to turn on
Looks expensive but quite affordable
[/su_list]
How Does A Smokeless Fire Pit Work?
Let's first start with the undeniable fact: literally speaking, there's really no such thing as a smokeless fire pit. When there's fire, there's smoke. You can't get away from this fact.
But you can get around the existence of the smoke.
The design of the smokeless fire pit is meant to produce less smoke—a lot less! That's the point here, and it all depends on the design.
Here's how it works, step by step:
Let's say you have a fire going in your fire pit. Naturally, at the high point of the fire you'll have smoke.
Around the fire you have a double wall design, which means there's air in between those walls.
As the fire burns, the wall around the fire absorbs the heat.
The heat absorbed by the wall in turn heats the air within the double walls.
Hot air rises, and that's what happens to the heated air within the walls.
There is a line of small holes around the rim at the top, and the hot air gets out through these holes.
The hot air here contains heated oxygen. It mixes with the smoke at the top of the fire, and this causes the smoke to "re-burn". You get secondary combustion. This is why there's much less resulting smoke.
The re-burning of the smoke particles not only reduces the amount of smoke, but it adds to the heat. That's why this design is much more efficient.
Essentially, there's no fancy gizmo that gets rid of the smoke. It's all about efficient engineering and proper design.
Buying Guide – How to Choose the Best Smokeless Fire Pit?
So how do you choose the latest smokeless fire pit for your needs? Here are some factors that you need to consider:
1. Is It Really Smokeless?
The ads may proclaim it as a smokeless fire pit, but the reality may be a lot different. So you have to check out the customer reviews to make sure that the unit isn't producing bothersome amounts of smoke.
2. Size and Dimensions
You can get a bigger fire pit if you have the yard space to hold it. A larger fire pit looks a lot more impressive, and it can really make your yard look a lot better.
But you may want to go with a smaller fire pit if you want to bring it with you for you outdoor adventures. You can bring it to a beach or to your campsite when you go camping or hiking.
You won't have to build your own bonfire when you can just use your portable fire pit. It just needs to be easy to carry, which means it ought to be compact and lightweight.
3. BTUs
This indicates how much heat the fire pit emits. If you have a larger yard to heat, you'll want a higher number of BTUs.
4. Easy Use
A fire pit is supposed to relax you and your friends, so it should be simple to operate and use. You may have to assemble the fire pit first, but this should be easy enough even for those without extensive DIY experience.
Starting the fire should be no trouble, and the level of the fire should be easy enough to control. There should be comfortable handles on the fire pit too if you're going with a portable unit.
5. Fuel Versatility
Can it use logs, or can the fire pit use natural gas?
When you're not sure about what kind of fuel you can use, it's nice if your fire pit can make use of several fuel options.
Sometimes it's also about what you prefer or the mood you're in, so you may want to use logs just because you feel like it.
6. Durability and Build Quality
How long with the fire pit last? Does something go wrong with it soon after buying? Obviously you'll want a fire pit that works perfectly for the longest time.
This means it should be made with tough and durable materials and it should be able to resist the elements.
You may want to find out where the fire pit was manufactured, since some countries (like the US) have strictly enforced regulations regarding build quality. Other countries may be a bit too lax regarding quality control.
Also, look up the warranty period. As a rule of thumb, a longer warranty period tends to indicate a longer expected lifespan for the fire pit.
7. How Does It Look?
Since this is meant to help you enjoy the evening with friends, it ought to look nice. Some fire pits can look rather elegant, and they can certainly raise the aesthetics of your yard.
It's nice if the look of the fire pit matches the overall aesthetic design of your home.
If you have a nice looking fire pit in a house you're selling, you may even get a higher price for your home.
8. Included Accessories
A great fire pit come with a kit that can include many items you'll need for the fire pit. If you're using gas, then you may want to look for a longer gas line.
Other items you may want to look for include lava rocks and a poker, along with a spark screen and a cover.
9. Safety Features
Anything that involves fire can be a hazard, so you better make sure you have safety features in your fire pit so you don't end up burning up your place.
The long gas line keeps your gas tank far enough from the fire. You can also use a cover to contain the embers and the sparks.
Final Words
If you've been specifically for smokeless fire pits, then you probably experienced firsthand how smoke can ruin an evening when you're gathered around a fire.
The having a fire while you hang out with friends and family in the evenings can be festive, cozy, and even romantic. But such moods can be ruined by the smoke.
So thankfully you can get smokeless fire pits instead. You have lots of different looks and sizes to choose from in this list of ours, but all these are excellent.
They look great, will last a long while, and they really have very little smoke that can bother you. You can set the flame height and enjoy the heat, the dancing flame, and the camaraderie of the people you love around you.
If you can afford it, why not get a large smokeless fire pit for your large yard? Then you can also get a smaller fire pit for camping vacations and treks to the beach.
When evening falls, gather around the fire and enjoy the light and the warmth with your friends.