Pizzas are fantastic dishes to serve on backyard parties as they're crowd favorites and are rather fuss-free to make. Even if you don't have a brick oven in your yard, the best portable pizza ovens will easily come to the rescue.
These items come in all shapes and sizes, so nearly every homeowner with some space in their backyards will find their perfect match.
What exactly is a portable pizza oven, you might be wondering? Simply put, these are outdoor pizza ovens that you can move around easily. They're often wood or gas-powered but there are also a few that are meant to be used on a grill.
If you're thinking of getting one to add another piece of cooking equipment to your backyard, here's a guide that will help you find your perfect match.
Top 10 Portable Outdoor Pizza Oven 2021 – Find The Right Model:
Where to Buy Portable Pizza Oven?
One of the first things a lot of people wonder about when searching for a good pizza oven is where to get one. With the convenience of pizza deliveries, not everyone plans on getting pizza ovens, so where should you start looking?
Like most other kinds of cooking equipment, you can find pizza ovens in specialty stores. Big box stores also carry a few models so you might want to check those out.
However, the best place to shop for these items is still online. You can find tons of home product specialty retailers carry a wide range of portable pizza makers with ease.
Amazon.com is also an amazing option. You'll always find great products from their large selection.
But also like other kinds of cooking equipment, it's not about the where but the which item should you get that you need to pay more attention to.
There are lots of places that sell these products but there's no guarantee that they all sell great options. You have to be more discerning with the actual product instead of prioritizing where to get it from.
To help you get started with your search, we've rounded up 10 of the best options for portable pizza ovens below.
Our Picks of 10 Best Portable Pizza Oven Review:
What better product to start our list with than what is touted as the "world's first portable pellet pizza oven", right?
The Ooni 3 Portable Wood Pellet Pizza Oven offers portability like no other being designed to be extremely efficient in various ways.
With its compact size and design, you can turn to this product if you're after a space-efficient pick. It's also engineered to be very energy-efficient as it only uses sustainably sourced wood pellets and can get as hot as 932ºF within minutes.
Features:
[su_list icon="icon: check" icon_color="#228B22″]
25.2" x 14.1" x 8.6″
Brushed stainless steel lightweight construction
Ceramic fiber insulation
10" cordierite baking stone
Tripod stand
Open face design with cover
Removable chimney
Wood pellet fuel
[/su_list]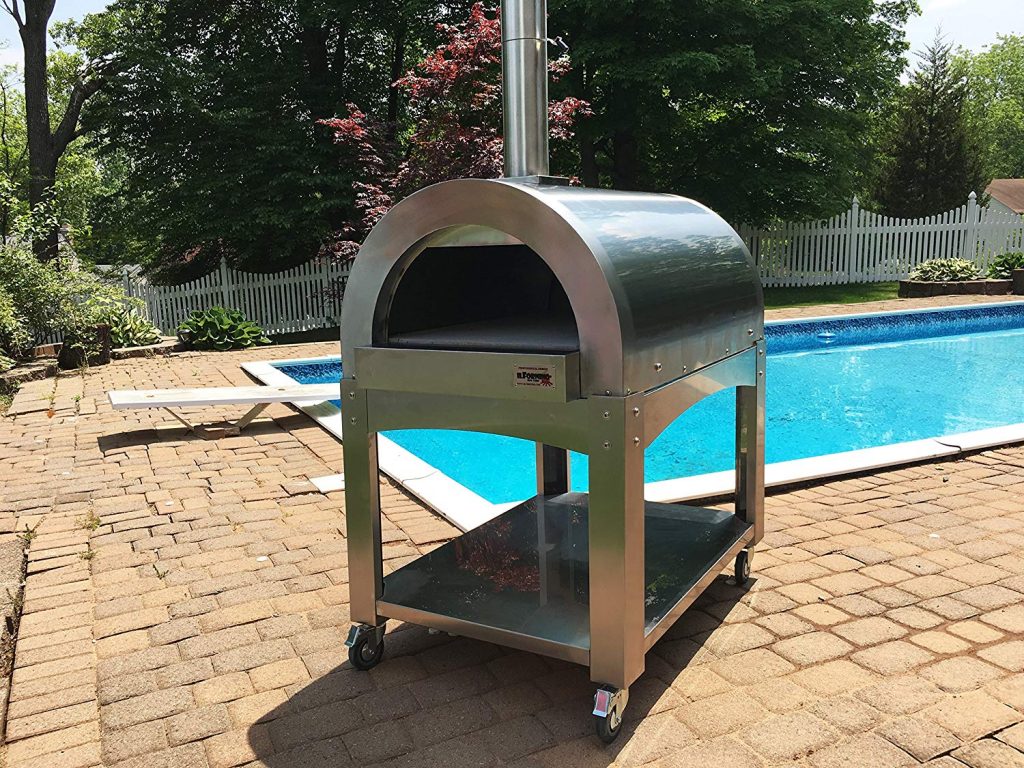 If you have the space for a free-standing outdoor pizza oven, check out the ilFornino Professional Series Portable Wood Pizza Oven. This item can be a solid substitute to an outdoor brick oven due to its size without compromising great results.
What makes it special is its high-density insulation. It has several layers of insulation, two layers of heavy ceramic sandwich the double-walled stainless steel insulation then topped off with another layer of ceramic insulation.
This construction guarantees highly effective heat retention, allowing you to cook the perfect pizza without too much fuss.
Features:
[su_list icon="icon: check" icon_color="#228B22″]
1007 sq inches total cooking area
430 stainless steel material
Layers of ceramic fiber blanket insulation
1.5" refractory baking stone
Stainless steel cart
Open-face design
Detachable door with thermometer
Ash drawer
Metal carrying handles
Chimney
[/su_list]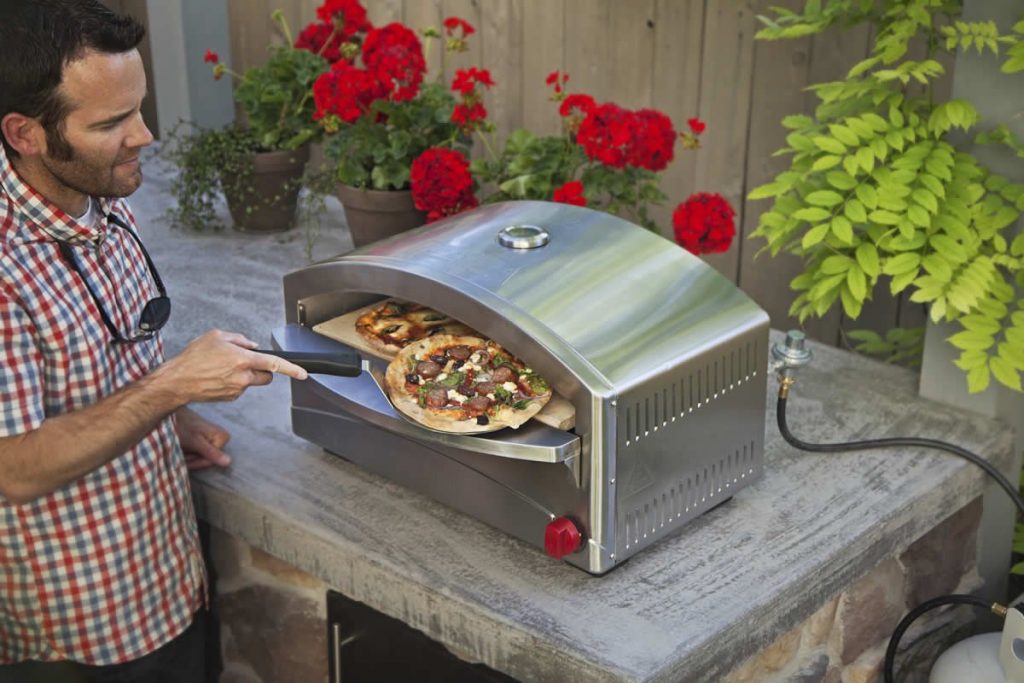 Designed to replicate the same results brick ovens offer but in a more compact and portable package, the Camp Chef Italia Artisan Portable Pizza Oven Propane makes it possible for everyone to whip up pizzeria-style pies in their backyards.
As a propane gas option, it can be a more convenient pick for folks who aren't too keen on sourcing wood to get their pizza fix.
As for its performance, you can also expect a lot from this product.
Despite its stainless steel construction, it comes with a double-layered ceiling that ensures good heat retention. It can also reach up to 700F so you can be sure that it will cook your pizzas nicely.
Features:
[su_list icon="icon: check" icon_color="#228B22″]
Stainless steel construction
5″ x 23″ shelf dimensions
17,000 BTU/hr rating
Double-layered ceiling
Built-in ignition and micro-adjustment valve
[/su_list]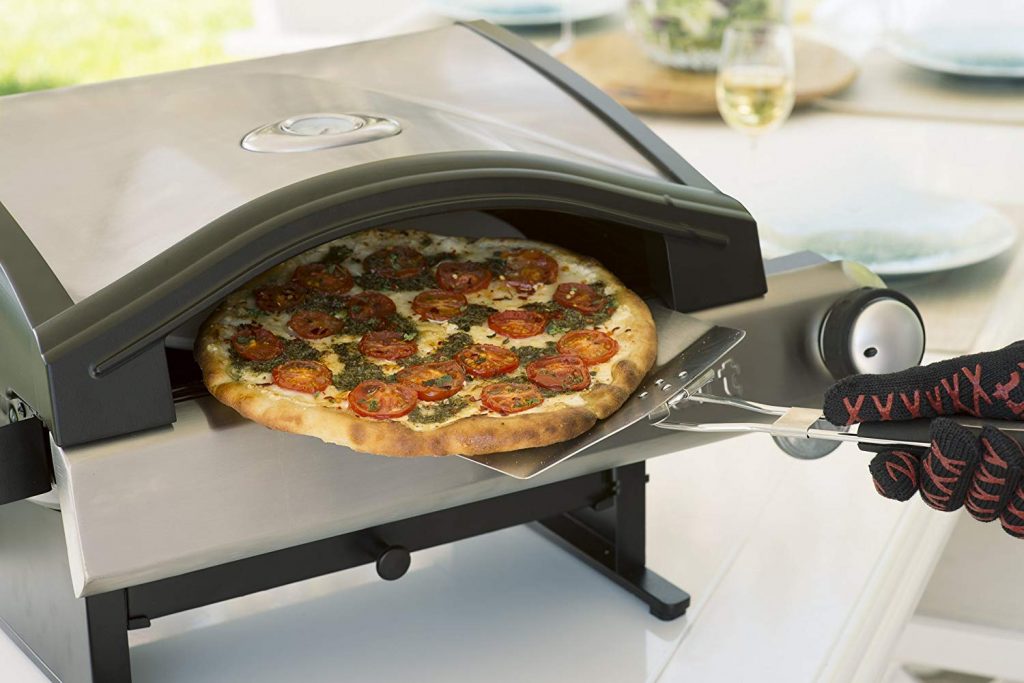 Partial towards more modern-looking cooking appliances? Then check out the Cuisinart CPO-600 Alfrescamore Portable Outdoor Pizza Oven.
It looks like a contemporary mini grill with an open-face detail so it won't look out of place next to a sleek full-sized gas grill.
Compact and very easy to set up, you can take this gas pizza maker anywhere with you. It also has other thoughtful features like a built-in warming tray and a smoke chip cup, making it a very convenient choice.
Features:
[su_list icon="icon: check" icon_color="#228B22″]
143 sq. inches of cooking space
15000 BTUs
13" Cordierite pizza stone
Built-in warming tray
Integrated smoke chip cup
Lots of extras included
[/su_list]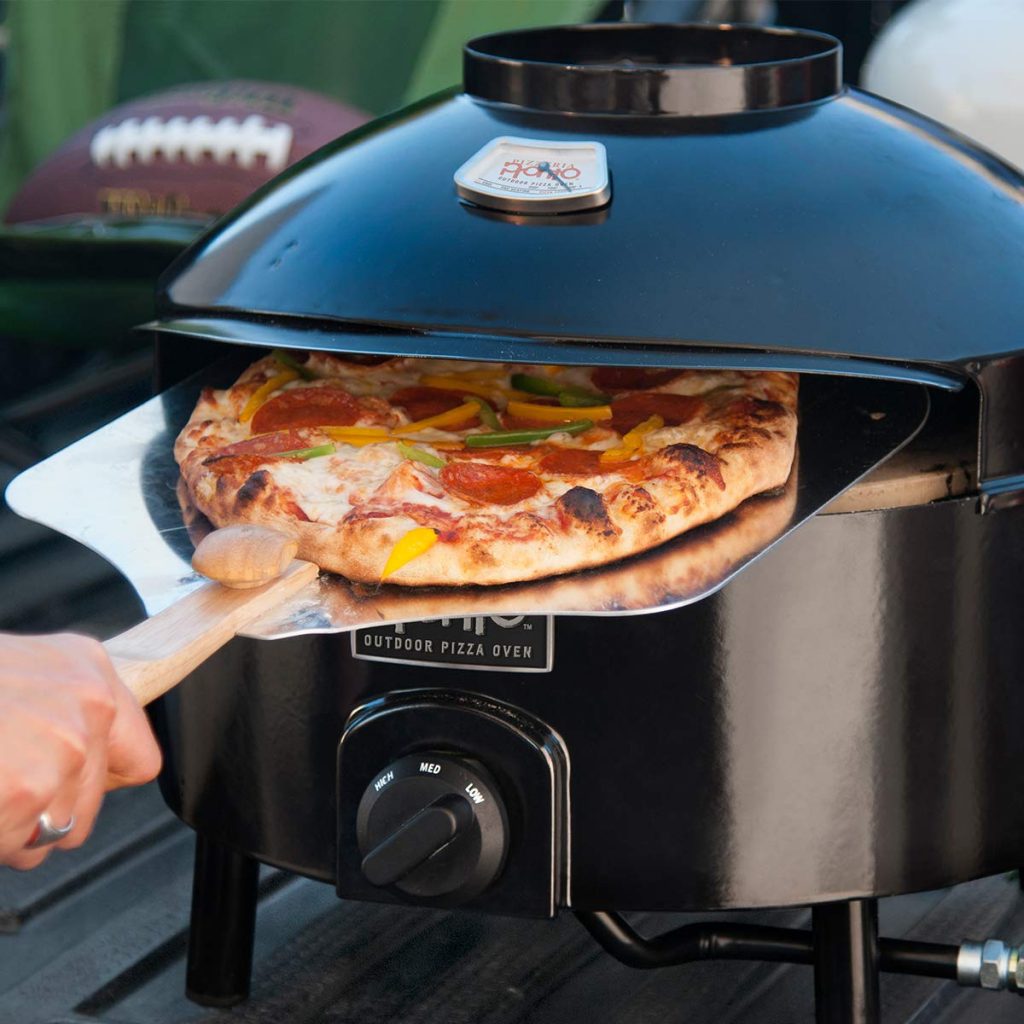 Another outdoor pizza maker that you can take with you anywhere is the Pizzacraft PC6000 Pizzeria Pronto Portable.
This item is a compact, gas-powered pick that is engineered to help you whip up pizzas that are soft on the inside and crispy on the outside.
Its biggest draw is its ease of use. You just need to hook it up to a propane gas tank and you're all set to cook. It can reach its highest temperature setting in 10 minutes and will let you cook the perfect pizza in just 5 minutes.
Features:
[su_list icon="icon: check" icon_color="#228B22″]
Pre-heats up to 700F
Hollow-core pizza stone with ThermaBond® technology
Insulated heat visor with ventilation and a stainless steel reflection plate
Built-in thermometer, gas hose, and ignition
Temperature control dial
[/su_list]
Scared of cleanups? You don't have to be with the Mont Alpi MAPZ-SS Table Top Portable Gas Pizza Oven.
The most notable feedback this product gets is that it's very easy to clean despite how it looks, so it appeals to those who hate cleaning up after cooking.
Compact and very easy to operate, you can also take this portable gas pizza oven with you anywhere. Just don't forget the propane tank and you can already whip up the most delicious pizzas no matter where you are.
Features:
[su_list icon="icon: check" icon_color="#228B22″]
Stainless steel construction
12000 BTUs
12" pizza stone included
Heats up to 620 F
Removable front door with thermometer
Chimney
Dishwasher-safe parts
Flame control knob
[/su_list]
If you own a Camp Chef 16″ Cooking System stove, the Camp Chef Artisan Pizza Oven 90 would be an excellent pick for you.
It will definitely expand the functionalities of your outdoor stove and you can whip up a wider range of dishes while enjoying your time outside.
Fashioned after a traditional wood-fired oven, the Artisan Pizza Oven 90 works with any 16" Camp Chef stove.
It's equipped with a cordierite ceramic baking stone and has a sturdy, insulated construction that can reach up to 700F for whipping up the most delectable pizzas.
Features:
[su_list icon="icon: check" icon_color="#228B22″]
15″ x 20″ cooking surface
Open-face design
Cordierite ceramic baking stone
Built-in temperature gauge
Can heat up to 700° F
[/su_list]
When it comes to versatility, the Mont Alpi 3 in 1 Pizza Oven Grill is a solid option. It can grill, bake pizza, and sear various ingredients, letting you make more dishes with just a single piece of cooking equipment.
Features:
[su_list icon="icon: check" icon_color="#228B22″]
Gas-powered grill and pizza oven
12000 BTU
Stainless steel construction
Comes with a pizza stone and cast-iron skillet
Built-in temperature gauge on the lid
[/su_list]
The Pizzacraft PC7001 PizzaQue Deluxe is another accessory kit that you can add to an existing outdoor grill to turn it into a pizza oven.
It works with kettle grills like Weber's and Master Forge's in the same size. With its design, it proves to be one of the most portable options available.
Features:
[su_list icon="icon: check" icon_color="#228B22″]
Stainless steel kettle converter
Built-in thermometer
Cordierite pizza stone
Foldable pizza peel
Flex door
Charcoal fence
[/su_list]
Last but not least, the Zenvida Grill Top Pizza Oven is also something you should check out if you don't want to add another bulky item to your backyard.
This is a simple piece of cooking equipment that is designed to be used with large and powerful grills, so if you have one of those already, this can be a great option for you.
Features:
[su_list icon="icon: check" icon_color="#228B22″]
Open-faced grill top oven
Ceramic stone
12″ x 12″ stone dimensions
Built-in temperature gauge
[/su_list]
How Much is an Outdoor Pizza Oven?
Unless money is no object for you, creating a budget for a new addition to your home is always a must.
For this, however, you'll need to do some research first so you can determine how much such products go for and how much you should allocate for your purchase.
Once you have an idea, you can already come up with a good amount that will work best for you.
All of these apply to portable pizza ovens. As they're not necessarily necessities, some folks might feel like they need to be wiser in creating a budget for such purchases.
However, if you love munching on pizza with the family, they will prove to be worthy additions to your collection of cooking equipment.
So learning about how much they cost and how much you should invest in one would be wise.
Portable Pizza Oven Prices
A quick look at the offerings of many online retailers of cooking equipment, you'll see that portable outdoor pizza ovens are typically pricier than indoor pizza makers.
They're a bit more expensive than microwave ovens and are usually around the range of convection ovens.
You might be wondering, how come they're quite pricey? Their construction is typically more robust than other countertop ovens so it makes sense that they're a bit more expensive.
They need to retain a high amount of heat so it's expected that they're sturdy and hefty. This normally comes at a price, so it shouldn't be surprising that these kinds of cooking equipment are quite pricey.
Another important point to know is that gas-powered portable outdoor pizza ovens are usually pricier than the other types. They're equipped with their own heating elements so they tend to be a bit more expensive.
Usually, the cheapest ones are the accessory kits for specific makes and models of grills. They don't cost much because they just tweak the design of an existing piece of cooking equipment.
However, if you don't have the grill model, yet, you will need to shell out a decent amount of cash for it. They're not usually cheap, so you'll still end up with a large purchase. They can still be great purchases, though, since they offer great versatility and functionality.
Creating a Budget
When making a budget, it's important to consider not just the amount you're willing to spend on a product. You should also think about how much use the product will get as this can help you find a better value.
For example, you intend to make pizza at home every weekend or as often as you possibly can. Allocating a good amount of money for the purchase makes sense since you'll use it anyway.
Your purchase will pay for itself in the long run, especially if you manage to get one of the best options available.
If you don't really plan to use it heavily, going for a cheaper option shouldn't hurt. Choose carefully and you can find something that can already handle light use and cook pizzas nicely at the same time.
Aside from the unit itself, you should also take their fuel into consideration. Both will require some expenses in running since they will need to be fueled by either gas, wood, or charcoal.
Determine which one is the most convenient and budget-friendly for you if you want to cut down costs.
Buying Guide – How to Choose the Best Portable Pizza Oven?
Now that you know some of the best options for portable outdoor pizza ovens, the next thing that you have to do is to narrow down your options or choose one product to purchase.
To help you do that, here are a few of the things that you should take into consideration in order to make the right choice:
Ease of Use
Making some pizza shouldn't be complicated. The hardest part of the process should be where you knead the dough because it's rather labor-intensive.
You can even skip that and just buy a ready-made crust. So to make sure that you can make pizza without too much fuss at home or wherever you are, you should make sure to opt for a pizza oven that's easy to use.
Fortunately, lots of portable pizza ovens are designed to be very simple to operate. Some don't even have controls that need tweaking. You just need to put in the right amount of wood pellets or firewood, close the lid, and you're good to go.
Type of Fuel
Deciding on how you want to power your pizza oven can also help narrow down your options significantly. It's a major factor to decide on and can greatly affect how you can use the said cooking equipment.
It's important to consider the fuel type for your pizza oven because they require to be sourced. Your propane gas tank needs to always have some content if you want to whip up a pizza on a whim.
You also need to have some wood pellets or firewood available if you want to use your wood-fired ovens all the time.
Make sure to choose according to your convenience. If it's easier for you to get wood pieces, then opt for a wood-fired ovens.
If you can easily get your propane gas tank refilled, opt for the ones that use such. By doing so, you can be sure that you'll end up with a practical pick that you will actually use.
Quality Construction
Never compromise quality, especially if you want the tastiest homemade pizzas. The construction of these kinds of cooking equipment can affect their performance as their heat retention play a huge role in the cooking process.
So do not go for anything less than sturdy and well-made.
Portability
Since you're after the top rated portable pizza oven, you should also take their portability into consideration. Look at their size, design, and weight for starters.
These three can already help you determine how easy a product is to move around. Choose one that suits your needs and preferences and you're sure to find the product that will do the trick for you.
Final Verdict
Adding the best portable outdoor pizza oven to your collection of backyard cooking equipment is always a solid idea, especially if you love entertaining or enjoying homemade food. Hopefully, this guide helps you find your perfect match.