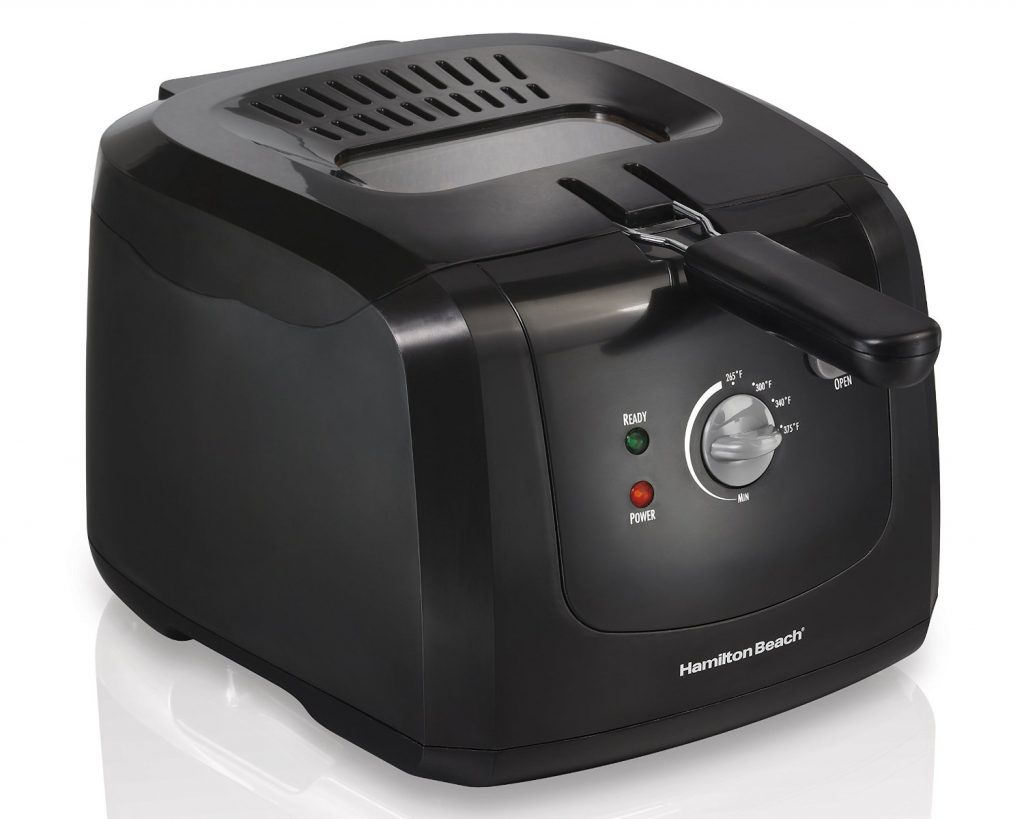 Professional-grade kitchen appliances can really offer a lot to users but they're not always the most practical. In many occasions, they won't even look like they fit in your kitchen.
But if you want the functionality of one in a more fitting package for your home, you shouldn't miss this Hamilton Beach 35021 Electric Deep Fryer reviews.
Here, we'll present a few good reasons why this Hamilton Beach deep fryer is a good alternative for pro-grade cooking equipment. You might even learn a thing or two about choosing the best deep fryer or deep frying, in general, in this write up.
8 Major Features of Hamilton Beach 35021 Deep Fryer – Everything You Need to Know:
1. 2L Capacity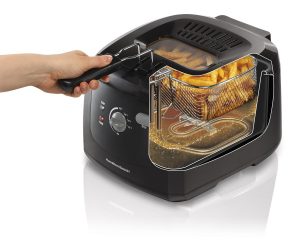 Capable of holding up to 8 cups of oil, this deep fryer can help you whip up dishes that are good for sharing. It can help you cook up to two portions of food in one go, but if you need to cook more, fret not.
You will need to do it in batches but because this unit is capable of holding temperature in a very stable manner, it can still let you cook efficiently.
2. Adjustable Temperature
Different oils come with different smoke points, so it's equally important to make sure that you'll be able to select various temperatures with any frying equipment you have.
This is why an adjustable thermostat is essential for a deep fryer. The Hamilton Beach 35021 will let you cook at 265F to 375F providing you the option to work with different kinds of cooking oils.
3. Lift Basket
This is possibly one of the most attractive features of this product. This design lets you change the basket's position without having to open the lid.
You can lower the basket and its contents down the hot oil or lift the basket up to drain the deep-fried food without opening the lid. This boosts the unit's safety measures, letting you avoid one of the most common dangers of deep frying.
4. Hinged Locking Lid with Viewing Window
If there's a lid to keep you away from the hot oil, how are you going to see how your food is doing, you might be wondering?
Fret not because this product comes with a viewing window. This will let you monitor what you're cooking without having to stand near a pot of boiling oil.
As it's hinged, you also don't have to worry about misplacing the lid. The lid also locks, you can be sure that it won't budge once everything is properly in place.
5. Removable Parts
What makes this unit very easy to clean is its design that lets you take out the parts that get in contact with your food. The lift basket, as you would expect, is removable.
The lid and oil tank are removable, too. The heating element, as it is designed to be immersed into the oil, is also removable, so you can clean it thoroughly and easily.
6. On & Ready Indicator Lights
To help you operate the unit without too much fuss, this product is also equipped with indicator lights. One turns on when the unit is plugged in so it signals that the unit is powered on.
The other lights up when the desired temperature of the oil is achieved so you can know that it's ready for some cooking.
7. Cool Touch Sides
Ensuring your safety is the addition of cool-touch sides to the Hamilton Beach 35021. This is achieved by employing a housing for the unit.
The fact that the heating element is placed inside the cooking pot is another way to efficiently insulate the sides of this deep fryer also helps prevent the heat from emanating from its sides.
8. Breakaway Magnetic Cord
Another useful safety feature that the Hamilton Beach 35021 has is its use of a breakaway magnetic cord. This makes sure that if the power cord gets snagged, it will detach from the unit and stop it from operating right away.
Hamilton Beach Deep Fryer Basket:
Every deep fryer has a basket. And Hamilton Beach deep fryer isn't an exception. The basket has a heat-resistant handle. You place the food you want to fry in the basket and gently lower it into the fryer. The basket immerses the food in the hot oil for frying.
When the food is done, to remove the food, you only need to lift the basket with its heat resistant handle. It is either made of aluminum or stainless steel. Either way, it is usually resistant to rust and corrosion. And if the basket of your deep fryer goes bad, you can easily replace it.
Hamilton Beach Deep Fryer Power Light:
The power light comes on when you switch it on. This should not be mistaken for ready-to-cook light which comes on when the oil temperature reaches the set temperature. When you turn the device off, the power light will go off.
Hamilton Beach Deep Fryer Filter:
The deep fryer filter removes all the grease, debris, and particles from your oil so you can reuse the oil to fry multiple times before changing it. In other words, a deep fryer filter helps you to extend the lifespan of your oil and save you a lot of costs on frying oil.
Why Should You Use Hamilton Beach 35021 Electric Deep Fryer?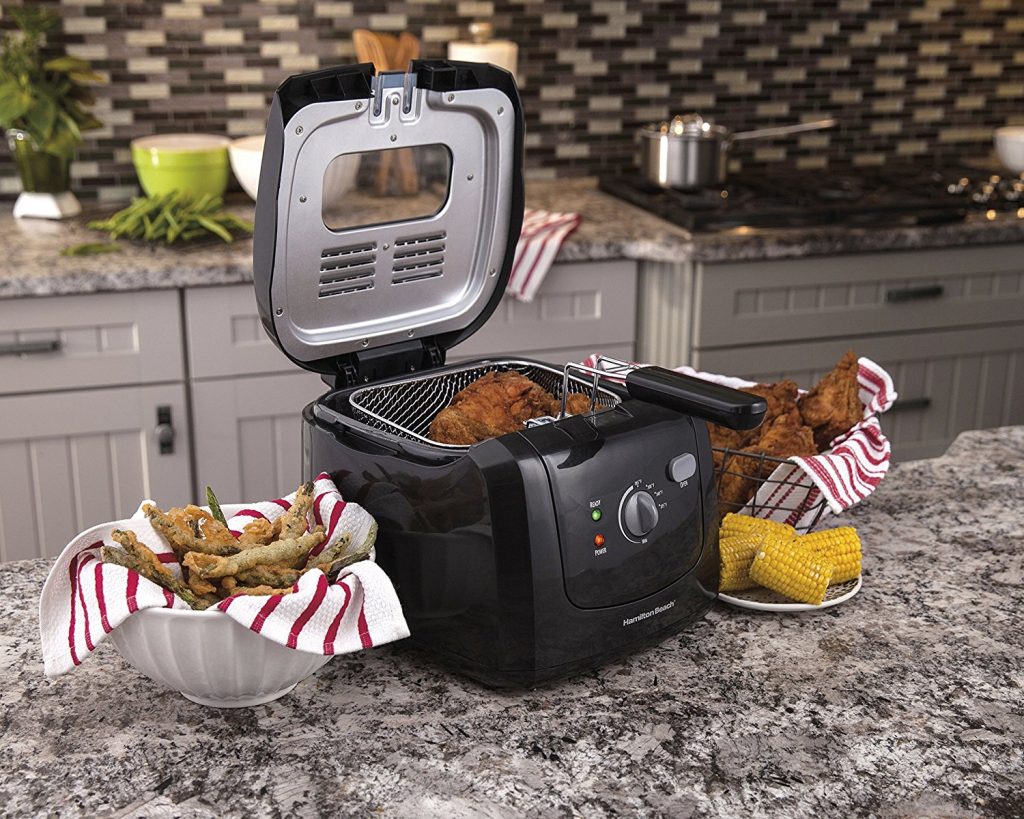 In case you weren't completely convinced by the great features the Hamilton Beach 35021 has, these points from actual Hamilton Beach 35021 Deep Fryer reviews might:
1. It's very convenient to use.
Operating the Hamilton Beach 35021 is very fuss-free. You don't even have to remember switching it on as it will already start working the moment you plug it in. It definitely makes deep frying simpler, faster, and much less of a hassle.
2. It can cook faster than its leading competitors.
Lots of users who have already owned a couple of electric deep fryers in the past can attest that this unit cooks faster than its competitors.
3. It's very easy to clean.
The fact that you can practically dismantle the entire unit by being able to remove its cooking pot, lid, and heating element makes it a lot easier to clean. The lid is also very useful as it prevents splatters.
4. It operates like a professional deep fryer but it won't look out of place in your kitchen.
As you might notice from its photos, this deep fryer is fashioned just like many professional-grade deep fryers. However, thanks to its straightforward design and features, it's a lot easier and more convenient to use at home.
5. It won't expose you to a pot of cooking oil.
Covered deep fryers are popular options for homes as they're safer. This is true even for the Hamilton Beach 35021 as its lid creates a barrier between you and the boiling cooking oil inside the unit.
[su_row][su_column size="1/2″][su_list icon="icon: check" icon_color="#228B22″ class="posbox"]
Product Benefits
Prevents from splattering
Heats up fast
Very easy to clean
Simple straightforward operation
Designed with well thought out safety features
Fry basket can be positioned immersed or out of the oil without having to open the lid
Made by a reputable small appliance manufacturer
Locking lid with viewing window makes it safer to operate
Perfect size for lots of households
Adds functionality to your kitchen
[/su_list][/su_column]
[su_column size="1/2″][su_list icon="icon: warning" icon_color="#ff0000″ class="negbox"]
The Negative Things
Doesn't come with an odor filter
Quite bulky despite the cooking capacity
Not for those who don't want the heating element to be placed on the oil
Printed labels on the unit get rubbed away after a while
[/su_list][/su_column][/su_row]
FAQ – Frequently Asked Questions
Q: Does it emit cooking odors when cooking?
A: No. While it doesn't have a charcoal odor filter like other models, this unit still won't make your home smell like grease.
 Q: Does it come with an on/off switch?
A: No, you only need to plug/unplug the unit.
 Q: How long does canola oil take to reach 375F?
A: It takes about 5 minutes.
 Q: How do you drain the oil after use?
A: The cooking pot is removable so you can just pour the oil out.
 Q: Can you use coconut oil in it?
A: Yes, you can use different cooking oil in this deep fryer.
Final Verdict
Hopefully, this Hamilton Beach 35021 Electric Deep Fryer review helps you get a better idea whether this product suits your kitchen's needs and your preferences.
It might not be a professional-grade unit, but it can still offer great performance. So you can count on it to give you the crunchiest dishes that you love.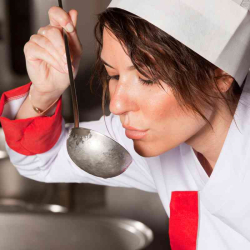 Latest posts by June Brandt
(see all)