Those who love to cook won't make their tiny kitchens stop them from enjoying the activities and food they love. If you're one of them, you've come to the right place. This T-fal FF492D Deep Fryer review might just helps you find the very product your kitchen needs right now.
T fal FF492D Deep Fryer Review – 8 Major Features:
What can the T fal FF492D offer to your home? We'll let its features do the talking for this product:
1. 1.2L Cooking Capacity
If you live alone, this product will be a great choice for you because of its size. You don't have to get deliveries or cook large portions with its 1.2L capacity.
2. Adjustable Thermostat
What might surprise some people is that this tiny unit still comes with a temperature knob that will let you select the heat settings you need for your dish. You can set it from 300F to 375F so you can already cook a wide range of dishes with various kinds of cooking oil with it.
3. On/Ready Indicator Lights
Further simplifying its operation is its indicator lights. One will tell you if the unit is powered on and the other will light up when the oil has reached your selected temperature.
4. Non-stick Interior
This product is designed with its main parts in a single unit so to make cleanups easier, it's equipped with a non-stick coated interior.
5. Removable Cooking Lid with Viewing Window
Like full-sized deep fryers, the T fal FF492D also comes with a removable lid to prevent splatters and make cleanups easier. It's equipped with a viewing window so you can monitor what you're cooking.
It locks into place and is opened by a single button press so you don't have to fiddle with it while the appliance is in operation.
6. Magnetic Breakaway Cord
Like lots of other home-use electric deep fryers out there, this unit also uses a magnetic breakaway cord as a convenience and safety feature. This makes it easier to store and safer to operate.
7. Side-Carry Handles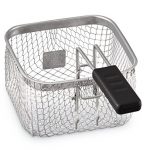 Lugging around this unit for storage or repositioning around your kitchen won't be a problem, thanks to its sturdy side-carry handles.
8. Stainless Steel Fry Basket with Hook
The fry basket of this product is also equipped with a hook so you can let the cooking oil drain right on top of the cooking pot. This makes it even more efficient and convenient to use.
How To Assemble T Fal Deep Fryer?
The good news here is that T Fal deep fryers require little or no assembly.  You only need to place your deep fryer in a place where it is far from hot objects. You also need to give a space radius of at least 10cm around it.
The only assembly you'll do is to fill it with oil, fill its basket with the food to be fried, and cover the device. You can then connect its magnetic cord, and plug it into your wall outlet.  Once again, the device does not require assembly.
Why Should You Use the T fal FF492D Deep Fryer?

According to a good deal of T fal FF492D Deep Fryer reviews, here are a few compelling reasons to give this product a shot:
1. Its small footprint won't crowd your limited kitchen space and will still let you enjoy all the functionalities of a full-sized electric deep fryer.
There are no features compromised to make this unit smaller, so you can still expect it to be fully functional.
2. The unit looks great.
The T fal FF492D looks modern and highly functional so you won't mind leaving it on a counter when it's not in use.
3. It's very easy to use.
Like its bigger counterparts, this deep fryer is designed with your convenience in mind. The controls are very straightforward so you don't have to fuss in operating this product.
4. Cleanups are fuss-free.
While this product doesn't have a removable cooking pot and heating element, it's still quite easy to clean. The non-stick interiors really help in preventing the need for some scrubbing and rinsing.
The fact that it's small also won't have you struggle with an unwieldy unit during cleanups.
5. It won't cost you an arm and a leg.
The best part? It's very affordable. While this should be expected because it is a very small appliance, it's still a great plus that it won't cost you a lot.
[su_row][su_column size="1/2″][su_list icon="icon: check" icon_color="#228B22″ class="posbox"]
Product Benefits
Professional-looking despite its tiny size which makes it even more adorable
Fully functional
Large viewing window found on the lid
Won't make your home smell like grease as it doesn't really let smells escape from the cooking pot
Can help you whip up small portions of deep-fried food
Will still let you drain oil right into the cooking pot with the hook in its fry basket
Perfectly easy to operate
Very friendly price
Uses a magnetic breakaway cord that makes it safe and easy to move around
Non-stick interiors make it easy to clean
Dishwasher-safe lid and fry basket
[/su_list][/su_column]
[su_column size="1/2″][su_list icon="icon: warning" icon_color="#ff0000″ class="negbox"]
The Negative Things
Temperature control can be a hit or miss
Cooking pot is not removable
Might not appeal to those who don't like the heating element to get in contact with the cooking oil or food
[/su_list][/su_column][/su_row]
FAQ – Frequently Asked Questions
Q: Is the cooking pot removable?
A: No.
 Q: Can you store oil in the unit?
A: Yes. The lid can keep the debris out, too.
 Q: How do you drain the oil from the unit?
A: You can just pour it out of the cooking pot into a container. The unit is very small so you won't have a hard time lifting and moving it around.
Q: Can you cook without the lid on?
A: Yes, you can opt to cook without the lid and still get good results.
 Q: How long does it take to reach 375F?
A: It takes about 8 minutes to reach the highest temperature setting.
Final Verdict
It's a shame how small homes tend to miss out on a lot of good things to prioritize their convenience. This is why small appliances are changing the game as they offer new ways for homeowners to enjoy their tiny kitchens.
Hopefully, this T fal FF492D review helps you explore the possibilities for your small home. It might just be the very product you need to get you cooking for yourself again.
With some luck, it can even let you eat better since you can now have the control over which ingredients and oil to use when cooking at home.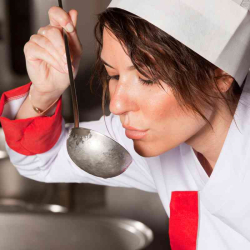 Latest posts by June Brandt
(see all)