Not a big fan of stainless steel? Then you might not be too keen on adding professional-style deep fryer in your kitchen. This doesn't leave you without any other option, though, as this Presto 05442 CoolDaddy Deep Fryer review will tell you.
As the Presto 05442 looks more like an air fryer rather than a deep fryer, it can easily appeal to those who aren't big fans of the traditional appearance of this cooking equipment.
Their plastic outer body, attached lid, and large knobs can suit those who want something more modern for their kitchen.
Presto 05442 CoolDaddy Cool-touch Deep Fryer Reviews – 8 Major Features
1. Cool-Touch Body
One of the stand out features of this appliance is its plastic construction that allows it to be cool to touch even while in operation.
It can still get warm while you're cooking but at least it won't be as hot as those units with stainless steel bodies. This makes it a safer pick, especially for households with younger children.
2. 1.9L Capacity
Capable of accommodating up to six cups of oil, this deep fryer can also whip up a decent amount of food without taking up a lot of counter space.
It's also quite versatile as it can be a good size for small batches, too. If you're not cooking up a storm, you don't have to use a lot of oil and you'll still be able to deep fry your ingredients nicely.
3. Adjustable Thermostat
To ensure that you can cook various ingredients with ease, this appliance is equipped with an adjustable thermostat. You can set it from 250F to 375F so whatever you're cooking or oil you're using, you'll be able to use the right heat level for the best results.
Setting the temperature is very easy, too. The dial is clearly labeled. There are only four heat settings (250F, 300F, 340F, and 375F), though, but it can already suffice for most dishes so it shouldn't cause any problems.
4. Temperature Guide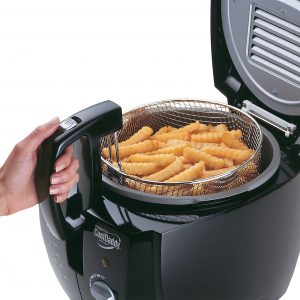 Further making this product more convenient to use is its temperature guide that's printed right at the front of the unit.
It has illustrations of some of the most popular ingredients with their corresponding optimal cooking temperature so you don't have to memorize or have a list on hand all the time.
5. Replaceable Charcoal Odor Filter
Many homeowners shy away from deep fryers because they tend to make kitchens and entire homes smell like grease. The Presto 05442 is designed to prevent all of these with its replaceable charcoal odor filter.
Placed in a dedicated chamber on the lid, this filter soaks in the smells from cooking. It's also very easy to replace as all you really need to do is swap out the old filter with a new one and that's it.
6. Removable Frying Pot
While you can't completely dismantle this deep fryer for a more thorough cleaning, it's still designed to make it easier for you to clean.
For one, the frying pot is completely removable. This will let you wash it properly without having to take the whole unit with you. Just be careful in putting it back as it needs to be specifically positioned for the whole unit to work.
Those who aren't big fans of soaking their deep fryer's heating element in their cooking oil should also check out this product. The pot sits right on top of the heating element so you don't have to worry about having to clean several parts.
7. Convenience Features
This product is also equipped with a few convenient features:
Large viewing window: This will let you easily monitor what you're cooking. As the lid locks nicely to prevent splattering, it will help you see the doneness of your dish without having to remove the cover.
Indicator light: Located right above the thermostat knob, this will let you know if the oil has already reached your selected temperature.
Push button lid: To make opening the lid easier, a push button lid is located on the front of the unit. One push and the lid's lock will be released.
8. Safety Features
Aside from its convenient features, it also has a few safety features. First off is the exterior basket handle which will allow the cooking basket to be positioned in two ways.
One press of a button and you can fully submerge it or let it sit above the oil. It functions nicely even while the lid is closed so it makes placing the food into the hot oil easier and safer.
The breakaway magnetic cord is another nice touch to make this product safer. If yanked or snagged, the cord will detach itself from the unit so it will stop operating and prevent burns and injuries.
The locking cover is also a notable safety feature. It can help keep prevent the hot oil from splattering and burning the user.
Why Should You Use Presto 05442 CoolDaddy Cool-touch Deep Fryer?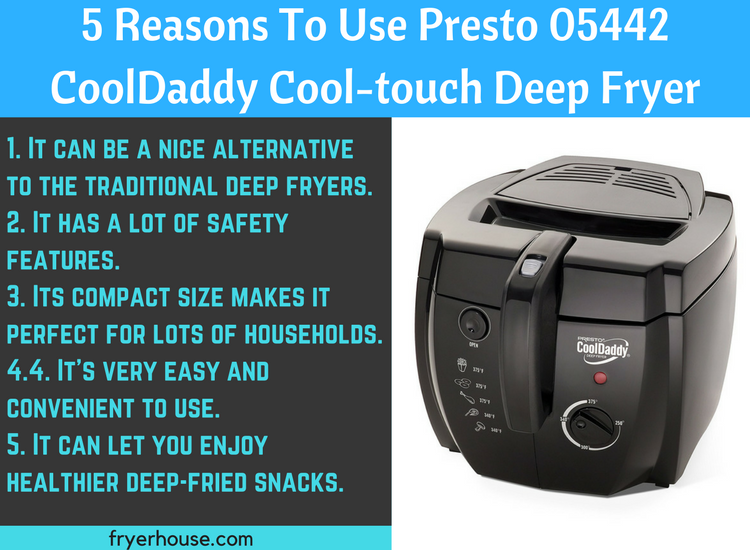 If the list of features above hasn't convinced you to give this product a shot just yet, this next list might do the trick. This roundup is from the many Presto 05442 CoolDaddy Cool-touch Deep Fryer reviews so it should help you weigh your options better.
1. It can be a nice alternative to the traditional deep fryers.
There are tons of things about this product that makes it a better deep fryer pick than your traditional deep fryers. For starters, it looks different than those steely, bulky equipment.
It can suit more residential kitchens with its design. You don't have to worry about it sticking like a sore thumb in your home.
2. It has a lot of safety features.
As deep frying comes with its fair share of dangers, it's a great plus that this product is equipped with a collection of safety features. They might not seem too impressive at first glance, but they can really come in handy once you're already cooking with the unit.
3. Its compact size makes it perfect for lots of households.
The Presto 05442 has a 1.9L capacity so it can't really contain a lot of food. However, this means that the unit won't take up too much space.
It's also designed to be deep rather than wide, so even if you have a small kitchen, you can still squeeze this product in comfortably.
4. It's very easy and convenient to use.
The controls of this unit are very straightforward so operating it won't be too fussy. It also won't create a mess in your kitchen as the lid will prevent the oil from splattering. This can encourage you to use the unit more, giving you better value for your money.
5. It can let you enjoy healthier deep-fried snacks.
Experts say that with the right kind of oil and proper cooking, deep-fried snacks aren't entirely bad for you. You can achieve all of that more easily at home with the Presto 05442 so this product can really be a useful addition to your kitchen.
[su_row][su_column size="1/2″][su_list icon="icon: check" icon_color="#228B22″ class="posbox"]
Product Benefits
Very easy to use
Also available in white
Compact size
Sizable cooking capacity
Has several safety features
Heats up quickly
Won't make your home smell greasy
Replacement filters are easy to find
Affordably priced
Won't make a greasy mess in your kitchen
[/su_list][/su_column]
[su_column size="1/2″][su_list icon="icon: warning" icon_color="#ff0000″ class="negbox"]
The Negative Things
Some users experienced the oil to boil over causing hot oil to spill
Can still get hot while in operation so use with caution
Removable pot can be a bit fussy as you need to position it correctly every time
[/su_list][/su_column][/su_row]
FAQ – Frequently Asked Questions
Q: Does this unit produce smoke while in operation?
A: No, it doesn't produce smoke when cooking. It also shouldn't do that. It can produce some steam, though.
 Q: Does it have an On/Off switch?
A: No, you just need to plug it in to turn it on and plug it out to turn it off.
 Q: Can you cook with the lid open?
A: Yes, you can.
 Q: Can the lid be detached from the unit?
A: Yes, it can be detached easily.
 Q: Can you leave the oil inside the cooking pot?
A: Yes, but it can stain the pot if you keep doing so.
Final Verdict
With its different design and series of safety features, this product can offer something else for those who want to shop around for deep fryers.
We hope this Presto 05442 CoolDaddy Deep Fryer review helps your search so you can enjoy the tastiest deep-fried dishes at home right away.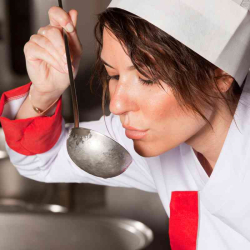 Latest posts by June Brandt
(see all)