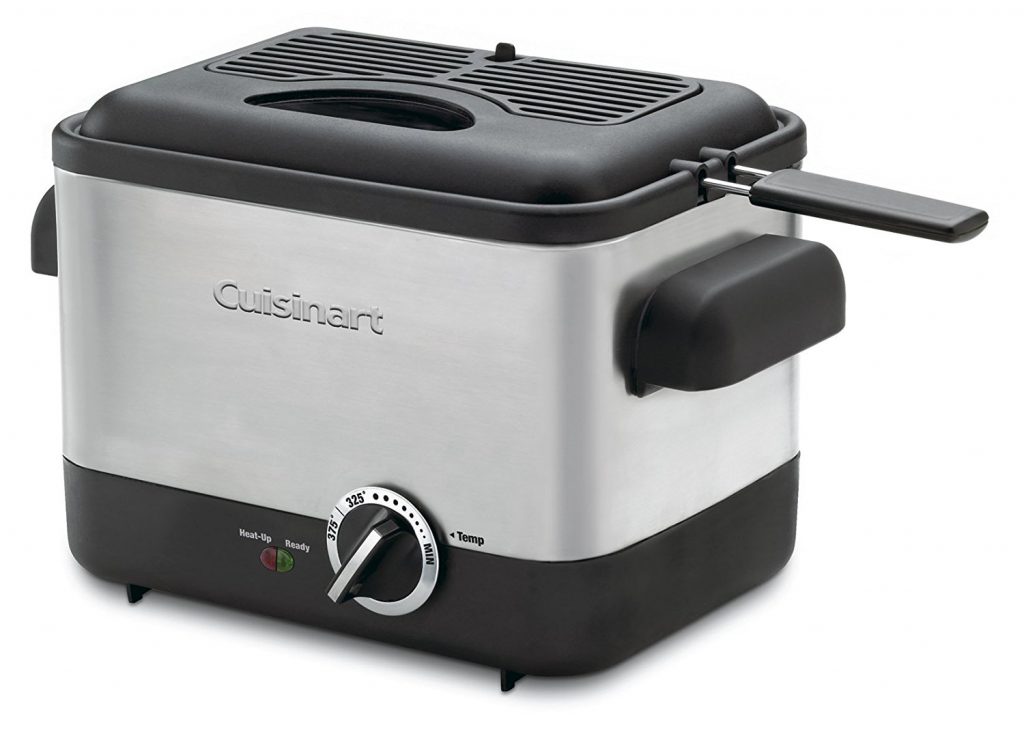 Is your small kitchen stopping you from exploring your culinary capabilities? This would have been an issue decades ago but not anymore.
In this Cuisinart CDF-100 Compact Deep Fryer review, we'll introduce you to one of the best 'fryolators' that's small but packs a punch.
Commonly referred to as the Cuisinart CDF-100, the primary selling point of this product is its compact design.
It's so small that you can confuse it with an old-school oven toaster at first glance. Despite its size, however, it's packed with great features so it's a popular pick by many
small home dwellers
.
8 Major Features of Cuisinart Deep Fryer CDF-100: Everything You Need to Know
If you're looking for a Cuisinart Deep Fryer to add more ways to enjoy your equally small kitchen, check out the Cuisinart CDF-100's features below:
1. 1.1L Capacity
The very first thing that you need to know about this product is that it's a small cooking equipment. It measures 8 x 11 x 7.5 inches and can only hold 1.1L of oil so don't expect it to whip up a feast in one go.
It can, however, do wonders for single or two-person households. It can certainly simplify the cooking process for your snacks and deep-fried dishes without having to worry about cooking too much food.
2. Attractive Modern Retro Design
Retro is definitely making a comeback in people's kitchens as more and more appliances evoke nostalgia with their designs.
This deep fryer is a perfect example of a modern take on retro so you can expect it to fit in nicely in most vintage or even modern-themed kitchens.
3. Nonstick Die-Cast Bowl
This product also has a notable construction. Its cooking pot is die-cast so there are no joins or welds that can loosen up over time.
However, it can be a challenge to clean, so they added a nonstick coating to its interiors.
4. Adjustable Thermostat
The Cuisinart CDF-100's small size doesn't compromise its performance in any way. Its adjustable thermostat proves this as it will let you select your heat settings with ease.
You can set it from 325F to 375F. So no matter what your ingredients or choice of cooking oil may be, you can be guaranteed to cook and use them properly in this appliance.
5. Removable and Reusable Charcoal Odor Filter
Aside from preventing bad odors from lingering in your home, the charcoal odor filter of the Cuisinart CDF-100 is also removable and reusable.
This means that you don't have to keep replacing the filter which can be costly. You can just wash and reuse it until it loses its ability to soak in the odors from your cooking before replacing it. This makes it more economical and convenient.
6. Removable Hinged Cover Lid with a View Window
The Cuisinart CDF-100 comes with a hinged lid so it's attached to the unit and won't get misplaced. It's easy to remove, though, so you can still take it out and wash it under running water.
The lid also comes with a view window. So even if it covers the cooking basket, you can still closely monitor what you're cooking.
7. Indicator Lights
Making this product more convenient to use is the inclusion of its two indicator lights. One will tell you if the unit is plugged in and ready to cook.
The other indicates that the oil is already hot enough to start cooking. This eliminates the need for a screen or use of thermometers which can simplify your cooking process even further.
8. Chrome-Plated Steel Mesh Fry Basket with a Hook and Handle
The use of a fry basket is necessary for deep fryers because they will prevent you from dropping food into the cooking pot which can cause injuries in case the hot oil splatters.
However, aside from letting you submerge your ingredients in the hot oil, the fry basket also simplifies the retrieval process. This product even comes with a hook right underneath the handle so you can let the basket sit on top of the oil to let the food drain the excess oil.
This part, however, needs assembly. Make sure that everything is properly and securely attached to the basket so it won't fall apart once the basket is loaded with food.
How To Clean a Cuisinart Deep Fryer?
To clean this device, follow the steps below. Before you do anything, you must switch it off, detach and unplug the cord.
Step 1 – empty the fryer bowl of oil.
Step 2 – Add 500ml or 2 cups of warm soapy water and leave it inside for about 5 minutes.
Step 3 – Wipe the interior with a sponge.
Step 4 – Wipe the exterior of the fryer too.
Step 5 – Rinse the interior thoroughly and rinse the exterior too. Remember, water should not penetrate the interior of the appliance. That's why you should never immerse it in water.
Step 6 – You can wipe it with a kitchen towel or a piece of a soft cloth. After that, leave it for some hours before storing it.
Cuisinart Deep Fryer Instructions: 
In whatever you do, you should always put safety first. That's why it is important to follow the safety instructions listed right below.
You should always unplug the deep fryer whenever it is not in use.
Read the user manual before you start using the device.
Do not touch the surface when it is in use. You risk getting burned. Instead, you can use its knobs and handles.
Do not immerse it in water. Water should never penetrate its mechanism.
Use only the accessories recommended by Cuisinart for it.
When any of its components packs up, stop using it until it is fixed.
The product is not designed to be sued outdoors.
Place it away from hot objects.
For more safety instructions, you can click this link.
Cuisinart Deep Fryer Manual: 
We checked the Cuisinart deep fryer manual and we were impressed with the details in it. The manual has all the necessary information on how to use the fryer, how to wash it, and how to maintain it. The hard copy of the manual comes with the package and if you prefer to download a soft copy, you can do that here.
Cuisinart Deep Fryer Recipes:
Cuisinart has numerous delicious recipes that fryer owners will love. We suggest you try every single recipe one after the other. The recipes are inside the user manual, but if you want to have a quick access to the recipes, you can click this link.
For refined search, you can search for different recipes using the following factors.
Recipe Type
Main Ingredients
Holidays & Events
Cuisine
Author
Dish Type
Special Diets
Product Categories
Why Should You Use Cuisinart CDF-100 Compact Deep Fryer?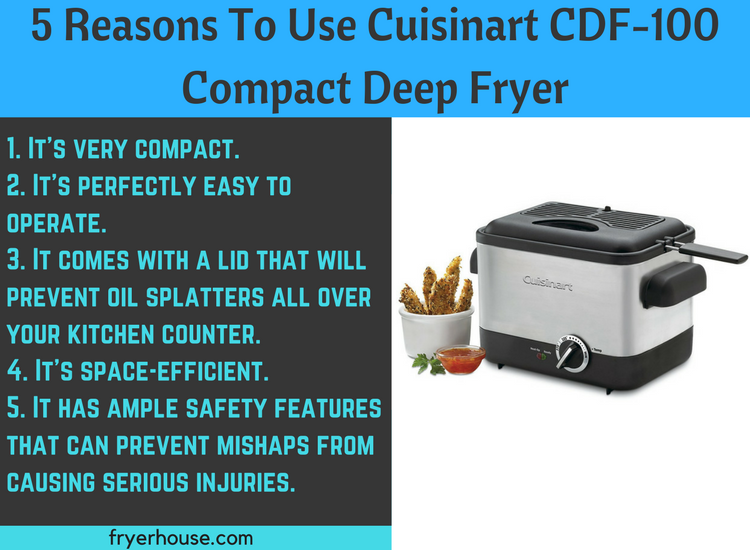 If the features aren't enough to help you make a call, here are a few more reasons why people loved this product.
They're from actual Cuisinart CDF-100 Deep Fryer reviews so you can expect the same things from your unit should you choose to get one.
1. It's very compact.
Its small size makes it easy to store in a cupboard or even leave on your kitchen counter. As it looks nice, some people actually opt to do the latter. It can add a modern-retro vibe to your kitchen which can be a welcome touch in some homes.
2. It's perfectly easy to operate.
It's designed with your convenience in mind so it's very simple to operate. The controls are very straightforward and the small details really make it fuss-free to use.
You won't struggle cooking with this deep fryer, especially if you have some experience with this kind of appliance.
3. It comes with a lid that will prevent oil splatters all over your kitchen counter.
Most shoppers prefer covered deep fryers because of the convenience they offer. They can eliminate the need to clean up oil splatter on counters, so it's a great thing that the CDF-100 has one.
The view window is a notable plus, too, so you don't have to worry about overcooking your crunchy snacks.
4. It's space-efficient.
Its rectangular shape is liked by many because it makes the most out of the room it takes up. You can squeeze in more food in it compared to circular deep fryers, for one.
It's also easier to squeeze inside a cupboard with a hundred of other things because of its boxy shape.
5. It has ample safety features that can prevent mishaps from causing serious injuries.
Cooking safety should always be a top priority when deep frying as this particular cooking method comes with a few risks.
With the Cuisinart CDF-100's magnetic breakaway cord, removable cover, and cool-touch handles, it can promise safety. This is particularly true if you use it correctly and properly.
[su_row][su_column size="1/2″][su_list icon="icon: check" icon_color="#228B22″ class="posbox"]
Product Benefits
Small footprint will fit in just about any kitchen
Heats up quickly
Comes with a 3-year warranty
Fry basket comes with a hook so you can still drain the excess oil of your freshly cooked food into the cooking basket
Magnetic breakaway plug adds a safety feature to the unit
Adjustable temperature provides ample control in what you're cooking
Won't make your house smell like a fast food joint
Reusable odor filter offers great convenience and cost-efficiency
Can maximize space both for cooking and in your kitchen
[/su_list][/su_column]
[su_column size="1/2″][su_list icon="icon: warning" icon_color="#ff0000″ class="negbox"]
The Negative Things
Steel body can get warm so it's best to be careful while this unit is in operation
Non-detachable cooking basket so cleanups can be a bit of a challenge
Food can get stuck in the fry basket which is fairly common with most deep fryers
[/su_list][/su_column][/su_row]
FAQ – Frequently Asked Questions
Q: How do you clean this deep fryer?
A: For the cooking pot, it's best to use a soapy sponge to remove the greasiness. To rinse it off, wipe it down with a clean, damp cloth or sponge a few times until all the soap is removed. The lid and fry basket can be removed and washed under running water, however.
 Q: Can you cook without the fry basket?
A: Yes, you can opt to do so but it might take you a while to fish out cooked food, though.
 Q: Does it come with an instruction manual?
A: Yes, it should come with one.
 Q: Where is the heating element located in this product?
A: It's placed between the tank and the cooking bowl so oil and food won't touch it when it's in operation.
 Q: How often do you need to wash the odor filter?
A: It depends on how often you use the deep fryer. Some users suggest washing it every after six or seven uses. Do so gently, however, so it won't need to be replaced right away.
Final Verdict
Compact, efficient, and good looking this product can definitely be the very deep fryer your small kitchen needs.
Hopefully, this Cuisinart CDF-100 Compact Deep Fryer review helps you find out the answer to the burning question of which model is the best match for your home.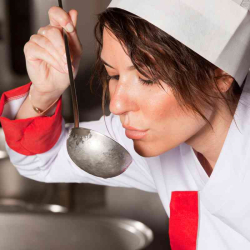 Latest posts by June Brandt
(see all)