If you like to keep your kitchen updated with the latest cooking technologies, you might not really need more than just an air fryer. It will be likely that you already have other cooking equipment at home, so buying a multicooker can prove to be redundant. So in this Stove and Brick Air Fryer review, we'll give you a straightforward option for your well-equipped kitchen.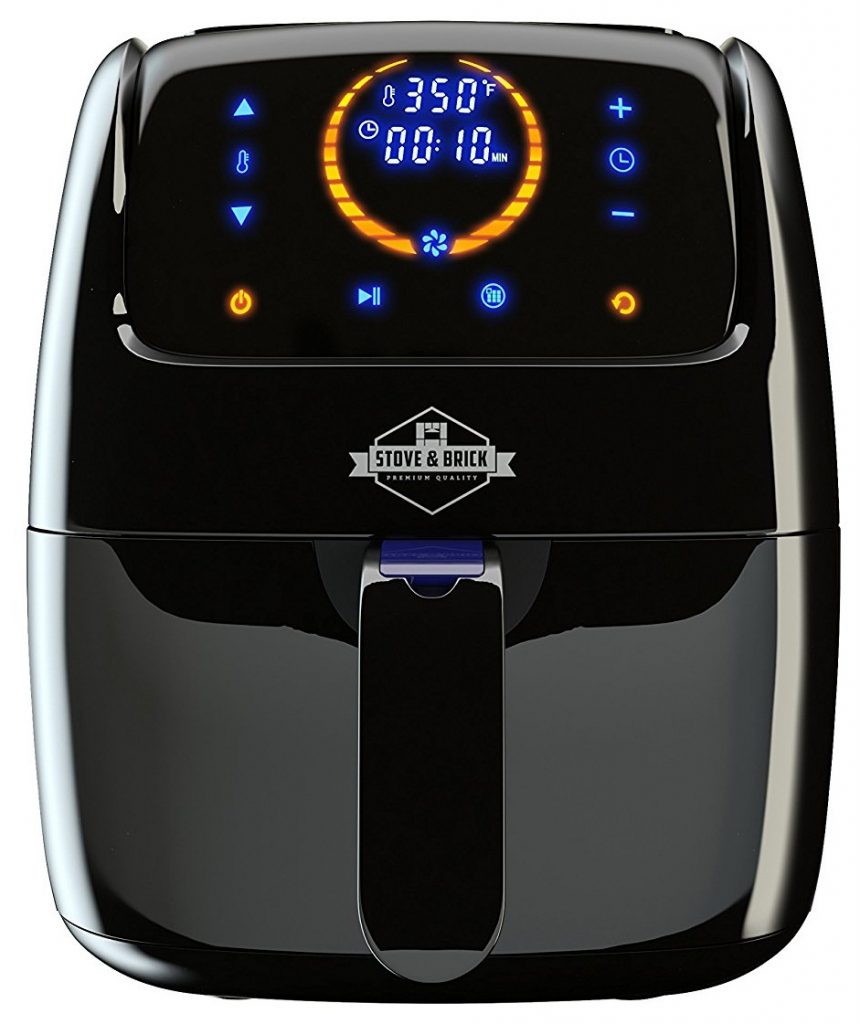 Stove and Brick Air Fryer Review: 5 Major Features
Some people just want to get the job done. All the bells and whistles are nice, but if you already have everything you need in your fully furnished kitchen.
You just want an air fryer to whip up healthy fried dishes, you might not need any of the other frills anymore. This makes the Stove and Brick Air Fryer a solid option.
To help you get acquainted with this product, here are its key features that might help you decide whether you like it enough to make it a contender for the open spot on your kitchen counter:
1. Hyper-Convection Air Technology
What makes the Stove and Brick Air Fryer a highly recommended option is its efficient Hyper-Convection Air Technology. Designed to make your food crunchy on the outside and juicy on the inside, this technology also promises faster cooking time.
2. Multicooking Capacity
Aside from air frying, this product can also bake, grill, and roast. It might not be as versatile as other air fryers and multicookers out there, but if you don't
really need an all-around multicooker
, this will already help you get the job done.
It also has six pre-programmed cooking modes so if you intend to use this unit to whip up the same dishes frequently, these settings will definitely come in handy.
3. Extra Large Touchscreen Display
Ensuring that you'll have an easy time cooking with the Stove and Brick Air Fryer is its large touchscreen display.
Its size can help prevent errors when selecting the cooking settings you need, making your cooking sessions more efficient and uncomplicated.
4. Convenient Details for Better Functionality
Small details can also make or break a product, so it's worth noting that the Stove and Brick Air Fryer has a few nice ones.
For one, it has a basket tab that sits inside its cooking chamber. This provides a nice support to the cooking basket to keep it level. It can ensure proper air circulation as well.
This item also has a retractable power cord. It might not seem like an essential feature, but it can really contribute to its ease of use, so lots of users like this small addition.
5. Fast and Quiet Operation
Other air fryers tend to create a racket while in operation, what with the hot air moving around fast and the food being lifted and moved around. It can be disruptive and annoying so a quiet air fryer like this product is definitely worth checking out.
Why Should You Use the Stove and Brick Air Fryer?
For a closer look at the Stove and Brick Air Fryer, here are a few additional reasons that should help you learn more about this product:
[su_list icon="icon: check-square-o" icon_color="#ef2d26″ class="listbox"]
1. It has a sleek modern appearance.
Lots of people like it that the Stove and Brick Air Fryer looks really sleek and modern. It will certainly add charm to any kitchen counter.
2. It ensures your safety with its ETL certification.
According to experts, most house fires started in the kitchen. The most common reason is the misuse of electrical cooking appliances. With the Stove and Brick Air Fryer, you don't have to be a part of the statistics. It meets safety standards as proven by its ETL certification, so with proper use, it shouldn't put your home in any danger.
3. Its interface is very easy to navigate.
Thanks to its extra large digital touchscreen, you don't have to fuss with the controls of this item. All the important details are displayed in large numbers so you can minimize input errors.
4. It promises precise cooking settings.
Unlike in units that use dials, you don't have to think twice about the precision of the settings you select in the Stove and Brick Air Fryer's digital controls. It promises to set the appliance exactly how you want it so you can be sure to get the best results every time.
5. It can be helpful to your weight loss efforts.
As this appliance can significantly cut down your oil use, it can also help you stick to your low-calorie diet. And with fewer calories consumed, the more efficient your body can be in using up the other calories you consume and in burning the fat stored in your body. Get one and you can also deal with your cravings in a healthier manner.
[/su_list]
[su_row][su_column size="1/2″][su_list icon="icon: check" icon_color="#228B22″ class="posbox"]
Product Benefits
Very affordably priced
Highly received by appliance experts and reviewers online
Can ease your cravings for deep-fried foods with healthier alternatives
Very easy to use with its fuss-free interface
Guarantees precise settings
Sleek design
Comes with 6 cooking presets that makes cooking certain dishes even easier
Looks expensive and high tech
Can cut down your cooking time
Guaranteed safe to use
[/su_list][/su_column]
[su_column size="1/2″][su_list icon="icon: warning" icon_color="#ff0000″ class="negbox"]
The Negative Things
Recipe book needs to be downloaded and accessed on a different device which is a hassle
User manual can be improved
[/su_list][/su_column][/su_row]
FAQ – Frequently Asked Questions
Q: What is its temperature range?
A: You can set it from 175F to 400F.
 Q: Does it come with a recipe book?
A: An actual printed recipe book is not included in the package but you can download one in the link provided in the box.
 Q: Does it come with a warranty?
A: Yes, it has a 1-year warranty.
 Q: Do you need additional accessories to bake with this air fryer?
A: Yes, you'll need a pan that can fit inside the cooking basket to bake.
 Q: How much food can it cook?
A: It can hold and cook up to 3.5 quarts of food.
Final Verdict
With its affordable price, attractive design, and glowing Stove and Brick Air Fryer review, it's easy to see why this product gets so much love from users and experts alike.
It can certainly offer all you need in an air fryer with a few more extras. So if you're in the market for one, make sure to check this out.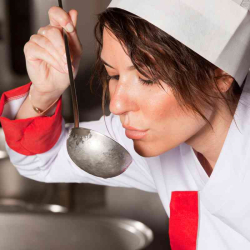 Latest posts by June Brandt
(see all)