In this De'Longhi Multifry FH1163 Air Fryer review, we're going to look into how solid this tough-looking cooking appliance is.
Can it handle your dining needs? Stick around to learn whether it's worth all the hype and if it deserves a spot on your kitchen counter.
The De'Longhi Multifry FH1163 Air Fryer Review: 8 Major Features
For most households, getting an additional cooking equipment means an entirely new way to enjoy their home. This makes it crucial to find the right piece, as it can make or break your time in the kitchen.
So is the De'Longhi MultiFry FH1163 the right piece for you? To help you answer this question, let's look at its set of features first.
1. Utilitarian Design
Not a lot of people might agree, but your choice of cooking equipment can say a lot about your home's personality. There are those filled with dainty pieces that don't feel like they actually get used. Then there are those packed with pieces that look like they can take a beating.
The De'Longhi MultiFry FH1163 is a perfect example of the latter. In all honesty, it might even remind you of a wet and dry vacuum cleaner due to its clunkiness.
It doesn't mean that it looks bad, though. Even if you're not fond of bulky appliances, the FH1163 can be quite charming. It looks like something you won't hesitate using because it doesn't seem flimsy at all.
It's definitely a good thing, as a good cooking appliance should be able to withstand heavy use.
2. Surround Heating System
What makes air fryers unique is their specially designed heating systems. Every best brand comes up with their own technology, promising efficient heat circulation. De'Longhi's Surround Heating System or SHS is one of the most notable technologies around.
The SHS allows the appliance to make a mark in the field as it offers an efficient convection system that will let you cook your food in various ways. It's also engineered to cut down your cooking time.
It doesn't just get hot enough to ensure thorough cooking but it's also designed to move the hot air effectively for even cooking.
3. Multicooker
The FH1163 is also categorized as a multi-cooker as it can do more than just air fry. It can also bake, grill, and broil. This allows you to enjoy more value for your money as you can now enjoy the functionalities of various cooking equipment in a single cooking appliance.
This design also makes it a dependable cooking appliance. It simplifies all of the other cooking methods, so with its help, you can cook with just a press of a button.
There's no more need for extensive preparations and special skills to prepare a meal with this multi cooker, making it a must-have for every busy household.
4. 3.3-lb Cooking Capacity
This large air fryer can also simplify large cooking tasks with its massive cooking capacity. It can hold up to 3.3 lbs of food, allowing you to prepare meals for up to six people. So if you have a relatively big household, this appliance might just be the perfect pick for you.
5. Removable Accessories
Like other cooking appliances, the De'Longhi Multifry FH1163 also comes with a series of accessories that helps it perform better. Its most unique addition is a mixing paddle.
This removable part comes in handy when it comes to air frying. It eliminates the need for stirring and shaking, making your air frying process more fuss-free. It's also very useful when cooking risotto so you don't have to get tired by stirring non-stop.
Aside from the mixing paddle, the lid and cooking bowl are also removable. They're also dishwasher safe, making cleanups effortless.
6. Manual Dedicated Controls
An appliance's mode of operation can make or break its usability. In the case of the FH1163, it's practically a no-brainer. It comes with actual buttons that are precisely marked to perform specific functions. This eliminates the frustrating need to fiddle with controls and press the same buttons repeatedly to select the settings you need.
7. Transparent Lid
When cooking, it's a must to check the doneness of your food. Since air fryers need an enclosed cooking chamber to complete the cooking process, you can't just lift the lid repeatedly to see whether your food is already done or not. This makes a transparent lid a great plus as it can significantly simplify the cooking process.
8. Cool Touch Exteriors
Because
an air fryer
will sit on your countertop and not on the stove, it's important to look for a unit that won't get hot while in use. This can help minimize accidents and make sure that no one gets hurt while they cook.
The FH1163 guarantees that its exteriors won't get too hot to touch, so you can count on it to be a safe air fryer option.
Why Should You Use De'Longhi Multifry FH1163 Air Fryer and Multi Cooker?
If its features haven't convinced you that the De'Longhi FH1163 is a great choice for your kitchen, then these reasons might entice you to give this product a shot:
[su_list icon="icon: check-square-o" icon_color="#ef2d26″ class="listbox"]
1. It makes cooking easy.
The biggest reason why you should consider getting the De'Longhi Multifry FH1163 is the fact that it simplifies cooking to just a few button presses. Sure, you'll still need to know how to prepare the ingredients to get the right results. But since it can help minimize your contact with a stove or oven, it's still a much better deal for people who can't cook to save their lives.
2. You can cook healthier meals with the FH1163.
Those who are constantly looking for ways to improve their lives at home won't be able to deny the potential airfryers have. They don't just promise an easier way to fry food but their cooking is also deemed healthier. Air fryers don't really need a lot of oil to fry food, so if you want a healthier version of your fried dishes, you should get one of these kitchen electronics.
3. It comes with a stirring paddle that makes cooking a breeze.
One of the most challenging parts of air frying is in the stirring and shaking. Doing so ensures that every portion of your dish is cooked thoroughly.
It involves a great deal of guesswork, though, as the action won't be precise. With the help of a stirring paddle, however, you can be sure that your ingredients are constantly moved around to get enough hot air for a more thorough cooking.
4. Its parts are dishwasher safe.
To make things even easier for users, the FH1163's parts that get in contact with food are all dishwasher safe. This makes air fryers even more suitable for busy households as this can help cut down your cleanup time.
5. It has a large cooking capacity.
If you have a large household, then you shouldn't think twice about getting an equally big cooking appliance like the FH1163. You can take advantage of its large cooking capacity to help you whip up healthy and delicious meals without breaking a sweat.
[/su_list]
[su_row][su_column size="1/2″][su_list icon="icon: check" icon_color="#228B22″ class="posbox"]
Product Benefits
Has a large cooking capacity.
Doesn't use a lot of oil so fried foods made with it are deemed better for your heart health.
Very simple operation.
Transparent lid allows a quick and easy way to check your food.
Lots of glowing De'Longhi Multifry FH1163 Air Fryer review available online.
Can make your cooking time faster.
Quick and easy cleanups.
Mixing paddle is removable allowing more cooking options.
Top-notch cooking quality.
Lets you fry, bake, grill, and broil in one single unit.
[/su_list][/su_column]
[su_column size="1/2″][su_list icon="icon: warning" icon_color="#ff0000″ class="negbox"]
The Negative Things
The unit is quite clunky. It will take a good amount of space on your kitchen counter.
Mixing paddle takes a significant amount of space inside the cooking bowl.
No auto shut off feature.
Temperature settings are not listed in Fahrenheit.
[/su_list][/su_column][/su_row]
FAQ – Frequently Asked Questions
Q: Can it replace a slow cooker?
A: This unit only has a 30-minute timer so it won't be as convenient as a traditional crock pot.
 Q: How do you remove the paddle?
A: You can remove the paddle by lifting it straight right out of the unit.
 Q: Can you cook without any oil with this air fryer?
A: Yes, you can skip the oil entirely. But if you want the taste of traditionally fried food, you should add a bit of oil to achieve such.
 Q: Does the timer automatically shuts down the unit?
A: No. The timer will only beep once it runs out, so you have to manually turn it off to avoid overcooking.
 Q: What is the highest temperature setting?
A: 370 degrees.
Final Verdict
Offering quality, convenience, and great tasting home cooked meals, the FH1163 air fryer is a versatile and reliable addition to any kitchen. It will suit big households that require easier and faster ways to whip up food.
It's also tough enough to get a good amount of cooking done. So if these are exactly your requirements, this product might just do the trick for you.
This De'Longhi Multifry FH1163 Air Fryer Review might not be very detailed but hopefully, it was able to give you a good idea whether this product is a good match for your home.
Lots of people love their units, so it's certainly a good sign that it can be a reliable cooking appliance.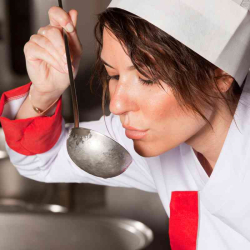 Latest posts by June Brandt
(see all)