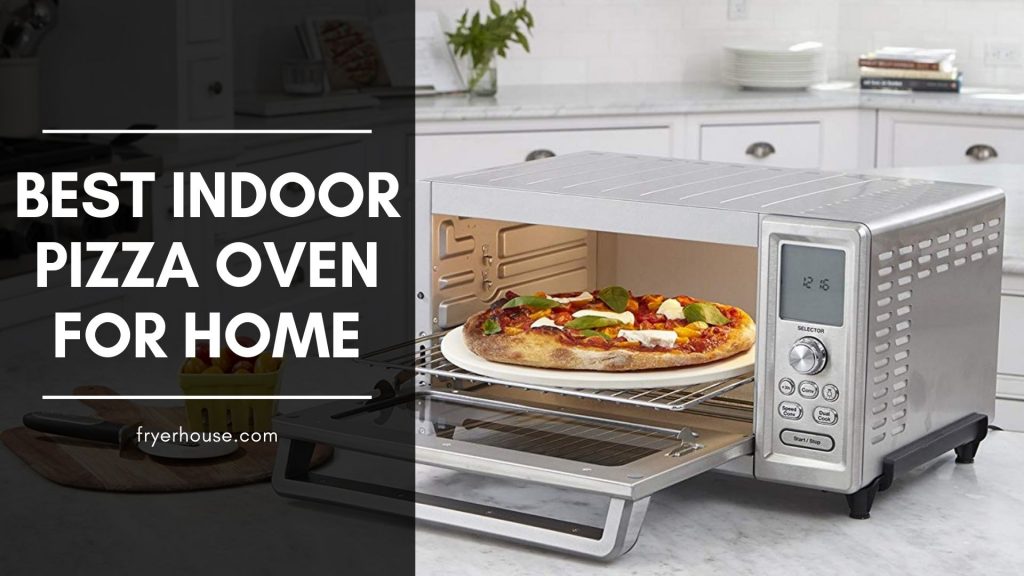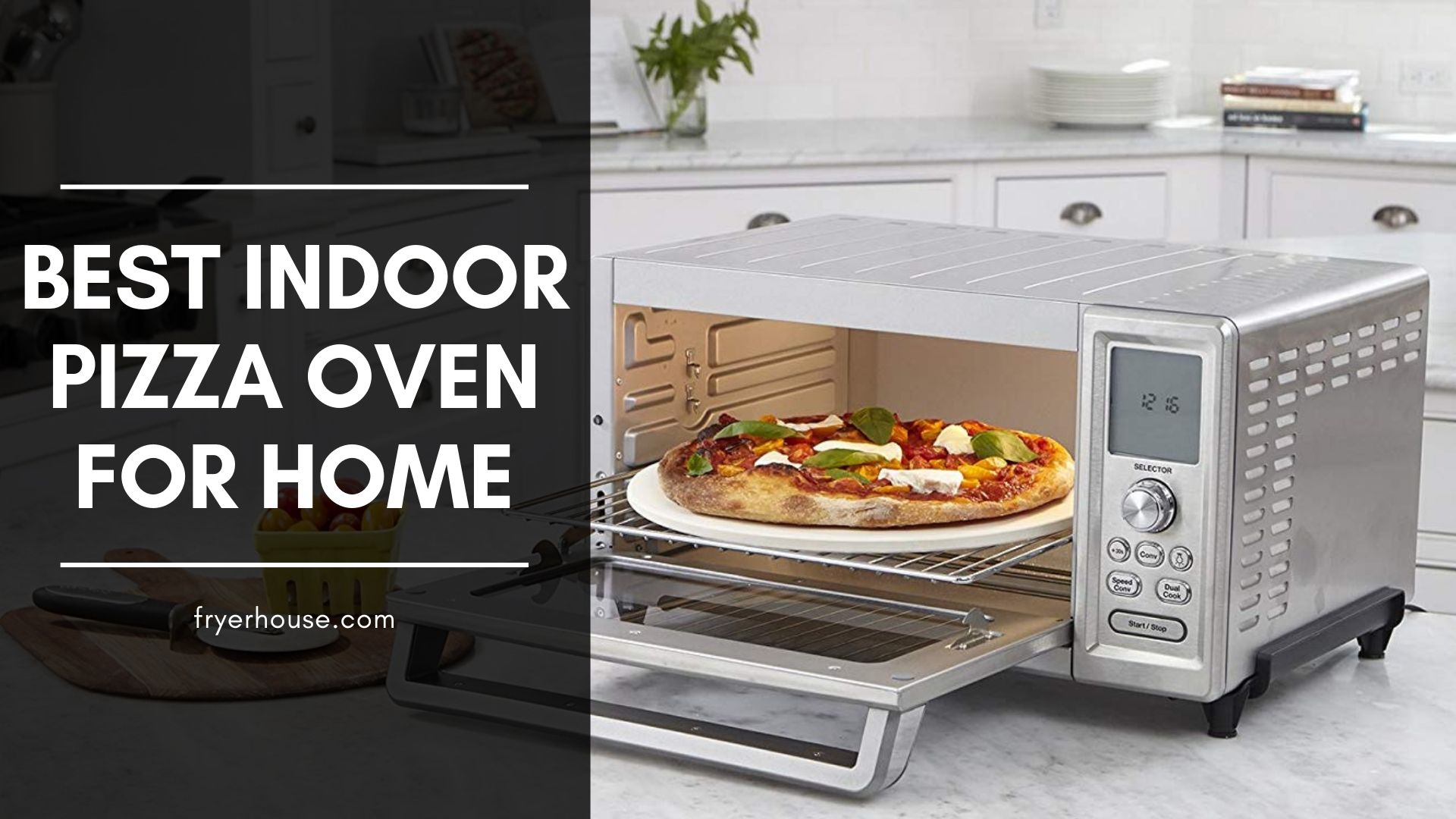 Pizza is possibly one of the best things to eat. It's usually delicious and easy to get. Even if you want to make some at home, you don't have to worry much about the process.
The biggest challenge only lies in equipment, as not all residential ovens can reach the high temperatures required by the dish.
This is where the best indoor pizza oven comes in. With their help, you can make restaurant-quality pizzas without a brick oven or a commercial-grade oven.
To help you get started with your search, however, we've rounded up our top 10 picks of the best pizza oven makers available today. Check them out below.
Top 10 Indoor Pizza Ovens To Buy – Find The Right Product:
Our Picks of 10 Best Indoor Pizza Oven Reviews:
Kicking off our list is the Breville Crispy Crust Pizza Maker. It looks a lot like a waffle maker but since it's larger, you don't have to be confused with the two.
With its built-in ceramic pizza stone, it promises consistent brick-oven results in less than 10 minutes. Easy to use with its straightforward controls, it's best for making thin-crust pizzas.
Features:
[su_list icon="icon: check" icon_color="#228B22″]
Dual-heating elements that reach 660F
12" ceramic pizza stone
Thin, Medium, and Thick crust settings
Pre-heat and Keep Warm modes
1200 watts
Viewing window
1-year warranty
[/su_list]
The Pizzarette TableTop Chefs Funnest Pizza Oven is possibly one of the most amusing options on this list. One look at it and you'll be able to tell that it will be a major hit during parties and gatherings.
Why?
It's designed like a mini-brick oven, complete with real terracotta material. So if you're after something more out-of-the-box, this is a great choice.
While it's touted as the world's funnest pizza oven, it's also safe to say that it's also one of the most effective options. It's engineered to give you great-tasting pizzas, making it a worthy addition to your kitchen.
Features:
[su_list icon="icon: check" icon_color="#228B22″]
Dual-heating elements
Terracotta dome with six openings
Removable cooking sheet
6 pizza spots for cooking
4 metal spatulas included
1000 watts
[/su_list]
For a good amount of versatility, check out the Camp Chef Artisan Pizza Oven 90. While it's more of an outdoor, grill-top cooking equipment, it can still work as an indoor option for some.
Sporting an open-face design, it's also equipped with a ceramic stone surface to create the most perfect crusts.
It's also equipped with heat diffusion plates and can handle temperatures up to 700F, guaranteeing that you'll be able to whip up the tastiest pizzas with its help.
Features:
[su_list icon="icon: check" icon_color="#228B22″]
16" dimension
Removable ceramic stone surface
Open-face design
30 lbs weight
Built-in temperature gauge
[/su_list]
Another very interesting option is the Presto 03430 Pizzazz Plus Rotating Oven. This cooking appliance doesn't really look like one at all, so it has piqued a lot of people's curiosities.
It works by applying radiant infrared heat on the food placed on its rotating surface so it gets cooked or browned right on your countertop.
It offers a more energy-efficient alternative to ovens as it uses up to 60% less heat and power. It's also very easy to use and comes with various settings, promising you great convenience.
Features:
[su_list icon="icon: check" icon_color="#228B22″]
Dual-heat elements with separate controls
Rotating tray
Removable non-stick pan
1235 watts
1-year warranty
[/su_list]
For a straightforward, countertop pizza maker, you can also check out the Black + Decker P300S 5-Minute Pizza Oven. It looks like a small oven and also functions as a toaster oven and snack maker.
What makes it perfect for making pizzas is its ceramic coated tray that promises to thoroughly cook.
It also has special settings for different crust thicknesses, guaranteeing that your pizza will turn out with the most chewable crusts.
Features:
[su_list icon="icon: check" icon_color="#228B22″]
Dual-heating elements
Ceramic coated tray
Crust thickness settings
Fits up to 12" pizzas
Cooking timer knob
Large viewing window
1575 watts
2-year warranty
[/su_list]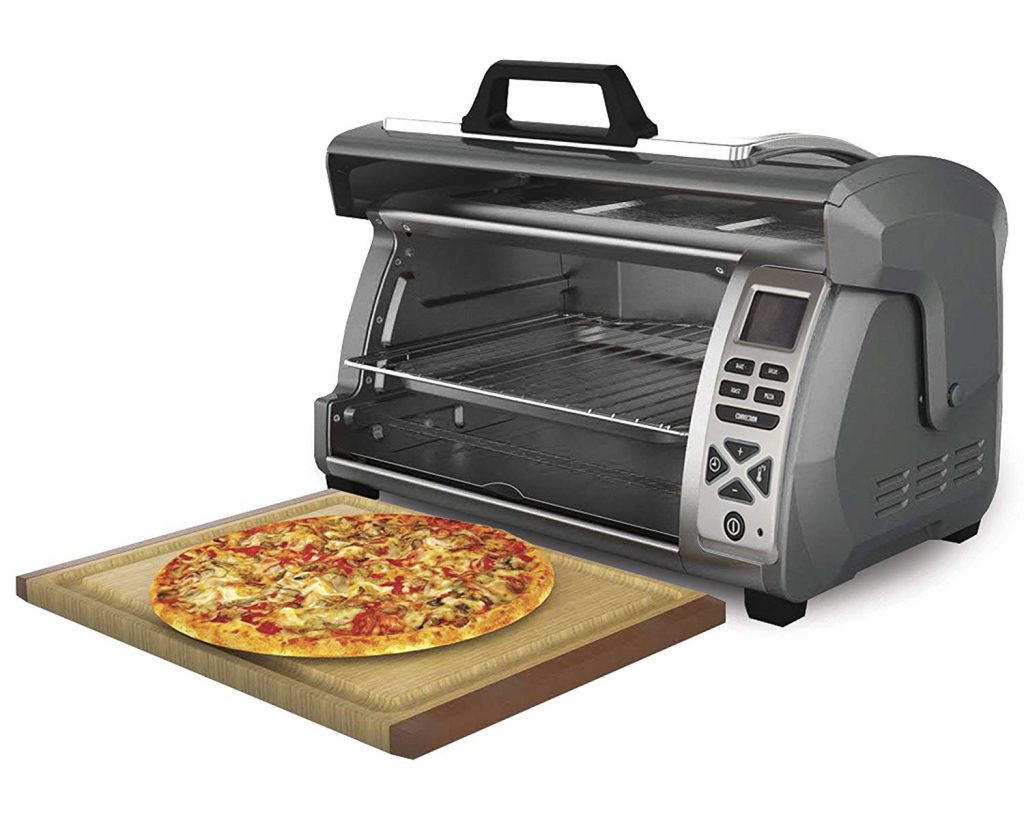 The Hamilton Beach 31128 Easy Reach Pizza Oven is another extremely versatile option for a countertop cooking appliance.
While it has the words 'pizza oven' is on its name, it can also toast, broil, bake, or function as a convection oven.
With these functionalities, you can do more without needing a large piece of equipment.
Even with all of that said, this is not a small appliance. It can fit a 12" pizza with ease of up to 6 slices of toast. It's also designed to be easy to access and clean, making it an attractive choice for many homeowners.
Features:
[su_list icon="icon: check" icon_color="#228B22″]
5 cooking settings: convection, toast, bake, broil & pizza
9" x 11" interiors
2 rack positions
Digital control panel
60-minute timer
Auto shutoff
Removable crumb tray
[/su_list]
If you're thinking of investing in a more versatile countertop oven, the Oster TSSTTVFDDG Digital French Pizza Oven is a solid pick.
Its 22" x 19.5" x 13" dimensions will already offer a generous amount of cooking space as it can even hold up to two 16" pizzas. It's also packed with features that are very similar to a full-sized kitchen oven.
Features:
[su_list icon="icon: check" icon_color="#228B22″]
Turbo convection baking technology
Two baking racks
Digital controls
90-minute cooking timer
Auto shutoff
French doors design
Interior light
1525 watts
[/su_list]
Not too fond of small pizzas? The Cuisinart TOB-260N1 Chef's Convection Toaster Oven can fit a 9" x 13" baking pan so it can also easily fit in a 13" pizza without a hitch.
In other words, it can help you whip up a family-sized pan dish without the need to fire up your oven.
Aside from its spacious interiors, it also boasts of 15 different cooking modes. So if you're after something very versatile, this could be the appliance you're looking for.
Features:
[su_list icon="icon: check" icon_color="#228B22″]
0.95 cubic-foot capacity
15 cooking functions with Dual-cook mode
Digital controls
LED display
Includes a few accessories
1800 watts
[/su_list]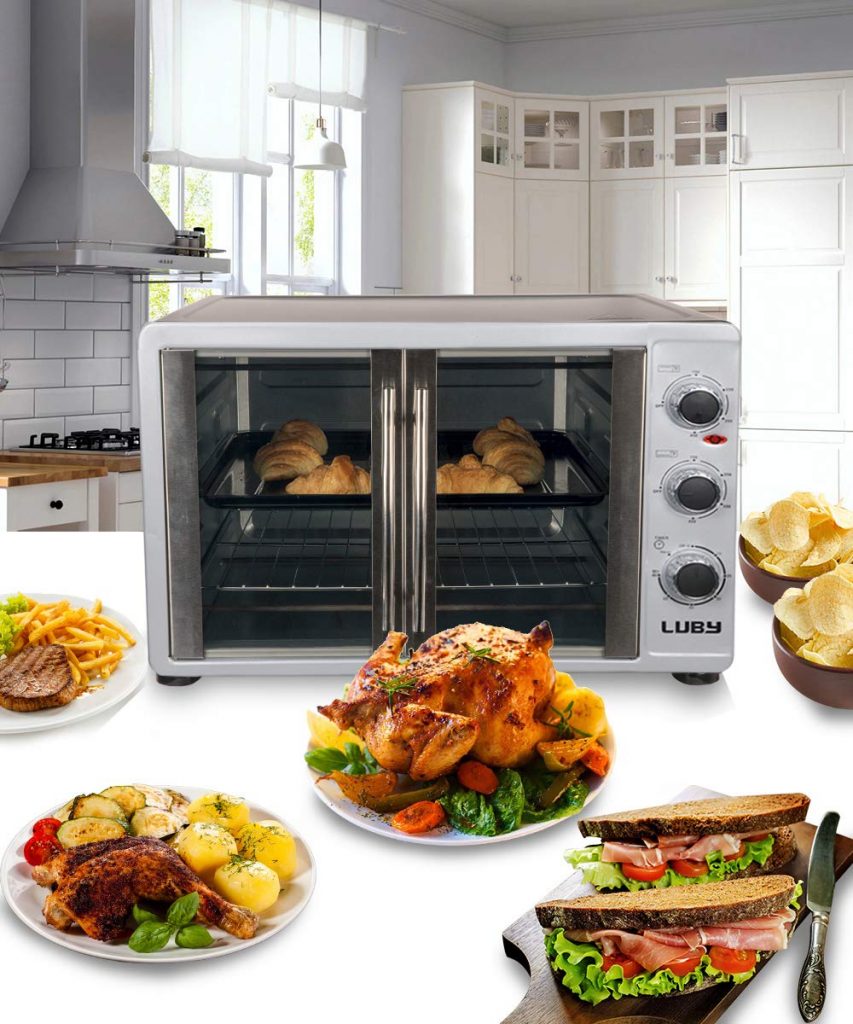 If you really want an oven but can't commit to a full-sized one, the Luby Extra Large 55L Pizza Oven is also something you should look into. This large-capacity product will already let you whip up a feast.
Aside from its size, another attractive feature that draws people into this item is its separate temperature selector.
You can choose a different temperature for upper and lower cooking racks allowing you to efficiently and precisely cook your favorite dishes in one go.
Features:
[su_list icon="icon: check" icon_color="#228B22″]
55L interior capacity
2 baking racks
1 timer knob
Separate temperature selector
French door design
Power indicator light
1800 watts
[/su_list]
Capping off our list is the very convenient Pizzacraft PC0601 Pizzeria Pronto Stovetop Oven.
As its name suggests, it's a stovetop oven that somewhat seems like a very modern Dutch oven. It can reach up to 600F with ease, so you can cook a nice pizza in just 6 minutes.
Features:
[su_list icon="icon: check" icon_color="#228B22″]
Sturdy steel base with vented hood
Hollow-core Cordierite pizza stones
Silicone handle on a sliding door
Best suited for 9500-15000 BTU stovetops
[/su_list]
Where to Buy Indoor Electric Pizza Oven for Home?
If there are indoor pizza ovens designed for home use, you might be wondering where you can get some. The answer to this is very simple as there are tons of good places to get such a product.
Amazon.com continues to be one of the best places to check out for such searches. They have a lot of great electric pizza ovens on their database, most of which are highly recommended and well-reviewed by actual buyers.
For starters, you can get them in many houseware specialty stores. The biggest names in the trade carry various models and make of this cooking equipment so you can definitely take a pick where to shop.
Most big box stores also carry a few models, so you can just pop into one near you and get a nice one.
You can also find tons of amazing options online. This is possibly the easiest and most convenient way to find the best ones as you don't have to drive around anymore to shop around for good options.
To be honest, it's not about the 'where' but the 'which one' to get that will be very challenging for a lot of people. There are lots of options out there but not all of them will be a good fit for your kitchen or your cooking style.
This is why it's best to know first which indoor electric pizza ovens are great picks before you start looking where to get them.
Also known as pizza makers, these products come in various shapes and forms, so you need to consider a few things to make the right call.
They are definitely not made equally and can bring various things to the table, so looking closely into and weighing your options carefully is a must.
How to Build an Indoor Pizza Oven For Home?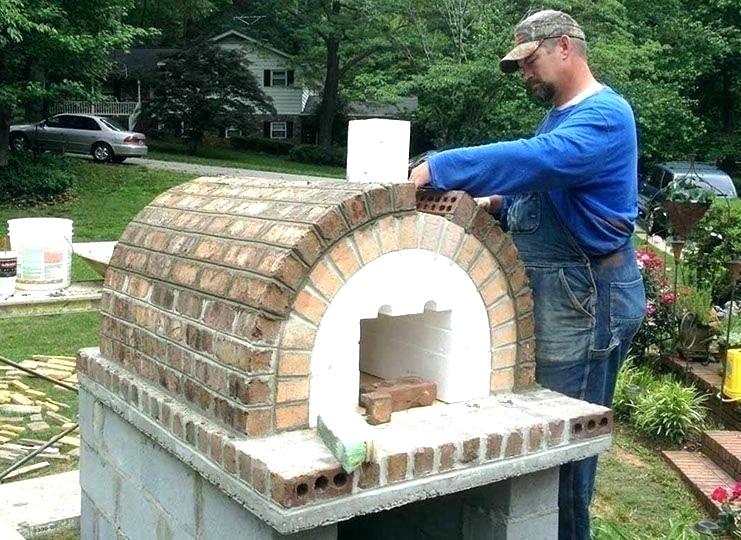 If you already have an oven at home, which is highly likely, it's also possible to turn it into an effective indoor pizza oven without too much fuss. You just need to make a few tweaks that aren't even actual alterations to the structure of the equipment you have.
You see, the only thing that residential ovens need to address to make restaurant-quality pizza is the temperature levels it can reach.
Most of them can only max out at 450F to 530F which is barely enough to cook the pizza crust before causing the toppings to become charred.
By boosting its temperature levels and heat retention capabilities, you can then easily cook pizza in your residential-grade oven.
How will you be able to do this? It's also very simple, you just need to add the right kinds of bricks or tiles inside your oven.
With such addition, you'll be adding more heat conductors inside your oven. They will then aid in heat retention which will allow you to cook your pizzas in higher temperatures than what your residential oven can reach.
How can you do this? Here are the steps in turning your regular oven into a DIY brick oven to help you make the perfect pizza at home.
1. Take note of the inside measurements of your oven.
You can either check the manual or the information online about the model you own or take measurements of its insides yourself. List it down as you'll need this information later.
2. Plan how you want to layout the materials you'll use to turn your oven into a brick oven.
There are quite a few possible configurations when laying out the heat retaining stones inside your oven. You can opt to create a complete box with it or go for an open-top setup.
3. Head to a local home improvement store that sells all sorts of masonry materials.
Next step is to source the additional components your oven will need to become an indoor brick oven. Head to a home improvement store near you with a wide range of masonry materials available.
You can also head straight to masonry supply stores if there are any. Just make sure that they don't just sell by the bulk as you don't need a lot for this project.
4. Choose the right tiles for the job you have in mind.
When you get to the supply store, you'll then need to choose the right kind of stone to get the job done. Not all natural stones and tiles will do the trick so you need to know the right types to get.
One of the best options you have are firebricks. They're specifically meant to withstand high temperatures, so they're typically used for outdoor brick ovens.
However, due to their size, they can take up a lot of space inside your oven so they might not be the best choice for everyone.
An alternative would be some unglazed ceramic quarry tiles. They're pretty much made of the same heat-retaining material, so they can do the trick in keeping your oven really hot while cooking your pizza.
Note, however, that you need the unglazed and untreated varieties as they are more heat-conductive.
5. Get the right number of bricks or tiles for your oven.
Sizing and the right number of bricks or tiles are also essential when transforming your kitchen oven into a brick oven.
As mentioned above, bricks can take up quite a lot of space, so keep that in consideration. Ceramic quarry tiles, on the other hand, are available in 6" and 12" sizes, so you also need to keep that in mind when deciding on the number of tiles to get.
The idea here is that it wouldn't be wise to get a pack of 25s as that will cost you.
Using this hack is supposed to be an easy and affordable way to create a brick oven in your regular oven, so getting a large pack will be counter-intuitive. It's simpler but it defeats the purpose.
To get the right measurements for your oven, lay out the bricks like how you'd put them inside your oven then measure.
Place a few at the bottom of the rack and on the sides for starters. If you want to put some on the top rack of your oven, try doing so as well in your mockup. Take measurements so you can determine how many tiles or bricks you need.
6. Purchase the tiles and give them a go at home.
Now that you have the materials, you're ready to turn your oven into a brick oven.
It's very easy as you just need to place them inside your oven, ensuring that they'll cover most of the areas inside.
Once they're nicely laid out, you can already bake a pizza and see for yourself how different the results are.
Buying Guide – How to Choose the Best Indoor Pizza Oven?
If you don't want to hack your oven into a pizza oven, then you can just choose from one of the right indoor pizza oven for kitchen available in the market today.
Choosing one can be a bit tricky, however, so here are a few pointers that might help you make a decision:
1. Choose how you want to power your indoor pizza oven.
As you can see from our list above, pizza makers can be powered by electricity or an open fire. You might even find some options that are gas-powered but we didn't include any as they're not always as convenient to use.
Choosing between an electric or stovetop pizza oven will help you narrow down your options greatly, so try to decide on this matter as soon as possible.
2. Consider the size of the pizza maker.
Again, our list above shows that these cooking devices tend to come in various shapes and sizes. Some are more convenient to have if you live in a small apartment while others can already substitute a full-sized oven.
3. Decide on a budget.
While lots of great pizza makers are very affordable, a few are still relatively pricey. So, if you don't want to overspend, set a budget and work with that.
4. Read reviews.
Lastly, always read reviews. Pizza ovens are rather quirky and might be tricky for some to use so read up on how other people used their units.
From there, you'll get an idea whether you'll also find it easy to work with or whether you should keep looking for a better choice.
Final Verdict
Pizzas are some of the most versatile dishes ever, so it would be nice if you can make some at home. We hope our tips and recommendations above will be able to let you do so.