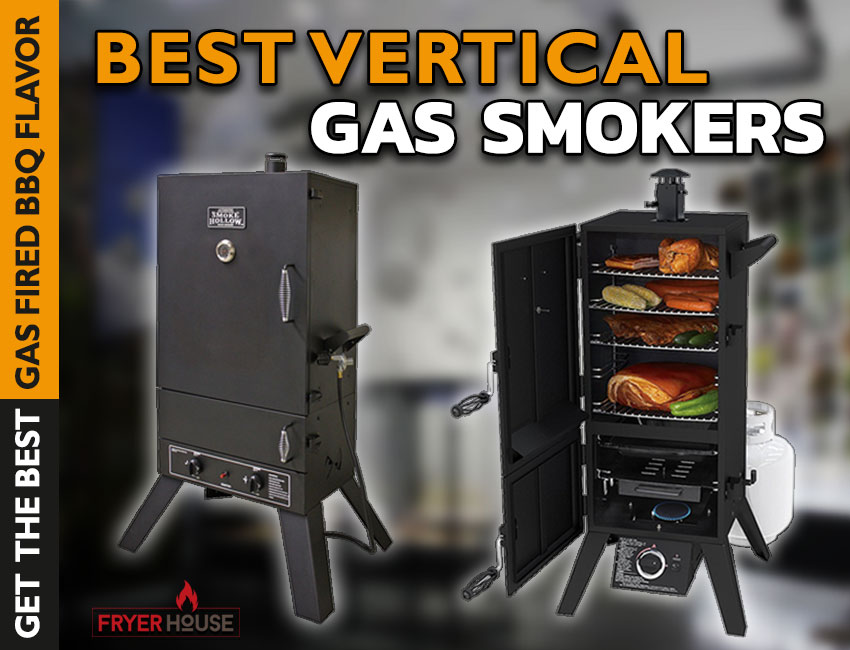 The number of vegetarians may be on the rise, but it's easy enough to realize that meat will always be a staple food for most people. That's especially true for smoked meat, as it simply tastes divine. People at home can easily enjoy the taste of smoked meat at home, especially with the best performing vertical gas smokers.
In fact, for many experts there's nothing better than
a gas smoker
to get that true BBQ flavor for your meat. Nothing else tastes as fulfilling as juicy cuts of meat smoked in an enclosed space for a few hours.
It's easy to use a gas smoker as well, and you actually have to do something monumentally foolish to get it wrong.
Of course, it all depends on the gas smoker you get. A vertical model makes a lot of sense for most people, as it doesn't take up much space.
Here's a nifty guide to get yourself a latest vertical gas smoker that will provide you with flavorful party meats for many years to come.
Top 10 Vertical Gas Smokers in 2021 – Get The Right Model:
Top Trending Smoker Products:
Our Picks of 10 Best Vertical Gas Smoker Reviews:
Let's not take a look at our recommended vertical gas smoker models: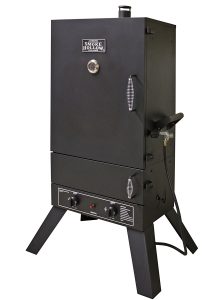 Have you got lots of food to prepare? Then this is a suitable gas smoker for you, as it offers a huge amount of space. It offers up to 6.5 cubic feet of cooking space, and with 44-inch double doors you won't have any trouble putting in and taking out the food.
With the 2nd door in the unit, the internal pans can be adjusted without losing the heat and the smoke. Temperature adjustments are also easy due to the separately adjustable dual burners. The whole thing is made of steel, so no need to worry about flimsy materials.
[su_list icon="icon: check" icon_color="#228B22″]
5 cooking grids
Tempered glass viewing window
Push button ignition
Smoke stack is easy to adjust
Temperature gauge
Huge water pan with porcelain coating
Dual stainless steel burners with separate controls
2 wood chip pans
[/su_list]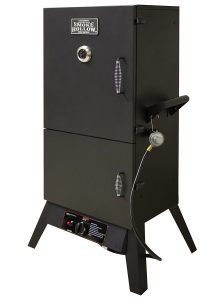 If you don't need that much space for your food but you like the features of the Smoke Hollow 44241G2, you can just get the 382020G instead. It's even more affordable, and it doesn't take up as much space.
This emphasizes just how easy it is to use. You get multiple adjustment levels with the 4 chrome-plated cooking grids, so you can fit in food in any shape. There's a sausage hanger included as well.
With the 2 doors, controlling the moisture and the internal heat is much easier. You can feed the wood chip and water pans without releasing smoke and heat by opening the top door.
You also get excellent control of the gas with the cast-brass system, and this offers a generous temperature range.
[su_list icon="icon: check" icon_color="#228B22″]
Cooking space measures 3.4 cubic feet
LP gas at 20,000 BTUs
Push-button ignition system
Upper and lower vents
External temperature gauge
4 cooking grids with chrome plating and several adjustment levels
Sausage hanger
[/su_list]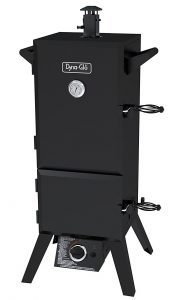 Gas smokers are great for outdoor parties because they don't need electricity. But it can be difficult to bring a heavy one to a campsite. Fortunately, the Dyna-Glo DGY784BDP only weighs 54 pounds. It's light on the wallet too.
It still offers 784 square inches of cooking space in total, and that is spread across 4 adjustable steel wire racks. The cast-iron burner can get up to 15,000 BTUs and it features an electronic push-button ignition along with a big control dial.
Both the wood box and the water bowl are made of steel with porcelain enamel. They both have handles too, while the wood box also has a lid. With the double door design, you get better control over the heat and the smoke.
You won't have to lose too much of the heat when you're checking the meat or adding more wood chips or water.
[su_list icon="icon: check" icon_color="#228B22″]
784 square inches of cooking space
4 cooking grates with height adjustments
25 pounds capacity per grate
Electronic pulse ignition for fast and reliable start
Porcelain enamel for heavy-gauge wood chip retains heat
Built-in thermometer with smoke zone temperature marks
Water bowl has high capacity volume
Weighs 56 pounds
Very affordable
[/su_list]
This is another compact and affordable model, and it's still packed with great features despite the low price. The 30-inch model only weighs 58 pounds, but it still offers 717 square inches of cooking space. It comes with 4 cooking racks that can be adjusted to accommodate various food sizes.
It's very easy to use this and you really shouldn't have much trouble with it. There's a push button igniter and a temperature gauge built in.
The wire handles can be touched without the need for mitts. There's also an air damper that allows you to control the strength of the smoke inside. The wood chip tray and the water bowl are removable so they're easier to clean.
[su_list icon="icon: check" icon_color="#228B22″]
717 square inches of cooking space
Weighs 58 pounds
Very affordable
Internal temperature gauge
Push button igniter
"Cool touch" wire handles
Air damper
Removable wood chip tray
[/su_list]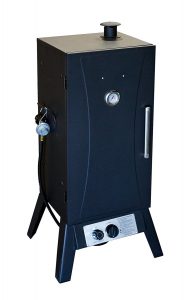 Many gas smokers are quite reasonably priced. The AZ Patio Heaters HIL-5525-SMK is an exceptional example of this fact, as it's extremely affordable.
This is what you should get when you only need your vertical gas smoker for family meals, because it's not all that big.
But for a family, it ought to be big enough. It still provides 4 separate cooking surfaces that measure 12 by 13 inches each. That's a total of 624 square inches.
This is very easy to use, and it comes with lots of adjustable features. The side air vent is adjustable. So is the height of the wood chip grate too.
There's also a thermometer included, and the gauge is right there on the door. For such a cheap vertical gas smoker, it sure is well-made.
[su_list icon="icon: check" icon_color="#228B22″]
Insulated walls and doors
Heat is easy to control
Ample cooking surface for its size
It's lightweight, so it's great for transport
There's a built-in thermometer and gauge
The height of the wood chip grate is adjustable
Then air vents on the side are adjustable too
The water pan is easy to fill
[/su_list]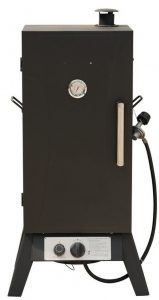 Do you want to lug a gas smoker to the beach or to a campsite? That can be problematic with a heavy unit, but that shouldn't be a problem at all with this Palm Springs vertical gas smoker. It only weighs 40 pounds, so even a single man can carry this.
You've got 4 racks to work with here, with each measuring 13.62 by 11.81 inches. Each rack can accommodate up to 110 pounds, so if you can fit in the meat you can put in a lot.
You've got 14,500 BTUs to work with, and that should be plenty here.
[su_list icon="icon: check" icon_color="#228B22″]
Made with steel with powder coating
Comes with a damper and a wood box
There's a temperature gauge
It comes with 4 standard grids and 4 smoking racks
Measures just 41.3 by 15.9 by 14.2 inches
Only weighs 40 pounds
Each rack can carry 110 pounds
[/su_list]
Exactly how much cooking space do you really need? If you need a lot to feed an entire party, then you will appreciate this Smoky Mountain model. It offers up to 878 square inches of cooking surface, so you can put in plenty of variety in the meats you smoke here.
This is extremely well made, yet the price is eminently reasonable. The full-size door comes with welded hinges. The heat can be adjusted and there's a temperature gauge on the front door.
The top chimney and the side vents are adjustable. The water pan is made from porcelain-coated steel, while the lidded wood chip box is made from heavy duty steel. It also has a rotary igniter.
Everything here is basically made from heavy duty steel, and it's designed to last. Even the cast brass cap has a 10-year warranty. The whole thing is extremely stable thanks to the square legs with a wide stance.
[su_list icon="icon: check" icon_color="#228B22″]
878 square inches for cooking
4 cooking racks
Fully adjustable heat
Top chimney and side air vents are adjustable
Porcelain-coated water pan
Heavy duty steel wood chip box with lid
10-year warranty for cast brass cap
Rotary igniter
Square legs with a wide stance
[/su_list]
It looks like any other vertical gas smoker in the market, and in fact you may even think that its 595 square inches of cooking surface isn't really much. But if that suffices for you, then you'll love its features.
These start with the comically low price—it's actually funny how this can be so cheap when its features are advanced and unique.
One unique feature is its warming rack on top, which you can use to warm up your sauces. You also get to use 2 temperature control dials. There's also a double-door design to let you deal with the wood chips and the water without losing heat.
[su_list icon="icon: check" icon_color="#228B22″]
595 square inches of cooking area
Double doors for access to wood chips and water
Temperature gauge built in
3 racks
Warming rack on top
Porcelain water and wood chip pan
2 temperature control dials
Sturdy legs
Extremely affordable
[/su_list]
Looking for a huge smoker to accommodate gargantuan amounts of meat? You may find this particular model useful, as it comes with 6 (count 'em) racks for your meat. You'll even find not one but 2 sausage hangers as well.
The propane is fully adjustable, and it uses a rotary igniter to start it up. There's an external temperature gauge as well. The cooking cabinet is fully welded, and it uses black-coated heavy gauge steel. It's a brute of a gas smoker, and it's perfect for outdoor parties.
[su_list icon="icon: check" icon_color="#228B22″]
6 racks measuring 14.5 inches on each side
2 sausage hangers
Extremely solid
Internal temperature gauge
Easy startup with rotary igniter
[/su_list]
If you'd rather use your smoker in your kitchen, you may want to consider an electric model like this particular Char-Broil model. It uses a 1,500-watt variable temperature heating element for your wood chips and water. This means you don't have to lug a propane tank along.
It's also for regular family use as it only has 505 square inches of cooking surface. But if that's enough for you, you'd be pleased with the other features (and the price too).
This actually can maintain an even temperature, as it comes with a double-wall design along with full insulation. The wood chip and water pan are joined by a handy porcelain ash pan and there's a grease cup too. If you have to move this, it's very easy. It weighs less than 50 pounds.
[su_list icon="icon: check" icon_color="#228B22″]
Electric model
Measures 37.8 by 20 by 17.5 inches
Weighs 49.6 pounds
3 adjustable cooking grates
505 square inches of total cooking surface
Chrome-plated handle
Temperature gauge with nice-looking bezel
Double wall with insulation
[/su_list]
How to Use a Vertical Gas Smoker?
Before you buy a vertical gas smoker, it makes sense if you have some idea of how to use one. Luckily for you, it's not all that hard. It all starts with the assembly, but then the model you'll get should come with clear instructions.
Some may also offer online demo videos for the assembly. Then you should assemble your other utensils as well. You'll need a probe thermometer to check the internal temperature of the meat, along with a nice set of tongs to handle the meat.
You'll then need to season the gas smoker. That means putting in some of your preferred wood chips and then getting the temperature inside the smoker up to about 400 degrees F. After a while, you can tone it down to 225 degrees F and let it stay there for a few hours.
The next step is to prepare your meat. This means removing the excess fat, though there ought to be some fat still left to maintain the moistness and flavor of the meat. You'll also have to rub the meat with a nice mix of spices, herbs, and salt. You can buy this rub premixed in your local supermarket or online, though you can prepare them yourself. You can get some rub recipes online.
Take the meat from the fridge and then soak your wood chips in water. Wait for about half an hour so the meat and wood chips will be ready. Line the water bath with aluminum foil and then fill it with water, and put in the soaked wood chips into the smoker box. Partially open the vents, turn on the propane, and then press the igniter button.
Turn the burner to high, and then close the door. Add the food once the wood chips start to give off smoke. Put the meat on the bottom rack with the fat side down. It will take about an hour for each pound of meat. After a couple of hours, flip the meat to help it burn more evenly. You can spritz the meat with a mixture of water and vinegar, and you can also add some water to the water bath.
Two hours before the end of your cooking time, take out the meat and put it on a pan. Spritz with the water and vinegar mix, and then cover the meat with aluminum foil. After the last 2 hours, take out the meat and let it rest for 15 minutes. Carve the meat up, and enjoy.
Wood Chip Options:
Your choice of wood chips can affect the final taste of your meat, so take some time to consider your wood chip options:
Hickory. It offers a pungent flavor that's resembles the taste of bacon. It's great for beef, along with poultry, pork, and wild game.
Maple. The smoky flavor you get here is only moderately sweet. It works on poultry and lighter meats that can stand the intense smoke. It's good with ham and veggies too.
Oak. You can mix this with other wood chips, and it offers a dominant taste that's sometimes acidic. It's apt for beef brisket and other meats for which you wish for a strong smoky flavor.
Pear or peach. It gives you a mild sweet flavor with a hint of woodsy tones. It's best for lighter meats like poultry, pork, and wild game.
Cherry. It's also mild, but this time it offers a somewhat fruity undertone. Also good with poultry, pork, and wild game.
Apple. Again with the mild flavor, and this time it's solidly fruity and a bit sweet. It suits beef, poultry, ham, and wild game.
Alder. The flavor is delicate and mild, and you can use this with fish like swordfish and salmon. It also matches well with poultry and pork.
Just keep in mind that must NOT use the following: Pine, Fir, Spruce, Redwood, Cedar, Cypress, Elm, Eucalyptus, Sassafras, Sycamore and Liquid Amber. These are potentially poisonous!
Top 10 Benefits of Using a Vertical Gas Smoker:
[su_list icon="icon: check" icon_color="#0f4880″]
They're generally very affordable. Even a good one can be bought for less than $250, though if you can spend more you can get a truly excellent model.
They're very compact, so they don't take up much space at parties and in storage.
You just need to push a button to start generating heat.
You don't have to fuss over it. Instead, you can basically leave it be most of the time.
The meat gets that truly authentic smoky flavor.
It doesn't use electricity, so you can use it for campsite parties.
It can be used for a wide range of food and dishes.
A good one can last for a very long time.
There's a lot of variety in the features you can get.
You can experiment with the wood chips to discover the best flavors for your meat.
[/su_list]

Buying Guide – How to Choose the Best Vertical Gas Smoker?
Here are the factors you need to consider:
1. Capacity
The cooking surface area and volume will determine how much meat you can cook at once. In fact, a small surface will also require you to trim the meat so that it will fit on your racks. With a big rack, you won't have to trim anything and you can cook more for a large backyard party.
2. Price
You can't really go for a large smoker when you don't cook too much meat for parties, because the size can add to the cost. Some of the more compact models are extremely affordable, however.
3. Portability
You also shouldn't get a large unit if you don't need the cooking space because the size and weight can make it difficult for you to bring to campsites. A nice portable smoker is perfect for the beach and even for short hiking trips.
4. Ease of use
The smoker should have the features that make it easy to use. These include a built-in thermometer gauge, easy to clean pans and bowls, and double doors to let you access the wood chip and water pans without letting the smoke and heat escape. An "easy click" igniter is also a must, and the heat should be adjustable.
5. Durability
All the best features in the world won't matter much if the smoker doesn't last all that long. This the feature for which you need to read up on plenty of customer reviews. These can indicate whether a model can actually last long enough to be worth the money you pay for it. The more well-known brands are safe bets, because they've made their reputation by making dependable models.
Final Verdict
Smoked meat is a joy and there's nothing like a vertical gas smoker to give you that authentic barbecued meat flavor. No backyard or outdoor party is complete without such meat, and that means all parties deserve the use of a vertical gas smoker.
When you get one that's dependable and easy to use, you'll probably fall in love with it. That's just how good the food will taste, and the lack of difficulty in preparing the food will surprise and delight you.
Add the affordable price, and it's pretty much a "must buy" device for every meat-eating household. Even vegetarians can enjoy the best vertical gas smoker too—smoked veggies can taste great as well!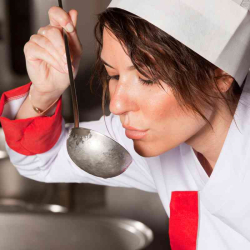 Latest posts by June Brandt
(see all)