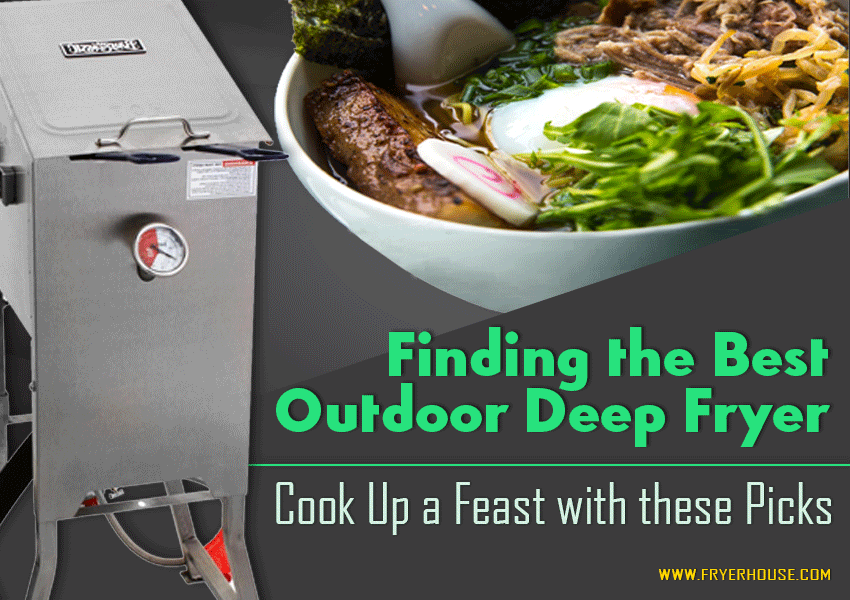 Aside from grilling, deep frying is another outdoor cooking activity that you can enjoy if you like hosting backyard parties and feeding a lot of people.
For this, you'll need the best outdoor deep fryer. There are tons of excellent options out there, but choosing the right one is crucial the success of your cookouts.
Owning an outdoor deep fryer can open your home to a lot of possibilities. Those who love hosting events at home can definitely find a lot of uses for such a cooking equipment.
It's just that, not all of them are created equal. The use of outdoor deep fryers come with their risks as well. This is why it's very important not just to choose the right product for you but to also know how to use this equipment properly. This guide aims to help you do all that and more.
Top 5 Outdoor Deep Fryers 2021 – Reviews and Comparisons:
| Rankings | 1st Choice | 2nd Choice | Best Overall | 4th Choice | 5th Choice |
| --- | --- | --- | --- | --- | --- |
| Top-Rated Outdoor Deep Fryers 2020 | | | | | |
| Name | King Kooker 1618 Outdoor Deep Fryer | King Kooker 1265BF3 Outdoor Deep Fryer | Bayou Classic 3025 Turkey Fryer | Cajun Injector Electric Turkey Fryer | Masterbuilt 20100809 Outdoor Turkey Fryer |
| Brand | King Kooker | King Kooker | Bayou Classic | Cajun Injector | Masterbuilt |
| Color | Black | Black | Silver | Assorted | Black |
| Rating | Excellent | Excellent | Excellent | Very Good | Excellent |
| Dimensions | 17.8 x 14.5 x 16.5 inches | 14 x 18.2 x 14 inches | 14 x 14 x 17 inches | —– | 15.8 x 15.8 x 15.4 inches |
| Weight | 16.01 pounds | 18.95 pounds | 9 pounds | 21.5 pounds | 23.5 pounds |
| Material Type | Steel |  Aluminum | Aluminum | Stainless Steel | —– |
| Get Started | | | | | |
Our Picks of the 5 Best Outdoor Deep Fryers Review:
Which are the rated outdoor deep fryers should you consider getting? Here are our top 5 picks that you might be interested in:
1. King Kooker 1265BF3 Outdoor Deep Fryer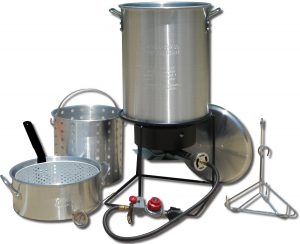 Dubbed by many as an excellent starter deep fryer, the King Kooker 12365BF3 Deep Fryer offers a complete setup for those who want a convenient choice for their first deep fryer.
It comes not just with a burner and the deep frying pot but a smaller aluminum fry pan and their matching fry baskets as well. If you already have a propane tank, all you'll need to do is hook it up to the burner and you're ready to cook.
Lots of people will also benefit from the safety device attached to the gas line. As unattended cooking is a common cause of cooking accidents, the fact that it shuts down the gas line after every 15 minutes will force you to check on your pot regularly. Some may find this bothersome but it's a necessary hassle to ensure your safety.
Features:
29-qt heavy duty welded outdoor cooker with lid
Large fry basket with top handle
33,000 BTU burner
Turkey rack
Lifting hook
11-qt aluminum fry pan and fry basket with heat resistant handle
Gas line with safety device
2. King Kooker 1618 Outdoor Deep Fryer
Not planning on deep frying turkey or any large fowl on the regular but still want to be able to cook crunchy snacks in large quantities?
The King Kooker 1618 Deep Fryer can be a great addition to your outdoor cooking equipment.
It's designed like those commercial deep fryers so it's perfect for snacks and other bite-sized deep-fried goodies.
Features:
Large aluminum frying pan with handles
2 frying baskets with heat resistant handles
16" welded steel frame
54,000 BTU CSA Design certified burner
Type 1 connection LP hose and regulator
Deep fry thermometer
3. Bayou Classic 3025 Turkey Fryer: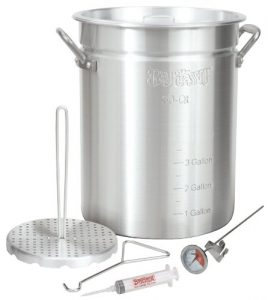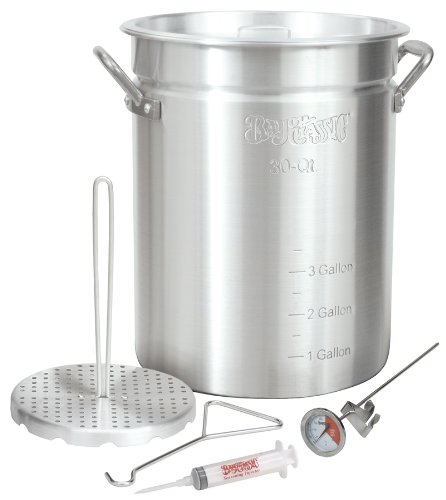 Unlike the first two items in this list, the Bayou Classic 3025 Turkey Fryer is only composed of a deep fry pot and accessories. It doesn't have a burner included in the package.
Perfect for those who already own a sturdy outdoor burner, this product is noted for its sturdy construction. It's made of commercial-grade aluminum so it's guaranteed to be durable.
It also comes with all the necessary accessories that you'll need for deep frying including a poultry rack and thermometer.
With its friendly price, it's a good option for those who just need a large stockpot to start deep frying.
Features:
30-quart stockpot
Commercial-grade aluminum construction
12" stainless-steel thermometer
Perforated poultry rack
4. Cajun Injector Electric Turkey Fryer
If you like the convenience of an electric deep fryer but need to cook for more people, then the Cajun Injector Electric Turkey Fryer is something you should see.
This electric deep fryer can cook up to 14-lb turkeys so it's certainly a large option. It can be used indoors or outdoors and for other purposes as well because of this design.
Aside from not requiring you to work with a burner, this product is also equipped with features that make it easy to clean. Its immersion-style heating element is easy to take out of the unit.
It also has a swing-out drain valve so you don't have to wrestle with the large unit to pour out its oil contents.
Most importantly, it has a safety shut off feature so it can guarantee safer deep frying. All of these make it easy, safe, and convenient to use.
Features:
Electric deep fryer
20-lb capacity
Aluminum bailing basket
Glass lid
Built-in digital temperature control with timer
Safety shut off
CSA Design certified
Immersion-style heating element
Swing-out drain valve
5. Masterbuilt 20100809 Outdoor Turkey Fryer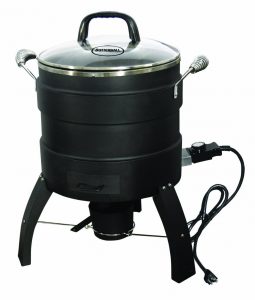 Technically, the Masterbuilt 20100809 Outdoor Turkey Fryer is not a deep fryer but an electric outdoor oven.
It doesn't use oil to cook your dish and it's designed to offer a roasted dish instead of a deep-fried one. However, it's still a nice outdoor cooking equipment if you want to avoid the risks of deep frying altogether.
This product comes with everything you need to roast a large fowl. It even has a small wood chip box that will let you use wood to give your dish a smokey taste.
It's easy to operate and safer to use than a deep fryer so it can still be a good option for lots of homeowners.
Features:
Oil-free electric turkey fryer and roaster
Double-wall construction
18-lb cooking capacity
Tempered glass lid
Built-in wood chip box
Removable drip pan
Adjustable temperature
Watch Video:
10 Benefits of Using the Outdoor Deep Fryers: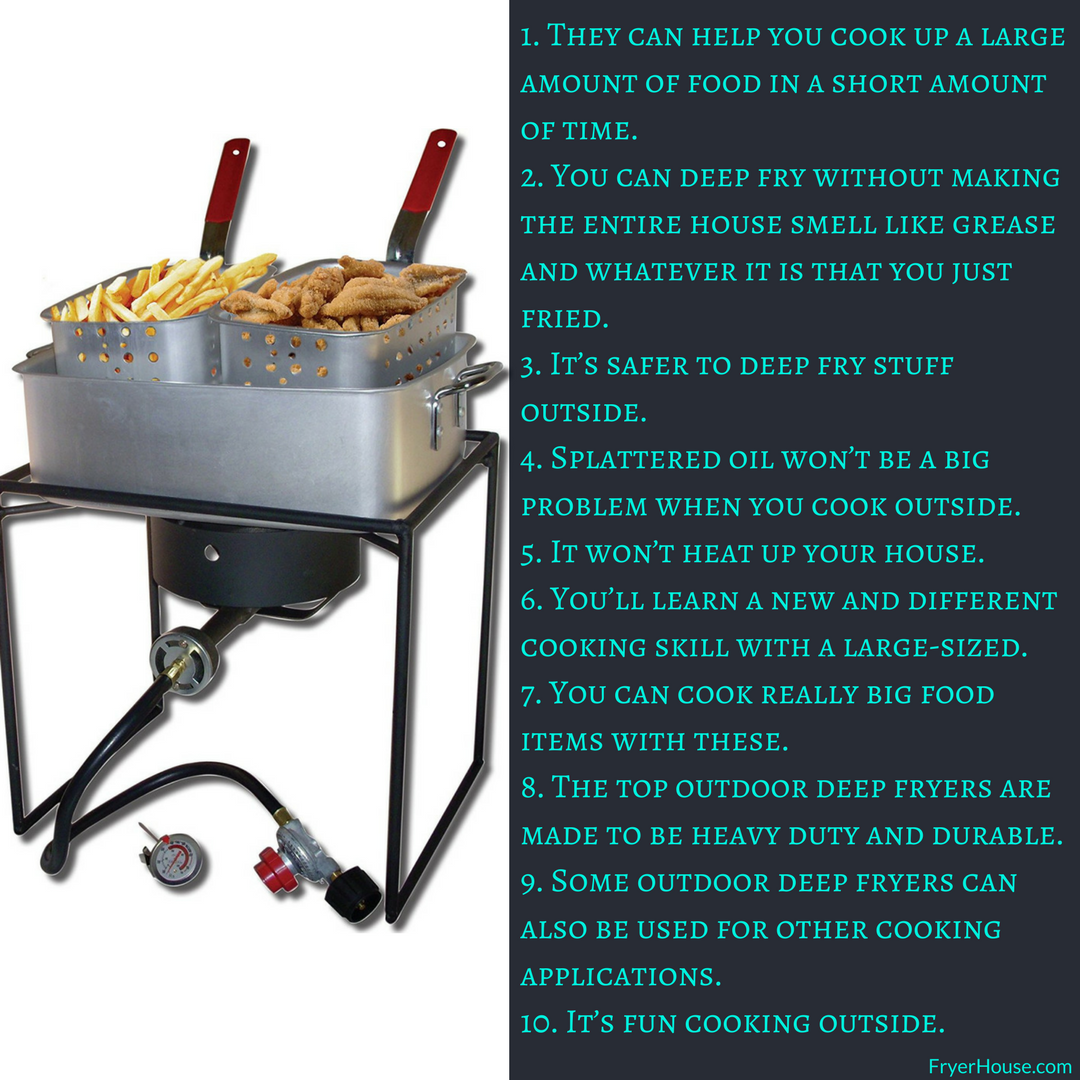 Before we go into the details of which outdoor deep fryers are worth your time, you might first want to know why you should give deep frying a shot.
1. They can help you cook up a large amount of food in a short amount of time.
Most outdoor deep fryers have large cooking capacities so they can let you whip up a feast rather quickly. So if you're hosting a party or having a number of guests over, these things would prove to be indispensable additions to your collection of outdoor cooking equipment.
2. You can deep fry without making the entire house smell like grease and whatever it is that you just fried.
One of the many reasons why lots of people buy an outdoor deep fryer is so they can avoid stinking up their houses from the fumes and smells that deep-frying can create.
This is particularly true for fishing enthusiasts as these cooking tools offer a different way to cook their fresh catch.
3. It's safer to deep fry stuff outside.
A large amount of hot oil can't be 100% safe, no matter how you look at it. At least when you work with it outside your home, you'll have more space to move about. And if the deep fryer catches fire, it won't put your house's structural integrity in jeopardy.
4. Splattered oil won't be a big problem when you cook outside.
For most households, this is another reason why it's better to use an outdoor deep fryer. Having to clean up oil splatters in a busy kitchen can be a serious hassle, so it's just wiser to deep fry outside.
5. It won't heat up your house.
Unless you're cooking a feast in the dead of winter, the heat that the deep fryer can generate will hardly ever be welcome in a house that's packed with people who are waiting to be fed. Cooling the house after its temperature was raised by the deep fryer can be a costly affair.
6. You'll learn a new and different cooking skill with a large-sized.
Deep frying is not exactly the same as steaming, sauteeing, braising, or stewing. Things even become all the more different if you're cooking a large batch of food and if you're cooking it outside. This is why, with an outdoor deep fryer, you can be sure to learn something new.
7. You can cook really big food items with these.
Lots of outdoor fryers are available in seriously massive sizes. You won't have a hard time finding a 40-qt deep fryer online today. So if you literally have to cook up a storm, this cooking equipment can come in handy for you.
8. The top outdoor deep fryers are made to be heavy duty and durable.
Because of the large amount of food that it has to contain, the deep fryer is often highly durable and made of heavy-duty materials. These guarantee their longevity, making them great investments if you intend to use them often.
9. Some outdoor deep fryers can also be used for other cooking applications.
Aside from deep frying, other people also get to use their fryers for canning or brewing. It's best to check thoroughly, however, if what you're eyeing can multitask so you can get exactly what you need.
10. It's fun cooking outside.
Lastly, a very good reason to get an outdoor deep fryer is because they're fun to have. Cookouts are always fun, especially when done with family and friends. Who knows, owning an outdoor fryer may even give you more reasons to hang out with the people you love?
10 Safety Tips when Deep Frying Outside: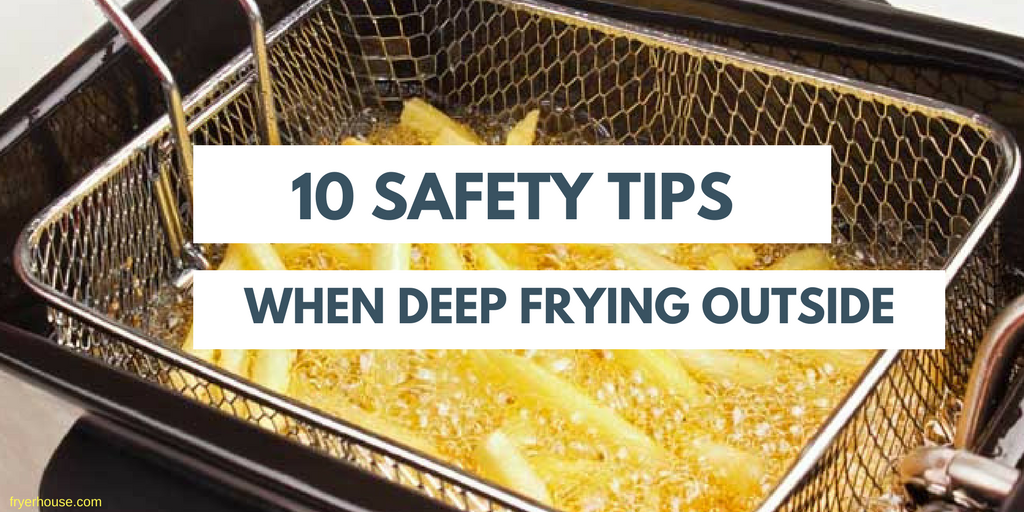 Aside from the benefits of having the best outdoor deep fryer, you should also know how to keep yourself and everyone else safe while you cook. For this, here are ten of the most important tips that you should keep in mind.
Buying Guide – How to Choose the Best Outdoor Deep Fryer?
Now that you have a few good options, you might already be wondering how you should choose from.
1. Make Sure of the Product's Great Quality
You should never settle for anything less than the best when it comes to outdoor fryers. As it's highly likely that you'll need them to hold a large amount of food, it's important that they won't fall apart when they're filled with food.
It's best to look for products with thick metal gauge for the pot. The frames for the burners should also be very sturdy and capable of holding a lot of weight. These will ensure their durability and can also prevent accidents.
2. Consider the Unit's Size and Cooking Capacity
Again, most people shop for outdoor fryers because they need to cook up a storm. As these products come in large sizes, you won't have a hard time finding something that can help you do so.
However, they still come in various sizes, so if you want to be efficient, make sure to choose a product that will suit your needs.
3. Choose Between an Electric or Propane Powered Unit
As the list above will tell you, there are two kinds of outdoor fryers. Electric ones are a lot like the compact units you'll find in many homes. They're also more convenient options as they already come with everything you need to start cooking.
Propane powered units, on the other hand, offer more power and versatility. They can also be more durable than electric options, so some people like them better. Choosing between the two is entirely up to your preference.
No matter which one you go for, though, make sure to pay close attention to its power output or temperature settings.
You'll need its heating element to get very hot to ensure that your food will get cooked nicely, so the temperature and BTU ratings are very important to take note of.
4. Ensure that It's Easy to Clean
For such a large cooking equipment, you also have to make sure that the deep fryer you're getting is easy to clean. Otherwise, you might end up not wanting to use them again.
5. Check Out the Extras
The top deep fryers come with lots of accessories, so if you want to make sure that you'll bring home a great product, look at the extras it comes with. Thermometers, baskets, and safety devices are just a few of the best inclusions that a deep fryer can have.
Final Verdict
For lots of experts, there's no better way to celebrate the holidays than with some deep-fried fowl. The best outdoor deep fryer can help you get this done. It's just that you have to know first how to choose and which products are good options.
We hope this quick guide helps you weigh your options and make the right choice for a deep fryer for your home. Make sure to consider each point when choosing a product and keep the safety tips in mind when cooking. This way, you can be sure to enjoy your purchase.