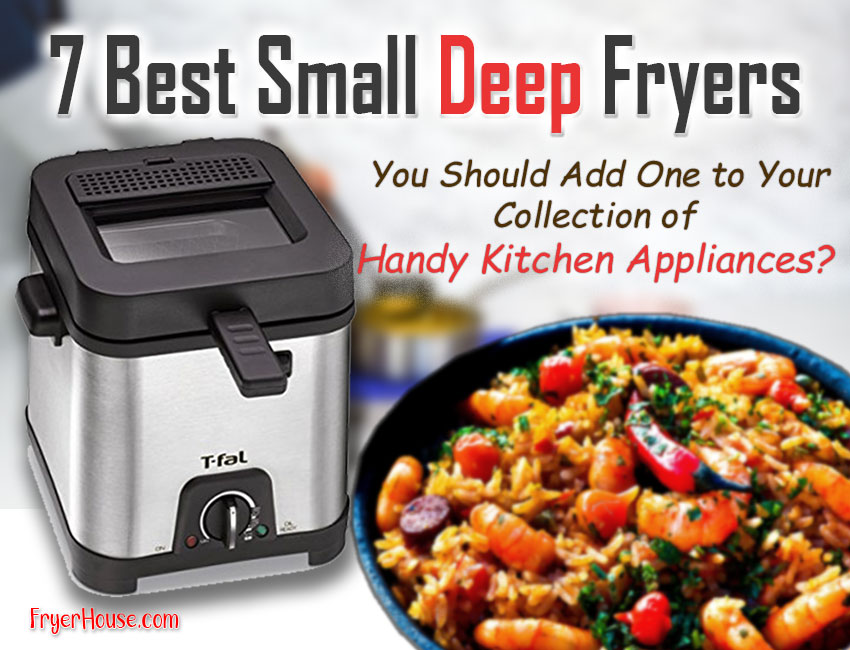 Cooking in a small kitchen can be a challenge. While getting various appliances can make the task easier, not all of them will be able to fit in a tight space.
Choosing which ones are the best to add to your collection can be a whole different undertaking, though. This is why it's easy to see why you want to know more about the best small deep fryer before deciding on getting one.
If you enjoy eating deep-fried foods, a deep fryer would be a sensible addition to your kitchen. They can certainly make your food preparation process a lot simpler and faster, letting you enjoy your fill of fries, chips, nuggets, and rings in a jiffy.
But, then again, if you have little room to spare in your kitchen, you might want to make sure that this cooking equipment is a good choice for you. So to help you find the answers you need, here's a detailed roundup of everything you need to know about the finest compact deep fryers today.
Best Small Deep Fryers 2021 – Comparisons and Reviews
Our Picks Of The 7 Top Small Deep Fryers Review:
Ready to look at your options for the best small deep fryer? Here are seven of our picks that might just tickle your fancy:
1. T fal FF492D Stainless Steel Mini Deep Fryer
One of the most compact deep fryers in the market today is the T fal FF492D Stainless Steel Mini Deep Fryer. With just a 1.2L cooking capacity, you can expect it to be very small in size.
It's still deep enough to accommodate various ingredients, though. So you shouldn't have a hard time squeezing in a single serving of food.
What makes it notable is the convenient features that make it really easy to use. The adjustable temperature alone can already give you the control you need to make the most of this product.
Combined with the non-stick interiors, indicator lights, and odor filter, it can definitely be the best pick for many households.
Features:
1.2L capacity
On/ready indicator lights
Removable lid with viewing window
Stainless steel fry basket
Non-stick interiors
Magnetic breakaway cord
Odor filter
Adjustable thermostat
2. Presto 05420 FryDaddy Electric Deep Fryer
Those who are on the fence about deep fryers because of the amount of oil they use up should meet the Presto 05420 FryDaddy Electric Deep Fryer.
This product is one of the most efficient options as it offers a 4:4 oil to food ratio. This means that you only need four cups of oil to make up to four servings of food.
This product is also very easy to operate as it doesn't have any knobs or switches to work with. You just need to plug it in and that's it. This makes it an even more convenient option if you want to quickly deep fry food regularly.
Features:
Bucket-style design
4-cup capacity
Non-stick coating
Built-in preset thermostat
Magnetic breakaway power cord
Carrying handle
Cooking scoop
Snap-on plastic lid
3. Proctor Silex Deep Fryer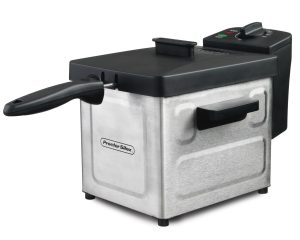 A very compact and affordable option for small households is the Proctor Silex Deep Fryer. This product can only hold up to 1.5L of oil so it's perfect for single servings of food.
What makes it special, however, is that you can fully dismantle the unit. Everything can be taken apart so if you have very limited storage space or if you want to thoroughly clean it after use, this can be of great help.
Features:
1.5L capacity
Adjustable thermostat
Removable parts (heating element, cooking pot, lid)
Indicator lights
Stainless steel body and fry basket
4. T fal FF230850 Mini Deep Fryer
For those with little ones at home, safety is a must. The T fal FF230850 Mini Deep Fryer can be a solid pick for such setups. With its cool-touch sides, you don't have to worry about your kid accidentally touching the appliance while it's in operation.
As it can also cook up to 2.2 lbs of food, this cooking equipment can be a good choice for small and growing homes. Its very friendly price can also compel you to give it a shot.
Features:
2.2-lb capacity
Adjustable thermostat
Indicator light
Dishwasher-safe fry basket
Cool-touch sides
5. Presto 05470 Stainless Steel Electric Deep Fryer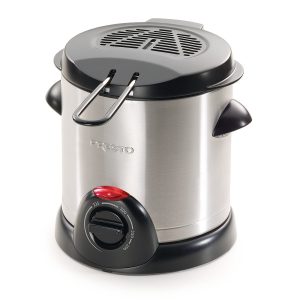 If you really can't spare a lot of space for a deep fryer, the Presto 05470 Stainless Steel Electric Deep Fryer can be a solid choice for you. This product will only take 8" of counter space so it's one of the most compact picks out there.
Despite its small size, though, it can still get the job done. It even has an adjustable thermostat so you can have total control while cooking.
Features:
1L oil capacity
Adjustable thermostat
Anodized aluminum interior
Cool-touch cover with vents
6. Hamilton Beach 35021 Electric Deep Fryer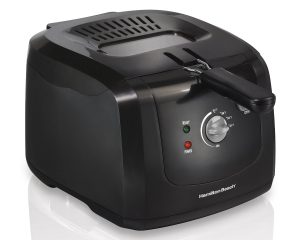 For a deep fryer that's compact but can still cook for everyone, the Hamilton Beach 35021 Electric Deep Fryer is a nice option. This product has a 3L oil capacity so it can already whip up a couple of servings in one go.
Designed to heat up fast, this is also a very efficient cooking equipment. You might want to note that the heating element is designed to be immersed in the oil, though.
It adds another item to the cleanup but it makes sure that the oil keeps its temperature all throughout so it can be an even trade-off.
Features:
Professional-style design
3L capacity
Adjustable temperature
Immersed heating element
Non-stick interiors
Lid with viewing window
7. Cuisinart CDF-130 Compact Deep Fryer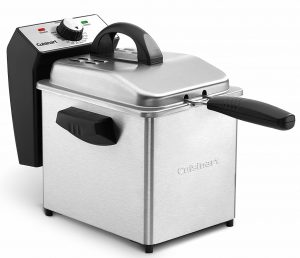 Another eye-catching option for a small deep fryer is the Cuisinart CDF-130 Compact Deep Fryer. As it is manufactured by one of the biggest names in the industry, it's certainly a popular pick.
What makes it a good choice aside from its reliable brand name is its quality construction. With a stainless steel body, it looks and feels sturdy.
Even its lid is made of the same material as its body so you don't have to worry about cleanups or the plastic warping after getting exposed to high temperatures.
Features:
2-qt oil capacity
Adjustable temperature
Immersed heating element
Stainless steel body and lid
Cool-touch handles
Stainless steel fry basket
Watch Video:
10 Benefits of Using Small Deep Fryers:

The first thing you might be wondering about is why should you consider getting a small deep fryer for your home? Here are ten good reasons to check out a few good units today:
1. They come with features that make deep frying easier.
While deep frying isn't particularly difficult to do, there are still a few steps that can be quite a hassle. These can make some people shy away from this cooking method which is such a shame as crunchy snacks are always enjoyable.
2. They're deemed much safer than deep frying in a pot.
According to some experts, dedicated appliances for deep frying can be a lot safer than using a pot to get the job done. Most of them include various features that will ensure that you won't forget that you're cooking something or will keep you away from the hot oil so they can easily be better picks for homes that love crunchy dishes.
3. They can offer a more economical approach to your snacking.
If you often order deliveries or takeaways for french fries, onion rings, or wings, your snacking habit can get costly pretty fast. Making them at home is a lot more economical, however, as raw ingredients can cost less from your local market.
4. Small deep fryers add functionality to your kitchen without taking up a lot of space.
There's nothing more stressful than having to whip up a good amount of food in a short time so your guests or family don't have to wait long to eat. This is why having a few different cooking equipment at home is a great plus for those who like having people over.
A deep fryer is an excellent choice for this because it can help you whip up a wide range of dishes without having to keep an eye on the appliance the whole time. It can let you multitask and just check on the deep fryer's progress every few minutes or so.
5. It can help you provide some independence to your older kids.
As your kids get older, the more you can let them do things on their own. So if you already have teenagers who love eating every five minutes, having a deep fryer can be a good way to cut down their snacking costs and your cooking tasks.
Instead of ordering fast food, they can just whip up something on a small deep fryer. You might just need to stock up on some ready-to-cook items but that's already a lot cheaper than takeouts so it's still a practical way to meet your kids' needs.
The deep fryers can also be very simple to operate that they won't even need you to get it to work. So with these appliances around, you can also get a bit more freedom from having to attend to your growing kids' needs.
6. You can indulge in snacks without the guilt.
This might come as a surprise to some, but a study published in a medical journal noted that deep-fried vegetables can contain more antioxidants than those sauteed or boiled.
With cooking oil's bad reputation being too fatty, everyone just assumed that if it's deep fried, it's bad for you. Apparently, everyone's wrong about that.
However, it's very important to note that the kind of oil you use can also determine how healthy your deep-fried dish is. Some oils are healthier than others, so if you really want to make sure that your snacking habit won't hurt your heart, you should go for those with "good fats".
The American Heart Association listed a number of good options, so you might want to consider switching to those for your deep fried dishes.
The ingredients you'll use can also help you make your deep-fried snacks healthier. Opting for whole foods instead of processed ones is always a good way to make sure that you'll be munching on healthy snacks.
Swap out your bagged fries with some sweet potatoes or your chicken nuggets with some mushrooms, bananas, or cauliflower and you'll still get to indulge in the satisfying crunch of a good snack without the guilt.
7. You can indulge in your favorites any time you want.
Craving for some onion rings in the middle of the night? Fret not as you don't have to find a 24/7 diner just to get some. If you have a small deep fryer in your kitchen, you can easily whip up a crunchy snack at any time of the day without a fuss.
8. It can help whip up quick meals for busy homes.
If you're often busy and don't have a lot of time to prepare meals for everyone, a deep fryer can come in handy for you. This can fry your entree and main dishes while you work on a few healthy sides for a complete meal in no time.
9. Small fryers are designed to be much easier to clean than pots, pans, and ovens.
As they are designed with several convenient features, small deep fryers can also be a lot easier and faster to clean than pots, pans, stoves, and ovens.
10. Small deep fryers will let you cook deep-fried dishes right inside your home.
Lots of people do not like to deep fry inside their homes because it's not just messy but the smells can also linger in the air for a while.
Both can be annoying, so it makes sense that some people just opt out of enjoying deep-fried goodies at home instead of getting hassled.
With small deep fryers, though, you don't have to worry about those. Most units will be very easy to clean and won't make a mess in your kitchen. A lot of them also comes with odor filters so you don't have to worry about stinking up your entire kitchen or home.
Is A Small Deep Fryer Right For You?
All of the points listed above are great reasons why you should get a deep fryer. However, you might still have to closely consider whether a small deep fryer is a good match for your needs.
There are cases when certain households are better off with a bigger appliance or even an outdoor unit. So is a small deep fryer a good choice for you?
How do you know if  small deep fryer suits your needs? These questions might help you find the answers you need:
1. Is your kitchen small?
2. Do you only need to cook for yourself or for just you and someone else?
3. Will it be okay with you if you need to do several batches when frying?
4. Do you want a small kitchen appliance?
5. Do you only plan to cook snacks and small bites with your deep fryer?
If you answered 'yes' to all of the questions above, then, a small deep fryer will already suit your needs. As the size of your kitchen appliance is a matter of personal preference, the decision is entirely yours.
However, if you want to prioritize your convenience, especially if you need to whip up food for the whole family, you might want to closely contemplate which size you should get.
Buying Guide – How to Choose the Best Small Deep Fryer?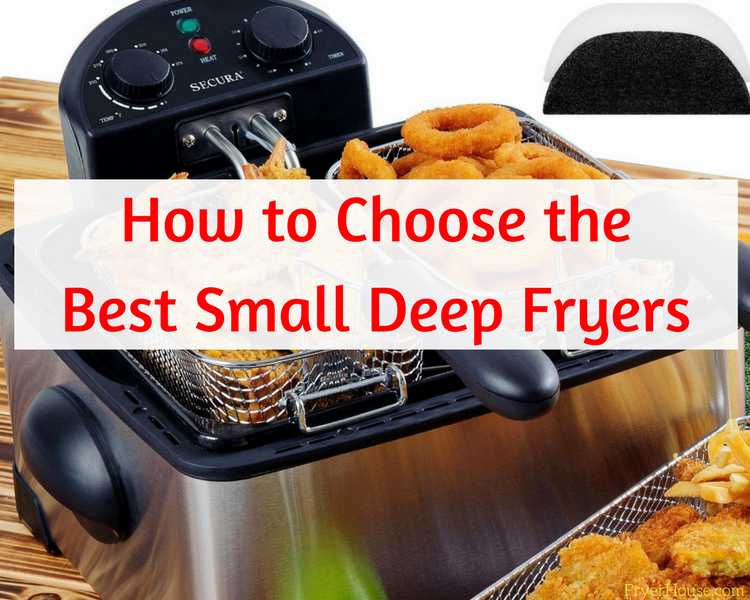 With so many great options to choose from, how do you make a choice? Making the decision which one to get can be overwhelming. So, here's a quick guide on how you can be sure to end up with the deep fryer for you.
1. Consider the Right Size for Your Household
Your convenience should be a priority when choosing any kind of cooking appliance. So for a deep fryer, you should look for something that can easily let you make the right amount of food for everyone at home. There are a few deep fryers with good cooking capacities that are also very compact so this shouldn't be an issue.
2. Ensure is Ease of Use
While most deep fryers today are designed with simple controls, some can still be too fussy for some users. So make sure that the item you're getting won't require you to break a sweat just to select the heat settings you need.
3. Look at the Safety Features
Deep frying has its dangers which is why not a lot of experts are fans of having people do it at home. However, there are lots of great deep fryers that come with various safety features so you can be sure that you can deep fry at home without any serious risks.
4. How Easy is it to Clean?
If you don't want to spend hours cleaning a kitchen appliance, you should choose one that's designed to be easy to clean from the get-go.
You can find products with dishwasher-safe parts, non-stick interiors, and even units that can be dismantled fully for washing so you can choose according to your preference.
5. Set a Budget
The deep fryers can range from twenty to a hundred bucks. This is why you should set a budget so you can easily narrow down your options. It can also help you avoid overspending, especially since the price tag isn't necessarily a guarantee of great quality.
Final Verdict
The idea of choosing one from so many great compact deep fryers out there may seem daunting. However, with this guide, we hope that you can find the rated small deep fryers for you.
Owning one can add functionality and make your kitchen efficient, especially if you like to deep fry regularly. So we hope you consider all the points listed above and you get to find a good match for you from our product suggestions.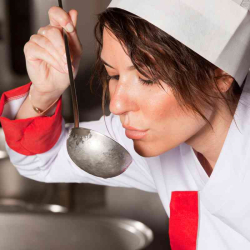 Latest posts by June Brandt
(see all)