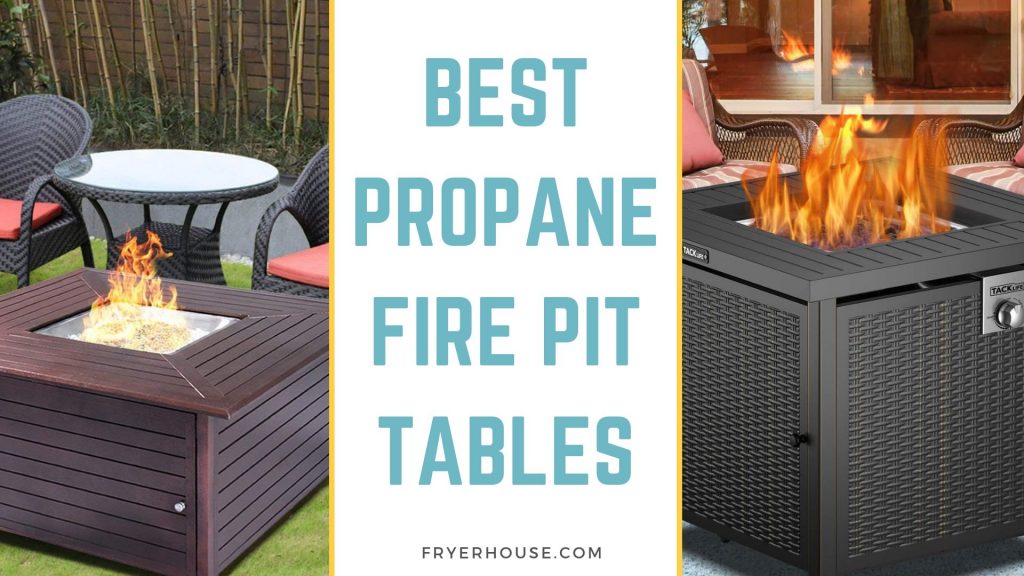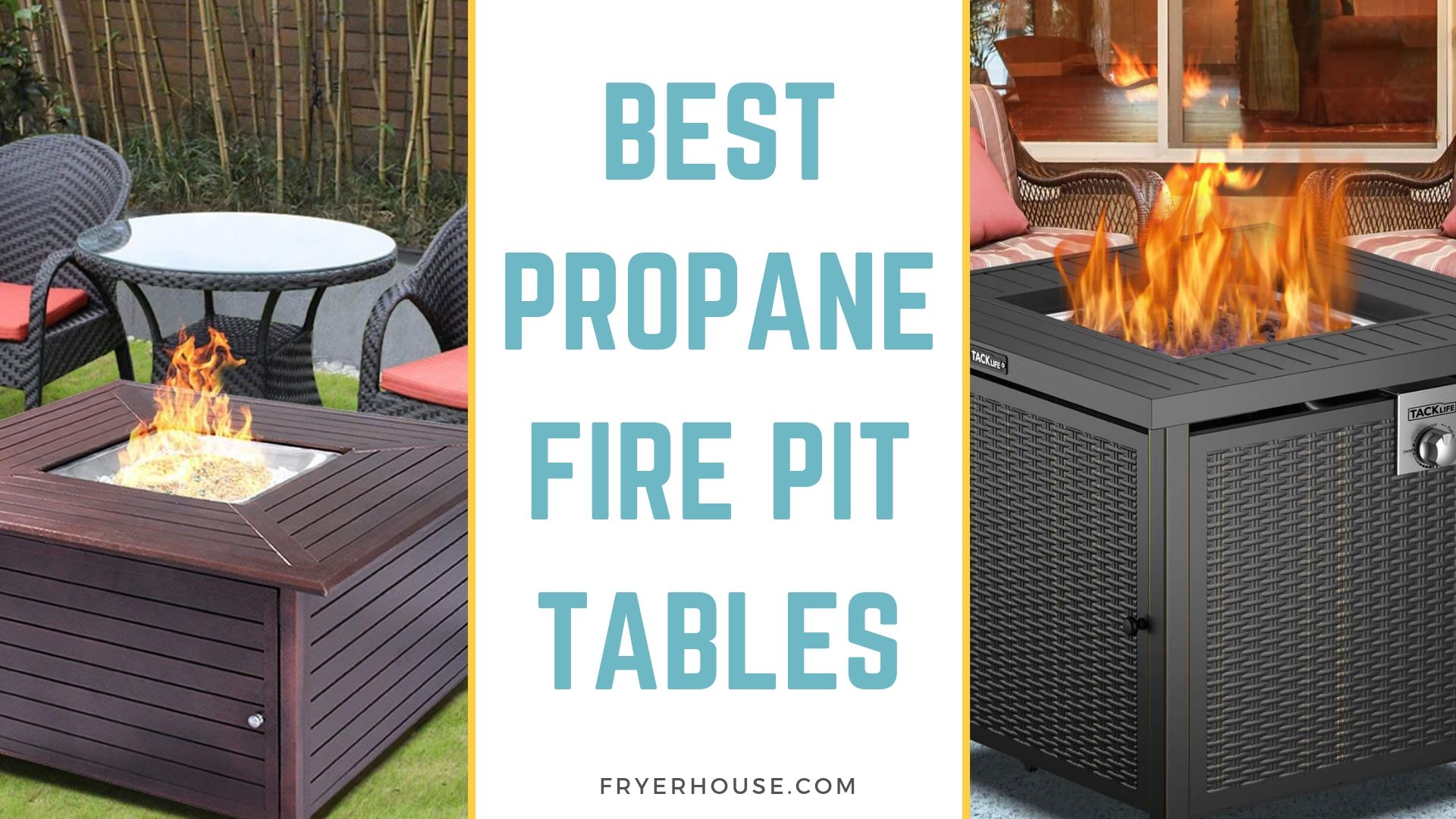 There's just something about an open fire that gives off some cozy, romantic, and super laid back vibes that they're great to have at night.
Unfortunately, bonfires aren't exactly fuss-free to set up and clean up and they're not exactly allowed everywhere.
But if you really want a nice fire in your backyard whenever you feel like having some, you can always get one of the latest propane fire pit tables.
If you're not sure as to what exactly a propane fire pit table is, it's pretty much a piece of furniture that can hold your fire pit.
Fire pits come in different shapes and sizes, some in metal bowls, gigantic planters, and tables. They all have their own charms but tables offer more versatility and functionality
Why? Because fire pit tables are tables. They won't just hold the open fire for you but they also have space to accommodate some drinks and maybe small plates.
In some cases, they can even come with beverage coolers, making them extra useful.
If you're trying to find out which fire pit type works for you best, this guide could be of help. We'll give you a few good product suggestions and buying tips to give you the information you need to make a wise call.
Top Rated 10 Propane Fire Pit Tables in 2021 – Get The Right Model:
PREMIUM Collections:
Our Picks of 10 Best Propane Fire Pit Tables Review:
Let's start off with our product recommendations. Here are ten items that could give you an idea of what the top rated fire pit tables are.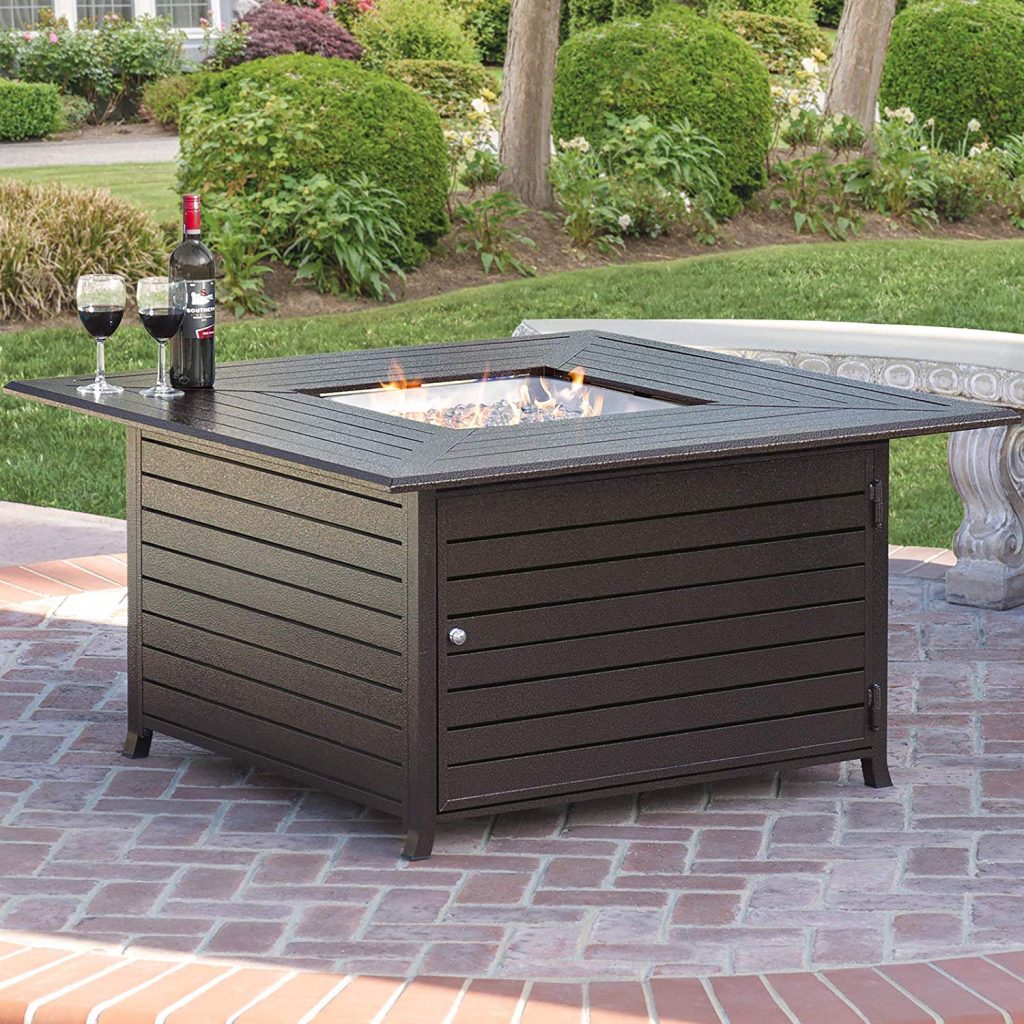 The Best Choice Products BCP Extruded Fire Pit Table is the quintessential fire pit table. Due to its design, it functions perfectly as an outdoor table. But with just one change, it can transform into a   fire pit.
Thanks to its weather and fire-resistant construction, you can be guaranteed that it's durable enough to stay outside and hold fire safely. It also has a pit lid, so when the fire pit is not on, you can use it as a nice outdoor table.
Aside from being a fire pit, this item also works really well as a piece of furniture. It's huge so it can accommodate a lot of stuff.
Even when the fire is lit, it can still function as a table, so if you want to make the most out of your outdoor space, this fire pit table can be the best match for you.
Features:
[su_list icon="icon: check" icon_color="#228B22″]
Durable, fire and weather-resistant aluminum body
Fire glass beads for additional luminescence
Dark brown coloring with bronze finish
20-lb propane gas tank storage
Flat fire pit lid included
45"x 45"x 23.5"
42,000 BTU
Protective cover included
[/su_list]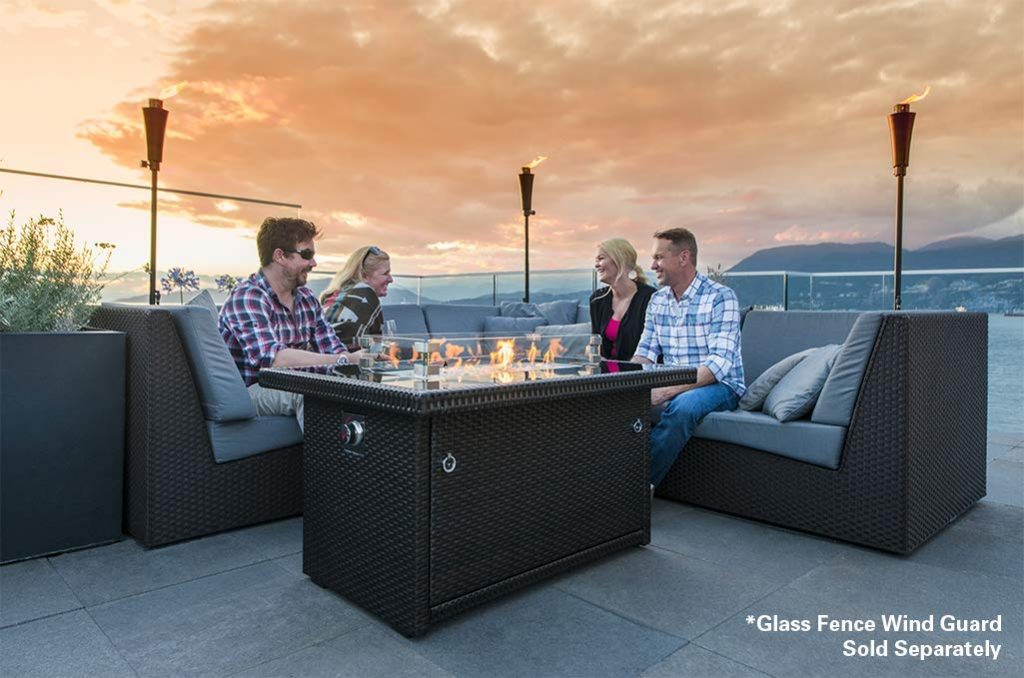 In need of something that will match your wicker outdoor furniture? The Outland Living 44-inch, Black propane fire pit table can be a great match.
This rectangular table has won international awards and is CSA approved, so from its design to its construction, you can be guaranteed of good quality.
Its strongest draw? It comes with a number of convenient features that make it nearly ready for use straight out of the box.
It has a pre-attached 3-ft hose with regulator, so all you really need is a 20-lb propane gas tank to get the party started.
Features:
[su_list icon="icon: check" icon_color="#228B22″]
Wicker design
High-strength, heat-resistant aluminum frame
UV HDPE (Ultraviolet Light High-Density Polyethylene) finish
Stainless steel burner
44" x 32" x 23"
Tempered glass tabletop
5-lb decorative Arctic Ice glass rock set
35,000 BTU
20-lb propane tank storage
[/su_list]
For large areas, the Best Choice Products 57in Rectangular Extruded fire pit table can do the trick. This is a huge table that can generate a whopping 50,000 BTUs of heat.
So, if your backyard is rather large and you love throwing large parties, this can be an excellent focal piece for your space.
Features:
[su_list icon="icon: check" icon_color="#228B22″]
Shiplap style
Heavy-duty, weather-resistant extruded aluminum body
20-lb propane gas tank storage
50,000 BTU
Glass beads
57″ x 22″ x 24.75"
Nylon protective cover included
[/su_list]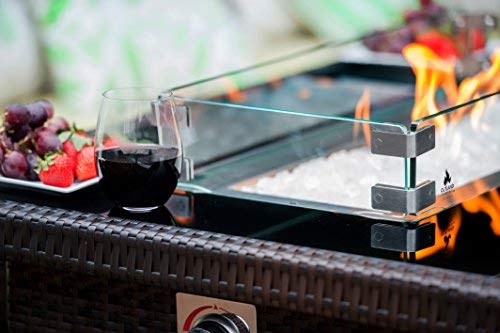 The Outland Living 3-Piece Rectangle Accessory Set isn't exactly a fire pit table but, as its name suggests, an accessory set for the said brand's Series 401 Outdoor Propane Fire Pit Tables.
With that said, it should be noted that this item is to be bought with or as an additional purchase to a rectangular model of the said collection.
What's so special about this set is that it can make your fire pit table even more functional.
It's comprised of a table lid to help you create a full-service table, a wind guard fence to keep the fire from licking the other stuff on your table and to keep it alive on windy evenings, and a water-resistant cover.
Features:
[su_list icon="icon: check" icon_color="#228B22″]
Compatible to all rectangular Outland Fire Series 401 propane fire pit tables
5/16" x 29″ x 13″ x 0.5″ tempered glass lid insert
5/16" x 29″ x 13″ x 4.5″ tempered glass wind guard fence
Black water-resistant heavy cover
1-year warranty
[/su_list]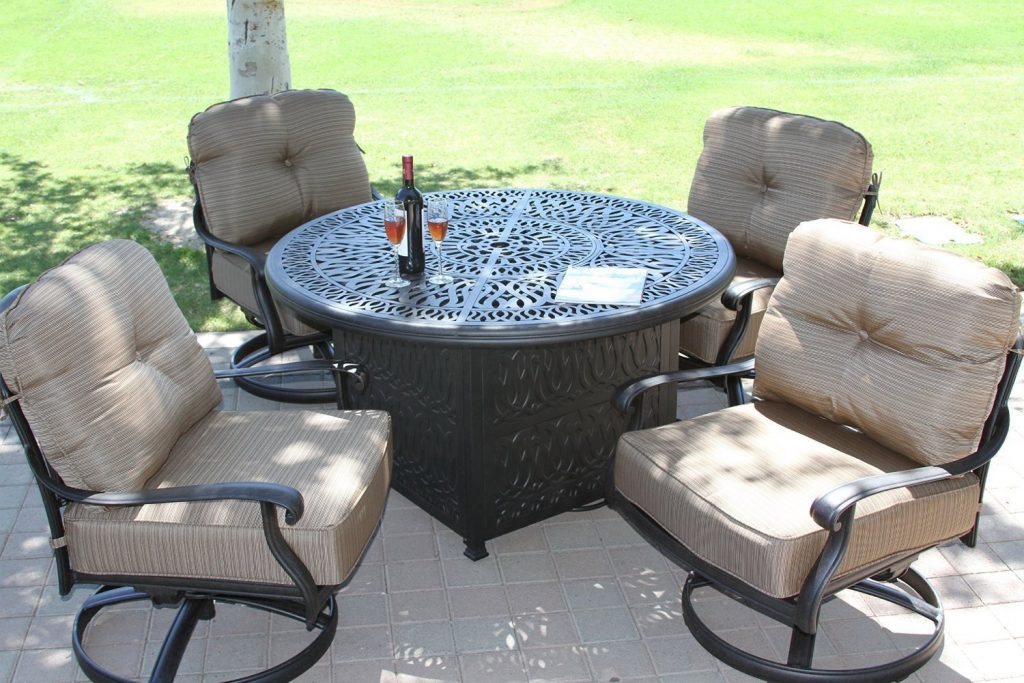 Here's a single-purchase option for those who want to furnish their outdoor space in one go: Theworldofpatio Elizabeth Cast Aluminum Deep Seating Set. It offers both convenience and top-notch durability due to its design and construction.
There are two main things that buyers love about this product. First is the fact that it's guaranteed to be of top-notch quality.
Since it's made of cast aluminum, you can be sure that it will last long even when exposed to the outside elements.
Second is its comfortable and attractive design. The fire pit chairs are cushioned and swivels so you can really relax on them. The fire pit table, on the other hand, has an intricate ironwork design which gives the whole set an eye-catching appeal.
Features:
[su_list icon="icon: check" icon_color="#228B22″]
5-piece outdoor furniture set
4 cushioned Elizabeth deep-seating swivel rockers
52" round fire pit table
5-stage rust-proof powder-coated cast aluminum frame in antique bronze finish
15-year frame warranty
[/su_list]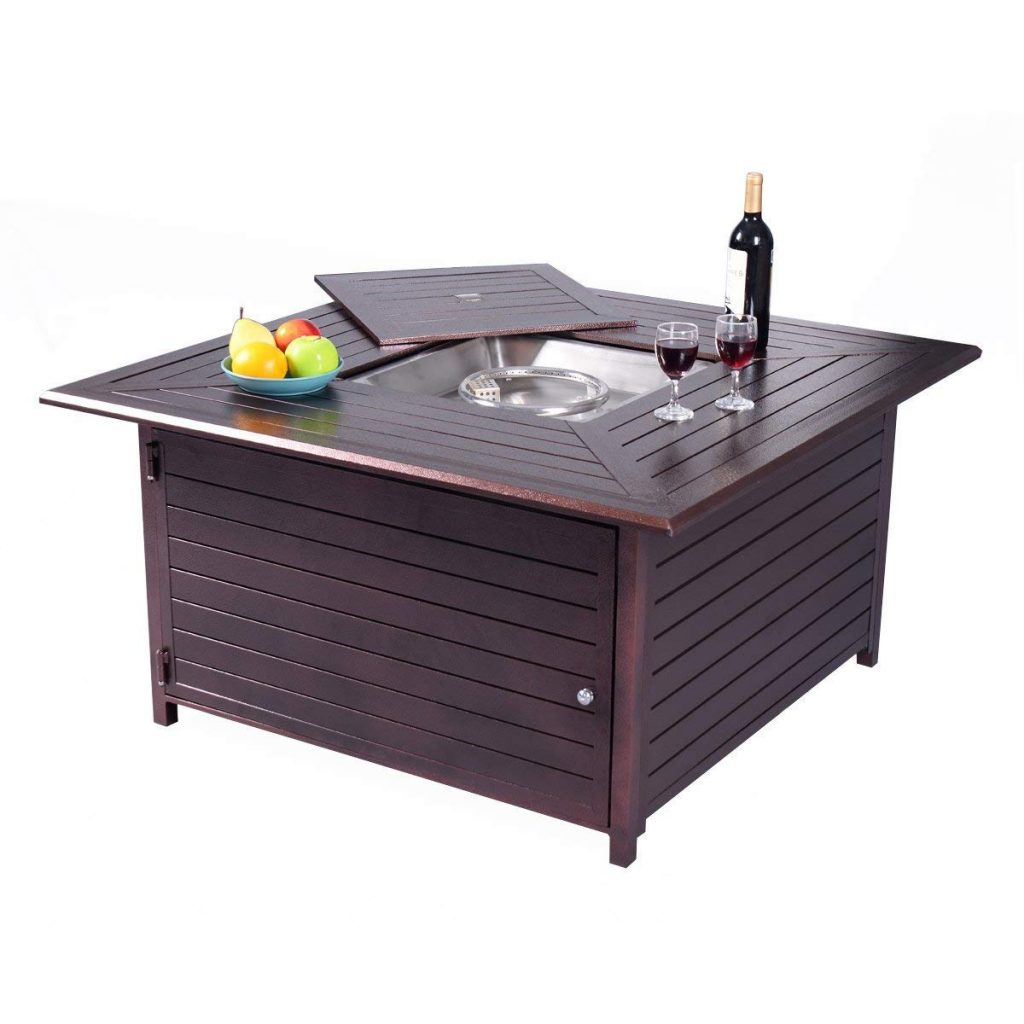 From one of the most popular manufacturers of outdoor furniture is the Giantex Fire Pit Table Propane Frame Outdoor Propane Gas Table Stove Furniture with Cover.
It's a large square, shiplap style fire pit table that can get a nice, warm fire going without the hassle.
One of the most notable things about this item is the amount of heat it can generate. It can create up to 40,000 BTUs so it might just be the perfect addition to your backyard.
Features:
[su_list icon="icon: check" icon_color="#228B22″]
Weather-resistant aluminum frame
Stainless steel bowl
40,000 BTU
20-lb propane gas tank storage
Fire pit lid
0″X44.0″X23.0″
[/su_list]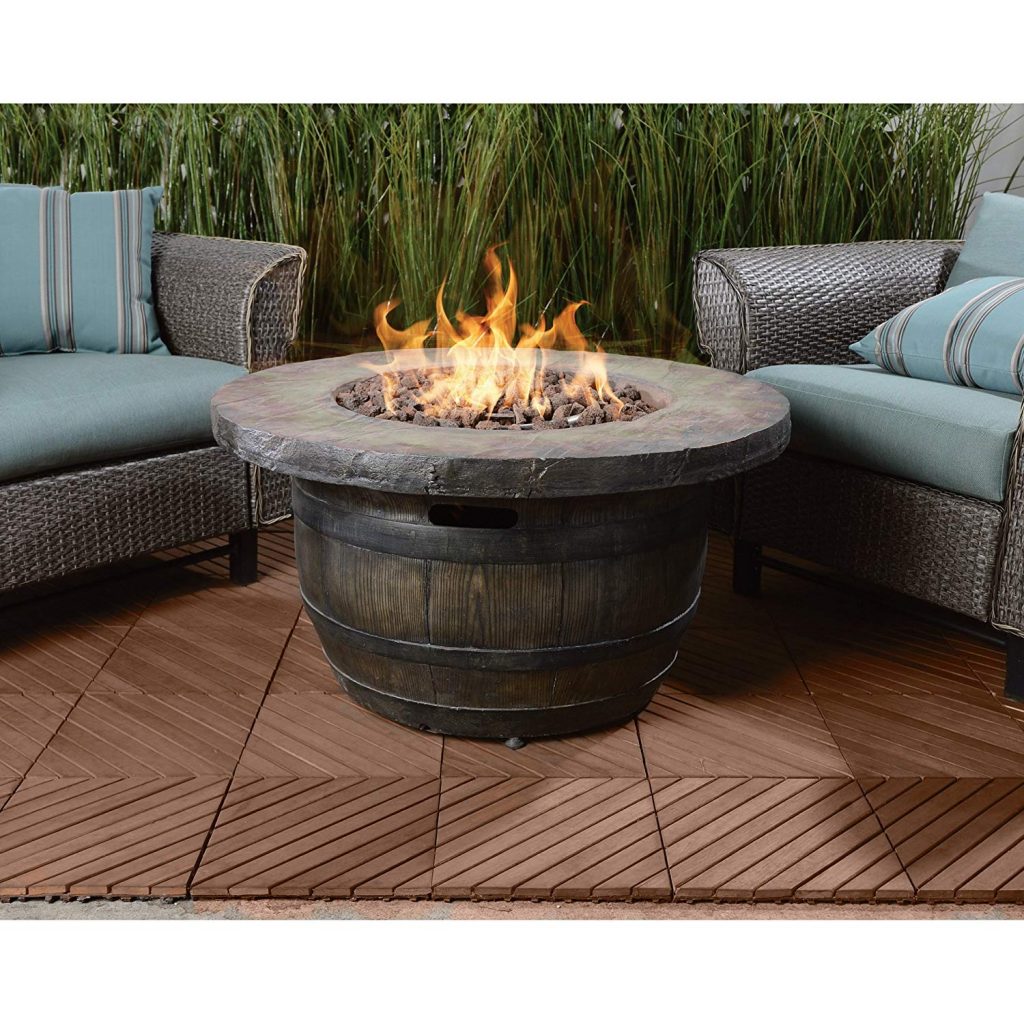 Looking for something more rustic, cozy-looking addition for your patio? Then the Vineyard Propane Fire Pit Table will appeal to you.
With its base shaped like a liquor barrel, it looks like a repurposed furniture which will surely look perfect with your vintage, homey, cozy decor.
Don't be fooled by its quirky design, though, as it's also very powerful. It can produce up to 50,000 BTUs so you can count on it to warm up a large space.
The only downside to this item is that it's quite low. So you will need to purchase a low-profile propane gas tank if you don't want it out in the open and to sit next to the table.
Features:
[su_list icon="icon: check" icon_color="#228B22″]
Barrel style
50,000 BTU
35"x18"
Gas hose and external tank holder included
[/su_list]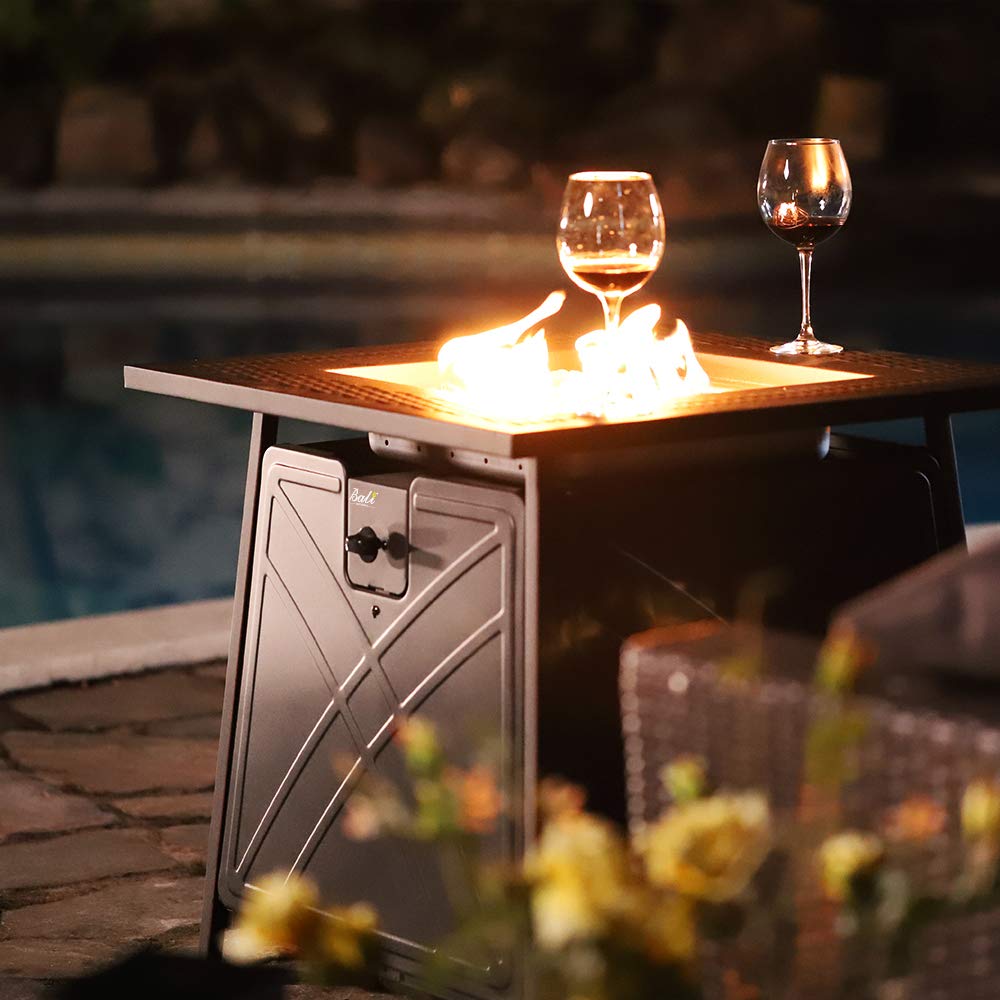 While all of these options are great, they can also be too big for some households. So a nice smaller option would be the Bali Outdoors 28" Square Firepit.
It resembles an industrial-style metal fireplace but instead of having an opening in one of its sides, the fire sits at the top, making it a firepit table.
Despite its small size, it's also very powerful. It can produce heat up to 50,000 BTUs, so it can still warm up a good amount of space. Just don't expect much from its tabletop, however, as it might not hold a lot while a fire is lit.
Features:
[su_list icon="icon: check" icon_color="#228B22″]
High-quality stainless steel frame
Hidden control panel
25"x28"x28"
20-lb propane gas storage
50,000 BTU
Fire pit lid included
[/su_list]
Another smaller-sized option is the Tacklife 28 inch Outdoor Propane Gas Fire Pit Table. This one might blend in better with most people's outdoor furniture as it sports a wicker design.
Like our other small-sized pick above, you don't have to worry about the heat this fire pit table can generate.
It can create up to 50,000 BTUs even with its small size so you can still get the warmth you want without taking up too much room in your backyard.
Features:
[su_list icon="icon: check" icon_color="#228B22″]
Wicker style
Heavy-duty steel frame
50,000 BTU
CSA certified
28″ x 28″x 25″
Fire pit cover included
Lava stone included
20" gas hose included
24 months warranty
[/su_list]
For a sleek option, we bring you the Legacy Heating Square Propane Fire Table. Its modern design suits a lot of contemporary style patios and pool areas so it can surely be a great pick for you.
Its strongest suit? Durability. It has tons of glowing reviews about how sturdy it looks and feels that other items pale in comparison.
So if you want something that will withstand the test of time and the harsh outdoor elements, this might just be it.
Features:
[su_list icon="icon: check" icon_color="#228B22″]
High-grade aluminum steel frame
Stainless steel bowl
Hammered black finish
88" x 44.88" x 24"
50,000 BTU
20-lb propane gas tank storage
Lava glass included
Table lid included
[/su_list]
Propane vs Wood Fire Pit: Which is Better For You?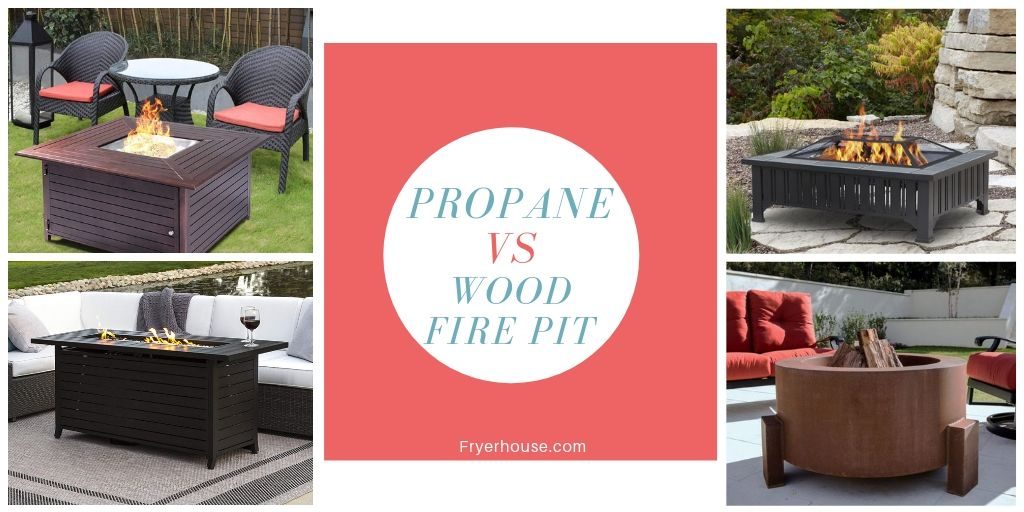 Now that you've got a glimpse of the best propane fire pit tables, you might also want to look closer at your fuel type options.
Propane-powered fire pits offer different benefits and experience than wood fire pits, so you might want to compare the two in order to make a good decision.
So, what's the huge difference between propane and wood fire pit? Here are a few answers:
1. Propane fire pits do not have a smokey smell.
One of the biggest reasons why people opt for propane fire pits is the smell. While wood fire pits are very nice and aesthetically pleasing, they also come with a smokey smell.
You'll definitely smell like ash and burnt wood after hanging around a wood fire pit. You can't just climb into bed after having a relaxing evening in your backyard or poolside with a nice fire going on if you don't want your bed to smell like smoke, too.
Propane fire pits don't smell like anything. And if they do, you'll need to get your unit checked by a professional to prevent any injuries and accidents. So, all in all, they offer a more laid back experience.
2. Some people find propane fire pits easier to maintain.
Another advantage of owning a propane fire pit is that they're way easier to maintain. How? Here are two major points:
3. You won't need a wood storage area.
If you own a wood fire pit, you'll need a good amount of chopped wood on hand. You can't just leave them lying around out in the open, though, if you want them to light up with ease when you want to fire up your pit.
So, you'll be required to have a nearby storage area for chopped wood for wood fire pits.
Propane fire pits, on the other hand, don't require a lot of space for its fuel. Most of them have storage space at the base of the unit so you don't need to look for an extra storage area for these outdoor appliances.
If you want to have some extra propane gas tanks at home they're not that hard to store, so you still don't have to fuss too much with a propane fire pit.
4. Cleanups are easier.
Cleanups can be a nightmare if you have a wood fire pit and you decided to fire it up on a windy evening.
The ash can get all over the place and you definitely cannot just leave the ashes on the fire pit after an evening out if you don't want to wake up to a messy backyard the next day.
As propane fire pits do not leave any physical waste after giving you a nice evening, you don't really have to worry about cleanups after using them.
5. Propane fire pits can be easier to light.
You also don't have to struggle when lighting up a propane fire pit. If your unit is in great condition, you just have to switch on the ignition and you're good to go.
You will not always be as lucky with wood fire pits, especially under certain conditions.
6. Propane fire pits are a bit pricier than wood fire pits.
While propane fire pits can be pricier than wood fire pits, they can still be worth the extra cost with their ease of use and maintenance.
Buying Guide – How to Choose The Best Propane Fire Pit Tables?
After laying down the basics about propane fire pit tables, let's get down to the things you should keep in mind when choosing the best one.
Even with the information above, if you have no clue about what you have to look for in a solid propane fire pit table, then there's a chance that you won't get a good product.
So to help you make the right choice, here are the top five things you should prioritize when shopping for these kinds of outdoor furniture.
1. Quality
Unless you intend to move your fire pit table indoors every night, you will need an outdoor-quality item that you can trust will withstand the harsh outdoor conditions. For this, you have to be very particular about the make of an item.
It should be of high-quality materials and finish to ensure that it will stand up to the elements. It has to be weather-resistant.
It shouldn't warp from the heat and won't become brittle or soft after getting exposed to water and snow. It should also be sturdy so you can use it as a table without any worries.
2. Size
You should also be particular about the size of the table you're getting. These items can get quite big, so if you don't have enough room for it, look for something that will be a better match for your space.
3. Safety
There are lots of safety concerns related to fire pits so you also have to be very mindful of how safe a fire pit table can be before deciding to get one.
By choosing a sturdy and durable item, you can count on it not to buckle from the weight of the gas tank and the other stuff you'll put on it. It also shouldn't warp and melt from the heat the burners will produce.
Aside from these, it should also have some safety features that will prevent accidents. As these fire pits are quite easy to light, the ignition knobs should be designed in a way that makes it difficult to be accidentally engaged.
4. Your budget
Propane fire pit tables are found in a very wide price range, so you might also want to consider setting a budget to narrow down your options.
5. Your location
Where you intend to put a fire pit can also play a huge role in choosing such appliances. Local laws might prohibit owning one, so that can already affect your decision greatly.
Its actual placement in your property can also affect your decision as some spaces might require higher BTU ratings than others.
Research can help you greatly in this area so make sure to do some before you take a pick.
Final Verdict
Choosing a good propane fire pit table may seem like a daunting task at first but once you know the basics, it shouldn't be as overwhelming as it once was.
With all of the tips, recommendations, and bits of information we've provided above, we're confident that you'll be able to take a pick in no time.