When it comes to cooking a turkey, you have two options: roast or deep fry. Both have its pros and cons. It depends entirely on your preferences whether you should look for the best oil-less turkey fryer or deep fryer.
Due to the many dangers of deep frying, a lot of people are opting to roast their turkeys instead. No matter how mouth-watering those deep-fried recipes can be, those who aren't too keen on working with a large amount of hot oil will think twice.
Besides, there are quite a few effective techniques in ensuring that your turkey has a crispy outside even if it's roasted. This means that these oil-less fryers can still give you the results you want.  So with the relatively safer setup they offer, it can be a more attractive option for lots of households.
To help you decide whether you really want to go oil-less, here's a lowdown on everything you need to know about oil-less turkey fryers.
Top Rated 5 Oil-less Turkey Fryers 2021 – Get The Right Model:
Top Trending Oil-less Turkey Fryer Products:
Our Picks of 5 Best Oil-less Turkey Fryer Reviews:
What can you expect from the oil less turkey fryers and which ones are actually worth looking into? Here are five of our picks that you should help you get better acquainted with these appliances.
Touted as a 'stress-free' turkey cooker, the Char-Broil Big Easy Oil-Less Liquid Propane Turkey Fryer is one of the most popular oil-less fryers out there today.
Don't let its unassuming appearance fool you, though. This is a powerful cooker that can "fry" your meats quickly.
Designed for outdoor use, you can get the whole cooking outside experience without the dangers of deep frying.
It's also easy to use so it can easily be a good alternative to the deep fryer you're eyeing.
Features:
Char-Broil TRU-Infrared Cooking Technology
Adjustable Temperature
Rotary Ignition
Double-wall Construction
16-lb Cooking Capacity
Propane Gas Hose with Regulator
Drip Tray
Cooking Basket, Lid, Basket Lifting Tool, and Meat Thermometer Included
Additional Accessories Available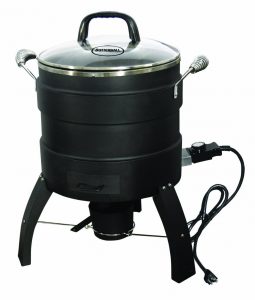 Those who aren't big fans of using and storing a propane tank at home can find the Masterbuilt 20100809 oil-less Turkey Fryer a solid pick.
Being an electric turkey fryer, this eliminates the need for setting up the gas line every time you want to cook. Just plug it in and you're good to go.
Another attractive offering this product has is its affordability. It's large cooking capacity combined with the convenience it has to offer makes this product practically a steal.
Features:
Electric oil-less Turkey Fryer (1,650-watts)
Double-wall construction
Radiant Heat Technology
Easy-dial Analog Control
Built-in Wood Chip Box
Removable Drip Pan
18-lb Cooking Capacity
Tempered Glass Lid
Cooking Basket and Stand Included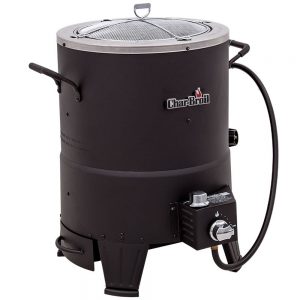 Being a leading name in the industry, it shouldn't be surprising that Char-Broil will have a few best selling items.
The Char-Broil The Big Easy Oil-less Turkey Fryer is one of them because of its powerful heating element and overall design.
Its main highlight is its use of a 16,000 BTUs in its heating element. Combined with the unit's design and the Char-Broil TRU-Infrared Cooking Technology, it generates enough heat to cook efficiently.
Features:
Char-Broil TRU-Infrared Cooking Technology
16,000 BTU Propane Burners
16-lb Cooking Capacity
Rotary Ignition
Adjustable Temperature
Cooking Basket and Lifter Included
Gas Hose
Meat Thermometer
Optional Accessories Available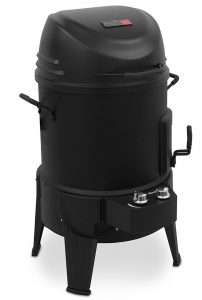 For a multifunctional outdoor cooker, the Char-Broil The Big Easy Tru-infrared Smoker Roaster & Grill Turkey can be a good choice.
This product is a smoker, grill, and roaster in one so it can be a great addition to households who enjoy cooking various dishes outside.
Equipped with a powerful burner that can use from 9,000 to 18,000 BTUs, this turkey fryer uses effective infrared heat technology to get the job done. Combined with its double wall construction and enclosed design, it can meet the requirements of various dishes.
Features:
TRU-Infrared Technology
25-lb Cooking Capacity
18,000 BTU Rating
Double Wall Construction
Rotary Ignition
Temperature Control
Smoker Box
Stacked Rotating Cooking Basket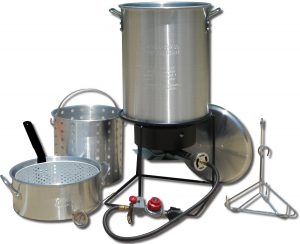 The King Kooker 1265BF3 may not be an oil-less fryer but it's still worth looking into. Its friendly price and number of inclusions practically make it a steal, for starters.
It has everything you need to start deep frying right away. Its powerful burner is also noteworthy.
Due to its design, you can also refer to this product as a multicooker. It can also be used for steaming and boiling. So if you're after a product that can do more than just cook your Thanksgiving feast, this can be a good choice.
Features:
Propane Outdoor Deep Fryer Set
29-Qt Aluminum Pot with Cooking Basket
11-Qt Aluminum Fry Pan with Cooking Basket
Turkey Rack
Aluminum Hook
33,000 BTU Rated Cast Burner
What is an Oil-less Turkey Fryer?
Firstly, you might be wondering what exactly an oil-less turkey fryer is.
Simply put, this is a cooking appliance that uses hot air to cook your food. It's actually more similar to an oven instead of a fryer since fryers use the heat of the oil to cook food.
By completely eliminating oil in the equation, an oil-less turkey fryer is mostly an oven made to look like a deep fryer.
Like deep fryers, however, oil-less fryers can be powered by electricity or propane. They come in various shapes and sizes, too. Electric units often look like regular kitchen countertop appliances while propane-powered models look like outdoor deep fryers.
Oil-less Turkey Fryer – How Does It Work?
The science behind the best turkey fryers may sound extravagant, but in reality, it's quite straightforward. It works through the following concepts:
1. Hot air heats things up.
Like your regular oven or air fryer, an oil-less turkey fryer comes with a heating element. There's no standard technique or engineering design for this as some use infrared heat while others use contained fire.
2. Ample air circulation ensures everything gets cooked.
The fact that hot air moves inside oil-less fryers tend to set this cooking appliance apart from your traditional oven.
Some have fans to push the hot air around while others have their double wall construction to give room for the heat to radiate into the cooking chamber. These will then ensure that the hot air will apply enough heat to your ingredients to cook it.
3. Double-wall construction keeps the heat in.
Aside from being where the heat is circulated, the double wall construction of many oil-less fryers also ensure that the appliance won't lose radiant heat. The double layers of walling material will trap the heat in so your food will be cooked more efficiently.
4. Applying oil on the outside leads to a juicier and crispier result.
Because you're not really frying your food in an oil-less fryer, you shouldn't expect it to be as crispy and crunchy as deep-fried dishes. However, you can still whip up a crunchy dish with an oil-less fryer by adding some oil.
Just coat the outer layer of your meat with some cooking oil before placing it inside the cooker and you're good to go.
5. Preheating will get things started.
Just like with any cooking equipment, you can't just place your ingredients without preheating your pan, oven, or pot. Your ingredients will stick and become undercooked, it will also prolong your cooking session.
Oil-less turkey fryers also work like this as preheating will prevent straining your appliance too much while it's still getting ready to start working.
How to Season Oil-less Turkey Fryer?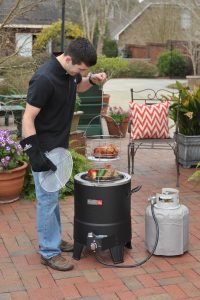 Like other cooking equipment, seasoning your oil-less turkey fryer can be a good idea. It can effectively remove the manufacturing residues left in your unit, and provide a safe and nice cooking surface for you.
It might stain a little, but that shouldn't be a problem. Most people prefer an imperfect pot over something that can make their food taste nasty.
So, how do you season your oil-less fryer? It's as simple as seasoning cast iron cookware. Here are the steps:
1. Wash the cooking pot thoroughly with soap and water. If your unit won't allow you to remove the pot, use a soapy sponge to remove the dirt then "rinse" it off with a clean, damp sponge. Repeat until all of the suds are gone.
2. Coat the inside of the cooking pot with a layer of vegetable oil of your choosing.
3. Place the cooking pot inside your fryer.
4. Turn on your fryer and let it run for about ten to fifteen minutes in medium heat.
How to Cook with Oil-less Turkey Fryer?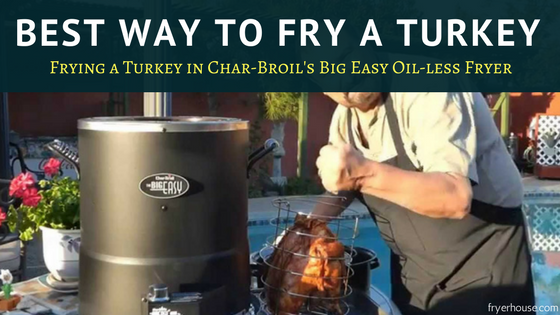 Once you've got your fryer seasoned, you can then start cooking with it. But how do you do that? Here are some important steps:
1. Read your unit's user guide.
This should actually go before you even season your unit. Make sure you know how to attach the power supply or heat source and how to turn on the heat. The manual will help you with that, so don't skip reading it.
2. Coat your cooking basket and/or ingredients with oil.
Once you know which knobs to turn or buttons to press and you already have an idea which accessory is for what purpose, you're ready to start cooking. For this, a useful tip would be to coat your cooking basket and ingredients with oil.
Coating your meat with oil can promise a crispier outer layer of your dish. It can also help make your dish taste like it's fried instead of roasted.
Coating your cooking basket with oil is also essential. It can prevent your food from sticking into the cooker which can prevent wasted food and make cleanups easier.
3. Use a meat thermometer.
When cooking a large chunk of meat, you'll always need to use a meat thermometer to ensure that your food is cooked thoroughly. Do not skip this part when using this cooking equipment because even the best electric oil less turkey fryers can still fail if used incorrectly.
10 Benefits of Using an Oil-less Turkey Fryer: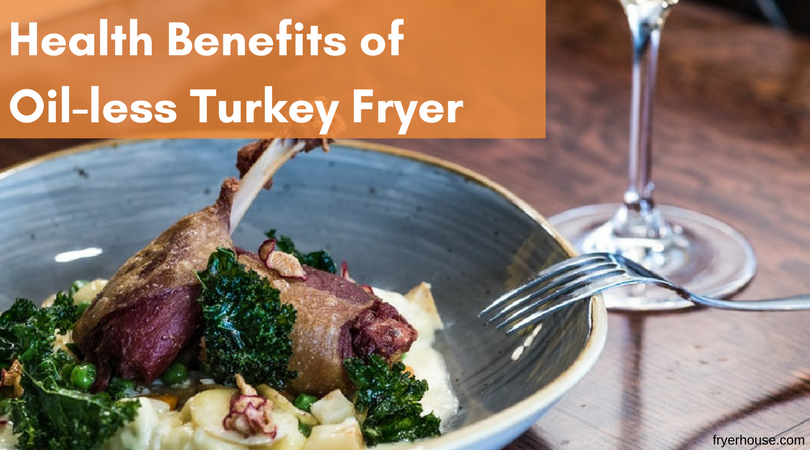 To further convince you that electric oil-less turkey fryers are worth a shot, here are ten of its great benefits.
Buying Guide – How to Choose the Best Oil-less Turkey Fryer?
Now that you know the benefits and a few of the turkey fryers out there, learning a few tips how to narrow down your options will be necessary.
For this, here are a few of the most important points that you should remember when shopping for an oil-less turkey fryer:
1. Safety First
While oil-less fryers are generally safer than deep fryers, there's no denying the fact that cooking appliances still come with a good amount of risks.
So make sure to look for useful safety features like a magnetic breakaway cord, heatproof lids, and cool touch sides among many others.
2. Look for Quality
You should never ignore quality when it comes to any cooking equipment. It won't just be wasteful if your fryer decides to fall apart as you cook but it's also very dangerous for you.
Look into what reputable brands have to offer. Read reviews. Be thorough in getting to know the details like the materials used in a particular product. Doing these can help you make sure that you'll find a good quality oil-less turkey fryer.
3. Size Always Matters
When it comes to cooking equipment, you should always go for an item that will let you cook efficiently. You should always choose the right sized pots, pans, and appliances so you should also do the same for an oil-less turkey fryer.
Since you'll be cooking turkey, make sure to consider how many people will be dining with you when you cook a turkey. If you love entertaining, getting a large cooker will be ideal.
If you only need to cook for your family, it will be practical to go for a small unit. It's all up to what you need in a fryer, so make sure to be thorough when deciding with this feature.
4. Cooking Efficiency
Not all oil-less fryers are made equal. Some of them won't even be able to hold the heat properly which will leave you with an inefficient cooking equipment. This is why you should be thorough when looking at how it's powered.
For electric options, go for something with high wattage. This detail can help you determine how well it can sustain the heat production.
For propane varieties, things can be trickier. Not all of them list their BTU ratings so it's hard to standardize. Reading reviews can help, though, so make sure to turn to those to be as thorough as you possibly can.
Final Verdict
We hope this guide gets to help you weigh your options when it comes to the best oil-less turkey fryer. With so many options to choose from, picking just one can be overwhelming.
The pressure of making the right decision is also heavier as this cooking equipment can make or break your holiday feasts.
Fret not, however, as these appliances have certain distinctions that can help you decide which one suits your needs and requirements better. The most important thing is that you should know what you need so you can find the right match for you.