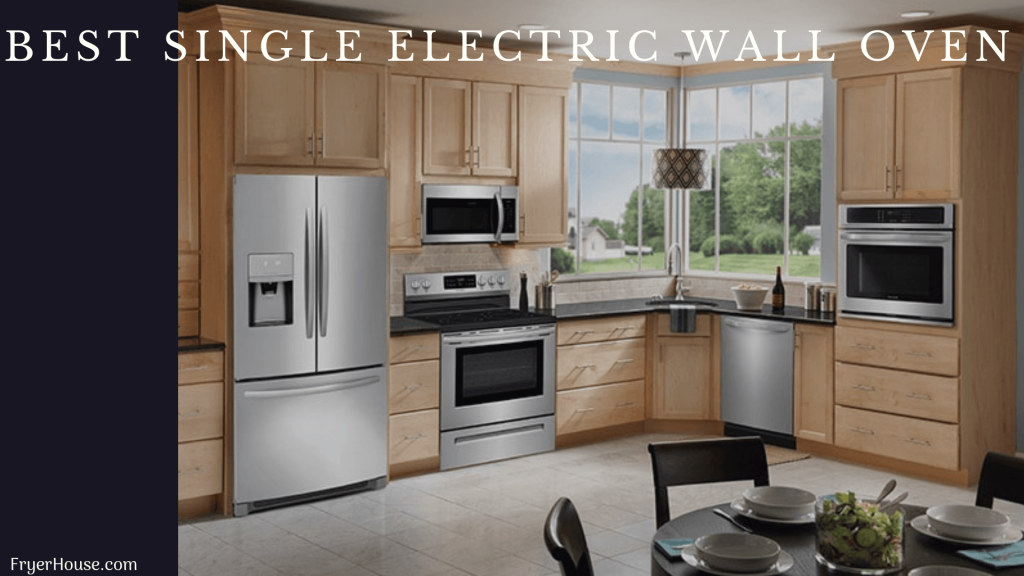 Choosing between the best electric single wall oven and a reliable cooking range with an oven is one of the biggest dilemmas a lot of people face when furnishing their kitchen.
Both are such great options but on many occasions, only one will really suit your needs and requirements.
While both options offer a certain degree of versatility, a lot of people prefer the single wall oven for its flexible design and cooking space.
Sure, it's not a portable option but it's way easier to stick in a specific position that works the best for you.
You can't really place a cooking range with the oven at eye-level but you can do that without a fuss with a wall oven. This makes it easier and safer to work with.
Space concerns about the single wall oven are also quite easy to resolve. While they're typically smaller than a range oven, you also have the option to just get two units if you need more cooking space.
Some experts actually recommend doing this instead of getting a double wall oven for maintenance purposes. In case one oven goes out, there's a high chance that you'll still have one that works.
Already decided on getting a single wall oven? Then what you might be looking for now is the actual unit to get.
There are tons of great options out there but you'll need the best one for your home. So to help you in this area, check out our buying guide and product suggestions below.
Top 10 Single Electric Wall Ovens in 2021 – Get The Right Model:
Our Picks of 10 Best Single Electric Wall Oven Reviews:
Here are ten of our picks with brief reviews that might help you find your perfect match: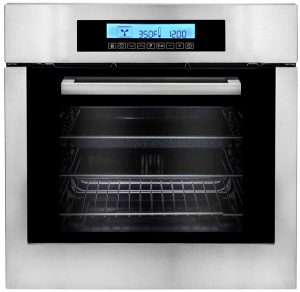 Hailed by many as the nifty, practical option, the Cosmo C106six-PT 24in 2 cu. Ft 10 Functions wall oven proves to be a great fit in many households.
It might not be that big, but for many households, it's already the perfect size for their needs.
This, combined with its 10 cooking modes and self-cleaning feature makes it a great match for a lot of homes.
Features:
[su_list icon="icon: check" icon_color="#228B22″]
Electric oven
2 cu. ft capacity
17" x 16.5" x 12.5" interior dimensions
4" x 23.4" x 23.2" exterior dimensions
10 functions (Convection, Fan Assisted Grill, Grill Mode, Baking, Delicate, Defrost, Fast Cooking, Top, Multi-Cooking, and Pizza)
Stainless steel exterior
Cool-touch glass door with handle
Backlit digital display
Touch controls
5 rack positions
Self-cleaning
2-year warranty
[/su_list]
For those who prefer a more basic wall oven, the Cosmo C51EIX 24 in. 2 cu. ft. 5 Functions would be an excellent choice.
This item doesn't come with a lot of bells and whistles so it can be less intimidating to work with.
It's certainly a straightforward pick that offers great bang for your buck.
Features:
[su_list icon="icon: check" icon_color="#228B22″]
Electric oven
2 cu. ft capacity
17" x 18" x 12" interior dimensions
23 ⅜" x 21 ⅜" x 23 ⅙" exterior dimensions
5 functions (Turbo True European Convection, Convection Broil, Broil, and Bake
Mechanical dial controls
Digital clock timer
Auto switch off
Triple layer glass door
2-year warranty
[/su_list]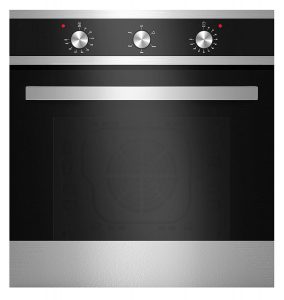 With its sleek, modern design, you won't expect the Empava EMPV-24WOA16 24" Tempered Glass Electric oven to be a budget pick.
It is, though, which makes it all the more attractive for a lot of households.
Expect to do a bit more work with this oven, however, since it is a very basic baking appliance.
Features:
[su_list icon="icon: check" icon_color="#228B22″]
Electric oven
3 cu. ft capacity
43″ x 23.43″ x 22.64″ exterior dimensions
18″ x 13″ x 16″ interior dimensions
Interior oven light
Forced Cooling Exhaust System
Mechanical control knobs
Sleek, modern design
220V
1-year warranty
[/su_list]
If you're after something from an established brand, the GE JK5000SFSS 27 Single Wall Oven would be a solid option.
Made by one of the most popular kitchen appliance manufacturers in the world, you can expect top-notch quality and performance from this item.
It also delivers as it comes with lots of great features and functionalities that make this item worth the investment.
Features:
[su_list icon="icon: check" icon_color="#228B22″]
Electric oven
3 cu. ft. capacity
5" x 29.5" x 33.5" exterior dimensions
21-½" x 17-¼" x 20" interior dimensions
4 functions (Convection Bake Multi-Rack, Convection Roast, Thermal Bake, and Thermal Broil)
Halogen oven light
Glass touch controls with LED display
Self-cleaning with a Steam Clean feature
1-year warranty
[/su_list]
Like the other Empava item listed above, the Empava EMPV-24WOC02 24 inch single wall oven is a modern-looking option that offers great value for your money.
Its affordable price tag comes with tons of great features, including 10 cooking modes which makes it a popular pick for practical homes.
Features:
[su_list icon="icon: check" icon_color="#228B22″]
Electric oven
3 cu. ft capacity
10 functions (Rotisserie, Preheat, True Convection Broil, Broil, Convection Roast, Roast, Bake, etc)
43″ x 23.43″ x 22.64″ exterior dimension
18″ x 13″ x 16″ interior dimension
Touch controls with LED display
5 rack positions
Child lock function
Forced cooling
220V
[/su_list]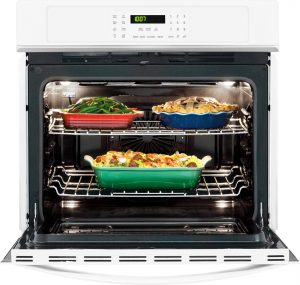 'Fully-loaded' would be the best term to describe the Frigidaire Gallery 27 DMAFRIGFGEW2765PF.
It might not be the biggest wall oven out there but it's packed with features that make its operation easy and simple.
Its controls make it stand out since it has dedicated buttons for each function. This makes it more straightforward and easier for some households to work with.
Features:
[su_list icon="icon: check" icon_color="#228B22″]
Electric oven
8 cu. ft capacity
27″ x 24-3/4″ x 29″ exterior dimensions
Smudge-proof stainless steel exterior material
Quick Clean and Steam Clean functions
Effortless temperature probe
Delay start cooking setting
One-touch cooking options
[/su_list]
It's love at first sight for most homeowners with the GE Cafe CT9070SHSS 30″. Why wouldn't you fall for this fancy and charming single wall oven when it has an adorable modern French door design?
It will totally go with your side-by-side fridge and complement the contemporary feel of your kitchen.
And did we mention that it has wireless connectivity? This makes it an even more attractive pick for a state-of-the-art home.
Features:
[su_list icon="icon: check" icon_color="#228B22″]
'Smart' Electric oven
5 cu. ft capacity
29 3/4″ X 28 5/8″ X 27 3/4″ exterior dimensions
7 functions (Convection Bake, Convection Bake Multi-Rack, Convection Broil, Convection Roast, Crisp Broil, Thermal Bake, Thermal Broil)
Wireless controls using WiFi
Modern French door design
Electronic dial controls
Steam Clean function
[/su_list]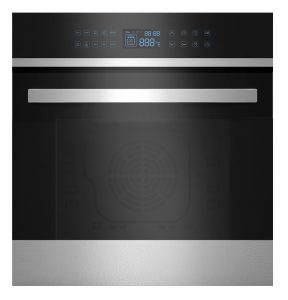 Another sleek and expensive-looking pick for a wall oven would be the Empava 24WOB21 24″ Black Tempered Glass.
This appliance looks and operates like its more expensive counterparts so it's practically a steal.
With its 9 cooking modes and solid build, it could be a good addition to your well-equipped kitchen.
Features:
[su_list icon="icon: check" icon_color="#228B22″]
Electric oven
3 cu. ft capacity
43″ x 23.43″ x 22.64″ exterior dimension
18″ x 13″ x 16″ interior dimension
9 functions
Black tempered glass control panel
Touch control with LED display
Child safety lock function
220V
[/su_list]
The Hyaki HYK-24WOX03 24" Modern Style 220V oven may be small but it packs a punch with its functionality, performance, and price.
A popular pick for mobile homes, small apartments, and offices, it can be what you're looking for if you just need a tiny oven for your compact kitchen.
Features:
[su_list icon="icon: check" icon_color="#228B22″]
Electric oven
3 cu. ft capacity
43" x 20.67" x 23.43" exterior dimensions
18" x 16″ x 13″ interior dimensions
3 cooking modes (Bake, Broil, and Roast)
Mechanical dial controls
Forced cooling exhaust system
2-layer tempered glass door
Stainless steel body
[/su_list]
With the features and functionalities of the Fagor 6HA200TDX 24-Inch oven, it will be hard to notice that it's one of the smallest wall ovens on this list.
It has 10 cooking modes and a lot of safety features, so if you want a well-rounded cooking appliance that won't take up a lot of space in your kitchen, take a look at this.
Features:
[su_list icon="icon: check" icon_color="#228B22″]
Electric oven
98 cu. ft capacity
4" x 23.4" x 23.2" exterior dimensions
10 functions including Pizza and Memory mode
Touch controls
Child safety lock
Stainless steel body
Telescopic pull out system
Triple-layer glass door
[/su_list]
How to Install a Single Wall Oven?
Before we start enumerating the single electric wall ovens that you should consider, you might first want to get to learn about one of the most technical parts of getting this piece of equipment.
By getting to know how they are installed, you can better decide if this item is really the best choice for your home.
So how do you install? Here are the steps:
1. Prepare the area where you'll install the wall oven.
To ensure the smoothness and efficiency of the installation process, make sure to ready the spot where you intend to place the wall oven first.
Here are a few things that you can and should do for this step:
Remove the old wall oven unit if there was one.
Build the cabinet where the new wall oven unit will go according to its specifications.
Set up the hookups needed by the wall oven. Position the wires and other connections where they can be more accessible and easier to connect to your wall oven.
With all of these complete, you can already start working with the oven unit.
2. Place the unit in front of the spot where you intend to install it.
With the bulkiness and heavy weight of a single wall oven, it's best to position it by its permanent spot right away. This will make your installation process a lot more efficient.
3. Carefully unbox the new wall oven.
No one wants to damage their new appliance before they even get to use them so be careful in completing this step. Take out all of the contents of the oven.
These are primarily composed of the fitting components and user manual. Place them somewhere accessible as you will be using them later on.
4. Read the user manual.
As not all wall ovens are designed the same way, installing them might require different steps and procedures. This is why you need to read the user manual to know the specific steps in installing your unit.
Doing this will also help you cover all your bases to make sure that your installation process won't void the warranty of your unit.
Take note of the important things in the manual that will help you install the unit effectively. You can also continue referring to this booklet as you install the unit to ensure that you're doing things correctly.
5. Hook up the oven to the electric or gas line (or both) of your home.
If you're capable of connecting the wiring of your new oven to your gas or electric lines, this would be the time to do so.
Usually, the wires that come with the units are long enough to reach inside the oven enclosure so you don't have to worry about having to take down walls or make holes.
If you're not experienced in doing this, it's best to hire a professional to do it for you. This will be a safer option for many.
6. Take the measurements of the mounting spots on your wall oven unit.
You will need to secure your oven even if it fits snugly into its enclosure. To do this, take the measurements you need to mark and pre-drill holes into your wall or cabinet that will serve as anchor points for your oven.
If you're completely sure that you've got them at the right spots, drill the holes using the correct size and type of tools.
7. Carefully place the unit into its spot.
With the help of a friend or another household member, lift the oven unit and slide it into place. Be careful about the wires and connections as being too hasty can damage them. Push it in until the flange sits flush against the face of the cabinet.
8. Secure the oven into place.
With the help of the fitting components included in the package, you can secure the oven in place. Align the holes of the oven's mounting parts to the holes you pre-drilled then screw the appliance in place.
9. Test the oven.
Once in place, test the oven if it's properly installed and connected to your lines. If you find any issues, this will be the best time to fix them.
Buying Guide – How to Choose the Best Single Wall Oven?
With all of the great options we've presented above, it will be a surprise if you don't have a hard time choosing one.
So to further help you narrow down your options or maybe even take a pick among them, here are a few things to ask yourself when trying to choose the best one for your kitchen.
1. What size is the right one for your needs?
Single wall ovens typically come in 24", 27", and 30" sizes. They're relatively smaller than range ovens but they can certainly be the better options for some households.
They can suit different needs and requirements as well, so its best to closely take those things into consideration when making a choice.
Aside from the oven's size, its cooking capacity should also be a major factor for your decision making. The food you'll prepare should fit inside the oven you'll get to make cooking more convenient and easy for you.
So if you often cook a lot, go for a bigger size. If you only need to cook for 2-3 persons on a regular basis, the smaller units would already be great picks.
2. What door-style should you choose?
You have two options when it comes to wall oven door-styles: the French door style or the drop-down style. They can play a huge role in the oven's ease of use and aesthetics so you should also think about it closely.
3. What are the oven features that you'll love to have at home?
Different wall ovens come with various features. Some are more basic while others have long lists of functionalities. It's up to you whether to go for a straightforward model or one with all the bells and whistles.
Just make sure to choose one that comes with features that you'll actually use as it might not be wise to overpay.
4. What are people saying about the model you're eyeing?
Reviews are always useful if you want to learn about the performance of a product. The same goes for wall ovens. This is why you should also take a look at the feedback on the models you're eyeing so you can get to know it better.
5. Will you be able to use the oven?
There may be lots of great single wall oven options out there but you won't find all of them useful or easy to work with.
As our list above demonstrates, there are some units that come with different voltage ratings as the ones used in the US. Those could complicate the setup process so it might not be the best picks for all households.
The best electric single wall oven for you would be the very one that you can use. So if you want to make sure to find such an appliance, you should make sure that you can use it with ease and convenience.
Final Verdict
If you're after the top single wall oven, it's best to arm yourself with useful information that can help you choose wisely.
Hopefully, our tips and recommendations above help you out in this regard. With a reliable cooking appliance at home, you can be sure to make great dishes and memories for your loved ones.