Most households either roast or deep fry their turkey during the holidays since these two are the traditional cooking methods for the occasion.
However, did you know that you can also fry your bird without any oil with the help of the latest infrared turkey fryer?
While some people consider this method the same as roasting, oil-less frying is still worth noting because it offers something different from the traditional oven and rotisserie.
The fact that it uses infrared heat instead of just hot air or boiling cooking oil makes it stand out. So if you want to try something else other than roasting or deep frying,
this cooker
can be a good pick for you.
If you've never encountered an infrared turkey fryer before, you might be wondering just what, exactly, this cooking equipment is.
Simply put, it's an outdoor bucket-style fryer that works a lot like an oven. It promises to have similar results to deep fryers but it doesn't require the use of oil to get the job done.
While its results aren't exactly the same as deep fryers, it is still favored for its quick and effective performance. So even if you're technically roasting your turkey, this cooking appliance can do it faster than an oven. It's also less labor intensive than roasting, so it's certainly an alternative that's worth looking into.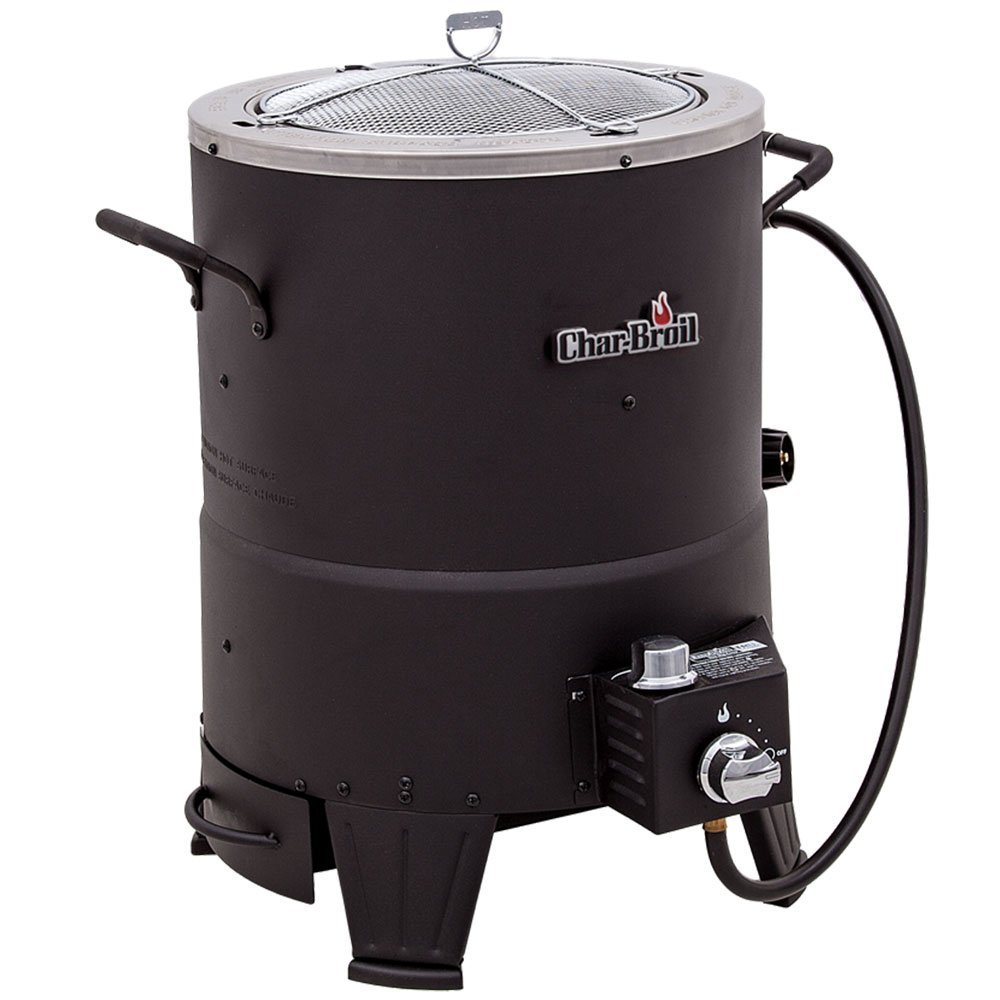 One of the most popular infrared turkey fryers out there is the Char-Broil Infrared Turkey Fryer. Also known as the Big Easy, this product makes frying meats simpler and more convenient for all kinds of users.
What makes it worth your time are its key features:
1. Char-Broil TRU Infrared Technology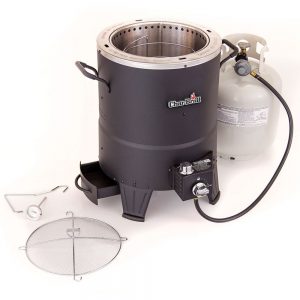 The Char-Broil Big Easy stands out because of its patented TRU Infrared technology. This special design promises to eliminate hot and cold spots so it can promise to evenly distribute heat into the cooking chamber.
As a result, it promises thorough and efficient cooking.
This technology also lets you explore different ways to prepare your turkey. You can use rubs or injectable marinades with this cooker. So if you want to try different recipes for your bird, this cooker can help you out.
2. 16-lb Cooking Capacity
While it's not the biggest cooker out there, the Big Easy can already fit large chunks of meat that can feed up to 10 people. If you love entertaining guests or having some family over, this product can already help you whip up a small feast.
3. Rotary Ignition
Operating the Big Easy is quite straightforward as you only really need to fiddle with its 'on' and rotary ignition knobs. You can adjust the heat settings with the latter as well, so you can cook your dish properly.
The best thing about these controls is that you don't even need to work with a lighter anymore. You just have to turn the knob and it will fire up the unit automatically. This makes it easier and more convenient to work with.
4. Drip Tray
When cooking any kind of meat, it can release some juices. This can be dangerous to have sitting in the bottom of an infrared fryer so the Big Easy comes with a drip tray. It can cause a small fire or stain the bottom of your cooking pot.
By draining the juice from your turkey and collecting it in a separate container, you can also easily use it to make the tastiest sauces. This makes the drip tray really handy and useful.
5. Useful Accessories Included
If you want to make the most out of your Big Easy, you can also do so by purchasing additional accessories like the Bunk Bed Basket, Stackable Oven, and 22-pc Accessory Kit.
These will let you cook more dishes in one go, bake, and even try various kinds of dishes with your infrared fryer.
[su_row][su_column size="1/2″][su_list icon="icon: check" icon_color="#228B22″ class="posbox"]
Product Benefits
Perfectly easy to use
Safer to operate than a deep fryer
Can let you enjoy lower calorie dishes
Highly versatile
Can cook a lot of food
Very efficient
More cost-effective than deep fryers
Cooks evenly and thoroughly
Additional accessories available to extend its usability
Won't heat up your kitchen as it's meant to be used outside
[/su_list][/su_column]
[su_column size="1/2″][su_list icon="icon: warning" icon_color="#ff0000″ class="negbox"]
The Negative Things
Cooking times can be tricky
Can be tricky to start when its cold out
Cooking basket needs some skilled maneuvering when taking out the cooked bird
[/su_list][/su_column][/su_row]
How Long to Cook Turkey in an Infrared Turkey Fryer?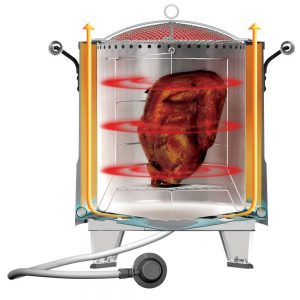 As mentioned above, one of the biggest draws of the turkey fryers is its efficiency. Its cooking time sits somewhere between deep frying and roasting. This makes it an excellent alternative to roasting without having to deal with gallons of cooking oil.
Just how long does it take for an infrared turkey fryer to get the job done? For turkey and chicken, they usually take 8 to 10 minutes per pound.
Other meats take longer than that. A bit of research and testing might be necessary to find the right cooking time for other types of meats.
Your cooking time will still depend on the size of the meat you have but the process is still slightly faster than roasting.
The way the cooker is designed will also make the actual cooking easier for you so you won't just get to enjoy shorter food preparation times but it will also make the entire task simpler for you to accomplish.
How Does an Infrared Turkey Fryer Work?
Despite the name, infrared turkey fryers have a straightforward technology that anyone can understand. Its main components are the liquid propane, double-wall construction of the unit, and the rotary ignition.
It all starts with the turn of the rotary ignition. It releases propane gas and mixes it into the air to start a flame. The flames from the burner will then heat up the space between the double-wall design of the cooker.
The heat can then radiate into the cooking chamber by moving around the space between the walls double walls. This can reach really high temperatures and cook your turkey in a shorter amount of time than an oven.
Due to the cooker's design, the hot air can also escape through the exit holes in the unit. This prevents drying the meat which allows this cooker to offer great results.
10 Benefits of Using Infrared Turkey Fryer:
Why should you opt for the best infrared turkey? Here are a few good reasons:
1. It's safer to use.
Compared to deep fryers, infrared turkey fryers can be safer to use. As you won't have to put yourself in the vicinity of a large amount of boiling oil, these cookers can definitely lessen cooking risks.
Note, however, that infrared fryers can still reach high temperatures so it still has its risks. You still shouldn't leave it unattended while in operation as it can still cause burns and injuries.
You should also need to make sure to thaw the bird completely and let it sit at room temperature before cooking. But since it eliminates the volatility of cooking oil, it's still significantly safer to use than deep fryers.
2. It's designed to be an efficient cooker.
The different accessories you can get for these cookers can really help you cook more food with great ease. The bunk bed basket alone can already let you cook not just a lot of food in one go but up to two different dishes as well.
3. There's so much that you can do with these cookers.
Again, it' just a matter of choosing the right accessories to extend the functionality of your infrared turkey fryer. In the case of the Char-Broil The Big Easy, you can also get a stackable oven so you can actually bake in this outdoor cooker.
4. It can be way easier to operate than deep fryers.
While there are deep fryers that are very easy to use, infrared turkey fryers can still be easier to work with in general. The fact alone that you don't even need to use oil to cook with these things is already a great start.
You don't have to heat up a large amount of cooking oil and make sure that it reaches the right temperature to start cooking.
It's also likely that you don't need to use a lighter with a good infrared turkey fryer. You just need to turn the ignition knob and you're all ready to go.
Taking out the meat once it's done is simpler, too. You don't have to worry about splattering and draining with these cookers.
5. It can be cheaper to operate in the long run.
Since you won't need to buy large amounts of oil to cook with this turkey fryer, you can definitely cut some costs. However, it should be noted that these things are not the cheapest options out there.
Some folks might shy away because of the upfront costs it comes with but if you'll do the math, it can still be the more practical choice for many households.
6. It can help you consume fewer calories without sacrificing your enjoyment.
Experts say that there's not a lot of difference in terms of calorie content between roasted and deep-fried turkey unless you're skipping the skin. But what's a holiday meal without some turkey skin, right? So if you want to indulge on a special occasion without the guilt, an infrared turkey fryer can be a better cooker for you.
7. It can be a healthier way to cook a turkey.
Deep-fried foods aren't that bad if you don't do it a lot and if you use the right cooking oil. However, if you're the type who can't stop yourself from eating fried foods regularly, having a deep fryer at home can be dangerous to you.
An infrared fryer, on the other hand, can let you indulge in crispy and juicy dishes without the guilt as they don't use oil. This makes this cooking equipment a more attractive option.
8. It cooks faster than an oven.
The best infrared turkey fryer may not cook as fast as a deep fryer but it still gets the job done faster than an oven. So if you don't want to wait for hours for your turkey to be ready, this can be a nice alternative.
9. It won't heat up your kitchen.
Most infrared turkey fryers are also outdoor cookers. So if you don't want to heat up your kitchen by roasting in your oven, this can be of great help.
10. It can free up your oven so you can cook more food.
Again, this cooker can cook your food instead of using the oven. So if you also have to whip up a lot of food, an infrared fryer can come in handy for you.
How to Use The Char-Broil Infrared Turkey Fryer?
How do you use the Char-Broil Infrared Turkey Fryer? Here's an easy step-by-step guide:
1. Read the manual.
This is the most important step in this guide so make sure to pick up the instruction manual and read it from cover to cover. This will teach you how to use your unit properly.
2. Prepare your turkey.
Use your preferred recipe with a 14-lb or smaller turkey.
3. Take out the cooking basket and insert your turkey inside.
Insert your turkey breast up.
4. Insert the cooking basket in the unit.
Insert the cooking basket and your turkey inside the fryer.
5. Turn the propane knob on and the rotary ignition to fire up the unit.
6. After about 2 hours, check the temperature of your turkey.
If the insides measure 165F, then your turkey is done. Check various areas to make sure that your meat is thoroughly cooked.
7. Attach the lifting hook to the cooking basket to take it out.
8. Turn off the rotary ignition and the propane.
And you're done!
Final Verdict
The strongest suits of the Char-Broil Big Easy is its safe and easy use. Its good performance and convenient operation are noteworthy, too. But as it can be a safer alternative to deep fryers, it's certainly best known for minimizing the risks of grease fires and oil burns.
All of these great points help make it worth considering as the top rated infrared turkey fryer. It can make your food preparation simpler and even free your oven for other dishes.
It's a handy pick, for sure, if you want an additional cooking equipment that will let you cook more in a short span of time.
Topped with a friendly price tag, this cooker is definitely worth looking into. Give it a shot and you might just surprise yourself with how easy cooking a turkey can be with its help.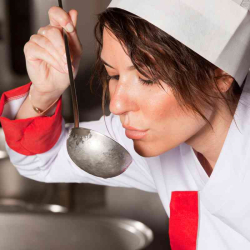 Latest posts by June Brandt
(see all)