Meat lovers know the utterly delightful taste of smoked meat, and they're especially great at backyard parties when the BBQ grill is greatly in demand.
Of course, you can buy a smoker for a couple of hundred bucks a pop. But a simpler alternative when you already have a BBQ grill is to buy a smoker box instead.
With a good smoker box for gas grill, you have an easy way to prepare smoked meat for your parties without the fuss of an actual gas smoker to deal with.
Part of the appeal of smoked meats is that you can experiment with various types of wood chips that would add to the taste of the meat you've chosen.
Get some cherry or apple chips and enjoy the added fragrance and sweetness or go with hickory and mesquite for a more intense spiciness. With a smoker box, you can use these chips much more efficiently and get better results.
Top 10 Smoker Boxes for Gas Grill in 2021 – Get The Right Model:
Top Trending Smoker Box Products:
Our Picks of 10 Best Smoker Box for Gas Grill Reviews:
Some people worry that these smoker boxes are too flimsy, which explains why they're so affordable.
But this particular smoker box from Cave Tools is exceptionally durable. In fact, they're so long-lasting that Cave Tools offers a lifetime satisfaction guarantee.
Its durability is not its only winning feature, however:
[su_list icon="icon: check" icon_color="#228B22″]
Its stainless steel is thicker than usual, and this reduces the potential for warping
You don't have to worry about a hot lid as you can easily add more wood chips through the easily accessible hinged lid
It's not as if you will have to add more chips all the time, as the box offers a large wood chip capacity
You can use this on top of the charcoal or between the grill grates and the flavorizer bars
There aren't any holes in the bottom so the chips will smoke instead of catching fire
Your purchase even offers free downloads of 25 professional recipes and more than 135 cooking videos
[/su_list]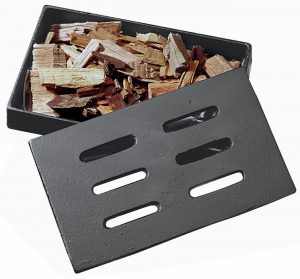 This is a simple smoker box that works very well in the traditional way. This means you have to soak the wood chips first. It works with most grills, so that shouldn't be a worry for you.
All you need to do is to take care of it properly and it will take care of your smoked meat for you.
This means you shouldn't leave it out in the open so it can get wet, as it will rust. Don't drop it as well. But if you take care of it, it will last for a very long time.
[su_list icon="icon: check" icon_color="#228B22″]
Comes with a cast iron body and lid and it won't warp
It keeps the wood chips from catching fire
It should suit most grills
The vent is designed to direct the smoke towards your meat
It measures 8.1 by 5.1 by 1.4 inches
[/su_list]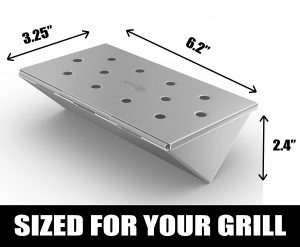 This is a smaller version of the first Cave Tools smoker box on this list. It only measures 6.4 by 4.6 by 2.7 inches. It also has a V-shaped bottom so it's wedged underneath the grill.
Once again, the excellent Cave Tools features are present in this smoker box:
[su_list icon="icon: check" icon_color="#228B22″]
It's made from stainless steel, and it's thicker than usual to minimize warping
If you have a smaller grill, this will fit in just fine
The hinged lid lets you add more wood chips without too much fumbling
The chips don't catch fire as there are no holes on the bottom of the box.
You get the recipes and videos, along with the lifetime guarantee
[/su_list]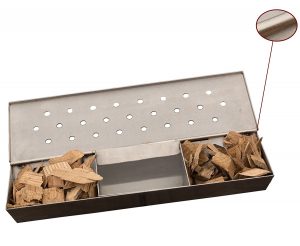 What if you have a larger grill with more meat to smoke? Obviously, you should go with a larger smoker box. This one certainly qualifies, as it measures 13.6 by 4.7 by 2.8 inches.
Having more chips means having more smoke for your meat.
Cave Tools once again offers an excellent list of features you can enjoy with this smoker box:
[su_list icon="icon: check" icon_color="#228B22″]
There's a water reservoir that can make the smoke thicker or to provide space for more wood chips
The stainless steel is once again thicker than usual to prevent warping
You can wedge the V-shaped bottom underneath the grill
There aren't any holes in the bottom of the smoker box to let the wood chips catch fire
You won't bother with a hot lid again as this comes with a hinged lid
[/su_list]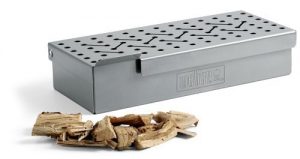 Do you have one of those larger gas grills, or perhaps one in the Weber Q 200/2000 series?
If so, you're better off getting this best smoker box for weber gas grill as it will fit your gas grill precisely. It measures 9.7 by 4.7 by 2 inches.
This thing has an interesting design for its smoke holes, and there are plenty of them. Just set it on your charcoal or gas grill and you're good to go.
It's made of durable stainless steel and its lid is hinged. Just soak the wood chips before you start and you shouldn't have any problems.
[su_list icon="icon: check" icon_color="#228B22″]
It's quite large
It comes with plenty of smoke holes
Hinged lid with a large tab
Just place the flat bottom under the grill grates of the grill
Made of stainless steel
[/su_list]
Yes, it's another smoker box from Cave Tools. Don't be surprised to find that the usual list of excellent Cave Tools features is once again present here. This smoker box measures 9 by 5.1 by 1.3 inches.
So what do we have here?
[su_list icon="icon: check" icon_color="#228B22″]
There's the warp-preventing thicker stainless steel
With its large contact area, you really get a lot of smoke for your meat
It also helps that the box can accommodate up to 3 cups of wood chips so you won't need to refill constantly
There aren't any holes at the bottom so the chips don't catch fire
You can download lots of recipes and videos
Once again, you also enjoy the lifetime satisfaction guarantee
[/su_list]
This is designed to fit right under the grill, wedged between the flame deflector bars of gas grills. This is the large version, which means it's 13.7 inches long.
That offers lots of space for your wood chips. Fill it up and you can get smoke to last up to 2 or even 4 hours.
This one is very easy to clean because the metal has a non-stick coating. Wash it by hand for best results. Opening the lid is also easy, as it has a hinge.
[su_list icon="icon: check" icon_color="#228B22″]
Designed for large gas grills
7 inches long
Non-stick coating for easy cleanup
Hinged lid
V-shaped bottom
[/su_list]
If you're looking for a familiar kitchen brand among the many unfamiliar smoker box brands, you can always go with Cuisinart. It's actually quite inexpensive compared to the other smoker boxes on this list.
This can go with even portable grills, as it isn't very big. It measures 9 by 4 inches, and it's made of tough stainless steel.
Just place its flat bottom on the grill and use soaked chips and you can begin. Once you're done, it's very easy to clean.
[su_list icon="icon: check" icon_color="#228B22″]
It doesn't take up much space on top of the grill
It works with soaked chips
It's very simply to use
Easy to clean afterwards
Works with charcoal and gas grills
[/su_list]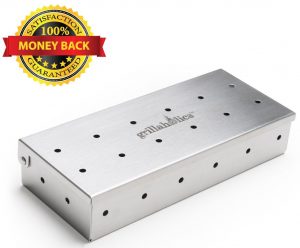 Some people like to go with the bestsellers, figuring that the approval of most people will attest to the quality of the product.
If that's how you choose, then you'll most likely end up with this smoker box because it's so popular. It measures 8.8 by 3.8 by 1.8 inches.
[su_list icon="icon: check" icon_color="#228B22″]
It can work for just about any grill in which it fits
It's very tough as it's made from high quality stainless steel
It's able to accommodate a large quantity of wood chips
The lid opens easily
[/su_list]
The nice thing about the dark color of cast iron smoker boxes like this one is that you don't have to worry about it turning dark. It's already dark.
Of course, that's not the only advantage of this particular smoker box.
This measures 5 by 8 by 1.5 inches, while the holes on the lid are actually large slots. It has a flat bottom and you can just set it across the burner covers. The cast iron construction is quite solid and it won't let the chips catch fire.
[su_list icon="icon: check" icon_color="#228B22″]
Made of cast iron
The wood chips won't catch fire
It has a sizable container
It works perfectly
[/su_list]
What is a Smoker Box for Gas Grill?
A smoker box is wood chip container that turns your gas grill into a makeshift smoker. It's usually made of metal, such as stainless steel or cast iron.
It comes with holes at the top where the smoke from the wood chips come out. You place the box on your gas grill, and when you close the lid of the grill you let your meat (or fish) absorb the smoke to add to its flavor.
It's a simple device that doesn't take up much space or cost as much as a full gas smoker. It's easy to use as well. It's an accessory to your gas grill that can extend the variety of meats you can prepare for your backyard parties.
How to Use a Smoker Box for Gas Grill?
Using smoker boxes for your gas grill is actually quite simple. First you need to pick the right type of wood chips. There are plenty of choices, though you should do some online research to get the flavor you want and to avoid the toxic wood options.
Then you can place the wood chips inside the box. Half a cup of wood chips will do for a start. These can be dry which makes them smoke more quickly, or you can soak them first in water for half an hour so they'll smoke longer.
Place the box in the appropriate section of your grill. Those with V-shaped bottoms go in between the flame deflector bars underneath the grill. The ones with flat bottoms go over the grill.
Once the wood chips start to smoke, you can then close the lid so that your meat or fish can fully absorb the smoke. Wait for half an hour and you're good to go.
Smoker Box Recipes:
Recipes for smoker boxes for gas grill are mostly about picking the appropriate type of wood chips. Your choice will depend on the suitability of the wood chips with your meat and also on your own personal preferences.
Here are some tips on what kind of wood chips you can use:
Mild and smoky, it's great with pork and lamb.
This type of wood chip is spicy, bright, and smoky. You can use it for seafood and for cheeses too.
It's very rich and full of flavor, and you can use it for lamb, pork, and poultry.
This versatile wood chip adds a nice sweetness to your smoked food. You can use it for pork and poultry, for seafood, and even for cheeses.
This is another sweet option, and it's great with poultry and pork.
In many areas the pungent taste of hickory is a solid favorite. It goes with pork and beef, and even with lamb.
Another excellent choice if you like pungent and spicy meat, mesquite is best for pork and beef.
Back to another sweet choice which goes well with poultry and pork.
This is similar to mesquite though its flavor isn't as heavy.
It's very sweet, and it goes well with just about every type of meat.
This burns fast, and the taste is light but very distinctive. Use it with red meat and fish.
It's very subtle and light, and it adds a nice hint of floral scent to your meat. You can use it for lamb and for seafood too.
The smoke flavor you get here is nice and subtle, and it works with pork and chicken. It's very similar to an apple.
DO NOT use sycamore, sassafras, eucalyptus and elm wood chips. The wood chips from most conifer trees are also unsuitable, so avoid cypress, redwood, spruce, fir, and pine.
Benefits of Using a Smoker Box:
It's much cheaper than buying a full-fledged gas smoker.
It doesn't take up much space.
It's easy to bring along to campsites.
It's easy to use.
It doesn't take as long to prepare the food.
It's much better than using a foil packet or a makeshift soup can.
The results are better than tossing the wood chips directly into the fire.
It's easy to clean.
You get to extend the capabilities of your gas grill.
They can last for a long while, so they're a great investment.
Buying Guide – How to Choose the Best Smoker Box for Gas Grill?
The price isn't really much of a factor, as they range from a little less than $10 for the smaller ones to almost $30 for the much bigger boxes. Here are the factors you need to consider:
1. Size
Of course, you want a box that actually fits your grill. A larger size also accommodates more wood chips so you can get more smoke. If you use more wood chips, you also won't have to constantly refill the box.
2. Material Construction
Most of the time, you're faced with a choice between cast iron and stainless steel. With cast iron, you have a smoker box that should hold up well under high temperatures. It's much more solid. On the other hand, stainless steel is less likely to rust. You can also get the best of both worlds by getting thicker than usual stainless steel.
3. Bottom Design
This will either come with a flat or a V-shaped bottom. It all depends on what will fit in your grill.
4. Coating
Most of the time, the coating will let you clean the smoker box more easily. The black coating also looks better, because the dark marks won't be as noticeable.
5. Lid Design
Some smoker boxes have lids so you won't have to use both hands to take the lid off from the box. You also don't risk dropping the lid either.
6. Smoke Hole Design
Aside from the aesthetics, the smoke hole size and design can determine how much smoke goes out from the smoker box.
7. Warranties and Guarantees
It's great if it has a lifetime refund guarantee. Lots of smoker holes may rust easily, while others may also warp under the heat.
Final Verdict
It's easy enough to understand why people would want to by a smoker box instead of a full-sized gas smoker. It's just so easy to use and it's much more affordable too.
However, you need to make sure that you get the latest smoker box for gas grill because the inferior ones won't last very long.
The best ones let you use it with ease, and it can truly infuse your meat with that delectable smoky taste and smell that will have your neighbors looking over the fence with envy when you have your backyard parties!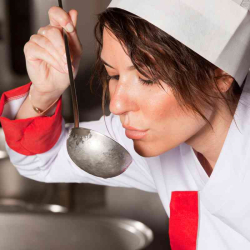 Latest posts by June Brandt
(see all)