Small households naturally require smaller appliances as they can help in better portioning and won't take up too much space in tiny apartments. This is why even air fryers come in mini versions, allowing those who just need to cook for two or three people the ease and convenience of the technology. If you're looking for one of these items, the Black+Decker HF110SBD 2 Liter Oil Free Air Fryer is something you should check out.
With a 2-liter capacity, this airfryer can already make snacks for a couple of people and prepare entrees for two or three diners. Its small footprint is another strong suit of this item, making it a popular option for growing families.
Interested? This Black+Decker HF110SBD Oil Free Air Fryer review will help you decide whether the Black + Decker HF110SBD is a great pick for you.
Top 5 features of the Black+Decker HF110SBD 2 Liter Oil Free Air Fryer:
Also known as the Purifry, the Black + Decker HF110SBD offers the following great features:
Dual Convection Fans
As some people put it, airfryers are a lot like convection ovens as they also use hot air to cook the food.
This is why it shouldn't come as a surprise that some units like the Purifry actually use convection fans to help the hot air move around the cooking chamber with more ease and efficiency.
In this product, however, Black + Decker took things a notch higher with two convection fans instead of one.
This not only helps the hot air do its job more effectively, but it also speeds up the process, giving you great results in less time.
Variable Temperature Control
To help you nicely cook different recipes and ingredients, the Black+Decker HF110SBD also comes with a temperature dial that will let you select the cooking temperature with great ease.
The heat this appliance can produce ranges from 175 to 400F, making it reliable for whipping up a wide array of dishes.
The fact that it uses a knob to control the temperature is a great plus as it won't require you to press a button a dozen times just to select your desired settings. You can easily set up the cooking appliance in seconds with its help.
60-Minute Timer
Airfrying also requires varied cooking times as some ingredients need to be exposed to more heat for much longer than others. For this, a timer dial is also found in the Purifry.
Unlike other airfryers, though, this one can cook up to 60 minutes in a single session. This means that you can cook a wider array of ingredients with this item, giving you more freedom and ease in using your new kitchen addition.
2-Liter Cooking Capacity
Large airfryers may seem like great options if you often cook up a storm, but if you only have to cook for two or three, a smaller unit will already suffice. The Purifry's 2-liter capacity is already enough to cook two whole tomatoes or up to 8 chicken wings in one go.
Safety Features
As air fryers are still cooking appliances that use heat to get the job done, it will still expose you to a certain amount of heat that can hurt you. So, to make it safer to use, it's been equipped with the following safety features:
Overheating Protection
Designed with a temperature sensor, this unit has the capability to stop itself from reaching certain temperatures so it won't get dangerously hot to burn you.
Cool Touch Handle
Equipped with a removable basket, this item is designed with a cool touch handle that makes it easier and safer to work with.
Non-Slip Feet
Guaranteeing that it won't tip over and spill hot food and oil on users, it also comes with non-slip feet, making it a safe appliance to have around.
Why Should Anyone Use a Black+Decker HF110SBD 2 Liter Oil Free Air Fryer?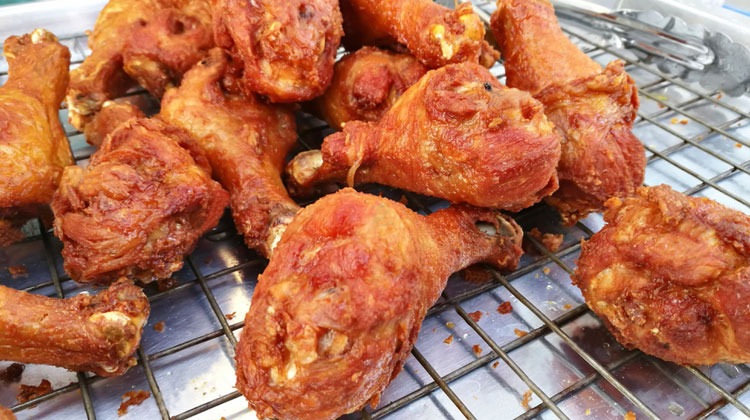 Not yet sold with this item's great features? Here are more reasons why you should consider getting a Black+Decker HF110SBD Air Fryer:
[su_list icon="icon: check-square-o" icon_color="#ef2d26″ class="listbox"]
It can be the right size for your needs: A lot of air fryers can go a bit big so they can be suitable for many households' needs. The Purifry may be on the small side, but if you only live with another person, this product's size can already be enough for your needs.
It will help you cut down your oil consumption: Being an oil less fryer, this appliance can work even with little to no oil. This will help you eat less fatty foods and lower your risks of developing various health problems.
It's very easy to clean: The removable basket is dishwasher safe while the outside of the appliance is smooth enough that you can wipe it clean with a damp cloth with some soap.
Almost anyone can operate this appliance without a hitch: With easy controls, even seniors and older kids can get to whip up quick snacks and meals with this appliance.
It will add some visual interest and functionality to your kitchen: With its attractive appearance, you can be sure that this item will look great in a contemporary kitchen.
[/su_list]
[su_row][su_column size="1/2″][su_list icon="icon: check" icon_color="#ef2d26″ class="posbox"]
Product Benefits
2-year limited warranty
Dishwasher safe parts
Sleek and modern look
Relatively small footprint so it won't crowd your kitchen
Very easy to operate
Cooks great-tasting dishes in a flash
Effective cooking technology
Will help you stick to a low-fat diet
Will still let you eat crunchy fried food
Can cook a wider range of ingredients
[/su_list][/su_column]
[su_column size="1/2″][su_list icon="icon: warning" icon_color="#ff0000″ class="negbox"]
The Negative Things
A bit pricey for its size
Not for battered food
Can get a bit loud
[/su_list][/su_column][/su_row]
Watch This Video:
FAQs
Q: Do you need to preheat this appliance before cooking?
A: It doesn't have a dedicated pre-heat setting, but it is recommended to let the unit heat up before cooking anything in it.
Q: Does it heat up the kitchen?
A: No, it won't cause your kitchen to get hot.
Q: Can you cook battered dishes with this?
A: No, the batter can be pushed off by the circulating air.
Q: Is the unit heavy?
A: No, it only weighs 12 lbs and is very easy to move around the kitchen.
Q: Should you shake or turn over the ingredients for a more thorough cooking?
A: Yes, it's recommended to do such to ensure the heat will cook your food thoroughly.
Final Verdict
The Black+Decker HF110SBD 2 Liter Oil Free Air Fryer may be small in size, but it's big in performance that it might still be the perfect pick for a lot of households. If you're not too keen on getting something that will take up an entire cupboard or a whole kitchen counter, this might be the best choice for you.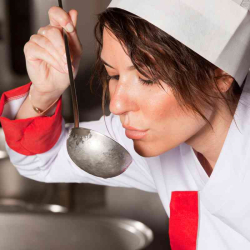 Latest posts by June Brandt
(see all)