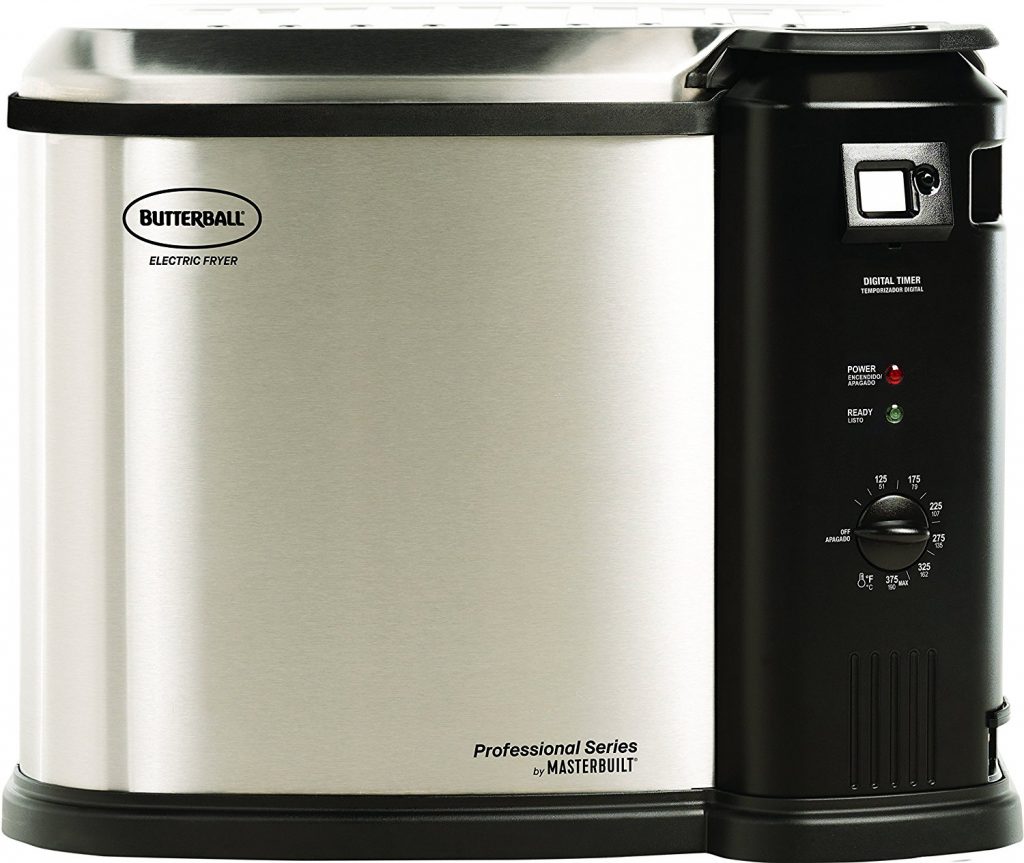 Not because you don't have an outdoor area at home does it mean that you can't enjoy a tasty deep-fried feast on special occasions. This Butterball MB23010618 XL Electric Fryer review can attest to this.
Being an extra-large indoor cooking equipment, this Butterball product might just be the thing you need to let you enjoy deep-fried dishes despite living in a condo or apartment unit.
Its large cooking capacity can already fit a decent sized turkey. So if you want an alternative to a roast, this appliance can be a good addition to your kitchen.
What can you expect from the Butterball MB23010618 XL?
Let's start with its set of 5 Major Features:
1. 20-lb Cooking Capacity
There are tons of electric deep fryers but the Butterball MB23010618 XL is likely one of the biggest options out there. It can fit an actual 20-lb turkey so it can be a good choice for those who like to entertain.
How can a 20-lb turkey fit in this cooking equipment, you might be wondering? It's actually designed to fit one. You just need to place the bird on its back inside the cooking basket and you're all set.
Just make sure not to get anything bigger than a 20-lb bird to make sure that you'll be able to cook your choice of meat.
2. Multicooker
The Butterball MB23010618 XL is also more than just a deep fryer. You can also use this product to boil and steam other kinds of ingredients so you can get a lot of use from it. It's a large multi cooker that can simplify various cooking tasks and help you whip up a lot of food in one go.
3. Oil Drain Valve
Another notable feature this product has is its oil drain valve. A quick assembly will let you drain the oil quickly and without any heavy lifting involved. This makes the unit way easier to use and clean.
4. Adjustable Temperature
Being a multi cooker, this appliance also comes with a temperature control knob. You can set it from 125F to 375F to suit whatever dish or ingredient you intend to cook.
It also comes with indicator lights, so you don't have to keep checking the temperature with a thermometer to make sure that it's ready to use.
5. Submerged Heating Element
Another important feature to note about this product is that it comes with a submerged heating element. This means that you will need to clean the heating rod as well every after use.
This is crucial to note as some people have preferences with their fryers. Lots of people like submerged heating elements as they're more capable of providing a stable heat. Others don't because it's another part that will need cleaning.
Butterball Shot Ingredients:
For people who love alcoholic drinks, the Butterball shot has been adjudged to be one of the tastiest drinks around. It has only three ingredients. Yes, it is a mixture of only three ingredients. The ingredients of Butterball shot are:
Butterscotch
Schnapps
Baileys
Butterball Turkey Fryer XL Oil Capacity:
Turkey fryers come in different sizes and so is their oil capacity. The bigger a fryer is, the higher its oil capacity will be. That being said, the oil capacity of Butterball turkey fryer XL is 2.75 gallons. With 2.75 gallons of oil, the maximum oil indicator will be reached. Although there may be space for more oil, don't exceed the limit.
Why Should You Use Butterball MB23010618 XL Electric Fryer?
Aside from its solid features, here are a few more things that you can expect from this Butterball product. Each point is extracted from various Butterball MB23010618 XL reviews so you can be sure that they're all true:
1. It's easy to clean.
Due to its size, a lot of people might think that it's complicated and a hassle to clean. This isn't the case, though. For one, you can fully dismantle the unit. You can take out the heating element and cooking pan aside from the basket so you can wash everything in the sink.
Most pieces are also dishwasher safe so you don't even have to bother about scrubbing and washing them manually. The pot, lid, basket, and drain valve are all dishwasher safe so cleanups can be a breeze.
2. You won't have to carry a large vat of oil.
One of the drawbacks of deep frying is that lots of deep fryers require you to lift and carry heavy pots filled with oil. This isn't the case with this Butterball XL because of its oil drain valve.
You just need to attach the spout to the drain hole in the cooking pot and you're good to go. No more lifting to pour the oil from one container to another.
3. It's designed to meet professional standards.
The Butterball XL is a part of Masterbuilt Professional Series. It was tested to meet commercial-grade standards so it might just be able to handle heavier use. This can promise durability and better dependability.
4. It will let you deep fry a large bird easily.
It's no secret that electric deep fryers are a lot easier to use than outdoor setups. Once it's plugged in and set to your required settings, you'll be ready to cook in no time. This can simplify your food preparation on holidays and make a very tedious chore easier.
5. You can cook various dishes with its help.
As the Butterball MB23010618 XL is a multi cooker, you can count on it to cook different dishes for you without a fuss. Its basket can be positioned to submerge its contents into the hot liquid for frying and boiling. You can also very easily position the basket on top of some boiling liquid for draining and steaming.
[su_row][su_column size="1/2″][su_list icon="icon: check" icon_color="#228B22″ class="posbox"]
Product Benefits
Can deep fry, boil, and steam
Easy to clean
Simple to operate
Won't require you to lift a large vat of oil
Extra large size can cook big servings for everyone to share
Also available in Large size
Looks and feels sturdy
Will let you enjoy tasty deep-fried bird without having to cook outside
Magnetic breakaway cord is designed for safer use
Reasonable price for its large cooking capacity
[/su_list][/su_column]
[su_column size="1/2″][su_list icon="icon: warning" icon_color="#ff0000″ class="negbox"]
The Negative Things
Can be too big for some kitchens
Releases a good amount of steam so make sure to put it in a well-ventilated space
Some folks might have qualms about the submerged heating element style it uses
[/su_list][/su_column][/su_row]
FAQ – Frequently Asked Questions
Q: Can you use this fryer outside?
A: This is designed as an indoor fryer but you might just be able to use it outside if you will take proper precautions. It can't get wet and will need to be placed near a power source because of its magnetic breakaway cord.
 Q: How long can this cook a 20-lb turkey?
A: It takes an average of 4 minutes per pound to deep fry a 20-lb turkey in this appliance.
 Q: Can you use this to cook smaller batches of food?
A: Yes, you can cook smaller portions with this cooker as well.
 Q: Can you brine the turkey before deep frying it in this appliance?
A: Yes, you can brine the turkey but make sure to rinse and dry the meat well before deep frying so it won't cause splattering.
 Q: What kind of oil should be used?
A: This depends on your preference, really. Healthier options are better recommended by experts, however.
Final Verdict
While this Butterball Electric Fryer review may have missed a few details, hopefully, it was still able to give you enough information about the said product.
With its great design, good value, and ease of use, this product can be worth a shot if you need a large cooking appliance. Give it a go and you might be surprised at how easy deep frying can be with this multi cooker.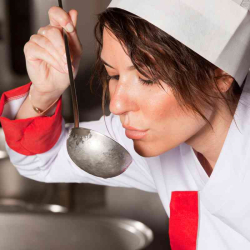 Latest posts by June Brandt
(see all)