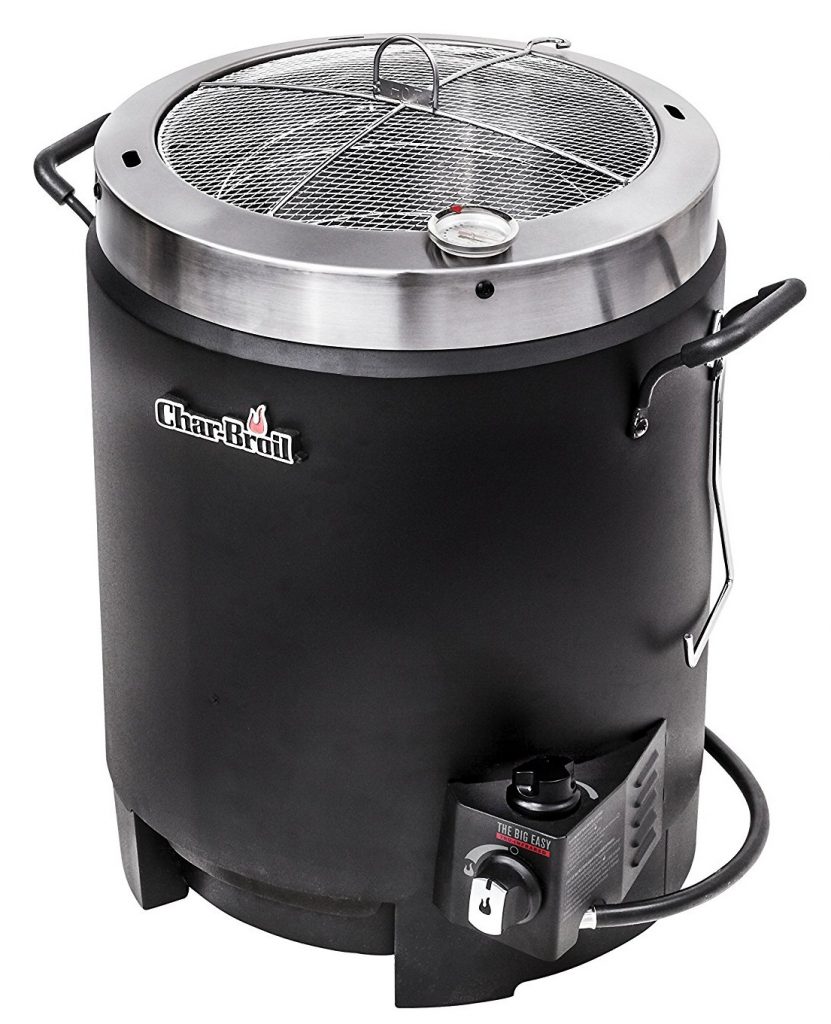 Studies show that deep-fried foods aren't necessarily bad for the health when done in moderation and the right cooking oils. Unfortunately, that may not be enough for some folks to reconsider.
Roasting is a classic alternative but it can heat up your home, so what other option do you have? This Char-Broil The Big Easy Oil Less Propane Turkey Fryer review might be able to help you.
Oil-less but propane-powered? How does this work?
We'll let its list of 5 features enlighten you:
1. Char-Broil TRU-Infrared Cooking Technology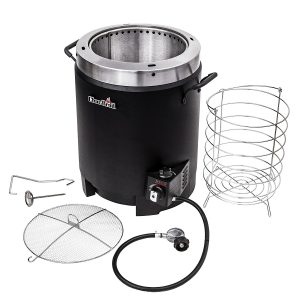 What makes the Char-Broil The Big Easy stand out is its unique cooking technology. It's a lot like a convection oven or an air fryer but because it doesn't trap the heat in, it's still slightly different from the two.
Its propane heat source produces a flame that reaches 18,000 BTUs. The heat is then evenly distributed inside the double-wall cylindrical cooking chamber through the brand's TRU-Infrared Cooking Technology. This promises even and effective cooking even without oil.
2. 16-lb Cooking Capacity
The Big Easy isn't exactly the biggest outdoor turkey fryer there is but it will already make do for a regular-sized household. Even if you're having a few other people over, it can still whip up a decent amount of food for everyone.
3. Rotary Ignition
What makes it easy to operate is its rotary ignition. One turn of the dial and you're all ready to cook.There are no fires to feed and maintain or burner stands to balance. It also serves as a temperature control. You'll still need to hook it up to a propane gas tank, though, but that shouldn't be a problem.
4. Drip Tray
Making the cleanup easier and the whole cooking process safer is the drip tray feature of the Big Easy. This little contraption catches the juices that the meat releases which you can then use to whip up the tastiest sauces and gravies for your dish.
It's easily accessible and will remove the drippings from the cooking chamber. With this, you won't have to worry about splattering or the juice staining the bottom of your fryer.
5. Accessories Included
This product also comes with most of the things you need to get started including a cooking basket with lifter, lid, meat thermometer, and a cooking guide. The only items you need to get separately are the propane tank, regulator, hose, and the meat you're about to enjoy.
5 Reasons – Why Should You Use Char-Broil Big Easy Oil Less Propane Turkey Fryer?

If its features weren't able to convince you that the Big Easy is the right pick for you, then these following reasons lifted from actual Char-Broil Big Easy Oil Less Turkey Fryer reviews might:
1. It's way simpler to use than deep fryers.
Deep frying is a complicated and dangerous task. The Big Easy stays true to its name and makes it really easy for you to "fry" turkey and other meat effectively as it is very simple to operate. The fact alone that you won't need to bother with cooking oil already makes it way easier to work with for some people.
2. It can let you enjoy a lower calorie dishes.
Ditching the oil can let you cut down the caloric content of your dish. So if you're not too fond of feeling guilty after stuffing yourself with food, this product might help ease your conscience.
3. It can be a bit safer to use than deep fryers.
Again, as it doesn't use oil, you don't have to worry about burns or grease fires. You will still need to be careful using this cooking equipment, though, as it still uses a lot of heat.
4. It won't dry the meat out.
The biggest issue some people have with roasted meats is that without the right techniques, you can end up with dry meat. As the convection feature of the oven moves hot air around the cooking chamber, it tends to take out the moisture inside the meat. This is why not everyone gets to thoroughly enjoy their turkey on Thanksgiving.
This isn't the case with The Big Easy, though. With the way that it's designed, it can push out the air from the cooking chamber so it won't dry out your meat.
The lid has a mesh design so it can keep debris from falling into your food but it can also easily release the hot air without a fuss. This helps ensure that your meat will be juicy once done.
5. It can let you try different recipes.
Because there's no oil to wash away whatever you have decided to season and flavor your meats with, the Char-Broil Big Easy will allow you to experiment with your recipes.
Aside from just brines and marinades, you can also try rubs on your meats. This can let you take your culinary skills up a notch, especially if you managed to pull off a great tasting recipe.
Product Benefits
You can use spice rubs with your meats as you won't be dipping it in hot oil
Meat won't dry up because the hot air is easily released from the cooking chamber
Produces meats with less calorie count since it doesn't use oil
Can accommodate a decent sized fowl but won't be too big for smaller cuts of meat
Minimizes risks of grease fires
Looks nice
Reasonably priced
Lets you save money as it won't require you to buy oil
Can help you cut down your calorie consumption
Additional accessories are available to help you get more use out of your unit
Cooking can is removable so it's easy to clean
The Negative Things
Won't be able to double duty as a large boiler or steamer for other dishes
Can be tricky to cook small cuts of meat in it
Cooking times can be longer than what's listed in the guide
Won't have the exact same deep-fried taste as it doesn't use oil to cook
FAQ – Frequently Asked Questions
Q: Can the skin get very crispy?
A: Yes, especially if you brush it with some oil and cover the cooker to cook the skin to a darker shade.
 Q: Can you use breading when cooking with this fryer?
A: Yes, definitely.
 Q: Is it easy to clean?
A: Yes as you can simply remove the cooking can during cleanups.
 Q: Is there a wood chip tray in this product?
A: No but you can add wood chips in the bottom of its cooking basket if you want to add the flavor to your meat.
 Q: Can you control the heat levels?
A: Yes, the rotary ignition also works as a temperature control knob.
Final Verdict
Made for those who don't want to even attempt deep frying because it is rather scary, the Big Easy can be an excellent cooking equipment that can make large batch food preparation a breeze.
Hopefully, this Char-Broil Big Easy Oil Less Propane Turkey Fryer review gets to help you make your mind whether you should try deep frying or opting for a simpler cooking method. Either way is good, it's just that this fryer will make cooking easier, so it's definitely worth looking into.