For most people, the only real downside to deep frying is that it uses so much oil that it feels so expensive to do at home. If you're one of the many people who feel bad about using a lot of cooking oil to cook some crispy treats, this DeLonghi D28313UXBK review is for you.
This deep fryer is designed to use less oil without sacrificing the crispiness of your food or the efficiency of
an electric cooking equipment.
Curious as to how it gets the job done?
Read this all the way through to get to know this product better.
DeLonghi D28313UXBK Roto Deep Fryer Review: 8 Major features
How can the DeLonghi D28313UXBK be oil and time efficient? Its list of features should let you in on its secrets.
1. Tilted Cooking Chamber
What makes this product very notable is its tilted cooking chamber. This lets you immerse only half of what's inside the fry basket so it doesn't need to use a lot of oil to deep fry your food.
2. Rotating Fry Basket with Cool-Touch Handle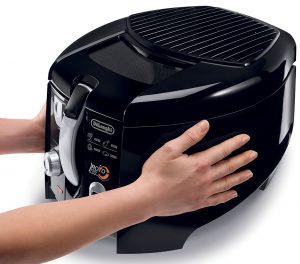 What makes the tilted cooking chamber work is the rotating fry basket. Because only half of what's inside the basket will be fully immersed in the oil at a given time, the basket is designed to rotate so everything can get cooked.
The basket has a nice holder that allows it to rotate when inside the appliance. It's cleverly attached to a folding handle that you need to place into its dedicated crevice to lower the basket into the oil.
When the handle is lifted, the basket is raised from the oil, too, so you can drain the excess oil from your food.
3. 1.5-lb Capacity
This deep fryer is designed for small households so it also has a small 1.5-lb cooking capacity. It should be enough for one to two servings, however.
4. Adjustable Thermostat
Despite its small capacity, this unit is still fully functional. You can still select your cooking temperature, giving you the control you need to precisely cook your favorite deep-fried dish. It can be set from 300F to 380F and it effectively holds its temperature even with food inside.
5. Digital Timer with Alarm
One of the strongest suits of this product is the fact that it comes with a digital timer. This feature prevents overcooking as it makes an audible sound to remind you to check what you're cooking.
6. Patented Easy Clean Oil Drain System
Another major draw of this product is its patented draining system. Equipped with a rubber spigot, it simplifies the draining process after you use this cooking appliance.
No more need to lift the whole thing and pour the oil out as this little thing will do the tedious task for you.
7. Dual Filtration System
This product also uses two filters: one for odors and the other for vapors. Both are easily replaceable so you can always be sure that it won't make your home smell greasy and that your unit will always be easy to clean.
8. Safety Features
Like other DeLonghi products, this Roto Deep Fryer also comes with a number of safety features including the:
Patented Condensation Shield which prevents hot oil from getting into the power cable connection;
Cool-touch handles which allows you to lower and lift the fry basket without having to open the lid;
Magnetic breakaway power cord so the unit can automatically shut off if the power cable is snagged or yanked;
Lid with viewing window to let you closely monitor what you're cooking without having to open the lid.
Delonghi Deep Fryer Recipes:
One of the reasons why people love this deep fryer is the list of recipes that comes with it. The recipes are easy to follow and the ingredients are readily available. The best part is that the recipes are grouped into their countries of origin. There are recipes for Italy, Spain, Germany, The Netherlands, Arabia, USA, Brazil, Japan, Antilles, India, UK, Russia, Greece, and France.
For example, to check for French deep fryer recipes, click on France. We advise you to check out every recipe for each and every country one after the other. It will be awesome. You can access the recipes from here.
How To Use Delonghi Deep Fryer?
To use the appliance, simply follow the steps below.
Step 1 – Pour some oil into the fryer up to the maximum fill line. Most electric deep fryers use about 5 and 20 cups of oil.
Step 2 – Turn the device on.
Step 3 – Now, you can set the temperature stipulated in the recipe instruction.
Step 4 – Once the oil is at the desired temperature, add food to basket and lower into oil. Cover it immediately.
Step 5 – When it's done, raise the basket and remove your food.
It's as easy as that.
5 Reasons of Using DeLonghi D28313UXBK Roto Deep Fryer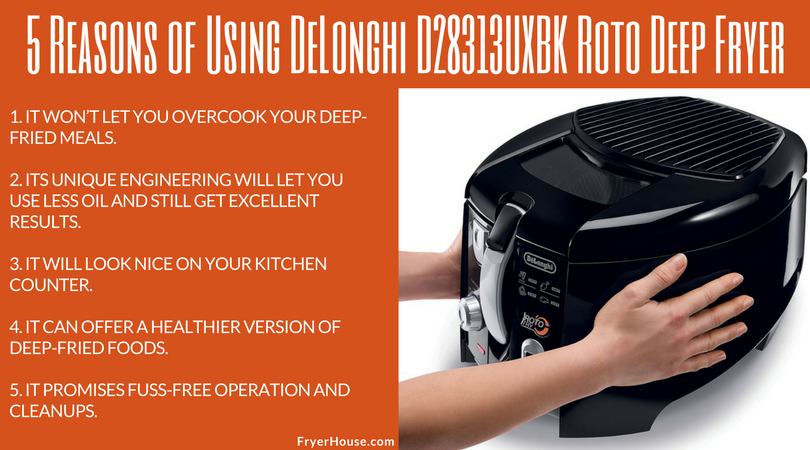 According to many DeLonghi D28313UXBK Roto Deep Fryer reviews, these are a few of the best reasons why this product is great to have at home:
1. It won't let you overcook your deep-fried meals.
The timer and alarm will remind you to check the doneness of what you're cooking so you won't really leave your deep fryer unattended. It's also a nice safety measure as leaving cooking equipment tends to cause a lot of house fires.
2. Its unique engineering will let you use less oil and still get excellent results.
This is a very compelling reason to opt for this product as it won't sacrifice the quality of the results just so you can cut down on your oil consumption.
3. It will look nice on your kitchen counter.
The DeLonghi D28313UXBK actually looks rather nice so you don't have to worry about leaving it on your kitchen counter. It's also not that space consuming so if you're going to use it a lot anyway, it shouldn't be bothersome to just let it sit on the counter.
4. It can offer a healthier version of deep-fried foods.
Aside from using healthier cooking oils and choosing ingredients that have less fat, this appliance can also offer a healthier way to indulge in deep-fried foods. As it won't keep your ingredients soaked in the oil, its products can be less greasy than what other deep fryers can whip up.
5. It promises fuss-free operation and cleanups.
Operating this appliance is very easy as you don't have to fiddle with many control buttons and switches. The parts are also designed to fit like a glove so you shouldn't have to struggle with them. Cleanups are easy, too, as it is designed for mess-free use.
[su_row][su_column size="1/2″][su_list icon="icon: check" icon_color="#228B22″ class="posbox"]
Product Benefits
Non-stick interiors make it easy to clean
Good size for single-person households
Looks great
Packed with several safety features
Adjustable thermostat ensures that you'll be able to cook your dishes precisely and effectively
Very compact and easy to move around
Designed to deep fry effectively while using less oil than other fryers
Comes with a tube cleaner so you don't have to worry about clogs
Digital timer can prevent you from overcooking your dishes
Won't make your house smell like grease
Replaceable filters
[/su_list][/su_column]
[su_column size="1/2″][su_list icon="icon: warning" icon_color="#ff0000″ class="negbox"]
The Negative Things
Quite pricey for its size but since it uses less oil, the costs can easily even out in the long run
Fry basket can be tricky to take out until you get the hang of its operation
Breading can come off because of the rotating motion of the fry basket
[/su_list][/su_column][/su_row]
FAQ – Frequently Asked Questions
Q: Can the oil be stored in the unit?
A: Yes, you can leave the oil inside the cooking chamber until your next use.
 Q: Has anyone ever had problems with debris clogging the drain tube?
A: No. It also comes with a cleaning tool for the tube to prevent such an issue.
 Q: Where do you buy replacement filters?
A: You can buy them directly from the manufacturer.
 Q: Does it have an on/off switch?
A: No. It turns on once it's plugged in.
 Q: What oil do you use in this deep fryer?
A: You can use any kind of cooking oil. However, it's best to opt for the healthier types like canola and coconut oils.
Final Verdict
Hopefully, this DeLonghi D28313UXBK Deep Fryer review helps you determine whether this nifty little appliance will do the trick for your kitchen. With its unique engineering, oil-efficiency, and ease of use, it can certainly be one of the finest options out there.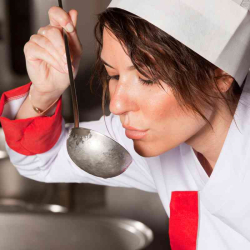 Latest posts by June Brandt
(see all)