For some families, a deep-fried turkey, or just about any other large fowl, really, completes a celebration. No matter how many warnings the government announces regarding the dangers of deep frying such large portions, many households won't be deterred from having their traditional feast.
So in this King Kooker 1265BF3 reviews, we'll look at whether this item is a good fit for such occasions.
A popular choice among serious deep-fried food fans, this King Kooker product tends to offer everything you need in a deep fryer in one neat package.
But can is it true to its name? Will it let you eat like a king at a feast with lots of food and minimal effort? Find out below.
A King Kooker 1265BF3 Deep Fryer Review: 8 Major Features
To help you determine whether the King Kooker 126BF3 is a solid choice for you, take a look at its features first.
1. Welded Aluminum Outdoor Cooker with Lid and Basket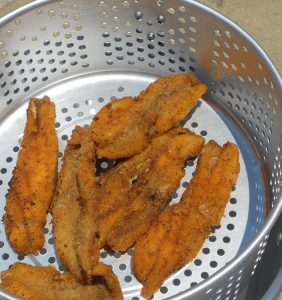 As the King Kooker 126BF3 is a cooking set, one of its main parts is its aluminum cooker. Made to be durable and perfect for outdoors, it's a popular option for those who want to take the safer route when whipping up a family feast.
You can use it outside so you don't have to worry about burning your house down. It's also made of sturdy material, so it can last you a while.
This unit also comes with a lid and a fry basket to make deep frying safer and more efficient.
2. 29-qt Pot Capacity
Just how big is its cooking pot? It can accommodate 29 quarts or 20 lbs of food so it can already fit a big fowl without a fuss.
3. 33,000 BTU Propane Cast Burner
Large-sized deep fryers require a lot of power to turn the heat up and maintain it to perfectly cook a dish. So this 33,000 BTU burner can already efficiently provide heat to a deep frying pot.
It's 3 times hotter than your regular gas range so you can be sure that it will do a great job in deep frying whatever you have in mind.
4. Turkey Rack and Lifting Hook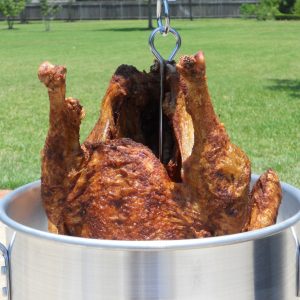 Boosting its functionality is its inclusion of a turkey rack and lifting hook. These two are designed to make handling your food more easily and safely when deep frying. They will surely come in handy when they lift your fowl from the deep fryer.
5. 11 Qt. Aluminum Fry Pan
Aside from the deep fry pot, this product also comes with a smaller 11-qt fry pan with. It's equipped with a heat-resistant handle for safer handling.
6. Adjustable Regulator
As this cooking equipment is propane-powered, the way for you to control the heat would be through the use of the adjustable regulator. This will let you fine-tune the cooker's settings according to what your dish needs.
7. Battery-Operated Timer
According to the US Fire Administration, unattended cooking is one of the most common causes of fires. And when you're busy cooking up a storm, it's easy to leave one pot ignored while you attend to other tasks.
So to prevent users from becoming a part of the statistics, the regulator of this product is equipped with a battery-operated timer.
This shuts off the regulator automatically once the timer is up. So even if you're busy doing something else, you don't have to deal with training your eyes on your deep fryer.
It adds a safety measure as you will have to remember to come back to the pot so it will continue cooking. Otherwise, your food will just sit in a cooling pot of oil.
8. Thermometer
To help you determine whether your pot is ready to get to work, this unit also comes with a thermometer. No more need to purchase one separately, making this a more convenient option.
How To Light King Kooker Turkey Fryer?
Step 1 – Ensure the turkey fryer is set up properly.
Step 2- Make sure the regulator is turned off. If not, you can turn it off by turning it anticlockwise until it hits the stop.
Step 3 – Turn the cylinder control valve anticlockwise to open it.
Step 4 – Turn on the regulator control.
Step 5 – Start the flow of gas by pressing and holding down the valve igniter button.
Step 6 – Insert a lighter through the hole in the shroud.
Step 7 – Upon ignition, keep holding down the igniter button for about 10 to 20 seconds and then release it. The burner should remain lit, but if does not, try the step again after 5 minutes.
And that's it. You can now enjoy your outdoor frying session.
5 Reasons – Why Should You Use King Kooker 1265BF3 Deep Fryer?
According to the many King Kooker Deep Fryer reviews, here are a few reasons why people loved their units:
1. It can hold up to 20 lbs of food.
A large pot is always ideal for households that often cooks up a feast, so a 20-lb or 29-qt capacity is always welcome in many homes.
2. It's constructed to be durable.
This product is CSA Design certified so you can be assured that it passes the US and Canadian standards for quality.
3. It comes with everything you need to start deep frying.
As its list of features note, this product will equip you with everything you need to start deep frying large amounts of food. It's very convenient as it comes with thermometers, regulators, and even a timer as it can make your initial foray to deep frying less fussy.
4. It's very easy to set up.
The whole system involved in this product is very straightforward. So you don't need an engineering degree to cook with this product.
5. It comes with a safety device making it a much better choice than other DIY setups.
Cooking mishaps and accidents involving fryers aren't uncommon especially during the holidays, so it's very important to ensure your safety.
This product comes with a safety device that will automatically shut off the gas which can help you stay on top of what you're cooking while you multitask.
[su_row][su_column size="1/2″][su_list icon="icon: check" icon_color="#228B22″ class="posbox"]
Product Benefits
Can accommodate up to 20 lbs of food for frying
Comes with a safety device in the form of a timer that should alert you when your food is ready to be taken out of the deep fryer
A complete setup for deep frying turkey and other large fowl or livestock
Might not need you to purchase additional accessories
Stable construction so it won't tip easily especially when filled with food
Safety device stops its operation once the timer is up
Sets up easily
CSA Design certified so its quality is guaranteed
Timer adds a nice safety measure
Very easy to use
[/su_list][/su_column]
[su_column size="1/2″][su_list icon="icon: warning" icon_color="#ff0000″ class="negbox"]
The Negative Things
Can get dented rather easily
You need to remember to replace the battery or your meal won't be cooked properly
Might not suit those who are looking for some heavy-duty cookware
[/su_list][/su_column][/su_row]
FAQ – Frequently Asked Questions
Q: Can you disable the timer?
A: No. You might need to buy a different regulator if you want to do that.
 Q: How long does the timer stay on?
A: About 15 minutes. A turkey needs to be fried for an hour or longer so this will require you to keep checking what you're cooking.
 Q: Does it come with a draining spigot?
A: No. You have to pour the oil out to drain the cooking pot.
 Q: Can you boil in this?
A: Yes.
 Q: What other supply or equipment will you need to start cooking with this deep fryer?
A: You'll only need propane gas and a large amount of cooking oil to start cooking.
Final Verdict
We hope this King Kooker 1265BF3 review helps you find the right product for you as deep fryers are now becoming essential cooking equipment for many homes.
All of the basic information about this product is included in this rundown, so hopefully, it gets to help you weigh your options better.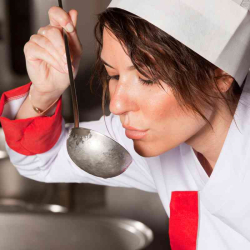 Latest posts by June Brandt
(see all)