When it comes to electronic air fryers, worrying over overheating, burns, and short circuits are valid concerns. This is why it's very important to find a product that can get the job done safely. In this Elite Platinum EAF-1506D Air Fryer review, we'll look at how the said product delivers on its promises of reliability and great cooking.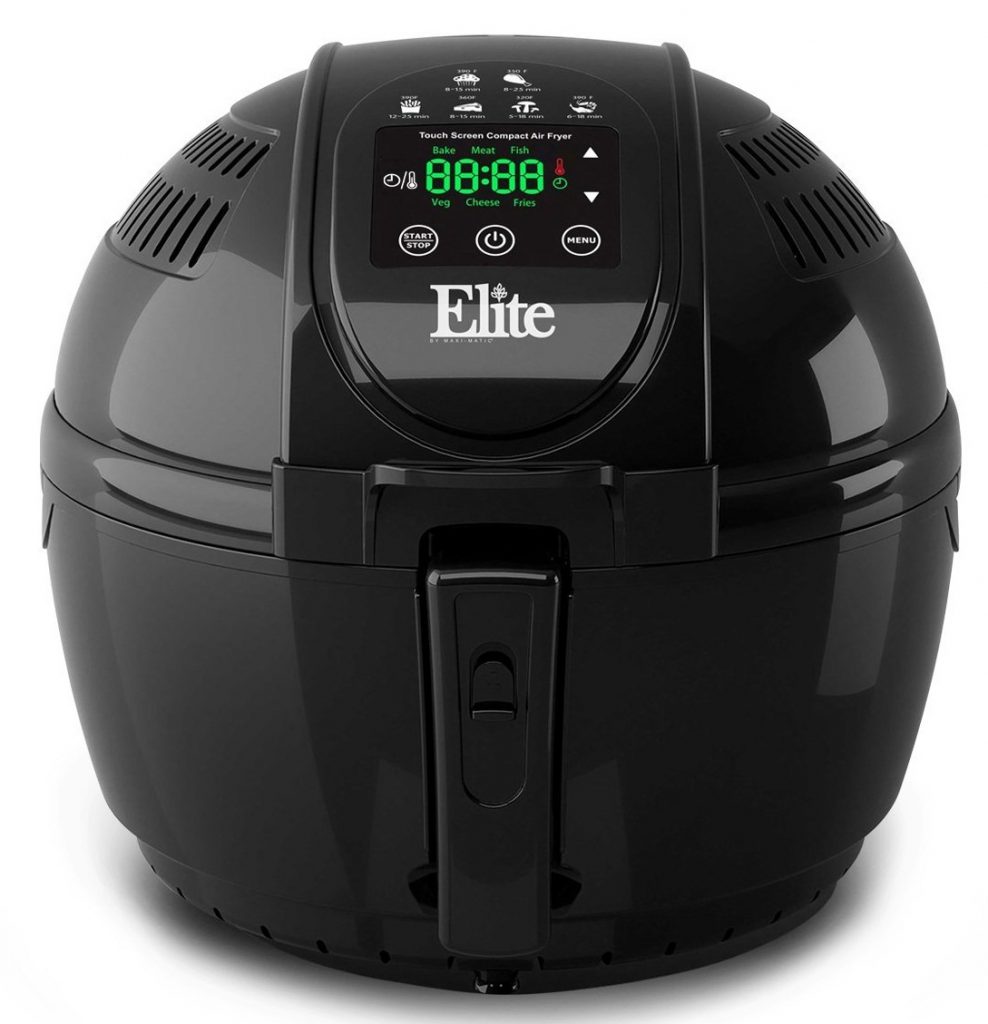 Elite Platinum EAF-1506D Air Fryer Review: 5 Major Features
It's a no-brainer that practical homeowners gravitate towards affordable options. The Maximatic Elite Platinum EAF-1506D is definitely one of the most friendly-priced air fryers in the market, so it shouldn't come as a shock that lots of people are considering getting one.
Unfortunately, not all air fryers are made with quality materials. This causes some people to have second thoughts about such affordable pieces.
This also makes it very important to get to know the Maximatic Elite air fryer first before taking the plunge.
To help you get better acquainted with this item, here's a roundup of its features:
1. Quick Menu Guide
Not a lot of people are fond of having additional things printed on their appliances. They can come in handy for those who can't memorize all the cooking times for different ingredients, though.
With the printed menu guide above the control panel of the Maximatic EAF-1506D, you won't need additional references when using the air fryer. One look and you'll know which settings to select to get the best results.
2. Digital Controls with 6 Quick Menu Functions
Aside from the guide, the EAF-1506D also has 6 Quick Menu Functions that are accessible through its digital controls.
These pre-programmed settings make this product's operation a lot easier as it can eliminate the need to keep fiddling with the buttons to get the right settings every time.
Manual controls for adjusting the timer and temperature are also available. So if you want to tweak recipes or make some of your own altogether, you won't have a hard time using this air fryer.
3. Unique Vapor System
Aside from its effective air circulation technology, the Maximatic EAF-1506D adds a unique vapor system to thoroughly and evenly cook food.
By utilizing the vapor that comes from the ingredients being cooked, this appliance gets to generate more heat to better cook your food. This also makes it very efficient and effective in providing the best results.
4. 3.5-Quart Basket Capacity
Despite its small size, it can still be a perfect match for lots of households. It can already effectively cook food for about two to three, so it can already whip up dishes that are good for sharing.
5. Built-in Safety Features
Another standout feature of the EAF-1506D is its safety features. Its affordable price combined with its overheating protection, cool touch handles, and auto shut off can already entice the most practical homeowners out there.
Why Should You Use the Elite Platinum EAF-1506D Air Fryer?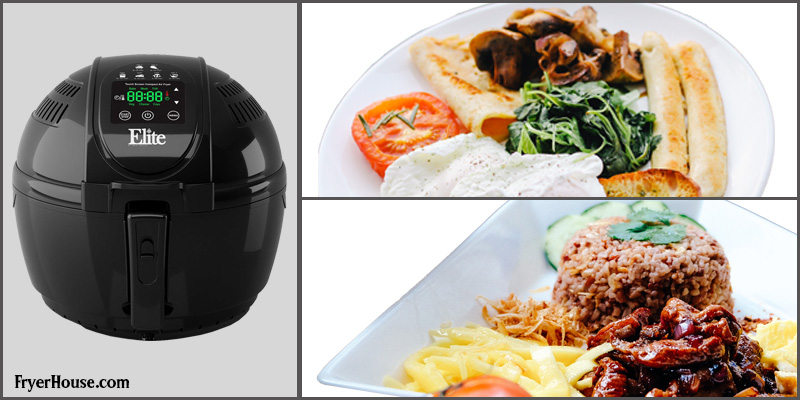 If the EAF-1506D's features weren't able to persuade you yet, we have five more reasons why you should give this product a shot:

1. It comes with a handy cooking guide to help you cook different meals easily.
With the printed settings guide, you won't have to turn to any other reference when using this appliance. All the information you need is conveniently found right on top of the control panel so you can cook efficiently every time you use this air fryer.
2. It guarantees perfectly cooked dishes.
The EAF-1506D is engineered to cook your meals perfectly: Crispy on the outside but moist and juicy inside. This makes it a must-have if you want an easier way to fry food.
3. It includes a 16-page recipe booklet.
Start cooking right away with the 16-page recipe booklet that comes with every purchase of this product.
4. It guarantees your safety.
Not only does it use good quality materials to ensure your safety but it also minimizes the dangers of handling heated materials with its safety features.
5. It can help you scale back on greasy foods.
Oily foods are laden not just with empty calories but also some bad cholesterol. So if you want to eat better, you might want to skip such with the help of this dependable air fryer.

Product Benefits
Loaded with safety features that can help minimize risks of burns or fire
Cooking settings are already printed out on the appliance itself
Very easy to operate with its pre-programmed settings and digital controls
Perfectly sized for smaller homes
Makes cooking easier and less messy
Will let you bake food without heating up your house
Promises perfectly fried foods
Fantastic price
Lets you use less oil when frying
Easy to clean with top rack dishwasher safe parts
Cuts down your cooking time significantly
The Negative Things
There's a learning curve when it comes to getting the right cooking time
Fan can get loud
There's not a lot of Elite Platinum EAF-1506D Air Fryer reviews available online
FAQ – Frequently Asked Questions
Q: Does it come with a cookbook?
A: It comes with a recipe booklet including a few basic dishes.
 Q: Can it cook frozen ingredients or do you need to thaw them out first?
A: While it's possible to cook frozen food with this dish, it's advised to thaw them out first for the best results.
 Q: Will this fit a whole chicken inside?
A: It can fit a small, 2.5 lb chicken.
 Q: Does the cooking basket have a coating?
A: Yes, it has a nonstick coating.
 Q: Does it come with other accessories?
A: Aside from the removable inner pan and the frying basket with handle, it doesn't come with other additional accessories.
Final Verdict
While this Elite Platinum EAF-1506D Air Fryer review may not have turned every stone, we hope that it's still able to provide the information you need to weigh your options.
Considering its safety features, low price, handy guide, and great cooking capability, it's safe to say that this air fryer is a solid choice for every practical household.
It can even be a good choice for a starter air fryer since it won't cost you an arm and a leg. It can also be a sound investment, especially since it can help improve your health as well.