Some people say that when it comes to air fryers, you should always get the biggest size that you can. Considering your counter size and budget, it can be best to go for the largest unit available to you. This way, you can provide ample room for your ingredients to cook. And for a solid large-sized air fryer, you can always stick with our Power air fryer XL 5.3 review.
The Power Air fryer XL 5.3 is one of the biggest air fryers in the market today. This makes it a great choice for many households that want to take advantage of the many benefits of air fryers. It can easily pack in lots of ingredients that are enough to share.
However, aside from cooking large batches of food, this air fryer can also be an efficient cooking equipment if you want to whip up a meat dish for two. Some people will tell you that air fried pork chops are some of the best dishes you can make with these things.
With a large unit, you can already cook a few slices of meat without crowding. This makes it a nice pick for households of different sizes.
But what exactly does the Power air fryer XL 5.3 has to offer?
With so many other airfryer brands in the market today, why should you choose this one?
Power Air fryer XL 5.3 Review: 10 Major Features:
1. 5.3 Qt Cooking Capacity
When it comes to cooking appliances, most people favor the sizes that are bigger than the usual. These things just offer more versatility than smaller ones. You can always cook a small amount of food in a large appliance if there's just a few of you at home but you can't cook a large batch in a tiny one.
This makes the Power Air fryer XL 5.3 a solid choice. With its 5.3-qt cooking capacity, it's definitely bigger than your traditional air fryer.
The ones you'll often find in homes are just around 3 to 4 quarts in size, so a 5.3-qt cooking basket is already a significant step up for these cooking appliances.
2. 7 Preset Cooking Modes
While cooking with an air fryer only really requires a few button presses, you still need to know the different timer and temperature settings for different ingredients.
This will require a guide to remember everything and sometimes even guides can get misplaced. You won't have to worry about such an issue with the Power Air fryer XL, though. This item comes with seven built-in cooking modes.
This allows you to cook seven different ways without even having to bother about their settings, making cooking faster, easier, and even more convenient.
3. Touchscreen Digital Controls
Modern minimalist style requires less clutter. Unfortunately, control buttons are exactly what's considered as clutter in appliance design. Eliminating them by using a digital touchscreen to operate the unit is a way to update the look of your kitchen device.
This is exactly what the Power Air fryer XL did to achieve is modern appearance. This allows it to look great in any contemporary kitchen.
Aside from looking good, though, the digital interface also makes it easier to work with. The clear display and few buttons make it unfussy, letting you select your settings without breaking a sweat.
4. 1700W Turbo Cyclonic Power
To heat things up, the Power air fryer XL is equipped with a 1700-watt Turbo Cyclonic Power.  This ensures the generation of really high heat and its effective movement inside the cooking chamber.
With this feature, you can be guaranteed that your air fryer won't run short of hot air to cook your food.
5. Heats Up to 400F
You might be wondering just how hot can the Power air fryer XL get?
This unit actually reaches 400F which is already more than enough to cook a wide range of food items. It might not be able to get as hot as your oven, but it's still more than enough for most dishes.
6. 60-Minute Timer with Auto Shut Off
Boosting this unit's convenience is its 60-minute timer with an automatic shut off. By letting you set your timer for up to sixty minutes, you can leave your air fryer to work on its own without worrying. It also lessens the need to reset the appliance, making it even more convenient to have around.
As for the auto shut off, it's a very handy feature that will prevent overcooking. No more worrying about burnt food with this feature as it will turn the unit off right as soon as the timer runs out.
7. Cool Touch Easy-Grip Handle
Handling a cooking appliance is one of the trickiest things to do. They get hot easily and some people just can't remember to use pot holders. With a cool-touch, easy-grip handle, this air fryer will let you handle the food basket without any dangers or worries.
The best part is its size. It's actually over-sized so it's easier to hold. This offers a more secure handling and operation which is essential when cooking.
8. Available in Two Colors
Unlike lots of other air fryers in the market, the Power air fryer XL will also let you choose between two colors. This helps make sure that you get to pick a unit that will blend right into your kitchen. No more clashing colors and designs just because you like how functional something is.
9. Adjustable Divider
Power air fryer XL 5.3 review highlights the presence and usefulness of the adjustable divider that comes with the unit. Made of metal with rubber tips, it securely sits inside the cooking basket to separate two sections.
This will then let you cook two different dishes in one go, making this unit more efficient. As the Power air fryer XL is very spacious, trying to make the most out of it is something lots of owners want to do. The divider makes it possible which also makes it a great addition to the package.
10. Non-stick Cooking Baskets and Accessories
Power air fryer XL 5.3 review also raves about the non-stick cooking baskets and accessories that come with the Deluxe edition. It comes with a baking pan, a cooking basket, and a pair of tongs to help you get the job done.
The best thing about these accessories is that they're very attractive. They come with a copper finish, so they look unique. Sure, it doesn't really add much to the functionality or value of the air fryer, but it looks great, so it's still worth noting.
10 Health Benefits of Using Power air fryer XL 5.3:
If the features of the Power air fryer XL isn't enough to convince you that it's a good product to consider, then maybe its health benefits will. Like other great air fryers, this product has a lot of health advantages to offer. Here are ten that can demonstrate this unit's worth:
1. Lets you eat fewer fats.
Air fryers draw people in as they don't require a lot of oil when frying food. And with less grease in your food, the less amount of fats you get to consume. While not all fats are bad for you, even the healthiest varieties are still not good for you in large amounts. The Power Air fryer XL doesn't really need you to use any oil, though, so you can significantly cut down your oil and fat consumption with its help.
2. Better for the heart.
Fat is one of the biggest reasons why arteries get clogged and the heart experiences a hard time working to its full potential. By cutting down fat consumption, you lower the risks of getting high levels of bad cholesterol and other heart problems later on.
3. Good for Your Liver
An unhealthy diet can also lead to a fatty liver. This disease affects a large chunk of the population but doesn't get addressed properly. It's also a serious one as it takes a toll on your liver. As you don't really get to replace this vital organ, trying to reverse the condition is a work that needs to be done.
Eating better and consuming less fats can be done with the Power air fryer XL 5.3. So if you want to manage your fatty liver or even prevent it, this appliance can definitely help.
4. Fewer carcinogens in your food.
Experts say that burnt and charred foods can have chemicals that can increase your cancer risks. But as the Power air fryer XL doesn't really char food when it grills, you don't have to worry about this anymore.
5. Makes processed food a bit healthier.
With their preservatives and fillers, processed foods aren't exactly the healthiest food items out there. They're some of the most convenient, though, so not everyone will stop eating it.
If you cook them with the Power air fryer XL, though, at least you get to use less oil in them. This way, you won't increase its unhealthiness at the very least.
6. More nutrients retained.
There may not be a lot of studies done with this claim but many believe that air-frying can help food retain their nutrients better. This, of course, is a good thing as you also get to enjoy more nutrients when you eat your air-fried food.
7. Low-calorie meals.
To lose weight and stay in shape, you need to burn as much or even more calories than what you consumed. This way, they won't be turned into fat. As this airfryer doesn't really use a lot of oil, which converts to a decent amount of calories, you get to minimize your calorie intake with this cooking technique.
8. Makes eating whole foods easier.
If you didn't eat whole foods before because of the hassle of cooking, then you might be glad to know that airfryers can change all that. With the convenience of airfryers, you can now put more time and effort in prepping your ingredients instead of slaving away at the stove.
9. No burns from cooking.
You also won't have to suffer from hot oil splatters and scalding pots and pans if you use the Power air fryer XL.
10. Satisfies your cravings without the guilt.
As this air fryer produces crunchy and crispy dishes without packing it with grease and fats, then you can indulge with your favorite fried foods without having to feel bad about the extra calories you consumed.
Why Should Anyone Use a Power air fryer XL 5.3?
Still not convinced that the Power Airfryer XL can be a great addition to your kitchen? Here are five more reasons that will tell you of the great things it can offer:
[su_list icon="icon: check-square-o" icon_color="#ef2d26″ class="listbox"]
Its huge size will let you whip up large servings for the whole family to enjoy.
It's very easy to operate.
It offers top-notch results.
It can help you eat better.
It's a multifunctional countertop appliance that can fry, bake, grill, and roast.
[/su_list]
[su_row][su_column size="1/2″][su_list icon="icon: check" icon_color="#228B22″ class="posbox"]
Product Benefits
Will accommodate large batch cooking
Adjustable divider will boost the air fryer's efficiency
One-touch operation makes it fuss-free and practically foolproof
Cool touch and easy grip handle makes operation safer and easier
Recipe book included in the package
Digital controls make it easy to operate
Looks very modern
Will compliment most contemporary homes
Two colors to choose from
Easy to clean
Very reasonable price
[/su_list][/su_column]
[su_column size="1/2″][su_list icon="icon: warning" icon_color="#ff0000″ class="negbox"]
The Negative Things
Outer cooking basket can get warped due to high heat
Has a small learning curve to master cooking with this appliance
[/su_list][/su_column][/su_row]
FAQ – Frequently Asked Questions
Q: Does it come with additional pans?
A: Yes, the Deluxe version comes with two accessory pans and a pair of cooking tongs.
Q: Will it fit a whole turkey?
A: No, but it might fit a large chicken.
Q: What's the warranty for this product?
A: It has a 60-day warranty, as per the product manual.
Q: Can you cook frozen ingredients without thawing?
A: Yes, you can. Just add a few more minutes to the cooking time to ensure thorough cooking.
 Q: Are the pans included made of copper?
A: No, they're not made of copper. They're metal with non-stick coating with a copper coloring.
Final Verdict
With lots of benefits and uses listed in this Power air fryer XL 5.3 review, it will be really hard to deny that this product is packed with great offerings.
We hope we were able to help you weigh your options and consider what this product can put on the table.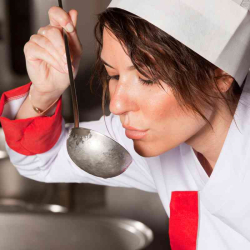 Latest posts by June Brandt
(see all)