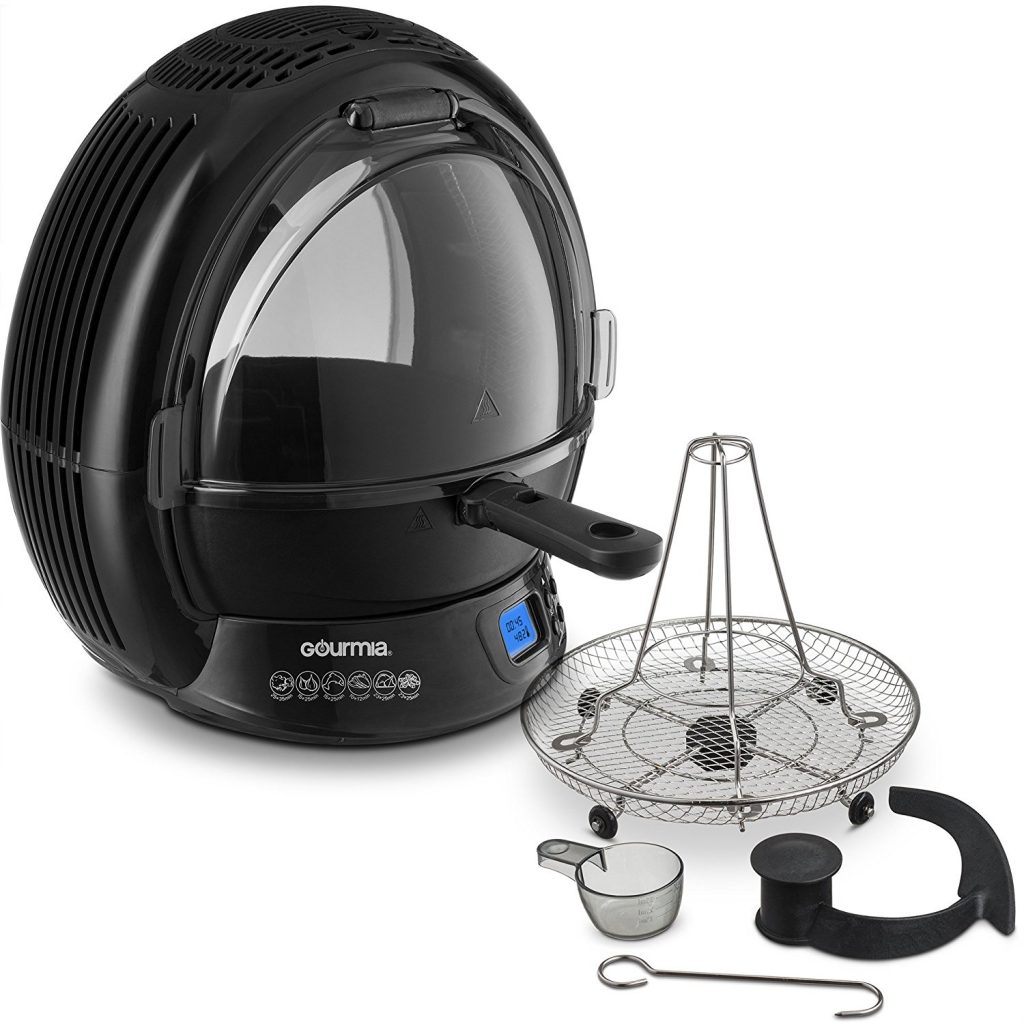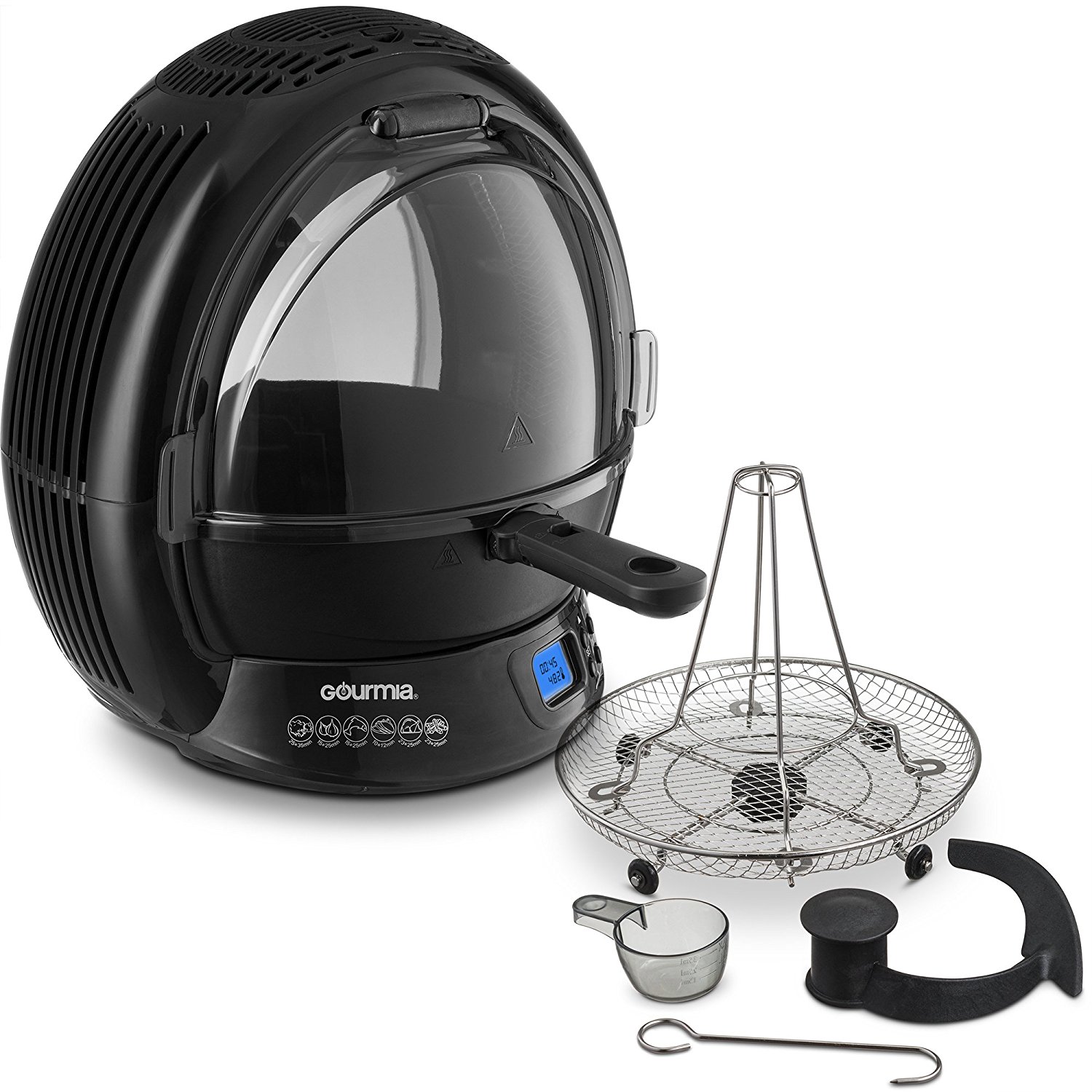 The first thing that you'll notice about the Gourmia GMF2600 is its unique design. One look and your interest will be piqued, making this product worth considering.
But aside from its standout appearance, does it offer anything more? Find out in this Gourmia GMF2600 review.
The Gourmia GMF2600 Air Fryer Reviews: 5 Major Features
One of the best things about shopping for kitchen appliances is the entertainment you'll get when browsing the different products available.
While there's a high chance that you'll find lots of pieces that look alike, there will always be a few that will catch your eye.
The Gourmia GMF2600 is definitely one of the latter. Not only does it look different, but it's also engineered to be slightly different than
other air fryers in the market
today. These make it an interesting piece to choose for your home.
What makes it so special, though? Let its main features clue you in:
1. Unique Design
As mentioned above, the first and most notable feature of the Gourmia GMF2600 is its unique design. If you place it next to the most popular air fryer in the market today, you wouldn't think that they function the same way.
Arguably, the GMF2600 is not in the same league as most of the
top-rated air fryers
in the market because of its great functionality. But since it's still an air fryer, its design is definitely unexpected.
You'll actually expect the GMF2600 to be a rotisserie more than a multicooker. As it is designed to fit and put a
whole chicken on display as it gets cooked, some people might actually get surprised that it's an air fryer.
2. 9-in-1 Multi Fryer
This Gourmia air fryer isn't just about the unique look, though. Unlike tons of other air fryers in the market today, it can do more than just air fry. It's also an actual multicooker with nine different cooking modes.
Aside from air fry, this item can also stir fry, bake, saute, roast, boil, grill, broil, and steam. It's definitely versatile and can let you do more without having to be particularly skilled at cooking.
3. Manual Controls with LED Screen
With its wide range of functionalities, some might expect a complicated interface from this unit. This isn't the case, though.
It's equipped with dedicated buttons that will allow you to pick out a cooking mode, adjust temperature, and set

the timer without a hitch. It even comes with an LED screen so you can monitor your selection.
4. Dishwasher Safe Parts
The GMF2600 may look like a complicated appliance, but do not be fooled. Its dishwasher-safe parts actually make cleanups of this product a breeze.
5. Accessories Included
Due to its design, this air fryer is practically designed to use several accessories for some of its cooking modes. Each unit comes with a rotating rack, detachable rotating mixer, chicken roaster, bowl holder, and oil measuring spoon.
5 Reasons – Why Should You Use the Gourmia GMF2600 Air Fryer?
If you're still not completely convinced that the Gourmia GMF2600 is a good pick for you, maybe these reasons can help you make a decision:
[su_list icon="icon: check-square-o" icon_color="#ef2d26″ class="listbox"]
1. It can add some visual interest to your kitchen counter.
Ever felt like hosting your own imaginary cooking show while you cook dinner at home? This appliance will let you liven up that fantasy all the more with its unique appearance.
You can even create a segment that showcases the air fryer as it roasts your chicken and add an extra entertaining element to your pretend show.
2. It can give you nine more ways to cook food.
With its nine different cooking modes, you can now whip up various recipes with just a few button presses.
3. It saves you the hassle of using the oven when cooking a small amount of food.
As air fryers are relatively more compact than other cooking equipment in most homes, it's certainly a lot easier to use when you're not cooking up a storm.
4. Air fried dishes are low-fat, therefore lower in calories as well.
Air fryers made waves for offering a healthier alternative to traditionally fried foods because they're lower in fat and calories. So if you want to cut down your calorie consumption, this cooking equipment can help.
5. Cleanups are a breeze.
Despite its complicated design, cleanups of the Gourmia GMF2600 doesn't follow. Its dishwasher-safe parts will help you skip the hardest part of making food at home as cleaning up after use is perfectly easy.
[/su_list]
[su_row][su_column size="1/2″][su_list icon="icon: check" icon_color="#228B22″ class="posbox"]
Product Benefits
Fits a whole chicken up to 3.5 lbs
Shuts off automatically after the timer runs out
Lets you control the temperature, allowing you to tweak your cooking settings, recipes, and techniques
Has nine different cooking modes that will let you do more without having to turn the stove on
Easy to clean with its removable and dishwasher-safe parts
ETL listed which guarantees adherence to safety standards
120-minute timer offers convenience when cooking a wide range of dishes
Large cooking area allows more food to be prepared
Whips up crispy and crunchy air fried foods
Makes food preparation a lot simpler
[/su_list][/su_column]
[su_column size="1/2″][su_list icon="icon: warning" icon_color="#ff0000″ class="negbox"]
The Negative Things
Consumes quite a good amount of electricity
Reports of lids cracking
Tends to produce a good amount of smoke when cooking rotisserie chicken
[/su_list][/su_column][/su_row]
FAQ – Frequently Asked Questions
Q: What is the wattage of this appliance?
A: It uses 1500 watts.
 Q: How much food can it contain?
A: The cooking pan can hold up to 3 quarts of food.
 Q: Can you cook food with wet batter in it?
A: Yes, this air fryer can handle wet batter effectively.
 Q: Are the accessories for other Gourmia models compatible with this?
A: No, the unique design of the GMF2600 won't really let you use accessories made for other units.
 Q: Does it come with a cookbook?
A: Yes, it comes with an instruction manual and a cookbook.
Final Verdict
You'll know that this Gourmia offers something new the moment you set your eyes on it. Hopefully, this Gourmia GMF2600 Air Fryer review gave you a good idea about these offerings. Our goal is to help you make an informed decision so you can end up with the perfect appliance for your home.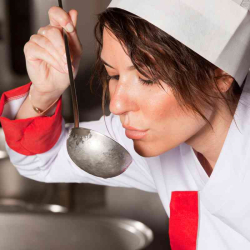 Latest posts by June Brandt
(see all)