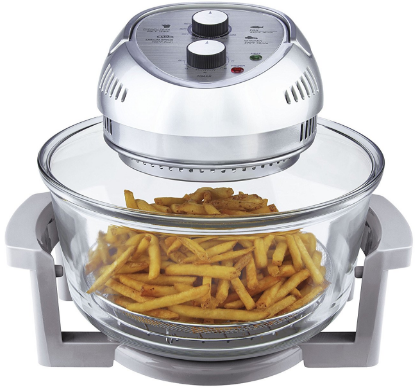 Cooking for a huge family may bring a promise of a great day ahead with everyone you love but it also means that there's a lot of work in front of you. Feeding a dozen or more people require efficiency and to do that, you'll need equipment that will work wonders. If you have the Big Boss 1300 watt Oil-less Air Fryer, though, you won't have to worry.
This massive air fryer can help you cook up a storm without requiring lots of attention, cooking oil, and time – everything you need to get the job done without taking forever in the kitchen. Thanks to its large capacity and unique cooking method, it might just be one of
the most reliable appliances
in homes that love hosting large parties.
Considered as one of the most popular air fryers in the market today, the Big Boss 9063 has definitely won over the hearts and stomachs of thousands of families in the country. If you're interested in adding it to your kitchen, this quick review will help you decide whether it's a great match for you.
Big Boss 1300 Watt Oil-less Air Fryer Review – 5 Key Features:
To get to know the product better, let's start off with a list of its top features that will tell you how promising this appliance is.
1. Triple Cooking Power
What makes the Big Boss 9063 unique as a cooking appliance is its triple cooking power using Halogen, Convection, and Infrared heat to 2. get the job done.
The Halogen works as the browning element, ensuring that your dishes are crispy and crunchy on the outside, mimicking the texture of deep fried food.
The Convection element is the actual air fryer. It cooks your ingredients thoroughly, making sure that your dishes are tender and well-cooked inside.
Combined with the Infrared technology that cooks food from the inside, it manages to retain the juices inside your food, keeping it moist and good tasting despite the exposure to heat.
2. 16-Quart Capacity
Another reason why the Big Boss 9063 stands out is its size. It's practically one of the biggest airfryers in the market today, making it an essential kitchen equipment for homes who host a lot of gatherings. You can fit a whole chicken inside without a fuss, so it's easily a handy extra if you tend to fill your oven with other items when preparing for a huge party.
3. Two-Tray Design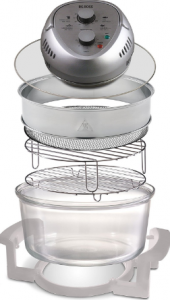 Despite its large size, this appliance is also highly versatile. Even if it feels like it has too much room inside for everyday use, it can still be an ideal cooking appliance for your dinners because of its two-tray design.
As it comes with stackable racks, you can easily cook two different dishes in one go, further maximizing your time and efforts in the kitchen. This makes it extra efficient and ideal for just about any kind of household.
4. Adjustable Temperature and Timer Control
The Big Boss 9063 is also engineered to handle a wide range of ingredients without a fuss. With its variable temperature and timer control, you can easily select the right heat setting for your ingredients. It has a range of 250F to 480F which will allow you to effectively and easily cook just about any foodstuff that you wish to airfry.
There's also quick temperature and timer guide for some of the most popular ingredients used with an air fryer printed right on the Big Boss 9063 so cooking with it won't require any guess work.
5. Seven Color Options
A lot of homeowners also pay close attention to the actual look of the appliances they add to their home. How an item will look in their space definitely plays a huge role in the decision-making process of a lot of folks.
This is why it shouldn't come as a surprise that kitchen appliances often come in different colors as this helps ensure that they will complement your interiors and contribute to its overall look.
Available in seven different colors including red, black, copper, gray, white, blue, and purple, you can be sure that you have ample options when it comes to how your Big Boss 9063 will look like.
5 Reasons – Why Should You Use a Big Boss 1300 Watt Oil-less Air Fryer?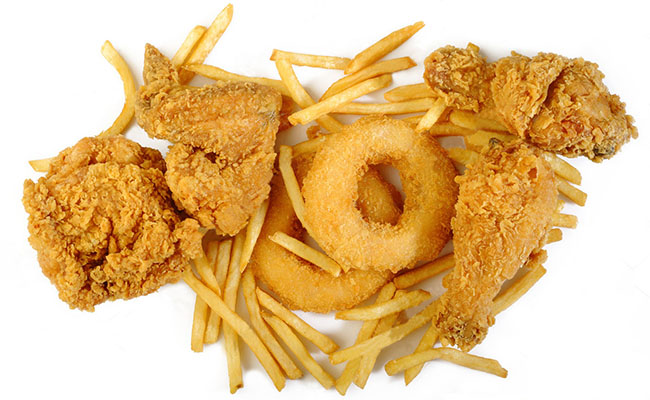 With a lot of exciting features, the next thing you might be wondering is why should you opt for the Big Boss Oil-less Air Fryer. Well, here are five reasons that might just convince you:

It's very easy to use.

All you really need to do is load up the cooking chamber and select the correct settings to cook with this appliance, making it ultimately fuss-free. Even inexperienced users can whip up a quick air fried dish with its help.

It cooks food faster.

Stove top and deep frying tend to take a while, so if you want to cook for everyone, you have to allot a good amount of time to get it done. With the Big Boss 9063, though, cooking won't take hours, even if you're trying to whip up a large amount of food.

It's highly versatile.

Many would think that a large cooking appliance may not get used a lot because they're just too much for everyday use. While this may be true for other cooking equipment, it's not for the Big Boss 9063. With its two-tray design, you can actually opt to use it everyday if you love whipping up a few different dishes for your family for every meal.

 It will help you eat better.

Because air fried food uses less oil and tends to retain a lot of nutrients of its ingredients, it's easy to assume that it whips up healthier meals. By eating more air fried meals, your family can also cut down its oil consumption, which can help lower down your risks of obesity, heart problems, cholesterol issues, and even cancer.

It's very convenient to have at home.

Easy to use, efficient, and versatile, this appliance can really make your time in the kitchen a lot simpler and more convenient.
Product Benefits
Cooks up to 3x faster than a deep fryer
Simple operation
Dishwasher safe parts
Uses less energy than other cooking equipment
Won't heat up the entire kitchen
Large capacity
Several colors to choose from
Reasonably priced
Cooks great tasting dishes
The Negative Things
Can get quite bright
Large footprint may take up lots of space in your kitchen
 Watch This Video:
FAQs
Q: Can you cook frozen food items?
A: Yes, the Big Boss 9063 can handle frozen food with ease.
Q: Do you need to use oil when cooking?
A: You don't necessarily need to use oil, but others like the taste of having some oil in their fried food, so it really depends on preference.
Q: Does it consume a lot of energy?
A: While the halogen might consume a lot of power, it won't really affect your electric bill as it won't be used for hours on end.
Q: Does it come with a cookbook?
A: Yes.
Q: What is the food bowl made of?
A: It's made of high-quality glass making it durable and safe for food.
Final Verdict
With so many great things to offer, this Big Boss Oil-less Air Fryer review is very helpful and this product is definitely a kitchen addition that's worth looking into.
Any household who loves to cook and especially fry food will find this a great alternative to the deep fryer as it offers healthier meals and easier cooking. Give it a shot and you might just make preparing your next dinner with the entire extended family a breeze.