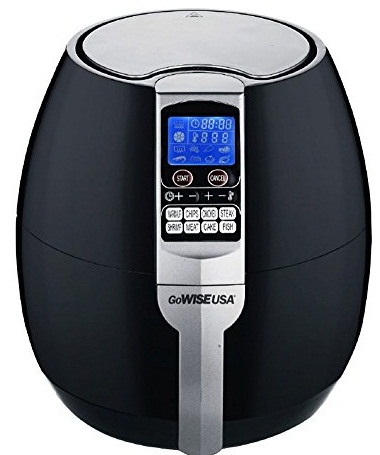 What most people love about fried food is the crispy goodness it can offer. Most folks can deal with differences in taste as long as the same dishes stay crispy.
So if there's a way to eliminate the oil part but still recreate the same sumptuous results, it will be a healthier way to approach dining.
The GoWise USA 8 in 1 Electric Air Fryer
can offer this, so if you're looking for effective ways to help you switch to a healthier diet, this might just be what
your kitchen needs
.
The GoWise USA GW22611 air fryer offers similar results to a deep fryer sans the grease, making it an excellent, healthier option. It can also do more than just fry, making the appliance a great device for any well-equipped kitchen.
GoWise USA 8 in 1 Electric Air Fryer Review – 5 Major Features
But what exactly can the GoWise USA GW22611 Electric Air Fryer offer to you? Here are its main features that might just give you a good idea about this product:
1. 8 Cooking Presets
Named after its 8 programmed presets, this air fryer simplifies cooking even more as you don't have to fuss with the temperature and countdown timer for specific ingredients. These eight ready to go settings are Warm-Up, Chips, Chicken, Fish, Cake, Meat, Shrimp, and Steak.
2. Digital Controls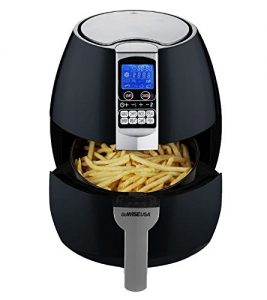 If you don't think knobs and dials can let you set the precise setting for your dish, then a digital control offers an alternative.
This GoWise gw22611 air fryer has dedicated buttons for the eight presets, temperature and timer adjustments, as well as to start and cancel the cooking.
With a backlit display, the controls are very straightforward and will let you get to cooking right away.
3. Rapid Air Technology
Making air frying possible for the GoWise 8-in-1 is its rapid air technology that circulates are quickly around the cooking chamber. This guarantees that you'll get thorough results for your every dish.
4. 3.7 Quarts Capacity
To keep this air fryer the right size for counter tops but still large enough to prepare a good batch of food for a small family, it is equipped with a nonstick 3.7-quart cooking basket.
5. Automatic Shut Off
An excellent and intuitive safety feature this unit offers is its automatic shut-off capability. It will engage after the timer setting for your dish has run out and once the cooking drawer has been removed from the unit.
This feature ensures that your food won't be burned or overcooked and also that you won't get hurt if you've mistakenly handled the unit while it's still in operation.
How To Use GoWise Air Fryer?
Like every other air fryer, you need to preheat your GoWise air fryer for about 2 – 3 minutes. Set the temperature to 375 degrees F. While it is preheating, you can prepare the food while you preheat your air fryer.
When the air fryer is preheated, you can place the food on the basket, and place it inside the air fryer. Now, you can set the time to the appropriate duration. Finally, close the air fryer and allow the food to cook.  Shake the air fryer after some minutes to prevent what you're cooking to stick together and for the cooking to be even. Once done, remove the food and allow it to cool down.
After that, you need to unplug the cord, detach it, and clean off the basket and the entire air fryer before storing it.
Is GoWise a Good Air Fryer?
The answer to this question is yes. Here are the reasons why we can authoritatively say that GoWise air fryer is good.
Durability: The air fryer is strong and durable. It hardly packs up.
Good performance: The device makes food crispy and works fast.
Easy to use:  Even if you have not used an air fryer before, you should be able to use the device easily.
Zero maintenance: GoWise air fryer requires little or no maintenance cost.
Why Should Anyone Use GoWise USA GW22611 8 in 1 Electric Air Fryer?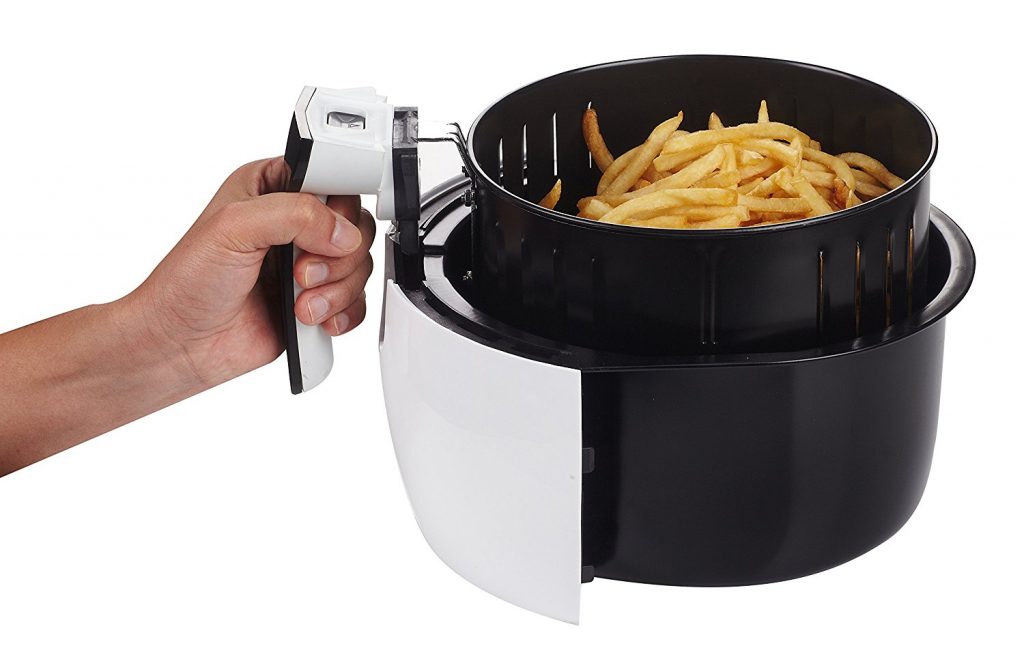 If you still need a bit more convincing to get the GoWise USA 8-in-1 air fryer, here are a few points that will really make a good case for this product:
[su_list icon="icon: check-square-o" icon_color="#ef2d26″ class="listbox"]
It's perfectly sized for making meals that are meant to be shared.

With its 3.7-quart cooking capacity, it can help you whip up great meals for up to 3 persons. That's already more than enough for a couple or a small family!

It will let you cook a meal with literally a single press of a button.

If you're the last person who should be trusted with meal preparation, the GoWise USA GW22611 8 in 1 Air Fryer is pretty much a foolproof appliance that will help you cook with just pressing a button or two.With its straightforward controls, you really don't have to deal with the stove or temperature levels as long as you've managed to properly insert the cooking drawer into the unit.

It doesn't have the risk of overcooking your dish

With its automatic shut off feature, you won't have to deal with blackened ingredients as it will go on standby mode right away once your selected setting has been completed. This makes it a great tool for those who tend to forget that they have something cooking or those who need to multitask while in the kitchen.

It can help you eat healthier

Because air frying minimizes the need for you to use cooking oil, you can enjoy low-fat and low-calorie dishes with great ease.

You won't have to give up "junk food" with its help

If the only thing that's keeping you from eating healthy is the fact that you can't give up your fries and other fried snacks, fret not. Air frying can still allow you to enjoy crispy dishes without the guilt.
[/su_list]
[su_row][su_column size="1/2″][su_list icon="icon: check" icon_color="#228B22″ class="posbox"]
Product Benefits
Very easy to use
Safe to use
Won't burn your dishes unless you've made a user error
Will help you eat healthier
Will let you enjoy crispy dishes without the grease
Convenient
Cooks fast
Adjustable temperature settings
Friendly price
[/su_list][/su_column]
[su_column size="1/2″][su_list icon="icon: warning" icon_color="#ff0000″ class="negbox"]
The Negative Things
Has plastic components that are prone to breakage
Quite bulky
[/su_list][/su_column][/su_row]
FAQs
Q: Can you cook fresh food with batter in this air fryer?
A: Yes but make sure that it's not dripping or running so the batter won't be blown away.
Q: Can you fill the basket?
A: You can, but it might not cook the ingredients evenly. If you need to cook a huge portion, you should do it in batches for the best results.
Q: Is there a grill accessory for this unit?
A: No and, unfortunately, finding a grill accessory that will be compatible might be a challenge.
Q: Can you use oil in this unit?
A: You can lightly coat fresh ingredients with some oil to ensure their crispiness but be careful not to overdo it
Q: Can it handle frozen food?
A: Yes, it can cook frozen food straight out of the bag. For fresh ingredients, however, you should lightly coat it with a little bit of oil.
Final Verdict
Choosing among the many air fryer options today can be a challenge as every model seems to offer something great. However, the GoWise USA 8 in 1 Electric Air Fryer really stands out because of its ease of use.
If you're the type who shies away from kitchen appliances, you'll embrace this one with open arms as it will let you cook a decent meal with just a single press of a button.
This makes it a solid choice for those who can't cook but still want to give it a shot as well as those who can cook but wants a quick way to get the job done from time to time.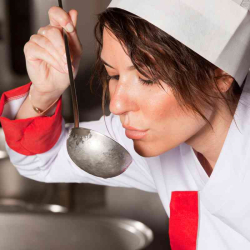 Latest posts by June Brandt
(see all)