Who doesn't love corn dogs? Aside from their yumminess, they're also very nostalgic. They'll take you back to your younger years when you had a great time visiting fairs and amusement parks with friends and family.
Now that you're an adult, you don't have to visit a fair to enjoy their goodness. In fact, you can even whip some of them up without the need for a deep fryer.
A lot of folks say that corn dogs made with an air fryer taste miles better than the traditional deep-fried kind. So if you're interested in giving them a go, here's an easy and crunchy recipe that you can try.
Ingredients:
2 hot dogs, uncured (you can choose from beef, pork, chicken, or veggie varieties)
2 large eggs
1 ½ cup crushed cornflakes cereal
½ cup all-purpose flour
8 tsp yellow mustard
Cooking spray
12 bamboo skewers or craft sticks
Instructions :
Prepare your ingredients starting with the hot dogs. Slice each into halves then cut them up into three portions. Insert a bamboo skewer or wooden stick into each piece.
Prepare your breading ingredients. Crack the egg and whisk it in a shallow bowl and place the crushed cornflakes in another. Put the flour in another separate shallow bowl.
Dip each hot dog into the flour first then on the egg and lastly on the cornflakes bowl. Try to press the cornflakes into the hot dog a bit so the small bits will stick to the hot dog.
Lightly spritz some cooking oil into the fry basket then place the corn dogs inside.
Set the air fryer to 375F and cook for 5 minutes. Turn the corn dogs and then resume cooking for 5 more minutes or until the breading becomes crispy.
Serve with mustard.
Note: You can also try other breading materials to make your own exciting version of air-fried corn dogs. You can go crazy and add actual potato fries or other chunky breading ingredients. Cornmeal batters don't tend to work well in air fryers, so you might need to settle for a relatively outrageous option when making this dish at home.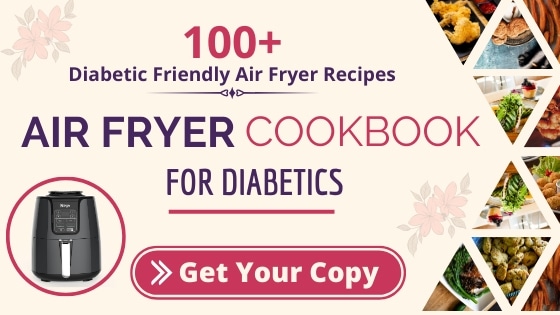 Air Fryer Mini Corn Dogs Recipe: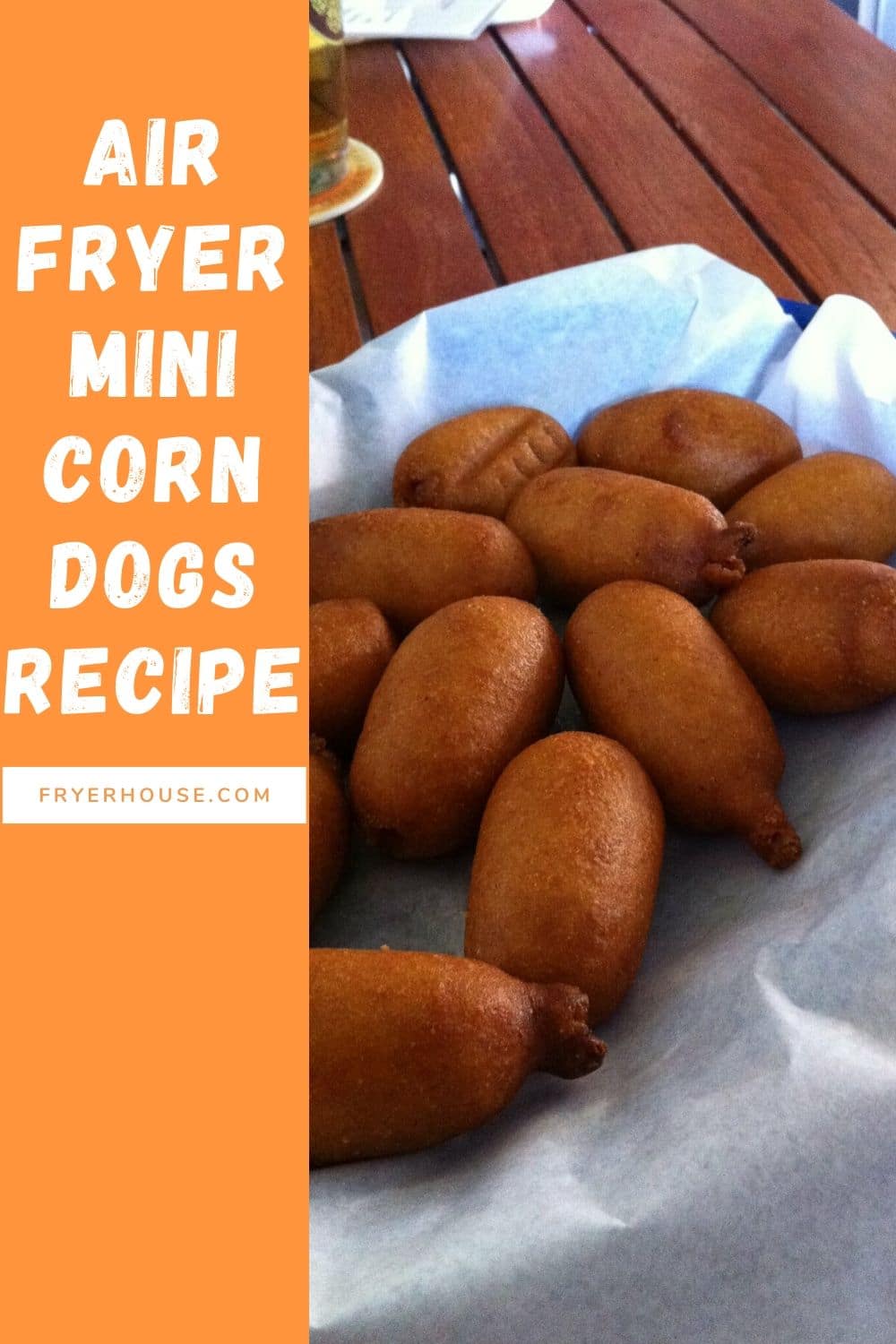 Is there anyone who does not love this snack? There's probably no one who doesn't love it. The snack became popular for several reasons. It is very easy to prepare. Also, the meal tastes great. So, you can use it as an appetizer, and it is also an ideal on-the-go snack.
We love it because it reminds us of the days of going to fairs. Up till now, it is being served in parties. If the refreshments in your party do not include corn dogs, you're probably missing something.  We have been giving out recipes, but we don't just come up with the recipe for any meal. We are a little picky.
Our team only selects meals that are great. So, we don't need to tell you that you'll love corn dogs. Also, we will advise you to try it out immediately after reading this. If you procrastinate, you may forget about it totally.
Due to how tasty it is, people have come up with different versions of it. But, we will only discuss the most common version. It might interest you to note that the meal is embraced all over the world now. It is also part of the menu of many world-class hotels and restaurants.
Since it is much cost-effective to prepare it yourself, we'll advise you to sit back and go through the recipe. You'll be glad you did.
Ingredients
To prepare corn dog, you'll need the following ingredients.
8 teaspoons of yellow mustard
Cooking spray
1 ½cups of finely crushed cornflakes cereal
2 eggs. They should be lightly beaten
½ cup of all-purpose flour
!2 bamboo skewers or craft sticks
2 hot dogs (uncured)
Recipe Directions
First step: Slash each of the hot dogs in half. Cut each of the halves into three. So, you'll have a total of 12 pieces from the two hot dogs. You can use either craft sticks or bamboo skewers. But for this recipe, let's stick with craft sticks. Insert each of the craft sticks into each piece of hot dog. Don't let it penetrate and come out at the other end.
Second Step: Leave the lightly beaten eggs in a small bowl and place the crushed cornflakes in another bowl. Finally, pour the all-purpose flour in another shallow bowl or dish. Roll the hot dogs in the flour. Allow each of them to be fully coated with the flour, but don't forget to shake off excess flour.
Third step: Dredge the coated pieces of hot dogs in cornflakes crumbs.
Fourth step: Spray your air fryer baskets with cooking spray to prevent stickiness. Place about six pieces of hot dogs on each basket. So, you'll have them in two baskets. Spray them with cooking spray as well.
Fifth step: Place them in your air fryer oven and cook them at 375°F. The coating should become golden in color after 10 minutes. After 10 minutes, turn each of them over and cook them for another 10 minutes.
Sixth step: You can now bring them out and leave for 5 minutes before you serve them. Serve them three pieces in a place, and add two teaspoons of mustard to each plate.
Nutritional Facts:
Each plate of corn dog contains 901 mg of sodium, 49 mg of cholesterol, 8.4 g of protein, 18.7 g of carbohydrates, 16.6 g of fat, and 259 calories.
Health Benefits of Corn Dog:
To be very honest, corn dogs aren't necessarily considered as healthy. They're often heavily processed and contains fillers with empty calories.
They also come with preservatives, so they're not the first things people pick up if they want to eat better. They're more of a comfort food, really, as they come with some reminiscing and memories of good times.
What you should know, however, is that corn dogs are actually some of the healthier options if you're at a fair or amusement park.
Compared to other calorie-packed snacks at these places, a corn dog will only set you back at 225 calories. It's already a pretty good deal for some since you're going to walk off some of it anyway.
However, if you're making corn dog at home, you can opt to make it as healthy as possible. How? Here are a few tricks:
Opt for veggie hot dogs. You can make them or get them at a lot of groceries, especially those with special emphasis on healthy eating.
Opt for a low-fat hot dog. You can also find such varieties at upscale grocery stores so you can still eat hot dogs even if you're trying to eat better.
Top them with vegetables. Balance out the 'unhealthiness' of regular hot dogs with vegetables.
Air fry your corn dogs instead of deep-frying them. This will save you from consuming additional calories from the oil you used to cook your corn dogs.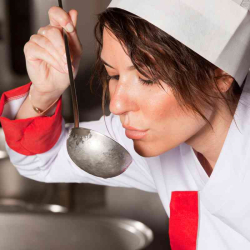 Latest posts by June Brandt
(see all)