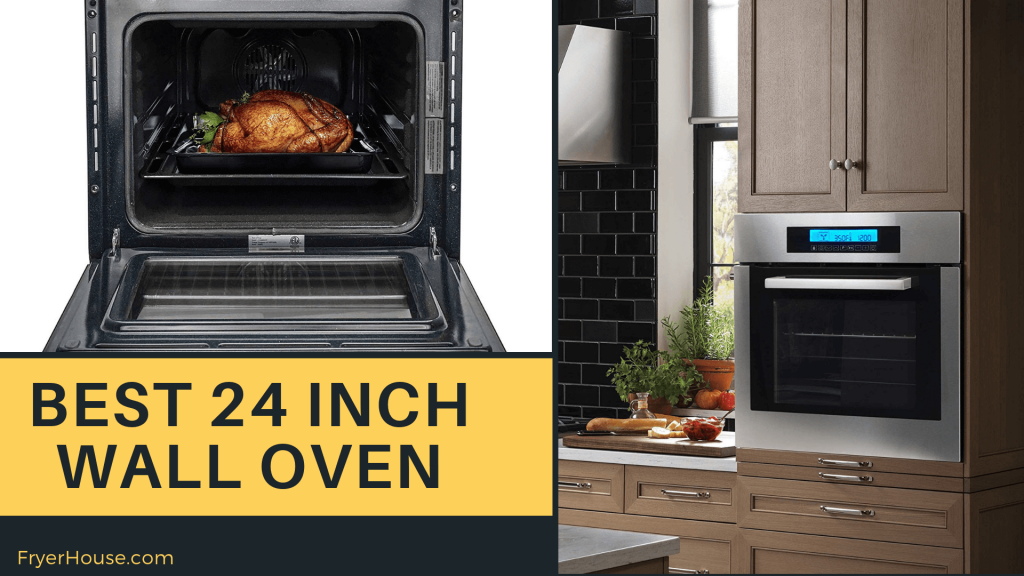 Having a small kitchen will require you to be wiser and more strategic when it comes to choosing the items to equip it with.
The limited room shouldn't prevent you from creating a highly functional space, however. With the help of the best 24 inch electric wall oven, you can be sure that your kitchen won't feel inadequate.
With wall ovens being some of the most space efficient kitchen equipment out there, they're certainly some of the first things you should look for when furnishing your small home.
You won't have a problem fitting them into your space and they'll help you do more in your kitchen.
Sure, the things you can do with the wall ovens would be pretty limited because of their size. However, if you don't really have to whip up a feast on the regular, ovens in this size will already be more than enough for the equally small households they're in.
As many urban living experts would tell you, the tiny amount of living space you have don't have to affect your quality of life negatively.
With the right techniques, equipment, and tools, you can certainly live largely and comfortably in a tiny apartment. A 24 inch electric wall oven could be helpful in that regard, so why not give it a chance?
Top 10 24 inch Wall Ovens in 2021 – Get The Right Model:
Our Picks of 8 Best 24-inch Wall Ovens Review:
Since you're already considering getting the top 24-inch electric wall oven, here are a few good options that you can start your search with: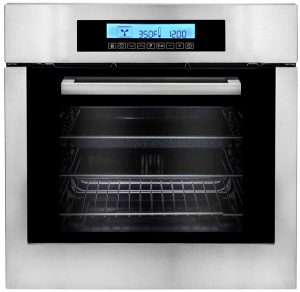 Kicking off this list of small wall ovens that pack a punch is the Cosmo C106SIX-PT 24 in. Single Electric Wall Oven.
With its 10 cooking modes, it can certainly make your kitchen more functional without having to take up so much space.
Features:

Electric
2 cu.ft capacity
4" x 23.4" x 23.2"
10 cooking modes (Grill, Fan Assisted Grill, Convection, Baking, Defrost, Fast Cooking, Delicate, Multi-Cooking, Pizza, and Top)
Touch controls
Stainless steel body
5 rack positions
Cavity Cooling System
220V
Self-cleaning
2-year warranty
The Empava 24″ Stainless Steel 6 Cooking Function oven is probably one of the most affordable and functional wall ovens of its size.
Its price tag is hard to beat, especially with its 6 cooking modes and sleek appearance.
This makes it a popular pick for apartments and old homes.
Features:

3 cu. ft capacity
24" x 23.23″ x 22.44″ cut-out dimensions
6 cooking modes (Convection, Broiler, Grill, Bake, etc)
Sleek stainless steel body
Push button controls with indicator lights
220V
Easy Clean Enamel Inner Tank
1-year warranty
A solid choice for compact spaces, the Cosmo C51EIX 24 in. with 5 Functions oven will make your small kitchen perform on a grand scale.
Its versatility will let you cook large, even if you can't necessarily whip up a feast.
Its classic look adds charm to this unit as it can definitely make your kitchen look better equipped and ready to cook up great dishes.
Features:

2 cu. ft capacity
22″ x 22.9″ cut-out dimensions
5 cooking modes (Convection Broil, Bake, Turbo True European Convection, Bake, etc)
Mechanical dial controls
Electronic timer with fully automatic options
Stainless steel body
Triple layer glass door
25W oven light
220V
2-year parts and labor warranty
Sleek, modern, and very affordable, the Empava 24″ 10 Cooking Functions EMPV-24WOC02 is another solid option for a small single wall oven.
This model might be one of the smallest in the market but it has a large offering that can outdo its bigger counterparts.
With 10 cooking modes, a beautiful contemporary design, no one will know that you didn't spend thousands on this kitchen appliance.
Features:

3 cu. ft capacity
24″ x 23.23″ x 22.44″ cut-out dimensions
10 cooking modes (Convection, Broiler, Rotisserie, Preheat, Grill, etc)
LED digital touch controls
Child lock function
Forced cooling exhaust system
5 rack positions
220V
Offering a modern take at the classic oven design, the Hyaki 24″ Modern Style Electric Wall Oven also offers a charming addition to small kitchens.
With its very affordable price tag, don't expect a lot of bells and whistles from it.
However, it can do everything you'll require from a small oven, so it can be a fantastic pick for the most practical households.
Features:

4 cu. ft capacity
24″ x 22.44″ x 23.23″ cut-out dimensions
3 cooking modes (Broil, Bake, and Roast)
Touch control panel
Timer function
2-layer tempered glass door
220V
2-year warranty
The Empava 24″ Tempered Glass Digital Display is another good option if you want something that looks more expensive than it really is.
Its sleek and modern design is topped with 10 cooking modes so you can really expect a lot from this model.
It's fancy but without an equally extravagant price tag so it might just be the right pick for you.
Features:

3 cu. ft capacity
24″ x 22.44″ x 23.23″ cut-out warranty
10 cooking modes (Bake, Preheat, Roast, Convection Roast, True Convection Broil, Broil, Rotisserie, etc)
LED digital touch controls
Easy clean enamel inner tank
Forced cooling and exhaust system
5 rack positions
220V
2-year warranty
Those with more space at home should also check out the GE 24 Double Wall Oven.
This small but spacious cooking appliance might just be what you need if your kitchen has unique measurements.
Features:

Double wall oven
7 cu. ft total capacity
22 ½" x 48 ⅛" x 23 ½" cut-out capacity
Electronic controls (Upper Oven)
Mechanical dial controls (Lower Oven)
Self-cleaning with Delay Clean Option(Upper Oven)
Black coated body
1-year limited warranty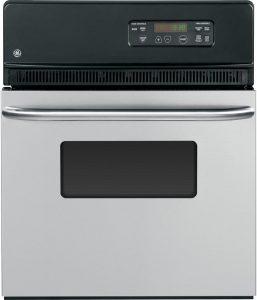 Looking for the most space-efficient option?
The GE 24 inch Stainless Steel Wall Oven pretty much has the biggest cooking capacity among all of the items listed here, so it can be the perfect choice for you.
It's not a lot bigger than the others listed above, so it might really do the trick for your kitchen.
Features:

7 cu. ft capacity
22½" x 27½" x 23½"
Electronic controls
Delay Bake function
Auto Oven Shut-Off
Interior oven light
4 rack positions
Stainless steel body
1-year limited warranty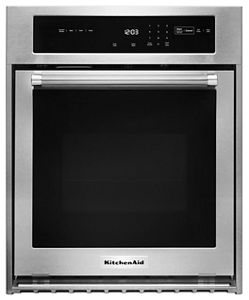 This is a single-wall oven with several attractive features. First of all, we noticed that it has even temperature management. This will ensure that every part of your food will get done together. Have you a situation where some parts of food are overdone while other parts are not even done? With even temperature management, this will never happen.
Its elegant design is also worthy of mention. It will give your kitchen a facelift. Give your home a class by installing this oven in your kitchen. It combines effective cooking with elegance.
The walls and racks will heat up equally. You'll never find a cold spot in the oven. This oven is quite easy to use because its buttons are intuitive. However, it takes a little longer to preheat this oven than standard ovens. For us, that is not a problem. You only need to preheat your oven much earlier. The quality of the cooked food is what matters most.
Its heating element is hidden. So, your hand won't come in contact with it while you quickly wipe spills off the oven. We also love its 13-inch square surface for cooking pizza, pastries, cookies, and other baked foods. The surface also offers even distribution of heat.
Features:

The oven is quite easy to use.
It offers even heat distribution.
Its 13-inch square cooking surface also offers even heat distribution.
You will never see any cold spot in the oven.
We also love the elegant design that makes it irresistible.
It will take a longer time to preheat it.
The heating element of the oven is hidden.
It is spacious enough to accommodate various dishes
This oven has 4.3 cubic feet capacity, and that makes it more spacious than many other ovens. You can take advantage of the space by cooking multiple dishes in it at the same time, as long as both dishes require the same cooking temperature.
We are also aware that the oven heats evenly. While it is cooking, all the walls and racks will heat up evenly. You won't find any cold spots. This will make your food cook evenly. Also, you won't need to reposition them at intervals for uniform cooking. It has a separate cooking surface for cookies, pizza, and other pastries.
The oven is very easy to use because it has intuitive buttons. Nevertheless, it is necessary to read its user manual before you start using it. This oven is slightly larger than the one above. You can't possibly catch a glimpse of the oven without taking a second look because it is visually stunning. The heating element of the oven sits behind. So, it will never come in contact with your hand while cleaning it. Also, the oven is very easy to clean.
Features:

This oven is 27 inches wide.
It is very spacious for cooking multiple dishes at the same time.
Its heating element is hidden for safety reasons.
You can easily use it because its buttons are intuitive.
Its design is visually stunning.
This oven has a separate cooking surface for pastries.
It provides even heating for your food to cook evenly.
The oven takes a little longer to preheat.
How Do You Measure a Single Electric Wall Oven?
One of the first things that you have to do when you start planning on shopping for a 24 inch single electric wall oven is to take measurements.
If you don't have a cut out for an appliance of this sort yet in your home, you'll need to make one and it would be crucial to get the right numbers to avoid any issues later on.
If you're only replacing an old unit, you still need to take the measurements of the existing cut out so you can find a replacement unit that fits.
So how do you measure a wall oven? Here are the steps if you don't have a wall cut-out yet:
1. Choose a cabinet or a spot in your kitchen wall that can accommodate the wall oven.
First of all, you need to find a spot where you'll put in the wall oven. There are many considerations for this. The unit doesn't just have to fit inside the cavity where you intend to place it in.
You also need to make sure that there's enough space to open the oven door and maneuver in front of it. The spot should also be accessible for electric wiring.
Then you also need to make sure that you'll be able to provide enough support for the hefty unit inside the cavity. All of these will guarantee that you'll choose a good spot for your small oven.
2. Take the measurements of the width and height and depth of the area you intend to place the wall oven.
Once you've chosen a spot, it's time to work on the actual measurements. First off, measure the width of the spot on the wall or the cabinet that you intend to place the oven in.
It should measure at least 24-25". Height might not be a big problem for these units but if you're going for a double wall oven, it's best to take vertical measurements of the spot as well.
If you can open up the spot, you should also take measurements of the depth of the cavity. You might need to make adjustments in this area. It shouldn't be a big issue, though, because you'll have to work on adding a bracing system for the oven anyway.
Take note of these measurements and use them to find the right unit for your kitchen.
If you're just replacing an old unit, taking measurements would be a simpler task. Here are the steps to do this:
1. Measure the width and height of the unit you have installed.
This will give you a good idea whether a 24" wall oven would really be the best choice for you. If the old oven measures about 24" wide, then you can go for the said size.
2. Measure the cut-out.
After turning off the power in your home, unscrew the unit from where it's anchored then carefully pull it a few inches out.
This will give you access to the actual cut-out's frame. Measure all of the sides and take note of the numbers. You can then use this information to choose a unit that will fit inside your existing cut-out.
10 Benefits of Using 24-inch Wall Oven:
Why should you go for a 24" wall oven, you might be wondering? There are lots of options that you might be able to squeeze into your kitchen, so why go for this size?
Here are 10 benefits of opting for this wall oven size that should help you decide whether it really is the right choice for your home:
1. They might be the safest options for your small kitchen.
While the difference among single wall sizes only vary by a couple of inches, it doesn't mean that being able to squeeze in a bigger unit will make it the best choice for your home.
Aside from the width, height, and depth of the actual oven, its door will also take a lot of space in your kitchen.
You can't just try to wiggle around it and make it work as a hot oven door is a common cause of burn injuries. A smaller oven also tends to come with smaller oven doors so they might be better suited for cramped kitchens.
2. They can fit in most places.
24" wall ovens are popular picks for apartments, RVs, and other kinds of tiny kitchens because they're compact and can pretty much fit in most spaces.
3. They tend to heat up fast.
One of the biggest reasons why a lot of homeowners love small ovens is their fast heat up times. If you don't really need that much space to cook daily meals, they'll be time-efficient options as well.
4. They can be energy efficient.
Since you don't really have to heat up a large space with a 24" wall oven, these appliances can also be quite energy efficient.
5. They're affordable options.
With their small size, you can expect these appliances to be more affordable than their bigger counterparts.
6. You can double them up.
Some folks also opt to get a 24" wall oven even if they have larger homes. Why? Because getting two small wall ovens is more affordable and ideal for some households.
There are lots of benefits of getting two separate ovens instead of opting for a wall oven and some folks choose to do it with one small unit with a big unit.
7. They can be easier to work with.
Wall ovens, in general, are easier to work with because you can position them at the very spot you need them to be. A small wall oven is a lot easier to work with because you also won't have to maneuver large and heavy baking pans and sheets with them.
8. There are tons of options to choose from.
While they're small, you can still be sure to find models with amazing features. This will allow you to take a pick from many different options.
9. They can add more value to your small kitchen.
A lot of small homes opt out of getting an oven but if you can squeeze one in, it can certainly add functionality and charm to your kitchen.
10. You'll have more fun cooking even if you're only making dishes for a few people.
Small households tend to shy away from trying any fancy and exciting dishes at home because they usually don't have the equipment to get the job done. With a small wall oven, however, you can now cook up more dishes at home.
Buying Guide – How to Choose the Best 24 inch Electric Wall Oven?
Taking a pick from all of the great options available to you can be a bit overwhelming.
So to help you arrive at a decision, here are a few tips in choosing the best wall oven for your home:
1. Choose something that will look great in your space.
If you're getting a small wall oven, chances are that you have a tiny space to put it in. And because these appliances tend to draw attention, you might want it to look great where you'll put it in.
It's up to you whether you want it to stand out or if you want it to seamlessly blend into your interiors. What's important is that it will work with the overall look of your space. This will help make it a better fit for your home.
2. Take a close look at the features.
As our list above would've told you, these ovens can come fully loaded with features or with just the basics. This is why it's crucial that you take a look at their offerings as some might be a better match for you than others.
3. Be very particular about the measurements.
Even if you've already decided on a 24" wall oven, the minor differences in measurements can still determine how smooth and quick the installation will be. So make sure to get something that will fit your existing cut-out or the spot where you intend to put one.
4. Consider your budget.
24" wall ovens also come in a wide price range. Some of the more basic ones are more affordable than the ones with more features. However, some brands are also generally lower in price than others.
It's your choice how much you want to spend on your oven but it's best to work with a budget since there are tons of options available.
5. Read reviews.
To make sure that you'll really get the latest 24-inch wall oven, reading reviews can also help you out.
Final Verdict
Again, you don't have to let your small kitchen space stop you from whipping up amazing dishes for your household. The top 24-inch wall ovens can help you in this regard, so give them a shot and a spot in your home.