If you like smoking your meat yet you also like to prepare your meat in other ways, you need to consider the versatile electric pellet smoker. This is a cooking appliance that works in many ways.
The best electric pellet smoker can also grill, braise, roast, BBQ, and even bake. Some can even sear your meat as well.
The
pellet smoker
is a complete machine, and it's perfectly convenient for even beginners to the BBQ scene. It doesn't take a genius or a dedicated BBQ fan to figure out how to use one of these things.
If you're able to buy one of the better models, the entire process of using the project takes 3 basic steps. You plug it in, you put in the pellets, and you set the temperature.
That's basically it. You don't have to babysit the darn thing though all those hours of waiting, as you try to coax it to maintain its temperature.
It'll do that automatically. Set it in the morning, go to work, and when you get back home you'll have your smoked ribs and turkey ready for dinner and a backyard party.
Top 7 Electric Pellet Smoker Reviews and Comparisons:
Our Picks of 7 Best Electric Pellet Smoker Reviews:
If you're hunting to buy a pellet smoker, you should start with these choices:
For tailgate parties, how can you not love the Davy Crocket electric pellet smoker? It's compact and lightweight so it's very portable. It's affordable too.
It can also be controlled by an app, and that's certainly cool. With its accurate internal temperature sensor and removable meat probe, you have everything need to travel with a great smoker.
Features:
Light weight and compact
The legs can even fold
It has 3 power options so you can also power it through your car battery or car lighter socket
Convenience tray with utensil hooks
Constant temperature monitor
It can be controlled by an app, which can also notify you if things go wrong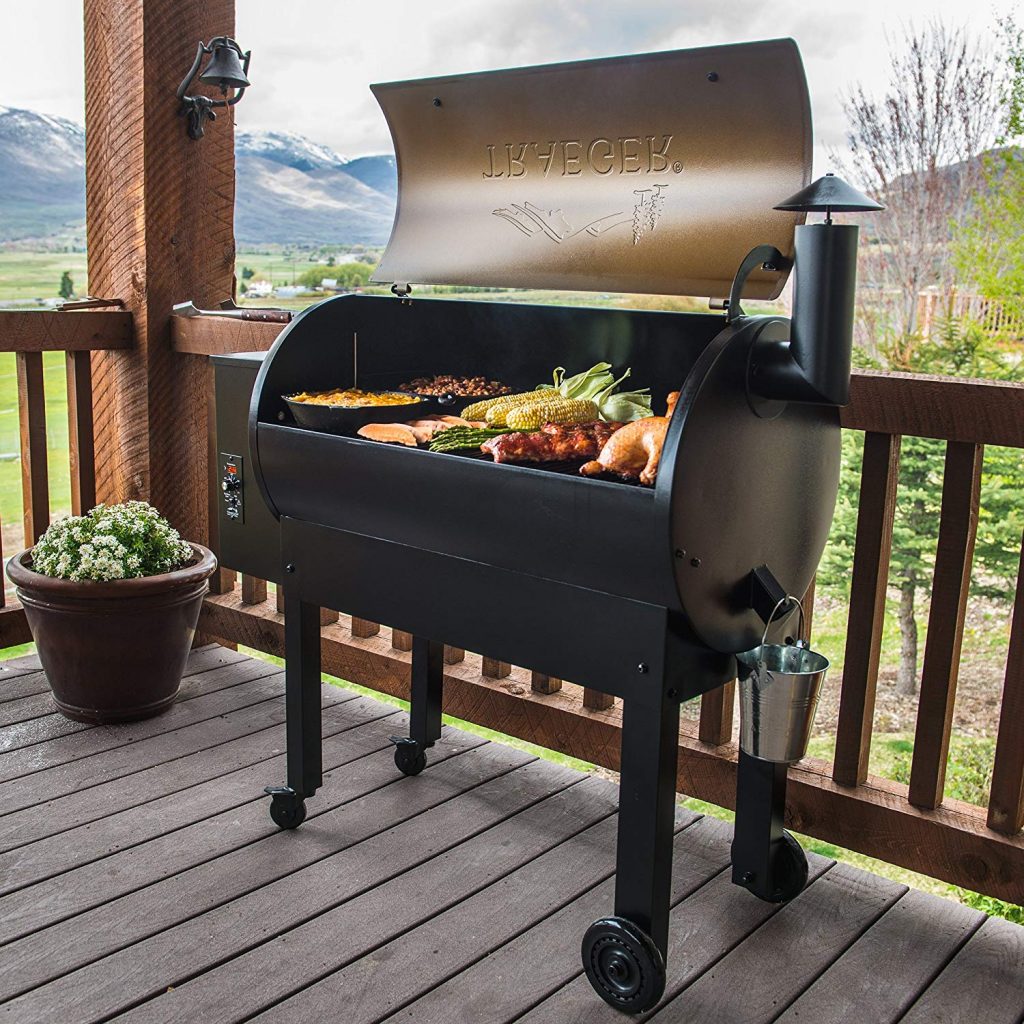 Yes, this is a pricey model that gets into the 4-figure price level, though just barely. But that's because it come with a foldable shelf and a cover from the rain and the sun.
Its features are also very advanced so you really get a lot for your money. Just set this up in your backyard, and you'll have an extremely versatile meat cooker than can prepare your meat in many delightful ways.
This has enough space for 6 whole chickens, 9 racks of ribs, or 24 burgers.
Features:
Can smoke, BBQ, braise, roast, grill, and bake your food
You just turn a dial to set the temperature and the digital controller keeps the temperature within range of your setting
646 square inches of cooking space
Heavy duty stainless steel shelf that folds when you're not using it
Full length grill cover to keep your smoker dry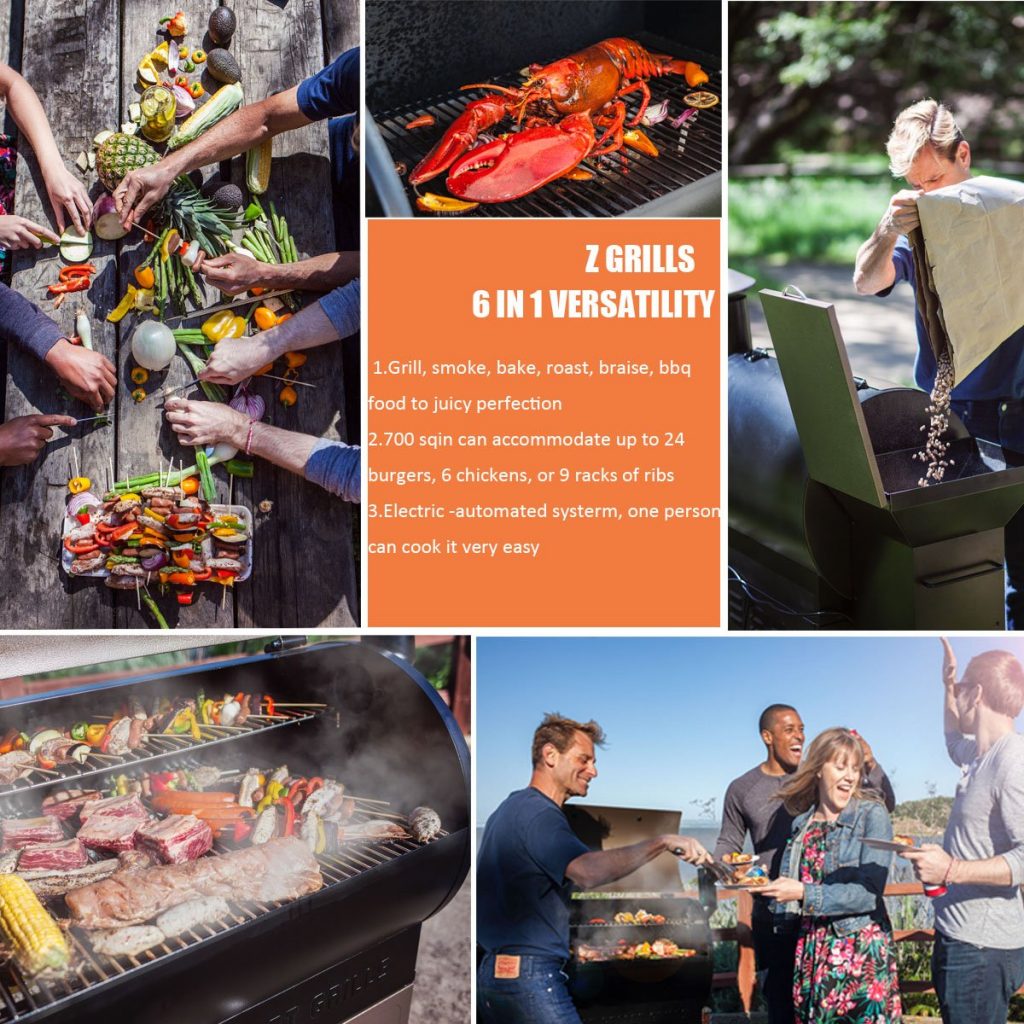 This comes with a boatload of great features, and yet it's not as expensive as you'd expect. It's a set and forget smoker that only requires you to set the temperature you want.
It basically does the rest for you.
In fact, when you're done it has a shut down cycle that leaves its fan on for 5 minutes to burn off any extra pellets in your firepot. Then it shuts down automatically. What could be easier?
Features:
Total rack surface is 684 square inches
Cooking temperature ranges from 160 to 475 degrees F
Multiple cooking capability, as it can smoke, BBQ, braise, roast, grill, and bake
Pellet purge system
Electronic auto ignition
Shutdown cycle mode
20-pound hopper capacity so no need to refill
25,000 BTUs per hour
It comes with a free grill cover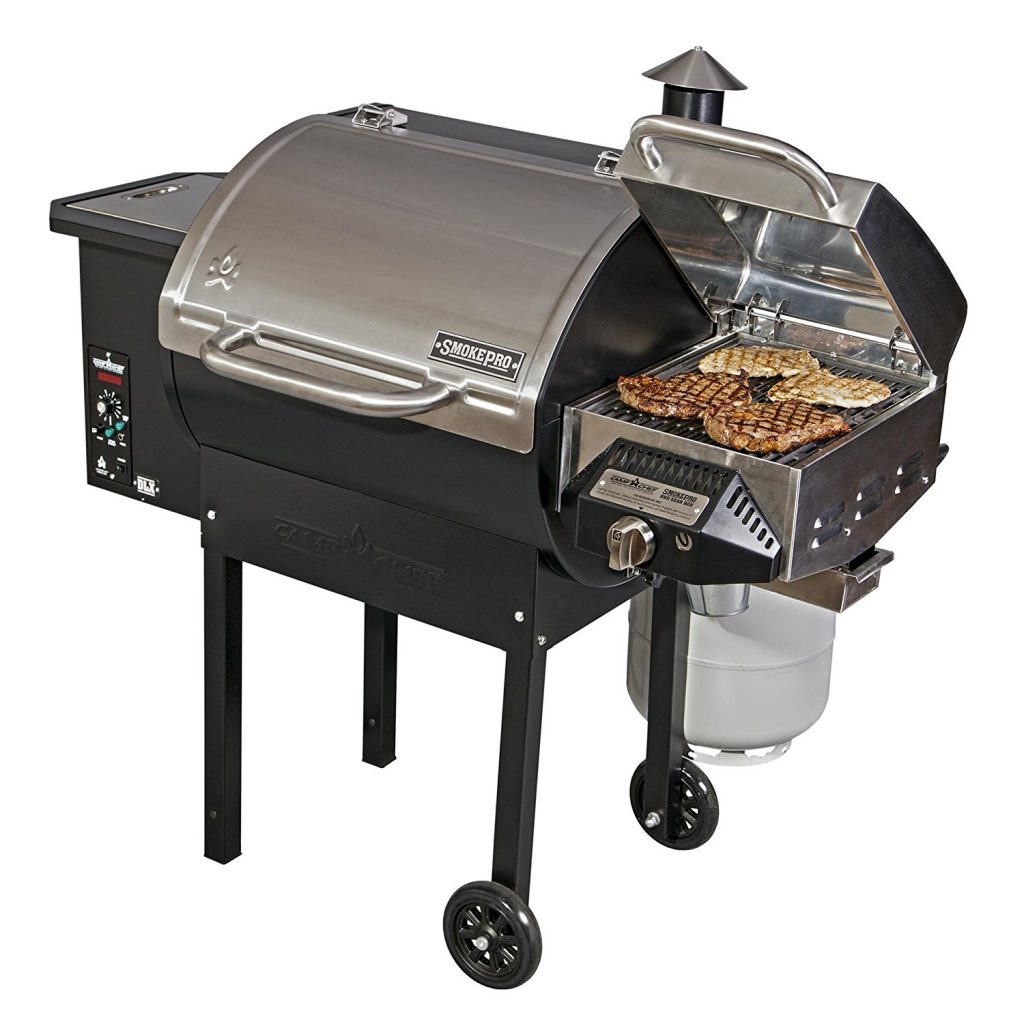 This is one good-looking smoker, but it certainly wasn't just its looks that made it among the best value pellet smokers in the industry.
Basically, if you compare it to any other smoker with the same price, that other smoker will almost always fall short. It's the best in its class, and its features have made it among the most convenient pellet smokers in the industry.
Features:
It offers a large cooking area of 429 square inches, with a second rack with 141 square inches
The cooking temperature can go from 160 to 500 degrees F
With the unique ash cleanout cup, you're spared lots of hours of vacuuming
It has a pellet purge feature and a grease management system
It comes with an internal meat temperature probe
Built-in shutdown mode
A side shelf is part of the deal
It comes with wheels on one side for easier transport in the backyard.
This is rather unique, as very few pellet smokers come in a vertical design. After all, with the convection fan you don't need a vertical design to make full use of the rising smoke.
Yet the design does offer several advantages. It occupies a smaller footprint than the horizontal version. This particular model also offers a great amount of cooking space, as the cooking area measures 901 square inches. With 4 cooking racks, you sure do get a lot of meat.
Features:
Hopper capacity is for more than 40 pounds, so you can slow cook and smoke the meat for 24 hours straight
Fully programmable digital controller
Temperature ranges from 150 to 450 degrees F
Double walled construction and blanket insulation protects internal temperature from the outside
Auto-start with automatic shutoff
Meat probe
Porcelain-coated water and heat deflector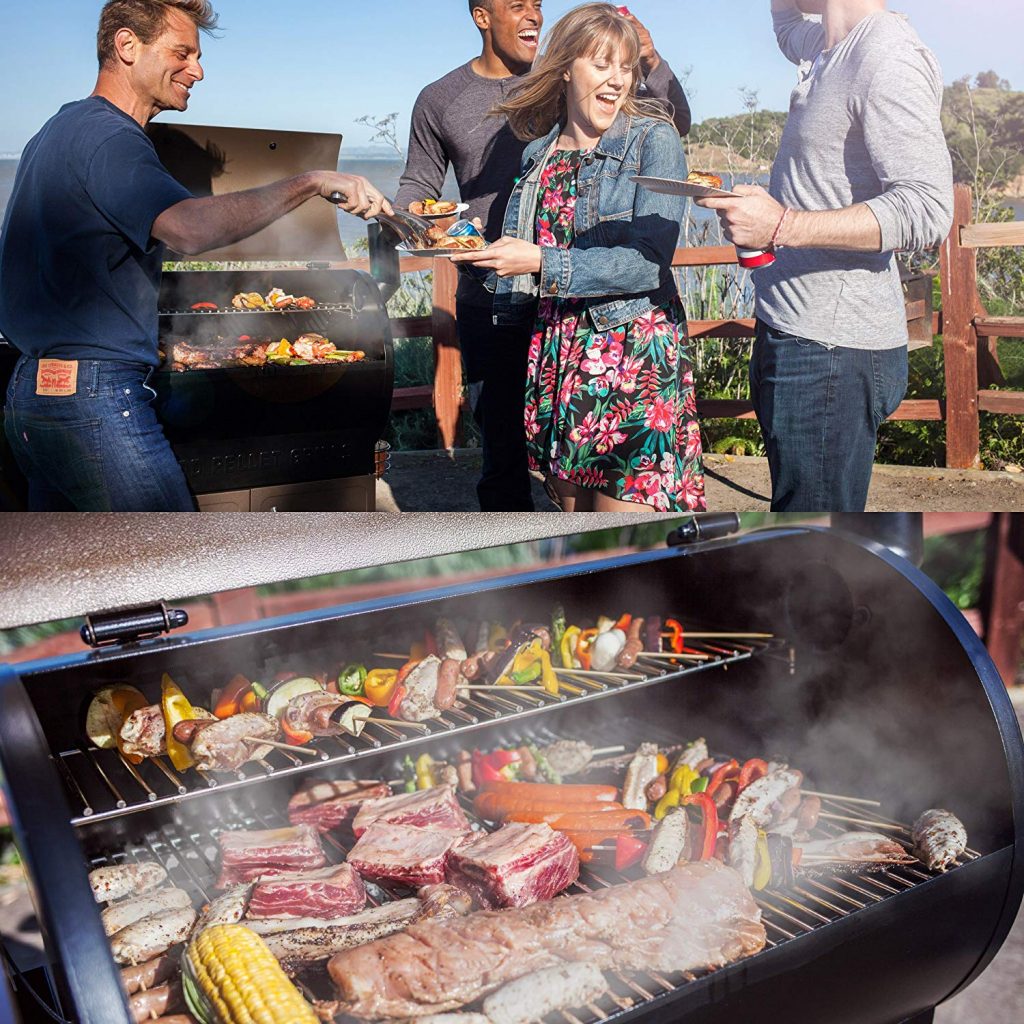 This 8-in-1 barbecue grill is one of its kinds. Initially, its high cost may discourage you but when you take the time to check out its superior features, you'll agree that its price is fair.
You can char-grill, barbecue, braise, sear, roast, bake, smoke, and grill foods with it. With this machine at home, you may no longer need to visit any rotisserie anymore. You could even run a mini-rotisserie with it and have it pay for itself.
Its fan-forced convection cooking style ensures the atmosphere is not engulfed in either heat or smoke. It has a temperature and pellet feed control system that allows you to control your cooking temperature from 180°f to 450°f.
This feature also produces the optimal amount of smoke. What most people love about it is the wide grilling area that gives you ample space to grill, braise, smoke, or barbecue a huge amount of meat, fish, or other food items.
With a total rack surface area of 700 sq. inches, you can grill almost anything. You will appreciate this more during a family get-together when you'll have to cook for a whole lot of people.
This review will be incomplete without mentioning that the product comes with 3-year manufacturer's warranty. The smoker may look complex, but it is quite easy to use and its pair of caster wheels makes mobility super-easy.
Features:
Since the newly upgraded smoker is made of stainless steel, it is highly resistant to corrosion and rust
Its locking caster wheels enhance mobility
You'll get a refund or replacement. However, the real deal is its 3-year warranty
There's a waste oil collector that helps you with a safe cleanup
Porcelain-coated water and heat deflector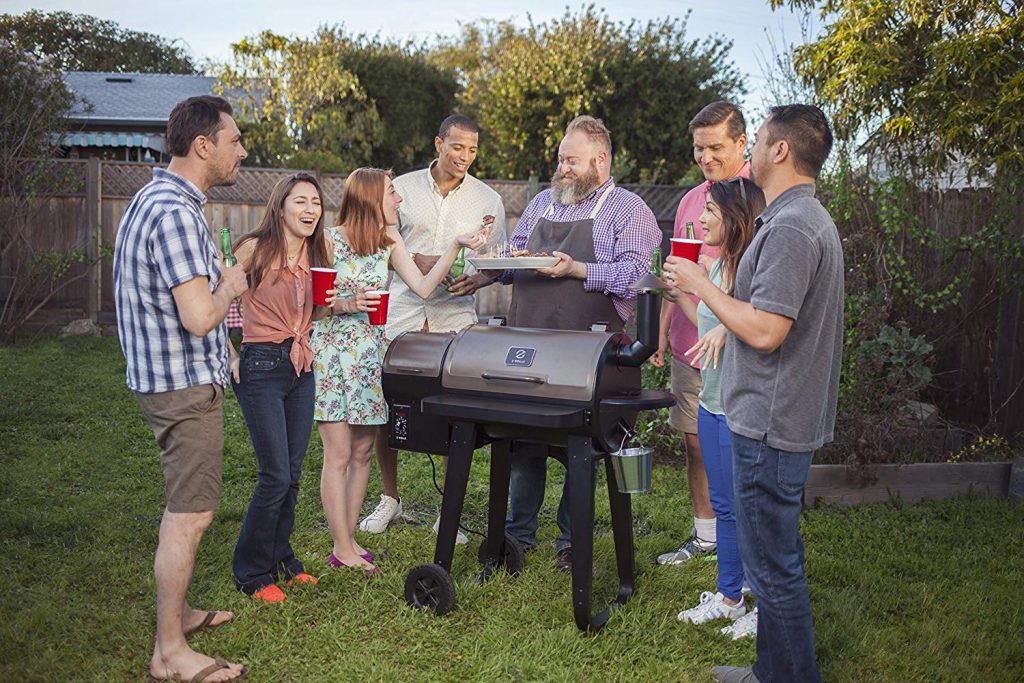 If you love grilling and barbecuing then you'll love this machine. One machine – 6 different tasks! This is a fantastic deal anytime. The machine can grill, smoke, braise, roast, bake, and barbecue.
Isn't that mini rotisserie? Its fan-forced convection cooking technology regulates heat and smoke in the environment.
With its digital control board, you can control the cooking temperature. The best part is that the grilling device provides heat from 180°f to 450°f. There's no chance the heat won't get to the innermost part of your meat or fish.
With a 450 sq. inches grilling area, you'll have enough space to grill a large amount of meat at the same time. Its huge capacity helps to save your grilling time.
Its shelf is foldable and its pair of wheels is heavy duty so they'll thrive on every kind of terrain. The wheels make mobility very easy.
You can either push or pull it around. You can push it outside for some backyard barbecue and push it back inside when you're done.
After buying it, you have 30 days to try it and return it if you don't like it. It also comes with a 3-year warranty.
If anything goes wrong with it within those 3 years, it will be fixed or replaced for you. However, you may want to check the warranty terms and conditions to fully understand the manufacturer's warranty policy.
What is the Best Electric Pellet Smoker?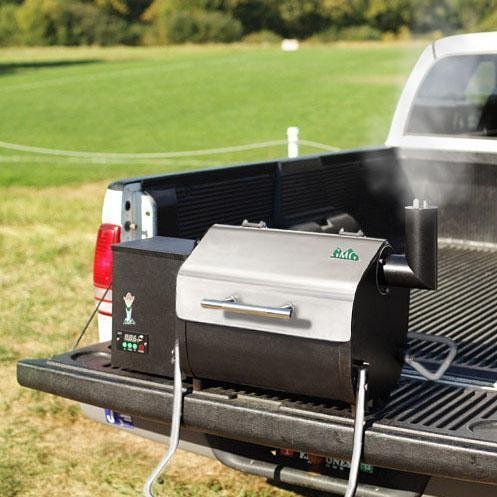 To give you an idea of what a great smoker looks like, let's take a look at the Green Mountain Grills Davy Crockett Electric Pellet Smoker.
This is an exceptional choice, especially in terms of price. Unlike other pellet smokers this one is actually quite affordable. It's not hard to find others that cost twice—or even 10 times—as much.
It's affordable because it's a portable model. It only weighs 57 pounds and it can fit the inside of your car trunk. These attributes make it a suitable smoker for tailgating parties and other occasions when you need to use it out of your backyard.
Yet it offers features that are so advanced you'd be amazed especially if you've been relying on your own DIY smoker for a while now.
First of all, it uses wood pellets, so there are no additives or gas taste that can affect the flavor of your meat. It's also an electrical smoker, as you need to power the advanced controls.
These controls include the vaunted "Sense-Mate", which is the thermal sensor that continuously monitors the internal monitor. There's also a convenient meat probe so you know the temperature of your meat.
You also have the various accessories so you can power it from an electrical socket, your car battery, or even the car lighter.
But what really takes the cake here is that this thing is Wi-Fi enabled. You can actually control it through an app on your Android or iOS smartphone.
The app lets you set up the temperature settings, and you can program it to smoke for 5 hours, cook for 3 hours, and then keep the meat warm until you're ready to eat.
It will also notify you if something has gone wrong, such as if the fire has gone out in the fire-pot or the hopper isn't feeding the pellets into the auger properly.
This is the essence of the electric pellet smoker. You get the finest smoked meat you can get, and yet the process is the easiest you can follow.
The Green Mountain Grills Davy Crockett Electric Pellet Smoker is fantastic because you get these terrific features and delicious results without requiring you to empty your bank account. The meat somehow tastes better—since you know you saved a lot of money as well.
How Electric Pellet Smokers Work?
So what is it about the electric pellet smoker that makes it so special? Part of the reason for this is the way it works. While the details can be different from specific models, the basic process is similar across the board:
When you turn your smoker on, it produces heat and high pressure to ignite the wood pellets. The process actually activates the natural glue in the wood pellet, so the pellets burn very cleanly and there's very little ash.
The digital controls let you set the cooking temperature you want. The internal sensors and the automated controls will make sure to maintain the temperature within a few degrees of this setting.
There's a rotating auger that delivers the wood pellets from the hopper to the fire pot where there's an igniter rod. Sometimes there's also an intake fan that takes in air which is then pressurized and heated. Either way, the wood pellets combust to heat the cooking chamber and it produces the smoke you want as well.
There's also a fan that continuously runs so that the heat and smoke from the wood pellets are diffused all throughout the cooking chamber.
The sensors check when the temperature is dropping, and at the right time it will then set the auger to deliver another wood pellet to maintain an even temperature.
That's basically it. Some models have automatic shutdown features so that they turn off the heat after a given number of hours. You may even find models that run on an app.
How to Use an Electric Pellet Smoker?
What also nice about the electric pellet smoker is that you don't really need to know how it works. It's like being a new driver—you don't have to know all about automotive engineering to work the pedals and the steering wheel. With the pellet smoker, it's actually even much easier than driving a car.
What you first need to do is to get your smoker from a trustworthy brand. Once you have your smoker, you can then simply follow the instruction manual and you're all set.
You most likely don't even have to watch a YouTube video to use the machine to smoke your meat. However, such videos can be useful when you're trying to use the smoker for other cooking methods, such as for braising and for baking.
These smokers do tend to function in similar ways:
Make sure before you start that the smoker is reasonably clean. That's why it's best to clean the smoker after using it, so that when you use it again you don't waste time. Clean the grills, the grease pans, and burners, and dump the ashes.
Fill the hopper with the wood pellets of your choice, and plug in the smoker.
Turn it on, and then set the temperature to the level you want. Depending on the smoker, you can also program it to do more complicated functions. So you can program it to smoke for 5 hours and cook for 3 hours, or you can just set it to slow cook for 12 hours.
Wait for the cooking chamber to reach the proper heating temperature and then put your meat in.
Close the lid, and then wait for it to cook.
That's basically it. It helps when you have a reliable smoker so you don't have to babysit it. Once you're done, you can set the meat for half an hour or so and then you can enjoy your fine meal.
10 Benefits of Using the Electric Pellet Smokers:
So why go for the best? Here are some reasons why the electric pellet smoker is a great choice:
Using wood pellets produces the least amount of CO2 emission, compared to using gas, oil, or electric burners.
Wood pellets also don't have additives that can affect the taste of the meat. In addition, the smoke is often mild so you won't end up oversmoking the meat.
It's so easy to use a good pellet smoker that even newbies can produce world-class results. The entire process is basically to "set and forget".
These smokers tend to offer other functions, such as baking braising, roasting, and grilling.
You don't have to do anything to maintain the temperature, as this is done automatically. The smoker has internal sensors to check on the temperature, and it burns more wood pellets to maintain the temperature level.
These come in various sizes. Some are big enough to feed an entire backyard party. Others are compact and great for smaller patios and for bringing to tailgate parties.
Because it has digital controls, it's not surprising that there are smart versions that can be controlled by an app.
These smokers can be very durable and so you can enjoy many years of dining on smoked meat with one of these things.
You don't have to keep adding wood chips with this smoker. Usually, the hopper on a good smoker is big enough that it won't need refilling why cooking.
There are many types of wood pellets too, so you can experiment on which types go well with different meats.
Buying Guide – How To Choose The Top Electric Pellet Smoker
Here are some factors you have to consider before you make your final selection:
1. Price
Some of these smokers can cost $4000 or even $5000 but others are in the sub-$1000 price level. Decide on the budget and then pick the one in that price range with the best features.
2. Size
You have to make sure that it fits your backyard, or your need for portable smokers for tailgate parties. You can bring some of the bigger smokers to other locations only if you have the vehicle space for them.
3. Cooking space
Take note of the cooking space as well as any available secondary rack. With a slow smoker like this, there's no option to cook a second batch for a party. You have to cook all the meat at the first go.
4. Ease of use
This will factor in the accuracy of the internal temperature and the reliability of the automatic pellet feeder. Additional accessories like a meat probe, Wi-Fi, and digital displays are great. But the reliability is the most important of all, so you can actually set and forget.
5. Ease of cleanup
Look for features like pellet purge, ash cleanout, and grease management.
6. Durability
Check the brand's reputation for quality, and read numerous customer reviews for any significant complaint regarding the durability of a smoker.
Find out how easy it is to replace a smoker under warranty, and check the length of the warrant. A free cover is also a great bonus, though you should buy one if this isn't part of the deal.
Final Word
As you can see from the excellent pellet smokers we've listed, there's a good one for every budget. Just get one you can afford from our list, and it will be money well spent.
You get to enjoy the unforgettable taste of slow cooked and smoked meat with clean-burning wood pellets, and all that's needed from you is to fill up the hopper and to set the temperature.
Just don't forget to clean it regularly, and the best electric pellet smoker will turn you into a BBQ wizard in no time!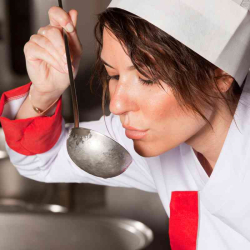 Latest posts by June Brandt
(see all)