If you're interested in the most versatile outdoor cooking equipment, you should check out the best ceramic grill.
Also referred to as kamado grill or smoker, ceramic grills can also be made with refractory materials. They typically look like giant eggs or urns which is also why some call them egg grills.
Their versatility is hard to beat, making them some of the handiest products to have around. They work as grills, ovens, smokers, roasters, and cookers thanks to their wonderful design.
How is this possible?
Ceramic grills are typically very well insulated that they effectively trap and radiate heat. Due to their structure, a few tweaks are all you need for it to produce various kinds of dishes.
They also get to cook food evenly and efficiently, promising wonderful results.
They might not be as popular as other kinds of grills due to their fragile construction but they're still gaining lots of attraction as of late.
With the number of things you can do with them, they can prove to be a wiser investment for many homes.
Want to get to know more about these products? Check out our quick guide about these products below.
Our Picks of 10 Best Ceramic Grill or Smokers:
1. Best Kamado Grill – Kamado Joe KJ23RHC Classic II Ceramic Grill
The brand might not be the most popular manufacturer of egg grills but the Kamado Joe KJ23RHC Classic II Ceramic Grill was still able to make a good case for itself for its upgraded features.
True to its company mission, it tends to offer a more well-thought-out set of features. This gives it a nice leg up on the competition.
Its biggest draw is its 'Divide and Conquer' multilevel grate and heat-deflection system. It automatically solves the cooking zone issues most ceramic grill users experience.
A similar cooking surface is required to be purchased separately with other brands, so if you want a more efficient option, the best kamado grill can be a solid choice.
Features:
[su_list icon="icon: check" icon_color="#228B22″]
18" size
406 sq. in cooking surface
225°F to 750°F heat range
Thick-walled, heat-resistant dome with built-in temperature gauge
Air Lift Hinge
Kontrol Tower top vent
Commercial-grade 304-grade stainless steel grates
Divide & Conquer® Flexible Cooking System
Advanced Multi-Panel FireBox
Patented slide-out ash drawer
Cast-iron cart with locking wheels
[/su_list]
2. Char-Griller E06614 AKORN Jr Ceramic Grill
Worried about dropping your egg grill and damaging it permanently? The Char-Griller E06614 AKORN Jr Ceramic Grill might just be the better choice for you.
This item isn't necessarily made of pure ceramic. Instead, it's made of triple wall steel construction to provide excellent insulation without making it too fragile.
With this, it promises better durability and a friendlier price tag.
Performance-wise, it's not so different from a ceramic smoker. You just really need to master the right techniques to get your desired results with this product.
Features:
[su_list icon="icon: check" icon_color="#228B22″]
14" size
153 sq in cooking surface
Triple wall steel construction
Porcelain-coated steel interior
Cast iron grate
Built-in temperature gauge
200° to 700° F temperature range
Easy-dump ash pan
Hinged locking lid
Top and bottom air dampers
[/su_list]
3. Best Kamado Style Grill – Char-Griller 6520 Charcoal Grill
For those who are after a useful outdoor cooking appliance for backyard parties, the Char-Griller 6520 Akorn Kamado Kooker Charcoal Grill might be the perfect pick.
Aside from the egg grill, it comes with a side cart that will provide you the workspace you need to prep the ingredients that you'll cook next.
The best kamado style  grill itself also offers a lot of room to work in. It has two grates that you can use together or independently. You can turn it into a 2-rack oven or use the upper grate as a warming rack when grilling.
Features:
[su_list icon="icon: check" icon_color="#228B22″]
20" size
314 sq in cooking surface plus 133 sq in warming rack
Additional prep space
Triple wall steel construction
22-gauge steel body
Porcelain-coated interior
Tubular steel cart with 8" locking caster wheels and lower storage rack
200° to 700° F temperature range
Built-in temperature gauge
Cast iron grates
Dual adjustable dampers
Easy dump ash pan
[/su_list]
4. Duluth Forge Kamado Style Grill, 21″
Willing to invest in best ceramic smoker? Then check out the best Kamado style grill Duluth Forge 21".
Made with 1.25" thick ceramic walls, it's the very definition of a ceramic grill, making it a solid option for those who do not want to settle for anything less than the real deal.
With its premium appearance and top-notch materials, it's very easy to justify the price of this item. Aside from being made from actual ceramic, it also uses commercial-grade stainless steel in its hardware.
Its grates are also porcelain-coated for better heat retention. Its size is also something lots of people would be willing to shell out cash for.
Features:
[su_list icon="icon: check" icon_color="#228B22″]
21" size
567 sq. in cooking surface
1.25" thick ceramic walls
Dual-action top vent
Commercial-grade stainless steel hardware
Porcelain-coated grate
Built-in stainless steel temperature gauge
[/su_list]
5. Cal Flame BBQ15K21 21′ Kamado Style Grill
Another solid option for a solid ceramic grill is the Cal Flame BBQ15K21 21' Kamado Ceramic Grill.
While this item has the same appearance as the Duluth Forge item listed above, it has a few more bells and whistles that make it a lot more functional.
So aside from the actual egg grill, this kamado grill also has folding shelves to give you extra workspace and a more durable top vent. It also comes with a stand and locking wheels, making it easier to move around.
Features:
[su_list icon="icon: check" icon_color="#228B22″]
21" size
½" thick ceramic walls
Cast iron top vent
Built-in temperature gauge
304 stainless steel grill grates
Folding side shelves
Fireproof fabric seal
Slide-out ash drawer
Stainless steel stand with locking caster wheels
1-year warranty
[/su_list]
6. Viemoi Kamado Grill Mini Kamado Charcoal Grill
If you don't need a large egg grill, the Viemoi Kamado Grill Mini Kamado Charcoal Grill might already do the trick for you.
With its 13" size, it can be a good tabletop option for those who aren't planning on cooking up a feast with their best kamado grill.
Listings do not note what it's made from but lots of buyers are satisfied with its quality and performance so it's safe to say that it can deliver the results you want from an egg grill.
Features:
[su_list icon="icon: check" icon_color="#228B22″]
13" size
Can handle up to 1000 degrees
Built-in temperature gauge
304 food-grade stainless steel grate
Bamboo wood handle
300x300D Oxford Water Proof Cover
Stainless steel stand
[/su_list]
7. Primo Oval LG 300 – Best Ceramic Smoker
The Primo Oval LG 300 Ceramic Smoker Grill is another investment option you should know of if you're looking for a great kamado.
Its hefty price tag might shock you but many will attest that it's worth every penny with its solid construction and great performance.
Made entirely in the USA using domestic materials, you can count on the durability of this product. It's also a great purchase as it puts money back into the local economy.
It will also wow you in terms of performance. Its dual-zone cooking will also let you do more on a single cooking session. As a result, you can make the most with this piece of cooking equipment.
Features:
[su_list icon="icon: check" icon_color="#228B22″]
395 sq in cooking surface
150°F to 850°F temperature range
Made of premium grade ceramics
Reversible, dual-zone grate
Built-in temperature gauge
Patented oval shape
Adjustable damper
Stainless steel cart with 2 side shelves, lower shelf, and caster wheels
[/su_list]
8. Weber 18301001 Summit Charcoal Grill
While this brand is best known for its kettle grills, the Weber 18301001 Summit Charcoal Grill is a step up from its regular steel grills.
With its porcelain-enameled interiors and lid, it traps and reflects heat more effectively, promising more even and efficient cooking.
Even if it's not a traditional ceramic grill, it's still worth investing in with its sturdy construction that even comes with a 10-year warranty. It also has a gas ignition device that makes firing up this grill simpler and faster.
Features:
[su_list icon="icon: check" icon_color="#228B22″]
24" size
452 sq. in. cooking space
Double-walled, air-insulated porcelain-enameled lid and bowl
Stainless steel hinged cooking grate
Snap-Jet burner ignition system
2-position fuel grate
Built-in lid thermometer
Rapid-fire lid damper
Tool hooks
One-touch cleaning system
Stand with caster wheels and bottom storage rack
10-year warranty
[/su_list]
9. Vision Grills CF1F1 Pro Ceramic Grill
For those who are after great value for their money, the Vision Grills CF1F1 Pro Ceramic Grill might do the trick.
Made of actual, heavy-duty ceramic, it combines the traditional technology of these egg grills with a few innovations that make this product more convenient to use.
Aside from relying on the convection-style cooking process that ceramic grills use, it ups the ante with its Patented ProZone technology.
This makes firing up the grill and controlling its temperature levels easier. It also provides a large ash drawer, making cleanups simpler and faster.
Features:
[su_list icon="icon: check" icon_color="#228B22″]
596 sq. in. cooking space
200°F to 700°F temperature range
Heavy-duty ceramic construction
Patented ProZone technology
Dual-flip stainless steel grates
Dropdown side wood shelves
Electric starter port
Heavy-duty cart with locking caster wheels
Cast iron top vent
Lifetime warranty on ceramic parts
[/su_list]
10. Kamado Joe KJ13RH Joe Jr Charcoal Grill
Completing this list is another mini pick, the Kamado Joe KJ13RH Joe Jr Charcoal Grill. Despite its small size, it's very effective in cooking up various dishes and executing different cooking techniques.
Aside from being a compact option, it's also relatively lightweight.
So if you want something that's more portable, this might be a good choice. Just be careful when transporting this item as it can break due to its primary material.
Features:
[su_list icon="icon: check" icon_color="#228B22″]
13.5" size
148.5 sq. in. cooking surface
304 stainless steel cooking grate
Built-in thermometer
Grill gripper
Ash tool
225°F to 750°F temperature range
Cast iron stand
[/su_list]
Where Can I Buy a Big Green Egg Grill?
When planning on making a new purchase, one of the first things people want to know is where they can get the item they're eyeing.
It makes sense for this question to be asked before anything else as the answer to it can determine a direction and course of action to your search.
So where do you buy a big green egg grill?
These items are quite easy to find, actually. If you're not hung up with the name brand, you'll find ceramic grills in home improvement stores and big box stores without a fuss.
Note, however, that there are limited options in these places, so don't get your hopes up in finding a wide selection of options.
If you want a vast array of choices, look online. You can head directly to the websites of ceramic grill manufacturers and start your search there. You can also visit specialty homeware retailers as they carry a few different options.
For the widest selection, however, you should head to Amazon.com. You'll find options in various shapes and sizes there, allowing you to better get to know what's in store for you.
But more than knowing where to purchase these items, it might be more important to focus on which one to get. You have lots of choices when it comes to the best ceramic smoker and they're only growing by the minute.
With the popularity of these items steadily increasing over time, you'll soon find yourself overwhelmed when trying to choose just one item.
To help you narrow down your options or at least get started in getting to know the finest kamado grills in the market, we've rounded up 10 popular items below. They're all guaranteed to be great picks, so make sure to give them a shot.
Buying Guide – How to Choose the Best Ceramic Grill?
After getting to know your options and where to get best kamado grill, the next thing you need to know is how to choose the right one for you.
This area can get tricky so we have pinpointed the most important points that you should look closely into before making a decision. These are the following:
1. Materials used
Like with any other cooking equipment, the materials used in the construction of an egg grill say a lot about its quality and performance.
This is why you should be very particular when considering your options. Make sure to look closely into these two points:
i. Porcelain-enameled vs. Ceramic wall
The biggest decision that you would have to make is whether to go for an actual ceramic wall or a porcelain-enameled unit.
Egg grills with ceramic walls are made purely with ceramic and are the traditional varieties of said items. They're heavier, more fragile, and are typically pricier.
However, they guarantee more effective heat retention and reflection, so they're very attractive to those who want to enjoy the benefits of traditional ceramic smokers.
Porcelain-enameled options, on the other hand, are usually made from double-wall steel units with their interiors coated with porcelain.
They're more lightweight and durable. In most occasions, they're also more affordable. However, they might not be as effective in trapping heat, so you might not get the exact same effects as traditional ceramic grills.
How do you choose between the two?
It's totally up to you. Lots of experts say that lots of well-built porcelain-coated steel egg grills can perform just as well as traditional ceramic grills, so if you choose properly, you don't have to worry about missing out on the great effects of the traditional variety.
ii. Hardware materials
Aside from the actual egg grill structure, you should also look into the materials used for the cooking grates, latches, handles, vents, and ash drawers of the items you're eyeing.
They should be made of high-grade steel as well so you can be sure that they won't warp and negatively affect the performance of your grill in the long run.
2. Size
Kamado grills come in a very wide range of sizes, so you should also consider the size that you want and need to get.
If you're planning on cooking a lot, then go for a large unit. If you're just cooking for a couple of people, a smaller unit will work for you.
3. Price
As our list above will tell you, these items also come in a wide range of price points. They're not necessarily cheap, however, so you still need to invest in the unit you'll get.
Others are way pricier, though, so you might also want to consider setting a budget for this item.
Usually, egg grills that are fully made of ceramic are more expensive than double-wall steel options. However, there are also a few porcelain-enameled steel egg grills that are very pricey.
So if you want to get the best value for your money, you should be ready to closely compare the items you're eyeing.
4. Features
To further gauge the value of the item you're eyeing, you should also check the features they have. There are lots of no-frills options but there are also those with more advanced functionalities.
Ask yourself whether you're willing to pay extra for your convenience or if you're cool with a basic unit. From there, you can weigh your options and make a good decision.
Final Verdict
If you want to end up with the best ceramic grill, you should be ready to be thorough in choosing the item you'll purchase.
With the number of options available, you will need to be very discerning in your search. We're confident that our guide will be helpful, however.
So keep our recommendations and tips in mind to make your search simpler and maybe even faster.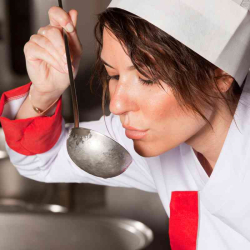 Latest posts by June Brandt
(see all)