Every BBQ fan knows about the utterly delightful taste of smoked fish and meat. Even veggies or even cheeses can be set to absorb the smoky flavor you can get from various types of wood chips.
To obtain this smoky flavor, various experts have provided us BBQ lovers with several smoker options to choose from. One of them is the simple drum smoker. While you can make your own, you can also buy the best drum smoker for your backyard party needs.
But why bother?
Well, the drum smoker came about because some people who loved their smoked meats decided that there's no point in missing this particular treat when something can be done about it.
That's how the first makeshift drum smokers came into existence, and soon people were sharing all these ideas on how to build one properly. The thing even acquired its own category: "ugly drum smokers" or UDS for short.
Still, you don't have to bother making this device yourself as you can just buy one online. It works very simply, with a heat source at the base while you have your
meat on top
absorbing the resulting smoke.
You just need to build a fitted meat rack in the drum, and you also can control the temperature by making ventilated openings.
Top 7 Drum Smokers in 2021 – Get The Right Model
Top Trending Drum Smoker Products:
Our Picks of the 5 Best Drum Smoker Reviews: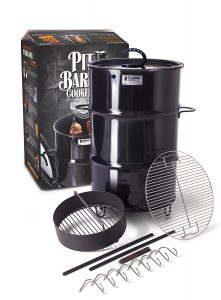 No list of excellent UDS kits is complete without a mention of the best barrel smoker. This PBC is famous as it has received enthusiastic reviews from hundreds of customers and numerous BBQ authorities.
The famous TV host Steven Raichlen has included it in his Barbecue University alongside other cookers with 5-figure price tags. It has earned the Best Value Gold Medal Award from AmazingRibs.com.
So what makes it so good?
Features:
[su_list icon="icon: check" icon_color="#228B22″]
It's very easy to use as you won't have to spend too much time adjusting the heat
Plenty of online videos on how to use it
It also offers consistently good results
It's also portable, so you can bring it to tailgate parties
The price is very reasonable
[/su_list]
This is another highly-rated UDS that has earned accolades from so many BBQ enthusiasts. The 18-inch model is a nice compromise between the 14-inch and the 22-inch versions. It's just right.
What sets this apart is that it maximizes the space inside by using 2 grates so you can cook more food at once. It offers up to 481 square inches of cooking space, and that should be more than enough for any gathering.
Features:
[su_list icon="icon: check" icon_color="#228B22″]
[/su_list]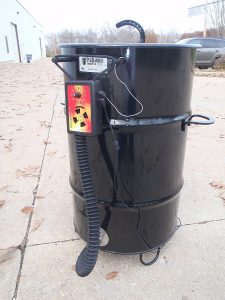 You know how it can get tricky to regulate the temperature on a DIY UDS? On the famed Pit Barrel Smoker, it can be a bit of a challenge.
That's not going to be a problem with this purchase, as it boasts of providing you with precision temperature controls.
You can actually maintain the temperature on a single load of charcoal for up to 12 hours. This gives you leave to just let it be while it slow cooks your meat to their smoky perfection.
Features:
[su_list icon="icon: check" icon_color="#228B22″]
This IQ110 hangs from the hanging rods of the PBC
It comes with the custom-fit stainless steel pit adapter that replaces the PBC's factory air inlet damper
It's easy to put on
You can just set the dial to the temperature you want
It's perfect for newbies to UDS
[/su_list]
Yes, it's true that this can be a bit pricey as it can have a 4-figure price tag. But then sometimes quality does come at a cost. At least with this you get everything you need.
It even looks great, which you can't say about your typical UDS. After all the U in UDS means "ugly"! Now you can choose between black, charcoal, blue and red for your UDS, and the paint is also resistant to high heat.
Of course, it has a lot more going for it than its looks:
[su_list icon="icon: check" icon_color="#228B22″]
The removable fire basket has a large capacity for hours of smoking
The temperature can range from 250 to 325 degrees F
Thermometer mounted in front
You can speed up the smoking process without sacrificing moisture or flavor
[/su_list]
If you're more into the DIY method but you just want to make things easier for you, then this is perhaps the UDS you should get.
All you need to obtain is the 55-gallon drum, along with a couple of wrenches and a Phillips head screwdriver. Then you can consult the parts list that goes with this kit.
Your purchase includes the exclusive PID controller that lets you control the temperature. You also get the hopper assembly and the mounting brackets.
Features:
[su_list icon="icon: check" icon_color="#228B22″]
It can hold 20 pounds of pellets
The temp range is from 160 to 450 degrees
You get a full parts list plus the pellet hopper and the mounting brackets
You get both Oven and Smoke settings
The PID controller lets you maintain the temperature within 5 degrees
[/su_list]
How to Build an Ugly Drum Smoker?
If you're short on cash, you can make your own UDS for less money. Here's the step-by step process:
First you'll need to gather and buy all your materials for your DIY project. These will include a 55-gallon drum with a lid, along with a propane weed burner, power drill, step bit, wrench, and painter's tape.
Then you have to get ¾-inch sizes of the following: 3x steel pipe nipples, 3x conduit nuts, 2x black steel pipe caps, and 1x ball valve.
You'll then need a grill grate that measures 22.5 inches in diameter, a door handle, and 2 tiers of grate support with 4 bolts each. So you'll need 8x of: "1.5 x 0.25-inch" 20-bolts, lock washers, and nuts.
Then you have to build a charcoal basket, and for that you'll need a 14.5-inch charcoal grate and a 45×9-inch 9-gauge expanded metal. You'll also need two "1-inch by 5/16-inch" bolts, four 5/16-inch nuts, four 5/16-inch flat washers, and two U-bolts.
As you can see, this can be a very complicated process as the materials list is already long. The entire procedure can be obtained online and it can be excruciatingly detailed.
It won't be easy especially if you don't have any extensive DIY experience. In addition, getting all these tools will still cost you a significant amount of money.
This is why lots of people prefer to just spend a bit more to get the finished product instead. Pick the right one, and you can be very sure that it'll work better than anything you could have built yourself.
How to Use a Drum Smoker?
Let's say that you were able to build a UDS, or you came to your senses and just bought one outright. So how do you use it? It helps if you get an instruction manual with your UDS, as your unit may have special features. In general, however, these are the steps you need to take:
[su_list icon="icon: check" icon_color="#228B22″]
First you'll need to light the UDS. Before you do that, you should remove the lid, grates and charcoal basket from your UDS.
Now fill up the charcoal basket with charcoal almost up to the top. Plain lump charcoal or charcoal briquettes will do, but don't use the self-lighting briquettes.
Then get a Weber chimney lighter or something similar to light the charcoal.
After that, wait until the coals are covered with white ash or they're glowing red.
Make a small well or hole in the center of the unlit charcoal in the basket and pour the lit pile into the well and into the center of the basket.
Your drum smoker will have vents on the side or bottom, and you can use them to control the temperature. At first, you'll need to open them all the way while the smoker is lighting. Don't forget to put the lid on the UDS while the temperature rises.
You can also experiment with the vents to get the temperature you want. Open the vents further and you get more air and a higher temperature. Close the vents and the temperature will go down.
Now wait until you've reached about 50 degrees below your target temperature. At this point, replace the threaded cap at the back of the UDS.
When the temperature reaches 25 degrees below your target, close the vent halfway. As your temperature reaches your target you can fiddle with the vent so you can dial in the temperature you want.
Wait for the resulting white smoke to turn into the ideal thin blue smoke. At this point, open the lid, place the grates inside, and put the meat on the grates. Then close the lid.
On one side of the smoker, you have holes where you can put in the meat probes to monitor the temperature.
Once you're done smoking your meat, close all the ball valves and use aluminum foil to wrap the chimney. The lack of oxygen will put out the fire.
[/su_list]
10 Benefits of Using a Drum Smoker:
[su_list icon="icon: check" icon_color="#228B22″]
You can buy it for a reasonable price.
You can even build one yourself.
It's proof of your BBQ credentials if you can actually build one.
It's very fuel-efficient.
It doesn't have to be ugly with the right model.
You don't have to worry about water pans.
You don't have to add more fuel either.
You only need to control the airflow to maintain the temperature.
It's simple to light.
They're good enough that people have used them for BBQ competitions—and won.
[/su_list]
Buying Guide – How to Choose the Best Drum Smoker?
If you've decided to just buy a UDS, here are some factors you should consider:
How much does it cost?
The point of building your own UDS is that you get to spend less. However, if the cost of the UDS isn't too much higher than your DIY costs, then it may be more sensible to just buy a kit instead.
What does the package include?
Some kits come with the drums, while others don't. If you're going to buy these things, you may as well get all the materials you need so you don't waste time. You also minimize the risk of getting the wrong parts. It also helps if you can get extra parts for greater convenience.
How easy is it to assemble?
You will still need to assemble these things yourself. If you don't have much DIY experience, you should go with the kits that require only minimal assembly.
How easy is it to use?
Some UDS models can be hard to use when it comes to regulating the temperature, just like the makeshift models. But others are much simpler to use and control.
This is a great way to tell if a UDS kit is good or bad.
Some kits get hundreds of excellent customer reviews with rare complaints. You can also heed the recommendations of celebrity BBQ experts and famous foodie websites and publications.
Final Verdict
With these options you can sure find one that fits your needs and your preferences. For DIY enthusiasts, there's the Pellet Pro that can help guide you through the DIY process so you don't make a mistake and buy the wrong parts.
However, if you're going to really make it easy for yourself while you enjoy consistently excellent results, you can just get the famous PBC.
Get the PitmasterIQ IQ110 temperature regulator and it's even easier. This is the best drum smoker for newbies, and with this your backyard parties will be the envy of your neighborhood!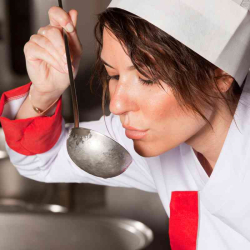 Latest posts by June Brandt
(see all)