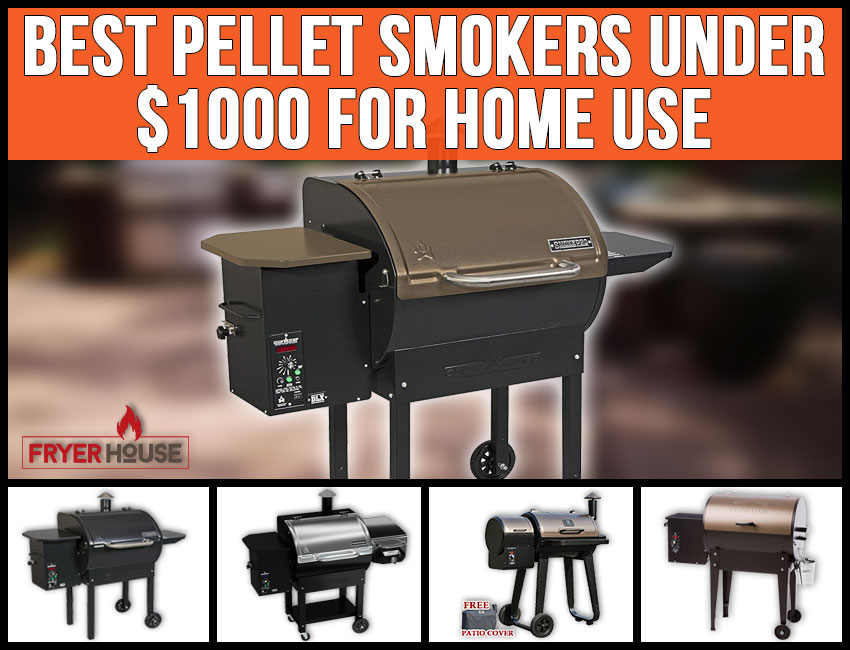 While there are many ways for backyard meat smokers to provide heat and smoke for the meat, many BBQ aficionados acknowledge the superiority of pellet smokers.
Even the best performing pellet smokers under $1000 can be revolutionary for people who've never tried them before. They're so easy to use, and the results are generally terrific.
The thing with pellet smokers, however, is that all the advantages they bring you come at a rather steep price. It's not uncommon to find pellet smokers with price tags hovering at the $2,000 level. Some of the high end models even go up to $5,000. It's hard to enjoy the smoked meat when you're thinking about the costs.
Fortunately, it is possible to find a good pellet smoker—even a high-end one—at a more reasonable price. In fact, you can really get a good one without going over the $1,000 mark.
While you can of course do your own research on the subject, we've managed to compile a list of suitable models with reasonable price tags to help you get started on your search.
Top 7 Pellet Smokers under $1000 in 2021 – Get The Right Model:
Our Picks of 7 Best Pellet Smokers under $1000:
Now that you're convinced about getting a pellet smoker, here are the models that will bring the most value for your money:
Some people don't mind having a smaller unit because they're not really feeding lots of people. However, you may want something portable, so a smaller unit is actually a better option.
If that's the case with you, then you have to consider this Traeger PRO 575 PELLET GRILL. It's also a great option for a smaller patio.
This is a compact model, and it weighs just 60 pounds with wheels. Yet it's not really too little, since you still get 300 square inches of grilling area. That's good enough for 2 whole chickens, 3 ribs, 12 burgers, or 18 hotdogs.
Features:
The Digital Elite Controller maintains the temperature automatically and there's an LED display
You can use Traeger's pure hardwood pellets with no filler
A simple flip of a switch is enough to get the Traeger ready
It's built to last with its sturdy steel construction and long-lasting powder-coat finish
The grill grates are easy to clean because of their non-stick surface
It's a multi-purpose cooking appliance, as it can also BBQ, braise, roast, bake, and grill your food
We just had to include this new release, even though it's a few dollars over the mandated $1,000 limit. That's because it comes with extra accessories like a shelf and a cover—without those, it would have been well within our price range.
This offers a huge cooking area, and it's a very versatile smoker. It's also a 6-in-1 machine as aside from smoking the meat it will also BBQ, braise, roast, bake, and grill the meat.
Features:
The integrated Digital Elite Controller maintains the temperature within 20 degrees of your preferred temp
The 646 square inches of cooking space can accommodate 6 whole chickens, 9 racks of ribs, or 24 burgers
Heat maintenance is automated
The folding shelf it comes with offers a work space that measures 37 by 12 inches
The grill cover fits perfectly and protects the smoker from the sun and rain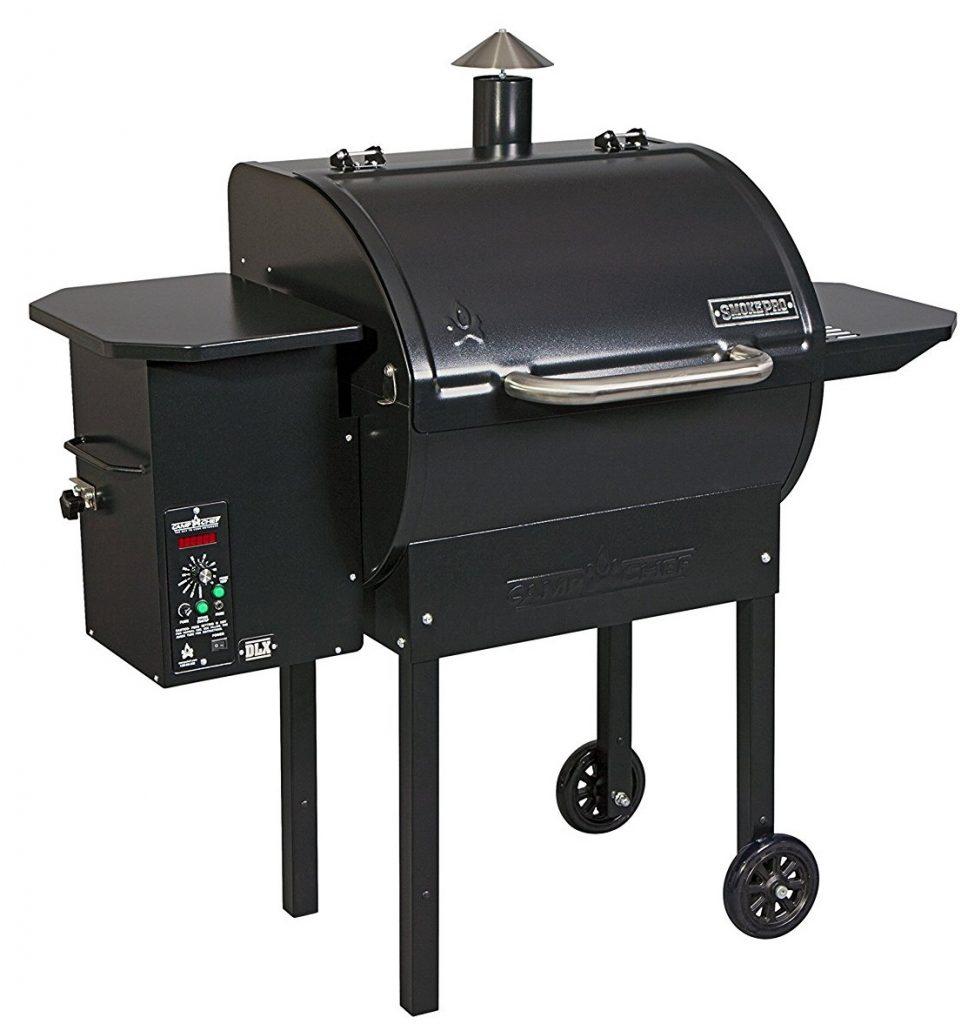 This is the pellet smoker to which all the others will be judged. It really is that good. It's so easy to use that newbies can buy and use this without too much effort, and the results can be fantastic.
It's a set and forget model that you can trust to do the job right. It is extremely reliable, and you can expect it to work without problems for many years to come.
Features:
It's very easy to assemble, and the manufacturer website even offers a video demo
Digital LED control system
Ample cooking space at 573 square inches, and the upper rack is removable
The pellets are efficiently used as none of the pellets go to waste, and the 20-pound pellet hopper minimizes the need for pellet refills
It's very easy to clean, because it has a trap door that lets you access the fire pot so you can get the ashes out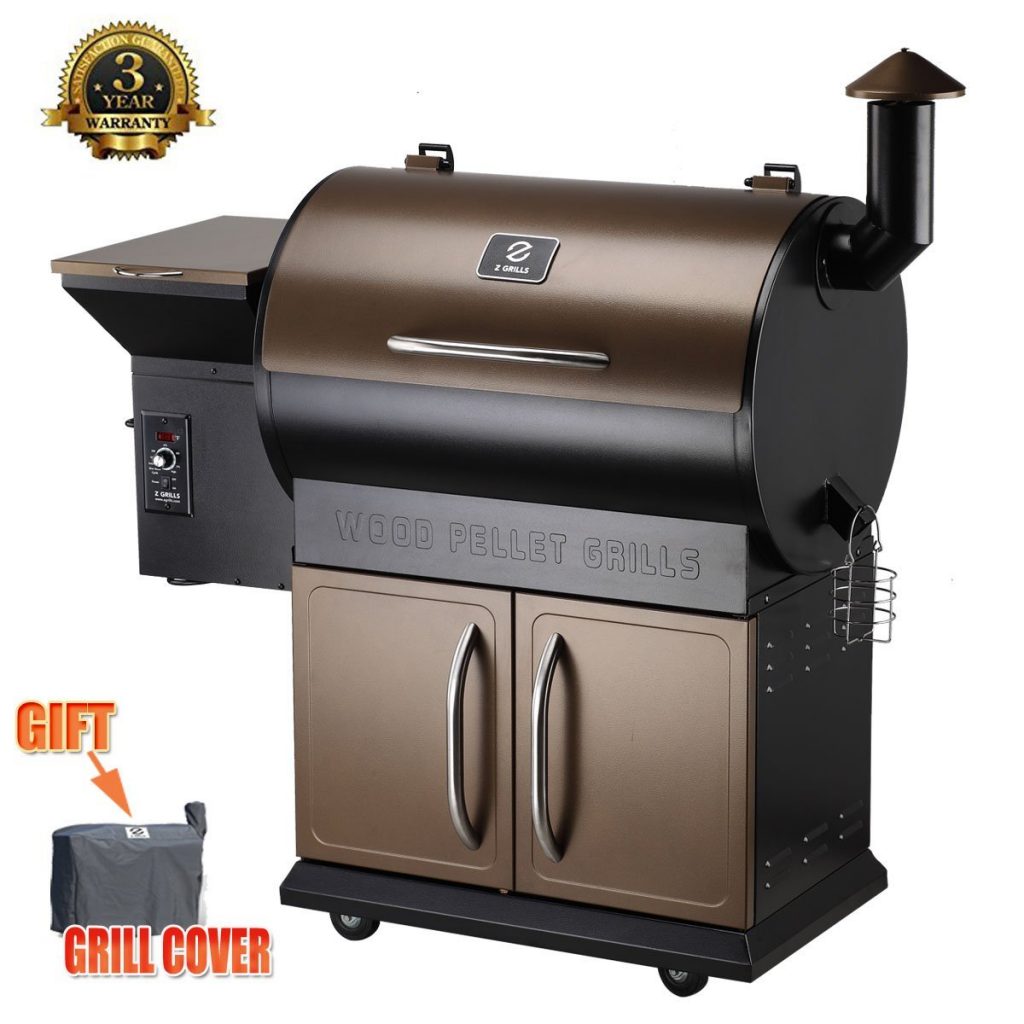 Now this is a bit more expensive than the Camp Chef PG24DLX, but then you do get lots of advanced features in return. You'll be very impressed with its Smart Smoke Technology, as it's the foundation of its "set and forget" setup.
This starts with its electric auto ignition system, which lest you fire it up just by pressing a button. Then it sets up and maintains the temperature you want all through the smoking process.
Features:
Push button ignition
Automatic wood pellet feed system to maintain the temperature
Large grilling area, with 513 square inches in the main rack plus 187 square inches more in the Warm Rack.
20-pound hopper capacity so you won't need to refill the pellets
Locking caster wheels
8-in machine, as aside from smoking your meat it can also grill, char-grill, BBQ, braise, sear, roast, and bake your food
3-year warranty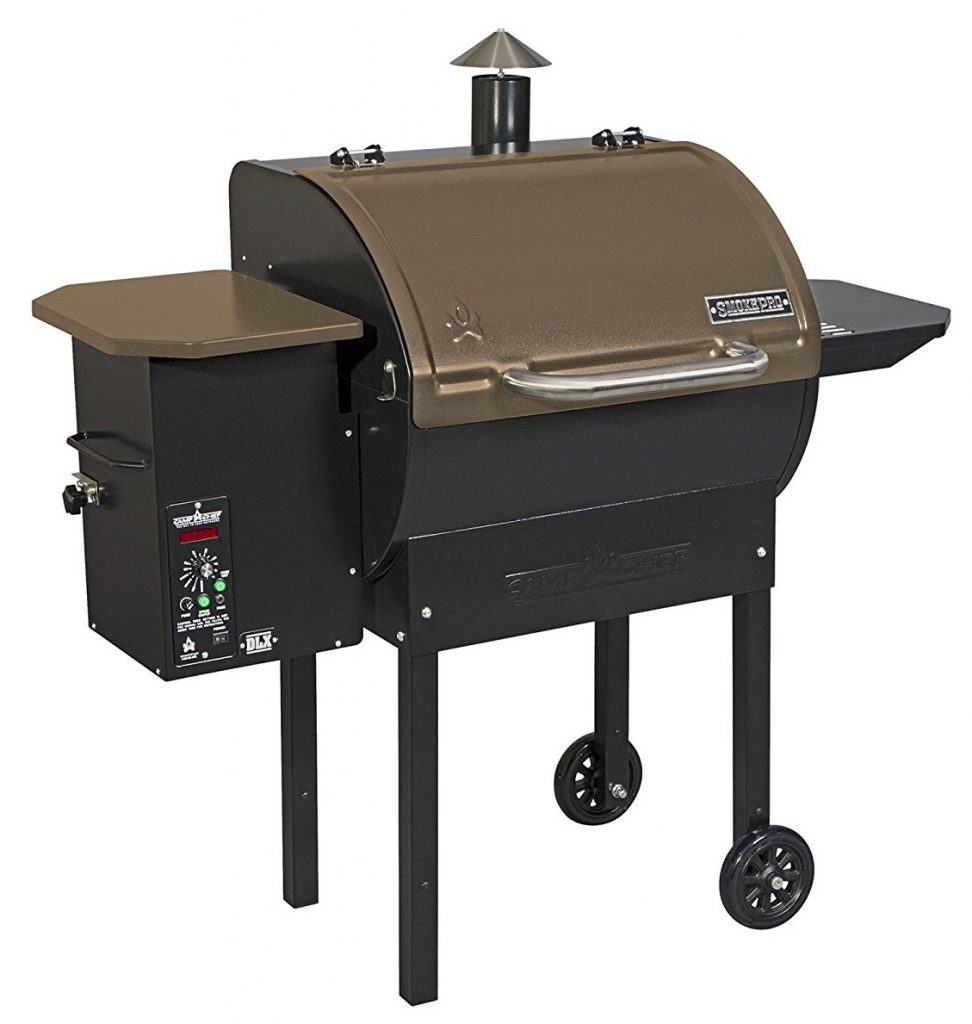 Now this is also an excellent smoker from Camp Chef, and in many ways it's similar to the PG24DLX Deluxe. It's just that this PG24B model is more than a hundred bucks more expensive. But if you have the budget, you sure do get a lot for your money.
In very basic terms, it's been designed for newbies so everything's very simple. It's pretty much a process of turning it on, setting the temperature, and then enjoying the meat after the smoking process is done. Even the cleaning is much easier.
Features:
570 total cooking area
Dual temperature readout for internal cooking temperature and food temperature
Electronic auto-start ignition
You just turn a dial to set the temperature, and the machine does the rest to maintain that temperature automatically
Ash cleanout system reduces the cleaning effort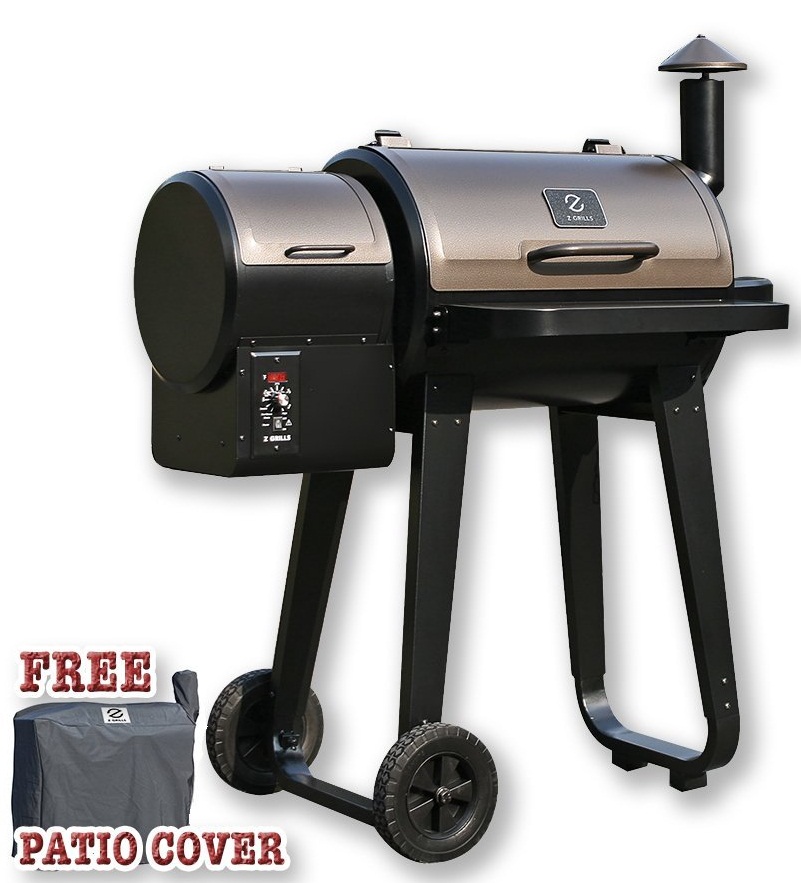 Now if you can't afford the larger Z Grills YPG-700B Wood Pellet Grill & Smoker then you can enjoy most of its features in the smaller and more affordable ZPG-450A.
It's not as if you can't feed a family with this, as the cooking space measures 330 square inches and you also have a secondary cooking rack measuring 120 square inches.
In the end this is still a 7-in-one smoker. It smokes, sears, grills, braises, roasts, BBQs, and even bakes. And you have a fully automatic system that lets you sit back and do other things than to baby sit it.
Features:
Automated pellet feed system works with an internal thermometer to maintain temperature
Easy controls
450 square inches of cooking space
15-pound hopper capacity
Waste collector system for easy cleanup
Corrosion resistant stainless steel construction
All-terrain wheels
Foldable working shelf
Free cover against the elements
3-year warranty
If you have the budget to approach the upper limits of our mandated price range, you should take a look at this PG24WWSS model.
It's full of advanced features that will make others green with envy, while you sit back and relax while it basically does the job all by itself.
Features:
Just turn it on, set the temperature, and wait until it's done
Temperature settings range from 160 to 500 degrees F
The Sear Box can reach 900 degrees F
It's also a very versatile smoker
570 square inches of cooking space, plus a removable warming rack
The ash cleanout system means you only need to pull a lever to get rid of the ash
What is the Best Pellet Smoker?
The best way to describe the best pellet smoker is to talk about an actual example, and for that we have the highly regarded Camp Chef PG24DLX Deluxe Pellet Grill and Smoker. Many experts regard this as a wonderful example of value for money, because it offers so many great features at a price that's much lower than what you'd expect.
Yes, it comes with the advanced features that you'd expect to see in a high-end model, such as a built-in meat probe and automatic controls.
This is a "set and forget" model that will truly make things easy for you. But the full automation with this model goes a lot further. It includes the cleaning of the ashes.
The reliability of this model is also fantastic. It comes with an automatic pellet feed, but then so do most pellet smokers. What sets this PG24DLX model apart from the others is that even after years of use it just won't jam. With its built-in thermostatic control, this smoker monitors the temperature constantly. It just feeds in more wood pellets whenever the temperature gets too low.
It also has a trap door for the burn pot cleaning after each time you use it, and this feature cuts down on the cleaning effort by more than half. It even has an automatic shutdown feature so that you can get to work on Friday morning and when you get home you have terrific smoked ribs and turkey for a nice Friday night get-together with friends.
These are the features you don't often see in other smokers. When you do see them, they're in smokers that cost a whole lot more.
It's for that reason that this PG24DLX is the smoker by which all others are judged. Often they don't compare favorably; either they cost the same but have fewer features, or they have the same features but they're much more expensive.
How to Use a Pellet Smoker?
Using a pellet smoker is incredibly easy. In fact, its ease of use is one of the more compelling reasons why you'd want to get it.
Your best bet is of course to buy from a reputable manufacturer, and then you can read the instruction manual on how to use it. But in general, here are the basic steps:
Check the smoker over to make sure it's clean. Clean the grill, the grease pans, and the grease chute. Make sure that your burners are free of blockages and corrosion. Dump the ashes too. Plug the smoker in. These smokers tend to use standard household electrical current.
Put in the wood pellets. You may as well fill up the pellet container so that you won't have to refill it later on. Just make sure that the pellet you use is suitable for the food you're smoking.
Set the temperature setting. While you can use most pellet smokers in various ways, when you're using it as a smoker you need to keep the temperature under 250 degrees F for slow cooking and maximum smoke.
Now do whatever you want to pass the time. This may mean sleeping overnight or going to work. This will cook slowly, so the meat will be done 2when you wake up or when you get back from work. The good news is that you don't have to watch over it during all that time.
Set the meat down for a half hour over aluminum, and then enjoy.
12 Benefits of Using a Pellet Smoker:
Yes, it's true that pellet smokers can be expensive. But there are some exceptions that go for much less. Yet these affordable models still offer the following benefits:
These things are powered by electricity, which makes it very convenient to use.
Just about every pellet smoker comes with digital controls, so it's really easy to set up. You just select the temperature you want and you're basically done.
Pellets burn cleanly, so there's no taste of gas marring the taste of your meat.
The pellets also don't leave a lot of ashes when they burn.
Most of these things are very versatile. This means you can use it for more than just smoking. You can barbecue meat or even use it to bake.
The preheating stage takes very little time at about 10 to 15 minutes. Flare-ups are also quite rare.
Wood pellets give off a more subtle kind of smoke, so you rarely if ever over-smoke the meat.
Temperature maintenance isn't a problem, because it's automatic. The pellet smoker simply burns more pellets when the temperature gets too low. Most pellet smokers also let you see the set temperature and the actual temperature.
These things become more advanced all the time. Advanced features include integrated meat probes and even wireless remote control from your smartphone.
These smokers are often very durable items, especially when you limit your search among reputable brands. They can last for many years, and their durability makes your investment worthwhile.
These things aren't just for newbies, but they're for professionals too. Actually, these pellet smokers are generally allowed in BBQ competitions, unlike gas or electric smokers.
Burning pellets is actually the most environmentally-friendly type of fuel you can use for your smoker. Using local wood pellets produces 90% less carbon dioxide than traditional fossil fuels like oil or gas. Electric smokers are the worst, as they can emit about 44 kilos of CO2 per kilowatt hour. In comparison, burning local wood pellets results in just 30 kilograms or so of CO2 per kilowatt-hour.
Buying Guide – How to Choose the Best Pellet Smoker under $1000?
Obviously you're going to have to consider the price of the smoker, since 4-digit price tags aren't exactly within easy reach for everyone. But it's not about getting the cheapest either.
If the smoker is overly cheap, then it's probably made by a no-name brand without any regard for quality control. You'd end up with a broken down smoker in just a short while.
Aside from the price, here are some considerations that you also have to factor in:
1. Temperature range
Although you don't really need to go past 250 degrees F to smoke your meat, if you want a versatile smoker then the temperature range it can provide should go from 180 to 425 degrees F. If you also want to sear, then this should go up to within the 500 to 550 degrees F.
2. High quality thermometer
These smokers normally have built-in thermometers. But some thermometers are better than others, and you'll want something accurate so you're sure that you're cooking your food at the right temperature.
3. Temperature controls
Some of the older smoker models feature dials with simplistic settings of smoke, medium, and high. But others are more specific, as they let you enter the specific temperature you want. The more advanced ones even programming options, meat probes, auto shutdown, and even Wi-Fi capabilities.
4. Cooking space
Just how many people are you planning to feed? For a backyard party, there's no follow-up smoked meat since these things can take up to 12 hours to smoke the meat. So you need ample cooking space to accommodate the number of diners in your party.
5. Portability
Some of these smokers can be quite large and hard to assemble, so they will need to stay put in your backyard. But others may be compact and lightweight enough to fit in the trunk or backseat of your vehicle, so you can bring them with you to other backyards.
6. Durability
For this, you need to check the reputation of the manufacturer brand and read up on customer reviews to see how often people complain about broken down smokers. You should also check the length of the warranty, as a long warranty signifies the confidence of the manufacturer in the smoker they've made.
Final Word
As you can see, you do have several great options to choose from when you want a versatile smoker that makes it easy for newbies. All these options allow you to basically turn it on and set the temp—and that's basically the entire process.
The ease of using a pellet smoker is one of its most terrific advantages, and with these options you don't have to pay dearly for the privilege.
Enjoy the taste of meat smoked to perfection with the latest pellet smoker under 1000, and you're surely get your money's worth.