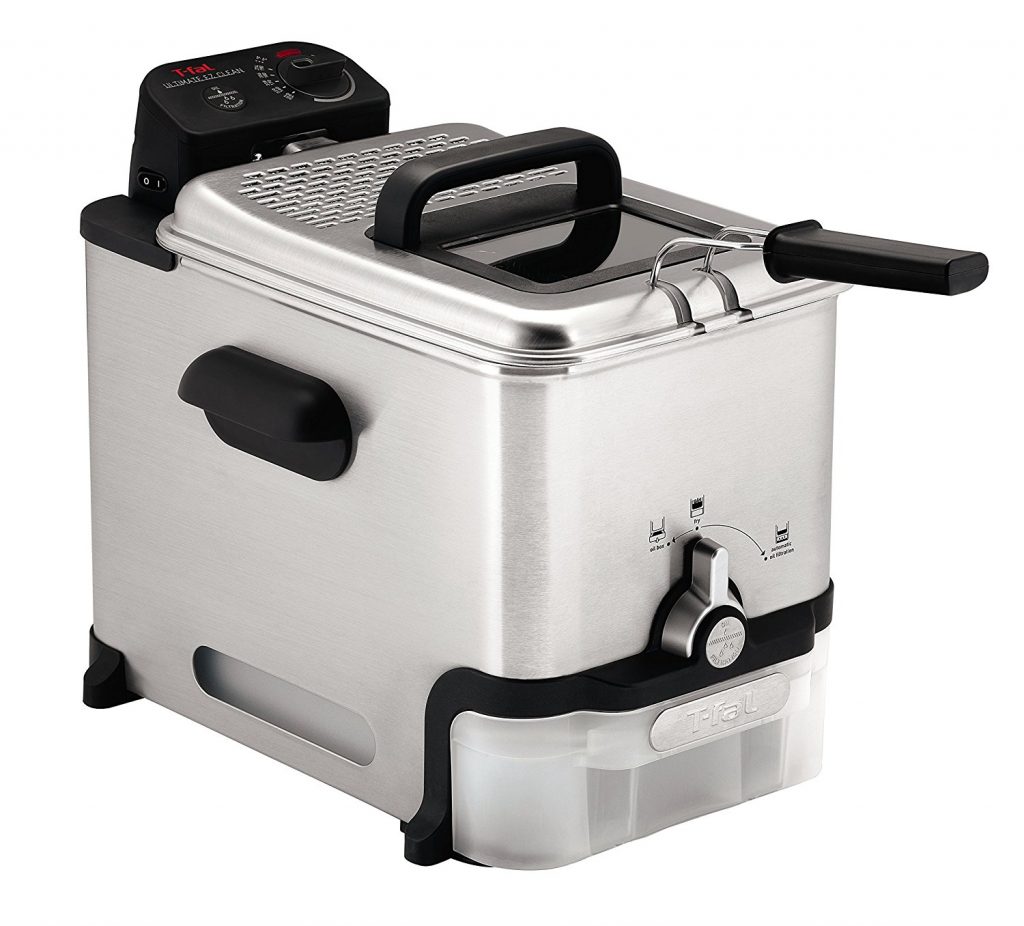 For lots of people, deep-fried foods are some of the best treats to enjoy. However, getting hold of them can be a nuisance as you either need to drive out or wait for a delivery. This T fal FR8000 Deep Fryer review might just give you a good alternative, though.
Described as
an immersion-style deep fryer
, this kitchen appliance offers to help you whip up the tastiest deep-fried dishes right in the comforts of your home.
It's designed for the households who like indulging themselves with greasy snacks but want to enjoy something that's healthier and more economical.
Simply put, it's one of the many deep fryers in the market today that gets the job done but comes with a little extra.
T fal FR8000 Deep Fryer Review: The 8 Features that Make this Product Work
What makes the T-Fal FR8000 worth noting? Discover everything you need to know about this product below.
1. Professional Immersed-Style Deep Fryer
The first thing that makes this product an attractive option is its professional immersed heating element. This makes it efficient in heating up the oil to help you save time and energy when using this appliance.
This also allows this unit to look like a professional-grade deep fryer despite the smaller size. So not only does it offer efficient performance but it also looks nice.
2. Modern Design
Speaking of looking nice, FR8000's overall design is definitely worth looking into. If you're the type who likes modern-looking appliances for your contemporary kitchen, this can be a solid choice.
Its stainless steel body with black accents make it look like it's more expensive than it actually is. So, it won't just add a nice functionality to your kitchen but it can also add some visual interest to it as well.
3. Dedicated Switches and Knobs
Kitchen appliances are made to make carrying out cooking tasks easier. The FR8000 delivers this promise by adding dedicated switches and knobs to the unit.
This makes it easier to operate as you don't have to keep pressing a single button to select a specific setting. It might even promise better durability as you won't overuse a single control button.
4. Permanent Odor Filter
Anyone who has ever stepped foot inside a fast food joint will know how the smell of used oil lingers in the air because of all the deep frying done in the facility.
This also happens to homes that use deep fryers, especially if you don't have an effective exhaust system connected to the appliance.
The T fal FR8000 addresses this hassle by adding a permanent odor filter to the unit. This will let you enjoy deep frying different snacks and dishes without having to worry about making your home smell greasy.
5. Adjustable Thermostat
Using the right temperature is essential when it comes to frying. If the temperature is too low, it can make your fried food greasy and less healthy. However, various kinds of cooking oils have different smoke points so you also just can't cook at the highest temperature all the time.
The FR8000's adjustable thermostat provides flexibility so you can use it for various dishes using your preferred type of cooking oil. It will let you set the temperature from 302F to 374F so you can be guaranteed that you can set it hot enough for whatever recipe you want to try.
6. Patented EZ Clean Oil Filtration System
Further boosting its convenient use is the patented EZ Clean oil filtration system that the FR8000 designed with. This feature has three key points:
It automatically filters the oil so it will be clean when you use it again later. It removes leftover crumbs so nothing will affect the taste of the next dish you'll cook in it.
It employs a one-step drainage system so cleanups will be fuss-free. All you need to do is turn a knob and you're good to go.
It has a removable used oil container which is where the drained oil goes to when drained. This makes the whole clean up process simpler and less messy.
7. Lid with Viewing Window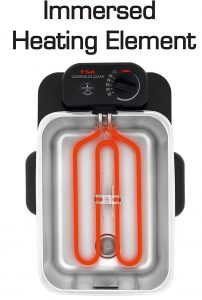 This might not seem like a breakthrough feature but it adds a lot of convenience to the use of the FR8000. Its lid with viewing window will let you easily monitor the doneness of what you're cooking.
It will allow you to know when to take the basket out to ensure that your dish will be perfectly fried.
8. 3.5L Capacity
With a 3.5L capacity, this deep fryer will already let you cook enough food for a small to medium-sized family. This makes it a great choice for most households as it will already make snacking more fun and enjoyable at home.
Why Should You Use T fal FR8000 Deep Fryer?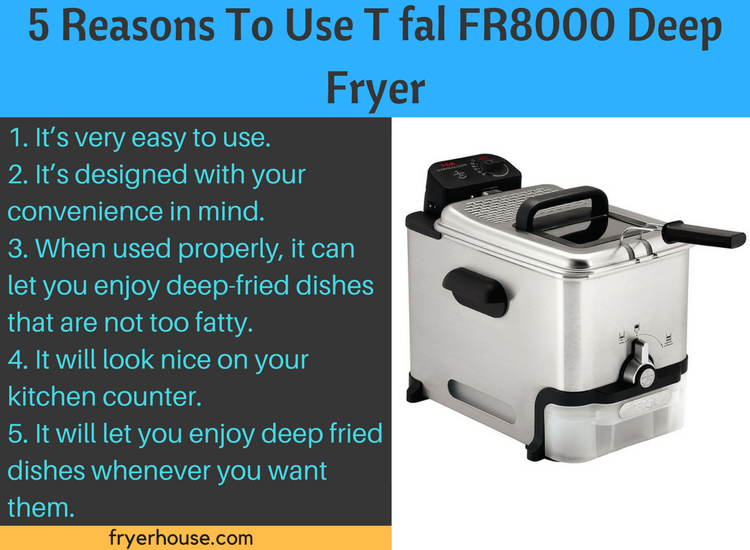 Aside from its great features, what other reasons should convince you that this product is a good pick?
Gathered from professional and consumer T Fal Fr8000 reviews, here a few points that should make a case for this appliance:
1. It's very easy to use.
As its features could've told you, the FR8000 is designed to be very easy to use. Its operation is made fuss-free by its dedicated controls without sacrificing precision.
The features themselves make its use simple and straightforward. They can also save you from the many hassles that come with other deep fryer models.
2. It's designed with your convenience in mind.
The fact alone that you're getting a deep fryer means you want a convenient appliance to help you fry large amounts of food in one go. The T fal FR8000 takes things up a notch, however, with its design.
Everything is designed so you can conveniently use this appliance so you have more reasons to get this product instead of using a stove and pot of oil to deep fry your food.
3. When used properly, it can let you enjoy deep-fried dishes that are not too fatty.
Recent studies show that eating deep-fried foods isn't always bad for your health. Given that you use a good kind of oil, you fry the ingredients properly so they won't get too greasy, and you don't eat them all the time, you can still enjoy these tasty foods without the guilt.
4. It will look nice on your kitchen counter.
Another great plus for the FR8000 is its modern look. The combination of its shiny stainless steel body and black details is definitely eye-catching. It will also look nice in every well-equipped modern kitchen.
5. It will let you enjoy deep fried dishes whenever you want them.
Last but not the least, having a reliable and easy to use deep fryer at home will let you whip up deep fried snacks whenever you want them. As it's not fussy to operate, you won't have to exert a lot of effort in deep frying something at any time of the day.
Product Benefits
Automatically filters used oil so you can efficiently reuse it
Designed to be very easy to clean
Powerful immersion-style heating element
Can reach up to 374F for efficient cooking
Parts can be taken apart so you can clean it easily
Will let you reuse oil
Dishwasher-safe parts
Large cooking capacity
Looks modern and professional with its stainless steel body and black details
You can easily monitor what you're cooking with the lid's view window
The Negative Things
Doesn't have a timer so you have to keep an eye on what you're cooking
Tends to use a lot of oil due to its design
Replacement and additional parts are quite pricey
FAQ – Frequently Asked Questions
Q: How many times can you reuse the oil you use with this appliance?
A: It depends on what you cooked with it. While the FR8000's oil filter effectively removes crumbs, the oil can still break down with every use. There are a few reliable oil comparison charts that you'll find online that can help you assess how many times you can reuse your oil, so it's best to check them out.
Q: Is it easy to clean?
A: The parts can be easily dismantled and are dishwasher safe so, yes, this appliance is rather easy to clean.
Q: Will the plastic parts melt over time?
A: The plastic used in this product's construction is of high quality so there's no need to worry about them disintegrating or melting at high temperatures.
Q: Does it have a self-retracting cord?
A: No, it comes with a magnetic breakaway cord which is still very easy to store.
Q: Do you have to wait for the oil to cool down before draining it?
A: No, you can switch the knob to drain right after cooking. The unit will drain the oil once it reaches the ideal temperature which makes it more convenient to use.
Final Verdict
With its convenient features, ease of use, and attractive appearance, the T fal FR8000 can certainly tickle the fancy of many households who want to whip up the crispiest and tastiest fried foods at home.
Hopefully, this T-fal FR8000 Deep Fryer reviews get to help you get to know this product and weigh your options better. This product can be a solid pick for many home cooks, so it can easily be the very thing your well-equipped kitchen needs.