Gnocchi is an interesting dish because of its extreme versatility. While it's best described as the Italian version of a dumpling, some folks also treat it like pasta. This makes it all the more exciting to have around as there's practically endless ways to enjoy these puffy foodstuffs.
Typically made with potato, gnocchi can also be made with semolina, wheat flour, cornmeal, egg, cheese, or any other similar ingredient. This is why it's so versatile, because depending on what you use, you can then use it for or enjoy it with other dishes.
You can bake, toast, fry, boil, slow cook, or sauté this ingredient. You can also put it in a salad, pasta, or stew. You can also fry it and enjoy it like the filling snack that it is. Because of these, it's certainly a good idea to learn how to make some.
Luckily, gnocchi is also very easy to make. In fact, you don't even really need to make some since you can buy them pre-packaged. If you want to make them from scratch, you can also do so. A lot of people shallow-fry gnocchi, but it's just as great when it's
deep-fried
.
This recipe will serve 4 people. The prep time is only 6 to 10 minutes, while cooking requires about 20 to 25 minutes. It's very easy.
Quick Ingredients:
2 medium potatoes, boiled and peeled
½ cup of refined flour (try Maida flour) plus another 2 tablespoons
Salt to taste
1 teaspoon garlic Powder 1 teaspoon
1 teaspoon of onion powder
A pinch of Nutmeg powder
½ teaspoon of paprika powder
½ teaspoon of lemon pepper 1/2 teaspoon
Enough oil for frying and for greasing
2 tablespoons of parmesan cheese powder
Easy Steps:
Take a medium size bowl and add potatoes into it.
Sprinkle some water and microwave it for 2 minutes.
Take a large mixing bowl and add the ½ cup refined flour, salt, garlic powder, onion powder, nutmeg powder, paprika powder, and lemon pepper. Mix them all well.
Remove the potatoes from the microwave and grate them when the potatoes are still hot.
Add the grated potato into the refined flour mixture and knead it into soft dough.
Add the parmesan cheese powder and knead everything well.
Grease the palm with some oil and take a small portion of the dough and shape it to a tiny ball.
Coat the fork with some refined flour and place the portion of dough over it. Roll to prepare the gnocchi.
Heat enough oil in a deep cooking pot and add the shaped gnocchi. Fry it on medium heat for 3 to 4 minutes or until it turns golden brown in color.
Remove the fried gnocchi and drain on absorbent paper and serve right away.
Health Benefits of Eating Deep Fried Gnocchi:
To be honest, gnocchi isn't the healthiest Italian dish out there but there are many ways to make it a good fit for your healthy diet. It will mostly involve making your own gnocchi from scratch but since they're really easy to make, this shouldn't be an issue.
If you want to make the most out of your love for gnocchi, swap your potatoes to sweet potatoes and whole wheat flour when making your gnocchi.
Whole wheat flour offers more fiber content while sweet potatoes are packed with various vitamins and minerals. These include:
Iron
Calcium
Selenium
Vitamins B and C
Beta carotene
By opting for these ingredients, you can avoid the saturated fat, sugar, and simple carbohydrates found in pre-made gnocchi.
If you'd prefer the traditional gnocchi made from potatoes, flour, and eggs, you can still get some nutrition from it, too.
Experts say that this variety contains Vitamin A, niacin, and thiamin. It also has some riboflavin, iron, phosphorus, and vitamin B-6.
What you add to your gnocchi dish and how you cook it will also affect its nutritional value. Why not try cooking with high quality protein sources and even some vegetables? But just make sure you enjoy them—that's the point of deep-fried gnocchi!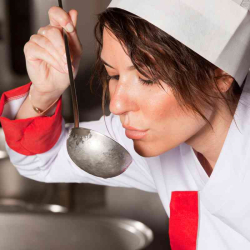 Latest posts by June Brandt
(see all)