Grouper is a type of tropical and warm water fish that is often caught through hook-and-line fishing. It's often compared with bass and other game fishes since it is practically one. This makes it a relatively popular dish among hobbyists since it's a common catch in certain locations.
But aside from being a trophy meal, grouper is also a good choice for those who want more variety in their healthy diet. Its low-calorie content and delicious taste make it very appealing to diners. Its large flake meat is also firm, lean, and mild in flavor, so it's very easy to consume in different kinds of dishes.
Like other kinds of fishes, however, grouper is most commonly available fried. In some Southern locales, you might even find it as a street food option.
If you have easy access to this fish and you want to trey it as a snack or as a food to enjoy with some beer, it's easy to make.
While lots of recipes go for shallow-fried grouper, here's the deep-fried version courtesy of the Florida Department of Agriculture Bureau of Seafood and Aquaculture.
Quick Ingredients:
2 large Florida eggs
½ teaspoon of salt
1/4 teaspoon of cayenne pepper
1 cup of all-purpose flour
Salt and pepper to taste
1 cup of corn meal
4 pieces of 6-ounce Florida grouper fillets
½ cup of vegetable oil for deep-frying
East Steps:
Beat the eggs, salt and cayenne together in a shallow dish.
Add the salt and pepper to taste to the flour.
Place the flour mixture and cornmeal in separate shallow dishes.
Dredge each fillet in the flour mixture and dip in egg wash.
Dredge again in cornmeal.
In a deep fry pan, heat 1 inch of the oil to 375 degrees F.
Fry the fillets in batches for 2 to 4 minutes on each side, or until they're browned and the fish flakes easily with a fork.
Transfer the fillets to paper towels to drain and then serve right away.
Health Benefits of Deep Fried Grouper:
If you prefer eating white meat than red meat for their nutritional value, then you should definitely add grouper among your go-to dishes. It's a healthy dish that won't require you to do much and it's also very tasty.
Aside from this, grouper in itself is a very good source of meat. This type of fish offers the following:
1. A good amount of protein
You can get 16.5 grams of protein in each 3-ounce serving of grouper meat. This already meets a significant portion of most people's daily protein requirement. This particular recipe gives you 39 grams of protein.
2. Low-calorie intake
Depending on how you cook the grouper, a 3-ounce serving will only set you back at 100 calories. Even in this deep fried version, each fillet has only 133 calories each. This makes grouper an excellent low-calorie meat option as well.
3. Some unsaturated fat and omega-3
This fish also contains a significant amount of good fats including omega-3. While it can't compete with salmon and mackerel, it still proves to be an excellent source of good fats for lots of people.
4. A good dose of calcium and iron
These extras actually make some people consider it as the perfect food.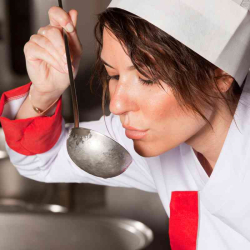 Latest posts by June Brandt
(see all)