Nachos are inarguably one of the most successful Mexican dishes to make it big in the global market. With its simplicity, tastiness, and versatility, this shouldn't be too surprising, really. There's just so much that you can do with nachos, making it an exciting snack item for everyone.
But if you have
your own deep fryer
, you can just whip up nacho snacks yourself. Here's a classic recipe that will go down well with kids looking for a snack or for adults need to munch on something with their beer.
Quick Ingredients:
Taco Meat:
½ teaspoon chili powder
½ teaspoon finely ground pepper
½ teaspoon ground cumin
½ teaspoon seasoning salt
1 medium shallot, finely chopped
1 pound lean ground beef (with 93 percent fat)
1 teaspoon garlic powder
1 teaspoon onion powder
3 tablespoons of vegetable oil
Cheese Sauce:
¼ cup pickled jalapeno juice
½ cup cubed American cheese (2 percent milk)
½ cup melted processed cheese(Velveeta is a good choice)
½ cup shredded pepper jack cheese
1 cup milk, plus an additional splash
Masa:
¼ cup pickled jalapeno juice
½ cup Cotija cheese
½ cup shredded pepper jack cheese
1 cup melted nacho cheese
1sixteen-ounce bag yellow tortilla chips
1ten-ounce bag nacho cheese flavored tortilla chips (Doritos is always a good choice)
9 cubes Oaxaca cheese
Vegetable oil, for frying
Garnishes:
Chopped cilantro
Chopped green onions
Guacamole
Pickled jalapenos
Salsa
Sour cream
Easy Steps:
For The Taco Meat:
Add the oil and shallots to a flattop over medium heat.
Add the pepper,ground beef, cumin, chili powder, onion powder, seasoning salt,and garlic powder.
Add just a tiny bit of water.
Cook the meat by breaking up the ground beef with a wooden spoon to cook it evenly.The meat should be fully cooked in about 7 to 10 minutes.
For The Cheese Sauce:
Put a splash of milk into a warm saucepan over low heat. This will keep the cheese from burning or sticking into the pan.
Add the American cheese and pepper jack cheese to make it a bit spicy and then the remaining 1 cup milk to make it creamy.
Then put in the melted processed cheese. Keep on stirring to keep the bottom from burning.
Once all the cubes are dissolved and you notice the "sheen" on the sauce, add the jalapeno juice to give the cheese a distinctive and delicate consistency.
Put the cheese sauce aside and keep warm.
For The Masa:
Crush up the tortilla chips and nacho chips and put them in a large bowl.
Crumble the Cotija cheese into the crushed chips, and then add the pepper jack.
Add the jalapeno juice. This gives your masa the distinctive nacho flavor.
Add the nacho cheese into the masa for added moisture. It will also work as a binding agent.
Work everything together with your hands, smashing it all together. Make sure that it's not dry or overly wet.
Final Instructions:
Heat oil in a deep fryer (or in a pot)to 350 degrees F.
Make a little pancake out of the mixture, put an Oaxaca cheese cube into it, roll it into a ball and close it up.
Make three balls, and then put the balls into the deep fryer.
Fry them until they're crispy on the outside and gooey on the inside so the cheese gets a perfect pull. This should take about 4 to 5 minutes. When cheese starts to ooze out, but notrunning out, they're ready to pull from the fryer.
As these three balls are frying, continue making six more balls for your three servings.
Place three balls in each serving bowl and top the balls with the cheese sauce and taco meat. Make sure each ball has cheese so every bite has the nacho elements and flavor.
Garnish according to your preferences with guacamole, salsa, sour cream, pickled jalapenos, cilantro and green onion.
Health Benefits of Deep Fried Nachos:
If you love nachos, then you're in luck. This dish can be quite healthy if you know how to make it so. For example, opting for whole wheat varieties is a healthy move.
You can also go with baked chips instead of fried ones can help lessen its fat and calorie content.
The healthiest tortilla chips also have a few nutrients to give you. Corn chips usually include a small amount of the following vitamins and minerals:
Complex carbohydrates
Vitamins K and B
Calcium
Iron
Magnesium
Zinc
Selenium
Copper
Aside from the chips themselves, what you put in your nachos can also affect its nutritional value. So what should you put in it to make sure that it's a healthy snack? Here are a few examples:
Lean beef and protein-rich white meat.
Pinto and black beans for additional heart-healthy protein.
Sharp cheddar and pepper-jack for calcium and fats.
A lot of fresh vegetables like lettuce, spinach, tomatoes, onions, olives, jalapenos, and bell peppers for a wide range of nutrients.
With snacks like these, kid and adults alike can find themselves having a good time, especially when they're with friends!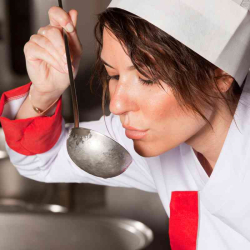 Latest posts by June Brandt
(see all)