Although air fryers have been around for years now, lots of homeowners are still on the fence about getting best air fryer. Sure, they seem impressive, but there's also the fact that you can achieve similar results with a traditional convection oven.
If only there's one that can offer more functionalities, right? In this Gourmia GCR1700 review, you might just find exactly what you're looking for.
The Gourmia GCR1700 Air Fryer Review: 6 Major Features
Also known as the Robotic Cooker, the Gourmia GCR1700 takes air fryers to a whole new level. It's designed to do more than just fry food with less oil, making it a solid option for homes who want versatility in their cooking appliances.
If you're wondering what makes this product special, we'll let its features do the talking:
1. 10 in 1 Multicooker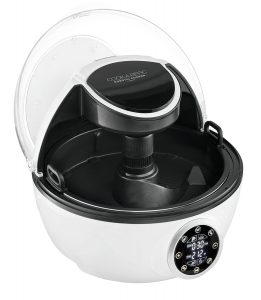 Yes, you've read that right, the Gourmia GCR1700 has ten whopping cooking modes so it's not like your regular air fryer.
Unlike
other best air fryers
that can only add baking, grilling, and broiling into their list of cooking capabilities, this item can also saute, stir fry, pan fry, and roast.
What really makes it stand out, though, is its ability to handle liquids. It can also steam, make sauces, stew, and even slow cook.
Most air fryers are incapable of offering such functionalities because of how their heating systems work. With its engineering, the GCR1700 can already replace three cooking appliances in your kitchen and even stand-in for your stove.
2. Hands-Free Stirrer
If you've been shopping around for air fryers for a while now, you'll know that the ones that come with stirrers are more premium options.
This is because this addition eliminates the need for the occasional shaking and stirring required for thorough air frying.
The GCR1700 comes with a stirring paddle so you can count on it to help you keep your food moving while cooking. This makes it even more efficient when air frying and stir-frying with the unit.
3. The Cook Robot: A Pre-Programmed Digital Control Panel
What makes the GCR1700 a fuss-free cooking appliance is its pre-programmed digital control panel. All you need to do is press a button and it will do the work for you.
It has four dedicated buttons for various cooking modes and other distinctively-marked buttons for additional functions.
You will need to refer to the manual to learn how to use all of the ten cooking modes, though. So make sure to allot some time and patience for that.
5. Auto Circulating Cooking System
Another stand-out feature that the GCR1700 has is its Auto Circulation Cooking System. This technology ensures that hot air is effectively and properly circulated inside the cooking chamber. This helps guarantee thorough and even cooking with just a touch of a button.
6. Easy Vue Clear Lid
Some home cooks want to keep an eye on what they're cooking. Unfortunately, only a few air fryers allow this. The GCR1700 is one of them with its unique Easy Vue Clear Lid.
You can watch what's happening to your food as it cooks as you would on a pan, so you can rest assured that it won't get burned or overcooked.
How to use Gourmia air fryer?
Gourmia is another popular brand of air fryer that has taken the world by storm. The brand has several models of air fryers and millions of users all over the world. Before explaining how to use Gourmia air fryer, we'll advise you to take the time to study its user manual. This will give the information on how best to take care of it and how to make the best of it.
That being said, to use the air fryer, place a layer of the basket in the air fryer. Change the temperature to 400 degrees F. Set the time to 10 minutes. Put your food in the basket and close it. After 10 minutes, you can check it to confirm whether it's done or not. If not, you may cook the food for another 2 – 3 minutes.
Always remember to shake it halfway for even cooking. Also, there's no fixed time for all foods. Different foods can be cooked in different durations.
Gourmia air fryer replacement parts:
There are several parts of a Gourmia air fryer but only three parts can be replaced, and the replacement parts have been discussed below.
The basket: This is where you place what you want to fry. It ensures that the food does not get to the bottom of the air fryer. The basket has a handle with which it can be lifted out of the air fryer. The basket can be replaced.
The racks: Racks don't usually come with the air fryer, but you can buy them. If you need to fry multiple layers of meat at the same time, you need to arrange them on racks.
The detachable cord: The third replacement part is the cord, and that's because the cord is detachable. If it goes bad, you can easily replace it.
5 Reasons – Why Should You Use Gourmia GCR1700 Air Fryer?
Need more convincing that the Gourmia GCR1700 is a wonderful addition to your kitchen? Here are five more reasons why you should give this product a try:
[su_list icon="icon: check-square-o" icon_color="#ef2d26″ class="listbox"]
1. It simplifies cooking.
While you will still need to prepare your ingredients to cook anything, cooking by just pressing a button is the simplest way to make a meal.
The robotic stirrer is also a great plus. Both make the most crucial cooking tasks automatic so you don't have to do much when preparing food.
2. It's very easy to operate.
As mentioned above, this kitchen appliance only really needs a few button presses to work. It also helps that each button is clearly marked as to what they do, so there's no guesswork involved when cooking with this appliance.
3. It can cook with liquids.
Although most air fryers in the market today also claim to be multicookers, they have a pretty limited range. They can't handle liquids, so slow cooking and stewing are definitely out of the picture.
This isn't the case with the Gourmia GCR1700, though. This air fryer is also designed to handle liquids so it can work as a slow cooker and steamer as well.
4. You can watch what you're cooking.
The Clear Vue lid doesn't just offer a top view of what you're cooking. It's actually designed to make your food more visually available, letting you monitor what's cooking.
Of course, it also adds to the aesthetic value of the unit which is already way different than other air fryers in the market today.
5. It will let you enjoy healthier fried foods.
Like other air fryers, the Gourmia GCR1700 can also let you fry food using a tablespoon of oil. Traditionally fried foods are linked to health issues like diabetes and heart disease.
So if you want to eat better, finding alternatives is necessary. Air fryers offer these alternatives, making them some of the most sought-after kitchen devices today.
[/su_list]
[su_row][su_column size="1/2″][su_list icon="icon: check" icon_color="#228B22″ class="posbox"]
Product Benefits
Pre-programmed settings make it convenient and easy to use
Can cook with liquids
Clear Vue Lid makes it easy to monitor the food and prevent overcooking
Eye-catching design
Offers more ways to cook food
Simple interface makes it more user-friendly
Great price
Comes with a self-operating stirrer
Dishwasher safe parts
Can make healthy eating a lot easier
[/su_list][/su_column]
[su_column size="1/2″][su_list icon="icon: warning" icon_color="#ff0000″ class="negbox"]
The Negative Things
No power button which can be a bit confusing for some
Temperature settings aren't precise
Instruction manual can still be improved
[/su_list][/su_column][/su_row]
FAQ – Frequently Asked Questions
Q: What is the temperature range of this item?
A: You can set it from 122F to 428F.
 Q: How big is its cooking pan?
A: It measures 11 inches in diameter and 2 inches deep.
 Q: Does it come in another color?
A: No, this item is only available in white.
 Q: Is it easy to clean?
A: Yes, it's easy to clean.
 Q: Can you buy replacement parts?
A: Yes, you can purchase replacement parts from the manufacturer.
Final Verdict
We hope this Gourmia GCR1700 Air Fryer review helps you decide whether this product offers enough functionalities to earn a spot on your counter. With its solid features and ease of use, it might just be what you're looking for in expanding your kitchen's cooking capabilities.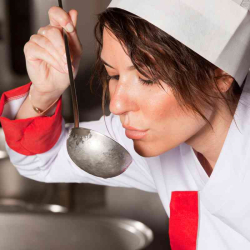 Latest posts by June Brandt
(see all)