The deep-fried turkey trend may be in full swing but it's not surprising that not everyone is tripping over themselves to get a deep fryer. There's a number of dangers that come with this cooking method that lighthearted guides how to safely get the job done is now easily available online.
If you'd rather not risk it, though, you can always check out this Masterbuilt 20100809 Turkey Fryer review.
This cooking equipment
is designed to whip up roasted meats with ease, so you can enjoy outdoor cooking without the dangers of deep frying. If you want to know more about this product, check out its features below.
Masterbuilt 20100809 Butterball Electric Turkey Fryer Reviews – 5 Major Features
1. Oil-free Electric Turkey Fryer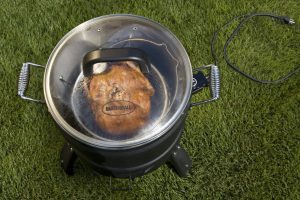 Technically speaking, this cooking equipment is not a fryer since it doesn't really use oil. However, the name still applies as it has similar features to an air fryer. So if you'll look at it that way, then you can still count it as a fryer.
Being an oil-free electric fryer, this product is way easier to work with. You won't have to bother about putting in the right amount or adequately heating up oil. You also don't have to worry about the temperature settings as this unit doesn't come with a thermostat.
2. Double Wall Construction
As an oil-free turkey fryer, the Masterbuilt 20100809 has double walls. This ensures that the heat won't escape from the cooking chamber so your food can get cooked easily.
3. 18-lb Cooking Capacity
While this turkey fryer isn't the largest available out there, it's still a good choice for lots of households. It can still whip up a good amount of food for a smaller group of people to feast upon. It can also be more manageable in terms of storage, portability, and cleaning.
4. Wood Chip Box and Oil Drip Pan
These are the two of the most notable additional features of this product. The wood chip box will let you add a smoky flavor to your meats which makes it even tastier and more special.
The oil drip pan, on the other hand, will let you get more out of your meat. It can help you make the tastiest sauces from the drippings. It can also make cooking with the unit safer as it won't have meat juices and oil pooling at the bottom of the cooking pot.
5. Tempered Glass Lid with Clip
Some people shy away from electric turkey fryers because of they can't trust the lid not to shatter when exposed to high temperatures.
This won't be a problem with the Masterbuilt 20100809 because of its lid uses tempered, heatproof glass. This guarantees durability and safety. It also comes with a clip so you can easily rest the cover on the side of the cooker without a hitch.
Why Should You Use the Masterbuilt 20100809 Butterball Oil Free Electric Turkey Fryer?

If the set of features above hasn't convinced you that this product is a great match for your needs, then this list might.
Compiled from various Masterbuilt 20100809 Oil Free Turkey Fryer reviews, these points might just be able to help you weigh your options better.
1. It can help you whip up tasty dishes with lower calorie count.
As you won't be using a large amount of oil with this cooker, you can also expect to enjoy dishes with lower calorie count. It's a great way to indulge in proteins and meats without the guilt. So if you're watching your figure but you don't want to compromise the taste of your food, this product can be a good addition to your home.
2. It can be a safer alternative to deep fryers.
High temperatures, a large amount of boiling oil, and outdoor cooking don't sound like the safest combination. This is why it's perfectly understandable why some people are not willing to risk it.
As the Masterbuilt 20100809 eliminates one of the most dangerous elements in the equation, it can be a safer option.
3. It's easy to use and clean.
One of the most attractive things about this product is that you only really need to plug it in to start cooking. Without any knobs, buttons, or dials to fiddle with, it's not complicated to operate and use.
It also comes with a series of accessories like a cooking basket, turkey rack, and a meat thermometer which will make its use a lot simpler.
As it doesn't use oil, this product is also very easy to clean. No more struggling with oil disposal with this unit. You just need to let it cool and you're all set for cleaning.
4. It's versatile.
While it might not be able to do more than just roast large amounts of ingredients, this product is still quite versatile. With its built it wood chip box, you can easily add flavor to your meats.
5. It has a really convenient size.
It might not be able to whip up a feast in one sitting but its size more than makes up for it by being easy to move around and store. This makes it really a convenient pick as it can perfectly fit the needs of many households

Product Benefits
Perfectly easy to use
Good size will let you cook a lot without having you struggle with a large unit
Attractive appearance
Lightweight and can be moved easily
Quite portable
Won't heat up your kitchen
Comes with a series of useful accessories
Heatproof lid promises safety and convenience
Very easy to clean
Wood chip box will give your dishes a nice smoky taste
Friendly price
The Negative Things
Small size will limit the size of meats you can cook
Temperature is not adjustable
Browns nicely but the skin won't be crispy
FAQ – Frequently Asked Questions
Q: How long is the power cable?
A: It's about 4 feet long.
 Q: Can you buy a replacement lid?
A: Yes, just contact the manufacturer to order one.
 Q: Can you make crispy duck with this cooking equipment?
A: Yes. Applying some oil to the outer surface of your bird before cooking can cook it to a crisp.
 Q: Can you use this cooker inside the house?
A: It can emit a lot of smoke so it's not advised to use this product indoors.
 Q: Can you cook a frozen turkey with this?
A: It's not recommended to cook a frozen turkey on this unit as it can burn the outside of the bird and still not be able to thaw the core.
Final Verdict
If you've been in search of a good way to cook turkey and other large meats at home, we hope this Masterbuilt 20100809 Butterball Oil Free Electric Turkey Fryer review gets to help you out.
This product is a practical pick for its friendly price, functionality, and ease of use, so it might just be the very cooking equipment you're looking for.