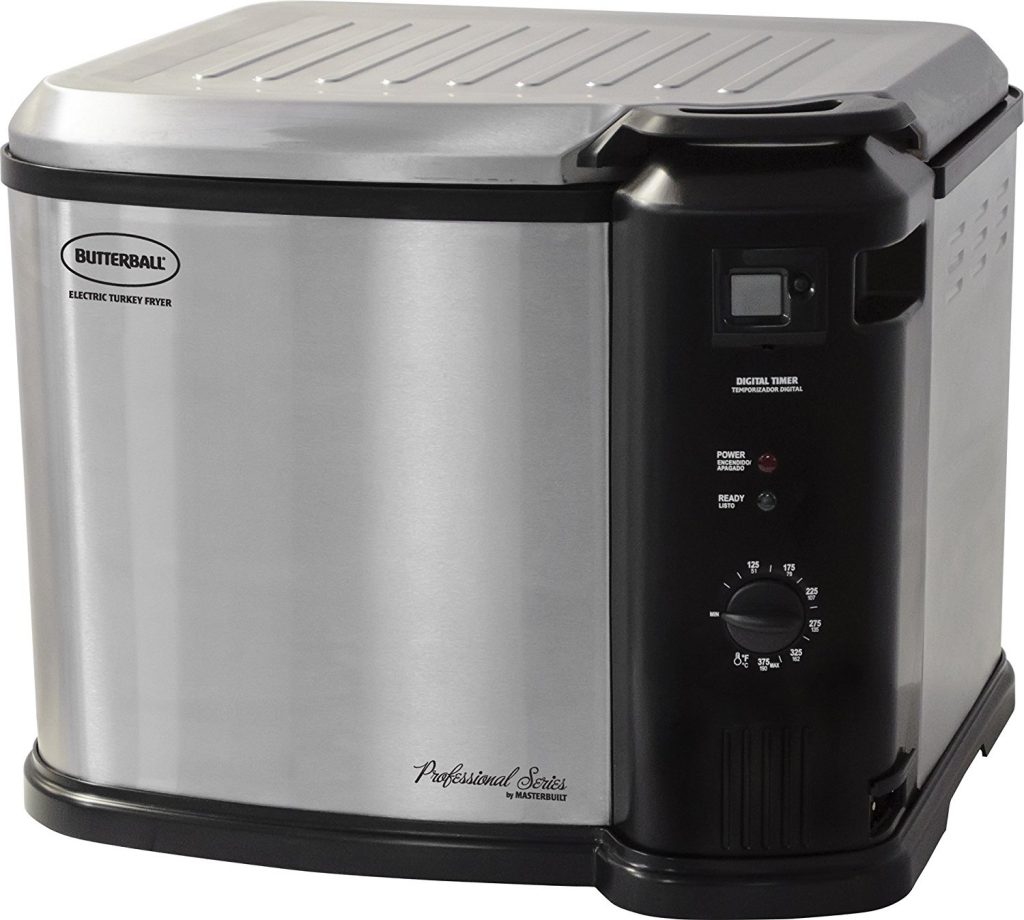 Dubbed by Vogue as a Thanksgiving staple, deep-fried turkey can change how you enjoy your holiday feasts. However, it's not the easiest cooking method out there so you might still be on the fence whether you should give it a go. In this Masterbuilt 23011114 Turkey Fryer review, we hope to help you make a decision.
What exactly can the Masterbuilt 23011114 put on the table? Start getting to know this cooking equipment through this list of its key features.
5 major Features – You Should Need To Know:
1. Electric Indoor Turkey Fryer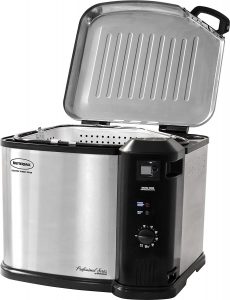 What makes this cooking equipment handy and convenient to use is the fact that it's an electric appliance. You don't have to set up a gas system to start cooking. All you need to do is plug it in and you're practically good to go.
Designed to be an indoor appliance, this can also be a good option for those who don't have outdoor space but want to enjoy a deep fried-bird on special occasions.
It can also be a convenient choice for those who don't want to stay outside while they're busy preparing for a holiday feast.
2. Stainless Steel Construction
Promising durability and a modern appearance, this product also features a stainless steel construction. This makes it easy to clean while looking sleek. It won't easily get stained and if the oil splatters, it's easier to get rid of the greasiness.
Its choice of material also promises to help contain oil effectively. This also makes it safe to use.
3. 20-lb Cooking Capacity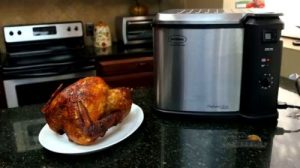 What surprises a lot of people about this product is its large size. Being an XL variety of Masterbuilt's Professional Series, this cooking equipment can accommodate up to 20-lb birds.
Due to its large cooking capacity, it should also be noted that the unit will have an equally big footprint. It measures 21.5" x 18.5" x 18" so it can take a considerable amount of space on your kitchen counter.
4. Adjustable Temperature
Giving this product some flexibility and multifunctionality is its adjustable thermostat. You can set it from 175F to 375F so you can cook a wide range of different dishes with it. You can even use it for steaming and boiling, so you're sure to get a lot out of the Masterbuilt 23011114.
5. Oil Drain Valve
Due to its humongous size, cleanups can be daunting. Masterbuilt made it simpler by adding an oil drain valve to the unit. This eliminates the need of lifting the cooking pot out of the unit which can be the biggest hassle in dealing with extra large deep fryers.
Why Should You Use the Masterbuilt 23011114 Butterball Indoor Electric Turkey Fryer?

If you found this product's features attractive, you might be interested in more reasons why it's a good pick. For this, we rounded up five points from various Masterbuilt 23011114 Turkey Fryer reviews why it's something worth looking into:
1. It will make deep frying easier.
Operating this equipment would be a lot easier than setting up an outdoor deep fryer or even pan frying. You only really need to plug in the unit and set it to the right heat levels to get started.
No more assembly, finding a solid flat area to set the burner in, and monitoring the flame. As it also has an indicator light, you also don't have to keep checking the oil's temperature. These make it very convenient to deep fry, even if you're cooking a large bird or piece of meat.
2. It can do more than just deep fry.
This product is not just meant for deep frying. It can also be used for boiling and steaming, so if you tend to cook various dishes in large amounts at home, this can be a reliable appliance to have. With its large cooking capacity and versatility, you might just find yourself using this product more often.
3. It can be safer to use.
There are lots of things about deep frying that can be dangerous. A few of them are addressed by the Masterbuilt because of its design.
For one, it doesn't use any open flames so there's a smaller risk of grease fires. Burns can be minimized as well because of its handy lid. As these units are also designed to be used indoors, there's also a less likelihood of it being left unattended.
4. It can be less messy compared to using an outdoor deep fryer.
If used properly, there's a lower chance of making serious messes with this cooking equipment. You don't have to worry about splatters for one because of its attached lid that you can set in place with ease.
Its drain valve will also let you transfer used oil into a container without any struggle so there's a good chance that you won't make a serious mess during cleanups.
5. It can let you do more things in the kitchen.
Again, as this product is intended to be used in the kitchen, it can let you stay in the kitchen while you cook up a storm for a special dinner.
You won't need to run out every now and then to check on what you're deep frying because this can sit in your kitchen. This can offer efficient food preparation.
Product Benefits
Easy to use
Looks nice
Won't need you to do any heavy lifting when removing the oil from the cooking pot
Can do more than just deep fry
Will let you deep fry a large fowl right in your kitchen
Offers crispy and juicy dishes
Can be safer to use
Cooks quickly
Easy to set up so you might just feel more inclined to deep fry more often
Reasonably priced
The Negative Things
Can be too big for your kitchen
Power cord is quite short but it's intentional to keep the unit safe to use so this shouldn't be an issue
Quite bulky so it can still be a bit challenging to clean
Can leave an oily smell in the air
FAQ – Frequently Asked Questions
Q: How much oil does this fryer need?
A: It can use about 2 gallons of oil. There's a fill line inside the pot so make sure to follow that.
 Q: Can you purchase replacement parts from the manufacturer?
A: Yes.
 Q: Can you use this outdoor?
A: Due to its electric components, this product is not an outdoor cooker. You can, however, use it in a covered outdoor space in your home with an outlet like a garage or deck.
 Q: How many times can you reuse the oil?
A: It depends on the type of oil you intend to use. It's best to research various cooking oils to find the answer to this question.
 Q: Can you fry fish in this?
A: Yes.
Final Verdict
With some luck, this Masterbuilt Butterball Indoor Electric Turkey Fryer review might just be the very thing you need to help you make a call on which cooking equipment to get.
With its features and design, this electric appliance can make a case for itself as it is very convenient to use. If you want to make deep frying simpler, this might just be the right match for you.